5 Steps After Your Home Takes Flood Damage
(Your complete guide on picking up and moving on after a flood)

Few things are more deadly to people and more damaging to property than floods. Between 1978 and 2018, the most costly flood disasters in the US were caused by hurricanes and tropical storms.
Our independent agent matching tool will find you the best insurance solution in your area. Tell us what you're looking for and we'll recommend the best agents for you. Any information you provide will only be sent to the agent you pick.
Most expensive flood disasters in the United States from 1978 to Current, by National Flood Insurance Program (NFIP) payouts in million US dollars)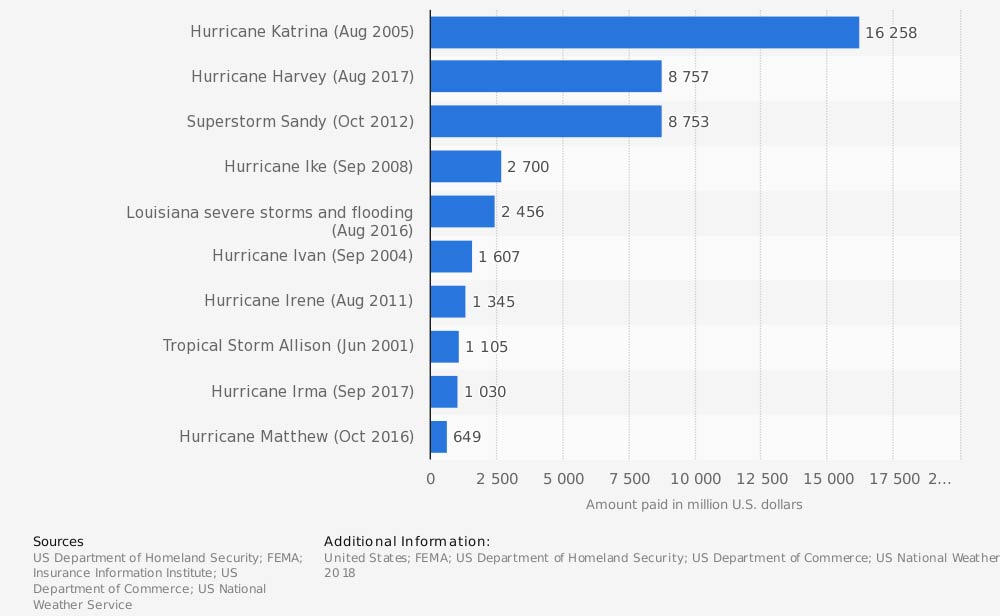 Between 1995 and 2018 floods and flash floods were among the most deadly disasters in the US.
Number of lives lost due to floods and flash floods in the US from 1995 to 2018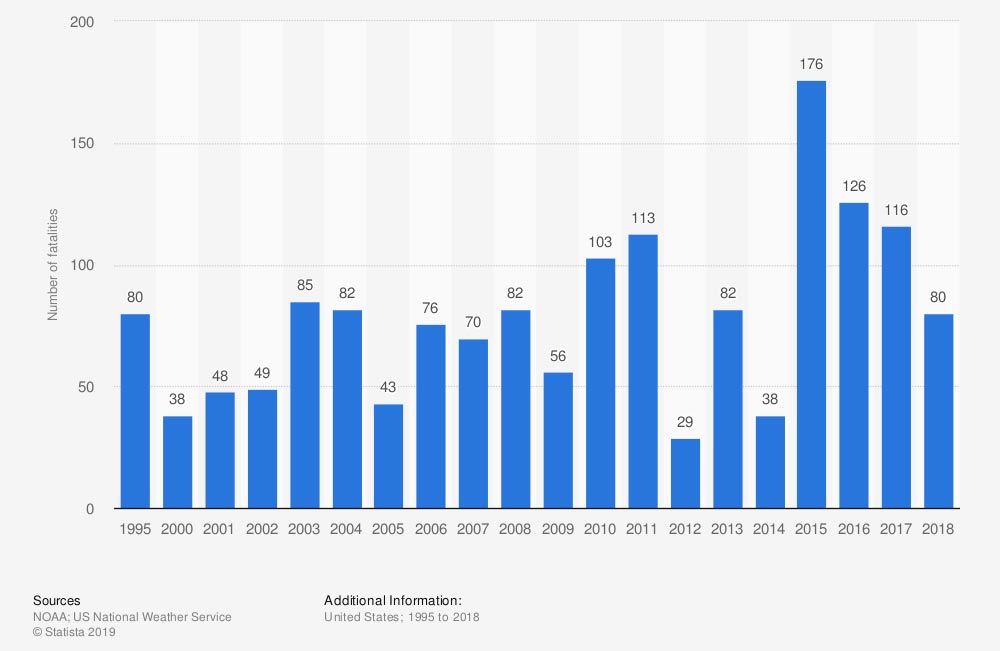 It may be tempting to think you're safe from hurricanes if you live far inland, but that's not true. Hurricanes can dump tremendous amounts of rain far inland creating disastrous flash floods.
Just a few inches of water in a home can ruin floors, carpet, trim, drywall, electronics, and furniture. If those few inches of water are instead a few feet, your home is likely a total loss and your life would have been in peril if you remained there.
Hopefully, you were warned of the coming danger, followed official advice, and evacuated to a safe area before the flood happened. So you've returned and found your home damaged.
Now what?
Save on Home Insurance
Our independent agents shop around to find you the best coverage.
The Five Things to Do after Your Home Is Flooded
1. Protect Life
If you evacuated, do not return to your home until officials have given the all clear.
If you are trapped by high water, call 911 if possible to notify them of your situation. Road signs and street addresses may not be visible, so it's best to make this call from a cell phone because that will give the authorities your exact location.
If there is standing water in your home and you can turn off the power from a dry location, then do so. But if you must enter standing water to access the power switch, then call an electrician or the power company to turn it off. Never turn power on or off or use any electric tools or appliances while standing in water. Do not turn the power back on until your home has been inspected by an electrician.
If you smell gas, vacate the area immediately if possible, and stay well away until the area has been declared safe by the fire department or gas company. If you cannot vacate the area, open all the windows and doors. Do not flip switches or operate anything electrical as you're vacating in order to avoid creating sparks, and do not use candles.
If you did not evacuate, be aware that flood waters are very dangerous for several reasons and should be avoided entirely if possible. Stay out of moving water. Just six inches of moving water is enough to knock you off your feet, and a mere foot can sweep your car away. Flood water is often dirty and full of debris. It is likely to be contaminated with raw sewage, dead animal carcasses, chemicals, and pesticides. The water may be electrified by fallen and underground power lines.
If your home is served by a private well, do not use water from the well for drinking, cooking, washing, bathing, or brushing teeth. Get the water tested by a professional before using it. Use tap water only if it has been declared safe by authorities.
Throw away all food that been in contact with flood waters, all refrigerated items that have been unrefrigerated due to power outages, and all frozen food that has thawed.
All dishes, cookware, and utensils that have been in contact with flood waters must be washed before use.
2. Protect Property
Open doors and windows to allow ventilation.
Once an electrician has inspected your home's electrical system and declared it safe, use a wet-dry shop vacuum to remove shallow standing water. Use a sump pump or other electrically operated pump to remove deeper standing water.
Use fans and dehumidifiers to aid the drying process. Place fans in an open doorway or window.
3. Document the Damage
As soon as it's safe and practical to do so, take photos of your property, your belongings, and the damage. This will help ensure that you're able to recover the full insurance proceeds available to you, and it will support tax write-offs for any uninsured losses.
4. Communicate
Once the immediate priorities are met, reach out to your friends and family and let them know you're okay. Phones and internet service may be down or overloaded after a major event, so save phone calls for emergencies. Text messages or posting to social media are usually better options. Some social media sites have specific features they activate following disasters to allow you to quickly and easily let all your friends know "I'm okay" with a single message.
5. Initiate the Claims Process
Notify FEMA by calling them at 1-800-621-3362. They may have free help and resources available for you.
Contact your insurance agent as soon as practical because they can help protect your property from further damage, assist with temporary housing and repairs, and document your losses.
Contact your insurance company as soon as possible to begin the claims process. Your agent can assist you with this. Do this even if you don't have flood insurance because there may be aspects of the damage that are covered.
A claims adjuster will need to visit your property and inspect the damage. Work with them and assist them in any way you can to maximize the coverage you receive.
Once you and the adjuster have reached an agreement on the amount of your claim, begin working with contractors to make emergency and permanent repairs. The insurance company may recommend preferred contractors they've worked with who are reliable and offer a fair price.
Record everything throughout this process. Keep copies of bids and estimates, repairs made, notes about discussions with contractors and the insurance company, and photos of damage and repairs in progress.
Save on Home Insurance
Our independent agents shop around to find you the best coverage.
Why Choose an Independent Insurance Agent?
Our vast network of independent insurance agents can provide you with a large selection of homeowner policies that will provide you with the security you need to deal with any storm, including tornadoes.
Independent insurance agents simplify the process of shopping for and comparing homeowner insurance. They will explain the complex terms for you, cut through the jargon, and make sure you understand the fine print.
But perhaps most importantly, they work for you — not one insurance company. They can compare policies from many companies and pick the ones that are best for you at the best possible price.
They'll also be there for you in the future if your needs change or questions arise. They work for you, and their only job is keeping you satisfied now and in the future.
©2023, Consumer Agent Portal, LLC. All rights reserved.
https://www.cdc.gov/disasters/floods/after.html
https://www.nhc.noaa.gov/prepare/hazards.php