Hunting for a Home? 8 Helpful Tips to Finding the Right Apartment
Find the right apartment for you.

Whether we live in a city or a suburban area, we all need a home that suits our needs. But looking for the right apartment can be arduous. You have to consider many things — neighborhood, budget, size, kids — before you really can hone in on where you want to put down roots.
Today's housing market is competitive. Sometimes you have to come with an application and check in-hand so someone else doesn't snatch the apartment before you. But even then you may still lose out on what you think is your dream home. Don't fret: Your perfect apartment awaits you. You just need to have the right tools.
Use our independent agent matching system to find the best insurance plan in your area. You tell us what you're looking for, and our technology will recommend the best agents for you. Any information you provide will be sent to only the agents you pick. We do not sell to third parties.
Here are eight tips to help you find your new apartment.
Ready to Save on Renters Insurance?
Our independent agents shop around to find you the best coverage.
1. Give Yourself Time
Finding a new apartment may take a while. Sure, sometimes you may need to find a new place in a pinch, but if you know you'll have to move in a few weeks or months, start your search early. You may see 20 places before you find "the one."
2. Narrow Your Search Area
Knowing what neighborhood or town you want to live in will help narrow your search. You can research apartments on various websites (more below) to see what's available where you want to live. You may find that you need to expand your search if you're not finding a lot of availability in that area based on your needs and budget. Is there a neighborhood center in easy walking distance with cafés, restaurants, shops, a laundromat? Is it close to public transportation? If you don't have a car or are new to a city, these are things to consider.
3. Have a Realistic Budget
Know how much home you can afford. A typical rule is that your rent should equal about one-third of your monthly income. If you'll have a roommate, you can afford more space, since you'll have more than one income to consider. But you also have to think about utilities: gas, electricity and water. Know going into any rental agreement whether utilities are covered or are your responsibility. And you need to think about other expenses like car insurance and gas, groceries, cell phone, cable TV and more.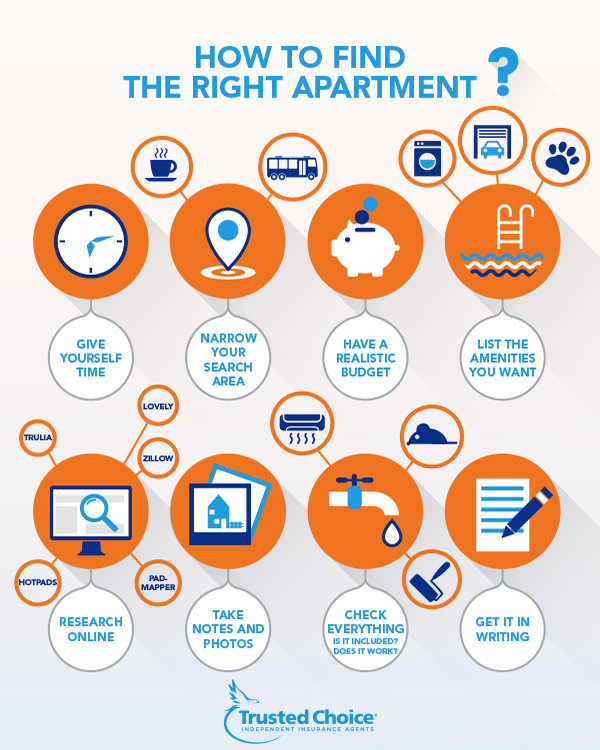 4. What Amenities Do You Want?
Some people have minimal needs and can live very simply and modestly. Others want in-unit washer and dryer, dishwasher, central air conditioning, a garage and more. Make a list of the things that are important to you before you dive into a search. Do you have a dog or cat? Make sure the property allows pets. Does the property have an on-site workout room or pool? These might help keep your other expenses down if you don't have to pay for a gym.
5. Research Online
There was a time when you would walk around the neighborhood and look for "For Rent" signs. Today, many websites and apps help you narrow your apartment search. That said, go ahead and keep your eyes open as you walk around. You might find a hidden gem on a side street that has a sign in the window, or see a listing posted in a café.
6. Take Notes and Photos
The chances of finding the apartment of your dreams on your first outing are pretty slim. That means you'll probably line up a bunch of appointments and viewings and after a while, the places start to blend together. Bring a notebook with you to jot down things that you like about each place. Be descriptive so you'll remember. Take pictures on your phone, too, so you'll know that the place with the front sunroom isn't the same place that has the dining nook in the kitchen.
Ready to Save on Renters Insurance?
Our independent agents shop around to find you the best coverage.
7. What's Included and Does Everything Work?
Does the property come with appliances? Do you need to provide your own window treatments? Does it have central air conditioning or do you need a window unit? Do all the lights work and does the toilet flush? Does cable come with the apartment? Parking? Will the place be painted before you move in? Think about the things you might need to buy or sign up for that may or may not be included in your rent. Also, don't be afraid to look in closets and cabinets, even below sinks. Check for mold and (ugh!) signs of rodents or bugs. You don't want to find surprises after you move in. Remember, you're paying for you to live there – not a family of mice.
8. Get It in Writing
Once you've found your place, had your credit report checked and the landlord approves you, get everything in writing as part of the lease. If you know you'll be there for two or more years, see if you can negotiate a better monthly rent and lock it in for a longer-term lease. Most places will require a security deposit. Make sure you either get a receipt for it or have the amount noted in the lease, and have it include any interest. Then, move in, get settled, and enjoy your new place!