A Buyer's Guide to Driveway Gates and Automatic Openers


It's not unusual to see automatic gates in the driveways of mansions, large estates or ranches. You may be surprised to find out, however, that this amenity extends to your average house too. Automatic gates are now being installed in homes of all sizes and price ranges.
One reason for this growing trend is that attractive, affordable driveway gates and automatic openers are available at most home improvement stores and from online retailers.
The gates come fully assembled and ready for professional or DIY installation. Electric openers and optional accessories can be matched with the gate to ensure smooth operation and lifelong reliability. In this guide, we'll give you a rundown of everything you need to know about adding a driveway gate to your home. Find out more by reaching out to an insurance agent.
Why Install a Driveway Gate?
There are three main benefits to having a driveway gate with an opener: security, curb appeal and increased property value.
Security: A driveway gate prevents unauthorized vehicles from entering the property whether you're home or not. It can also help protect children and pets, especially if the gate borders a perimeter fence.
Curb Appeal: Today's driveway gates are elegantly designed and manufactured to be an asset (not an eyesore) to your property. When properly installed, a gate has a stately presence that instantly improves the look of any home. If you currently have a manual driveway gate, you can greatly increase its convenience by installing an automatic opener.
Increased Property Value: By enhancing the security and curb appeal, a gate can potentially increase the property value—and resale price—of a home.
Ready to Save On Insurance?
Our independent agents shop around to find you the best coverage.
How it Works
Before discussing the finer details of driveway gates and automatic openers, let's take a quick look at the major components of a typical system and how it operates.
The gates are securely mounted to stout posts that are set in concrete and buried deep into the ground. Gates can also be mounted to brick pillars or stone columns.
The automatic opener is bolted to the gate and post, and then connected to either a buried 120-volt electrical cable or photovoltaic solar panel.
Electricity flows from the cable or solar panel to a rechargeable battery. When you press the button on the gate opener remote, the battery powers the motor to open or close the gate. You can also install a digital keypad, which allows anyone to open the gate by entering a four-digit code. Some systems permit operation of the gate via an electronic swipe card, vehicle tag or mobile phone app.
Choosing a Gate
There's a logical sequence to follow when shopping for a driveway gate and opener. Start with gate material and design, then move on to size, opening action and accessories.
A. Material: Most driveway gates are made of powder-coated steel, wrought iron or aluminum. Steel and iron are strong and durable, but aluminum is lighter, rust-resistant and less expensive. Wood gates are available as well, but note that they're heavy and prone to cracking and warping. Plus, wood gates require more maintenance than metal gates.
B. Design: Gates come in various designs depending on the manufacturer. Most residential driveway gates have a series of vertical pickets set within a perimeter frame. The three most common gate designs include: flat-top, arched-top and arched-top with finials.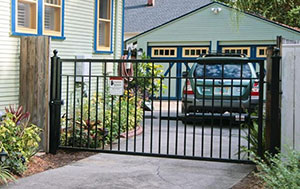 Flat-Top: A flat-top gate is the simplest style. Its upper horizontal rail is perfectly straight, creating a flat-top design.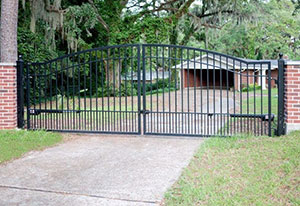 Arched-Top: The upper rail of a standard arched-top gate is bent to form a gentle upsweeping arch. The pickets fit flush within the rail. This is the most popular style for driveway gates.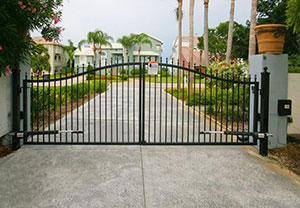 Arched-Top with Finials: The arched-top gate with finials is similar to the standard arched-top gate, except that the tops of the pickets extend past the upper rail. Each upper rail is fitted with a decorative finial.

Note the slight variations in these three basic designs. For example, there are gates with double upper rails or spear-point pickets set within the frame, and some flat-top gates have pickets that protrude past the upper rail.
Another option is to have a steel gate custom-designed and built by a local metal fabricator, or hire a carpenter to custom-build a wooden gate. These are the most expensive options, but they allow you to create a truly unique, one-of-a-kind driveway gate.
C. Size: After choosing a gate design, you must decide on the proper size gate for your specific driveway and property. Ready-to-install driveway gates measure 4 ft. to 6 ft. tall, and come in various lengths to accommodate virtually any driveway width. A single gate is commonly available in 12 ft. lengths and is sufficient for narrower driveways and tight spaces. Dual gates come in 12 ft., 14 ft. and 16 ft. lengths and provide a larger traffic lane. They are recommended for wider driveways.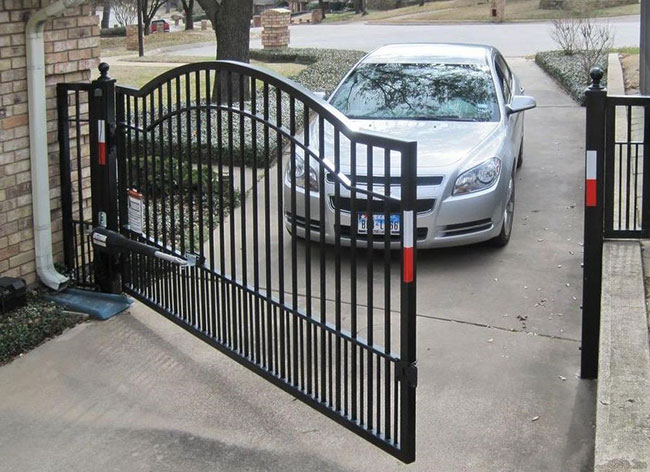 Note that each dual gate consists of two gates of equal length. For example, a 14 ft. dual gate comprises two 7 ft. gates. If you decide to install a dual gate, remember that you'll need to buy a dual-gate opener, which includes two electric openers.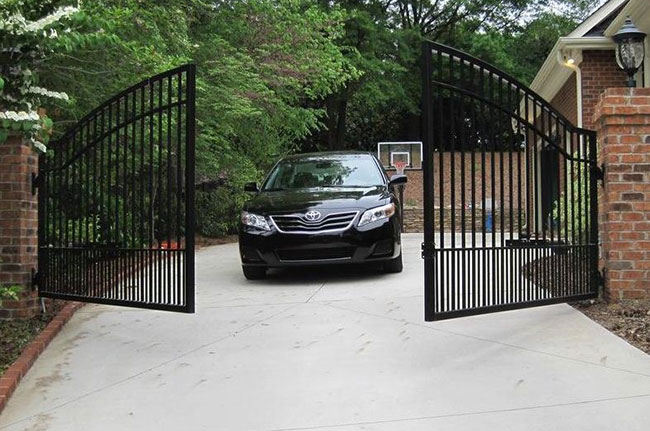 When deciding on which size gate to buy, be sure it opens wide enough to accommodate not only delivery vans, but also ambulances, fire trucks and other emergency vehicles.
D. Opening Action: There are two ways that driveway gates operate: either by swinging or sliding.
A vast majority of residential driveway gates swing open because they require less space beside the driveway than a sliding gate.
Most driveway gates swing inward, meaning as you pull into the driveway, the gates swing away from you and in toward the house. However, whether or not you can install an in-swinging gate will depend on the slope of your driveway.
If the driveway is relatively level or slopes down toward the house, then you can install an in-swinging gate. However, if the driveway slopes up toward the house, there might not be enough clearance beneath the gate for it to swing inward. (There is typically about 4 in. of space beneath the gate.) In those cases, the gate will have to swing away from the house and toward the road.
Remember to consider the gate's position on the driveway. It's important the gate be far enough up the driveway so that vehicles, including delivery trucks, can pull up to the gate without blocking the road, sidewalk, bike lane or pedestrian crosswalk.
Cost Considerations
The cost of automatic driveway gates and openers varies widely depending on material, design and size. Here we'll discuss some ballpark figures.
Expect to pay about $1,760 for a single 12 ft. flat-top steel gate, and about $2,050 for a single 12 ft. double-rail arched-top steel gate.
A dual 16 ft. flat-top steel gate costs about $2,300. A dual 16 ft. standard arched-top steel gate costs about $2,540.
Automatic gate openers are commonly available in three different capacities: light-duty, medium-duty and heavy-duty. The appropriate model depends on the length and weight of the gate.
A light-duty opener (about $250) is designed for use with single gates up to 12 ft. long, or 300 lbs. Choose a medium-duty opener (about $300 single; $560 dual) for gates up to a combined 16 ft. long or weighing as much as 550 lbs. Heavy-duty openers (about $430 single; $700 dual) can accommodate gates 18 ft. long or 850 lbs.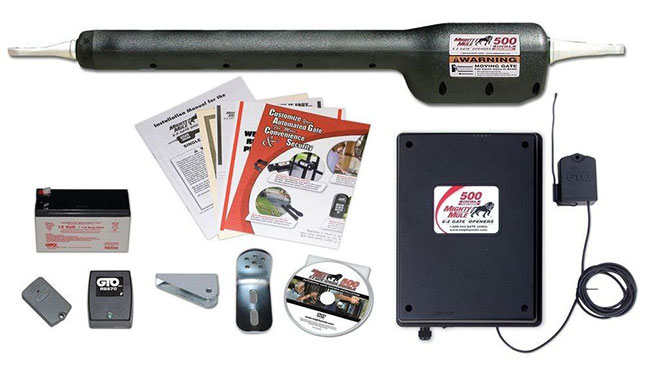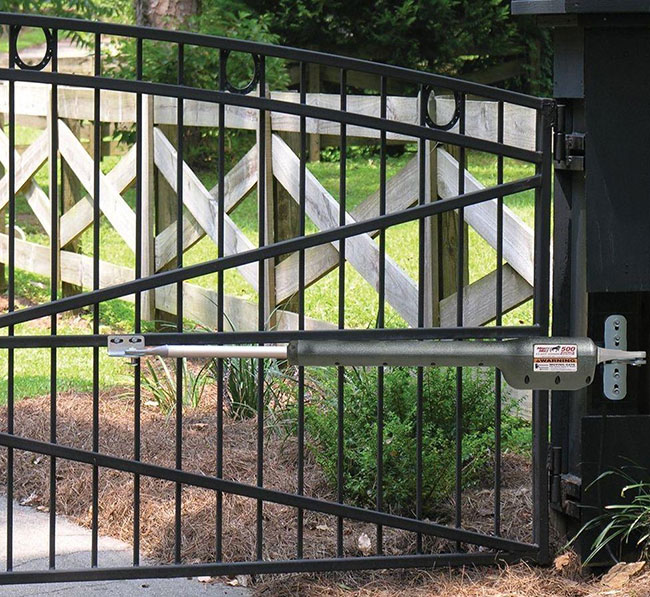 Accessories
There are several optional accessories that you can add to a driveway gate to increase the security and convenience of the system. Here are seven popular accessories to consider and their pricing:
Solar Panel: A solar panel recharges the battery that powers the motor on the automatic opener using solar energy. Buy a 5-watt solar panel (about $95) to operate a single gate and a 10-watt panel (about $230) for dual gates.
Intercom Keypad: A visitor can press the call button to signal the base station in the house. You can then speak with the visitor and give them the access code to open the gate (about $200).
Vehicle Exiting Device: A vehicle exiting device detects mass metal in motion and automatically opens the gate to allow guests to exit without using a remote control (about $150).
Automatic Gate Lock: This hardware item is recommended for high-wind areas where constant movement can affect the open and close limits of the gate. By restricting wind movement with this lock, you'll ensure that the gate will open fully and close securely (about $120).
Pin Lock: The opener is secured to the gate with a simple clevis pin. If someone pulls the pin, they can push open the gate and gain entry to your property. Prevent unauthorized entry by replacing the clevis pin with a pin lock. Then, if you ever need to manually open the gate, simply unlock the pin lock with the provided key (about $20).
Push-to-Open Bracket: Use this steel bracket to convert a pull-to-open, in-swinging gate to a push-to-open, out-swinging gate (about $20).
Electronic Photo Beam: These devices project a light beam across the gate opening. If someone or something interrupts the beam while the gate is moving, the gate will automatically reverse direction (about $80).
Ready to Save On Insurance?
Our independent agents shop around to find you the best coverage.
Installation Options
As with most home improvement products, you have two basic installation options: hire a professional contractor to install the driveway gate and opener, or install them yourself. Driveway gates come with two mounting posts and all the necessary hardware, hinges and fasteners. No welding is required.
DIY. Gate and opener manufacturers provide detailed, step-by-step manuals and instructional DVDs that help guide you through each step of the installation process. Each manufacturer also has a customer help line that can answer any technical questions that might arise.
Hiring a Contractor. You can also hire a contractor to install the gate (which is the most difficult part), and then install the automatic opener yourself. Most do-it-yourselfers can install a gate opener using just a few ordinary hand tools and a cordless drill.
If you choose to run an electrical cable out to the gate, hire a licensed electrician to dig the trench, bury the cable and make the connections at the house and gate. No electrician is required to install a solar panel.
Maintenance Tips
A well-built and properly installed driveway gate and opener will provide years of service with very little maintenance. Below are some tips to keep your driveway gate in top shape.
Important: Be sure to unplug or disconnect the opener before doing any maintenance.
Lubricate the gate hinges annually to prevent rust and ensure that the gates open and close smoothly.
Once a month, use a dry cotton cloth to wipe down the push-pull tube on the opener. Then spray the tube with a high-quality silicone lubricant.
If any rust spots appear on the gate or hinges, immediately sand the area down to bare metal, then apply one coat of exterior-grade primer followed by two coats of exterior-grade paint.
Consider replacing the system's rechargeable battery every two to three years.
Safety Precautions
Common sense plays a key role in staying safe around driveway gates:
Be sure to instruct each family member to stay well away from the gate while it's opening and closing.
Never let children stand near or climb onto the gate, and don't let them play with the remote control.
Keep your fingers well away from any of the pinch points near the gate hinges and opener.
Wait for the gate to open fully before pulling a car forward.
Don't operate the gate if you can't see it.
Driveway gates are intended for vehicular traffic only; pedestrians must use a separate entryway.
Digital keypads should be installed within sight of the gate but at least 10 ft. away from any moving part of the gate. Never install any control device where a user might be tempted to reach through the gate to activate the gate opener.
Most gate openers have an auto-reverse mechanism known as a contact sensor that stops the gate and reverses its direction should anyone or anything come in contact with the gate while it's moving. For an added level of safety, install an electronic photo beam, which reverses the gate if someone breaks the light beam.
There are a host of benefits to installing a driveway gate in your home. From increased security and property value to easy-access convenience, they keep your home safe and stylish. Make sure to choose the right size for your driveway, install it safely, and keep up maintenance, and you'll have the most elegant driveway on the block. Find out more by reaching out to an insurance agent.
©2023, Consumer Agent Portal, LLC. All rights reserved.
http://www.homedepot.com/b/Lumber-Composites-Fencing-Gates-Gate-Openers/N-5yc1vZbu77
http://www.homedepot.com/b/Lumber-Composites-Fencing-Gates-Gate-Openers-Gate-Opener-Remotes/N-5yc1vZbu7e
http://www.homedepot.com/b/Lumber-Composites-Fencing-Gates-Gate-Openers-Driveway-Gates/N-5yc1vZcbay
http://www.homedepot.com/b/Lumber-Composites-Fencing-Gates-Gate-Openers-Automatic-Gate-Openers/N-5yc1vZbugu
http://www.homedepot.com/b/Lumber-Composites-Fencing-Gates-Gate-Openers-Gate-Opener-Accessories/N-5yc1vZbugw