The Ultimate Guide to Buying a Tablet That Fits Your Lifestyle
Find the right tablet for you.


When the Apple iPad was released in April 2010, it was dubbed the future of mobile computing. Sure, critics called it an overly large iPod, but sales were evidence of consumer demand. Today, there are many alternatives to Apple's continued tablet legacy, with products from Google, Microsoft, and even Amazon. That said, there are some key differences among the products and brands. Some tablets innovate in one area while others focus on different components to make their product stand out. In this guide, you will find information to help you choose the tablet that fits your needs.
Versatility and Power
Microsoft Surface Pro 3
A lot of people see the Microsoft Surface Pro 3 as much more than a tablet, and in many ways, that isn't a strange notion. When the Surface first launched, it was one of the first products to blend what we know as a laptop with the idea of a tablet, but still retain the value of both. Want a laptop? Clip on the keyboard and plug in a mouse. Want a tablet? Take off the keyboard and utilize its great touch sensitivity and accurate stylus.
Initially, the Surface line was dismissed as gimmicky. Tons of tablets out there can have keyboards hooked up to them via Bluetooth and appear to perform similarly. Confusion about the product led to poor sales, and there was even a rumor that Microsoft was discontinuing the line because it wasn't meeting their sales expectations. In truth, a lot of the older versions of the Surface had problems, but the Pro 3 stands alone among tablets as a true spec-pushing powerhouse, worthy of its price. It's a valuable addition, not only as a tablet, but also as a laptop for business or personal use. Given the chance, many people would choose this tablet over any other.
This tablet has incredible resolution at 2160x1440, a 256 GB SSD (quite a hefty amount of space), Intel HD Graphics 4400, and a 1.9GHz Intel Core i5-4300U. The internal components are powerful enough that you can play simple games like League of Legends, do some basic video editing, or use advanced image editing applications. The specs are more similar to a laptop than a tablet, and in many ways the comparison to other tablets almost seems unfair. But the versatility and range of the device force it into the tablet category. You can touch and play your way around the device in an operating system that blends traditional Windows with a tile interface.
Given that the tablet contains the power of a computer and a fancy stylus, it retails at a significant price point of $1,149.
Design Factor and Stable Operating System
Apple Ipad Air 2
The Apple iPad and its iterations have reigned in the design department for some time, with slick aluminum exteriors and robust construction. The latest, the Apple iPad Air 2, is no exception. In many ways that makes sense, as consumer use has remained mostly unchanged. People are still looking at emails the same way, watching Netflix (if not more!), and playing some simple games like Fallout Shelter.
Apple understands this market perhaps better than anybody, and it shows. They make improvements where most people will notice it – the feel of the product. Even looking at the product page on Apple's website, you can see the company's focus on aesthetics. The Air 2 is 18% thinner, 6.1 MM thin, and only 0.96 pounds. Impressive? Definitely. If you're looking for a tablet that feels made for your hand, you can't go wrong with the Air 2. Well, both of your hands – this ain't no iPad mini!
Apple also tries to widen their audience by ramping up system specifications in each new product. The iPad Air 2 advertises itself as having 2.5 x faster graphics and a 40% faster CPU. The polish of their operating systems is well known, with a solid application base, a small number of bugs, and solid battery life. Some go so far as to say that while the specifications in Apple products are not always the most powerful, that's made up by the attention Apple places on making iOS a seamless experience. Make no mistake, everything on the device feels fluent and fast.
So what are the downsides? Well, the price for one. The iPad Air 2 retails at a whopping $599. That's significantly different from other leading tablets on the market. Alongside the price, a lot of people are still frustrated with the limitations on iOS customizability and how Apple regulates the app store market very strictly.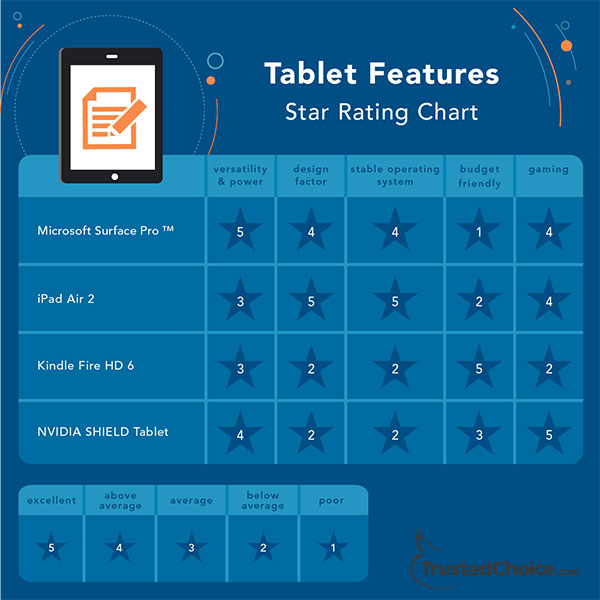 Budget Price
Kindle Tablet
Tablets are expensive but beautiful. However, not everyone needs the most powerful piece of technology if they have simple uses in mind. Finally, the Amazon Fire HD 6 takes the limelight.
The Amazon Fire HD 6 is quality tablet for a low price. It retails at $99, and Amazon boasts that it's the most powerful tablet under the $100 mark equipped with all the essentials. It also mentions that it's twice as durable as the iPad mini!
It has a sharp and vivid 1280x800-pixel resolution IPS LCD screen, an ARM Cortex-A15 1.21GHz quad-core processor, 1GB of RAM, and 8GB of storage (or 16GB. Performance is fast and effortless, and despite the budget price, it has extraordinary performance for most uses – whether surfing the web, emailing, reading Kindle books or watching videos. If you're looking to get some serious game time going, you might want to consider other alternatives, as this small tablet does show limitations like long load times when playing graphically intensive games.

While the internals seem like a bargain, the outside components and feel of the device leave much to be desired. It has a cheap toy-like feel and seems uncharacteristically bulky and cumbersome for such a small tablet. It's not hard to hold per se, but the budget price seems fairer when considering the outside of the device. But then again, it's very durable.
If you just want to own a tablet, the HD 6 will not disappoint. It's an excellent device for children because of its durability, and it offers plenty of options to cater to the younger crowd – like the Kids edition that ships with a protective case and a two-year warranty plan. It also comes bundled with Kindle Freetime, which provides youngsters with a good selection of kid-friendly apps and games. Given that the size is only 6 inches, this tablet might not appeal to owners of the larger smartphones that are becoming more mainstream.
Gaming
Looking to get a tablet for some gaming? Well, most tablets offer the ability to play games, and most higher-end tablets can play high-quality games well. That said, I'm going to recommend two tablets that do gaming superbly, both for different reasons.
iPad Air 2
A good screen for gaming is essential, and Apple has always invested an enormous amount of effort into their tablet and phone screens. Apple devices have great ambient light detection and brightness that provides stunning clarity even in brightly lit outside spaces.
The newest iPad has some great display specifications that ramp things up a bit, including a 9.7-inch widescreen with 2048x1536-pixel resolution at 264 ppi. That's a killer screen, and if you even have the slightest suspicion that you might have some sun rays hit your screen while gaming, this screen could be a godsend, with its antireflective coating.
What's a good screen without a great game collection? Luckily, the iOS Appstore has some of the best and most robust games of any mobile platform. Modern and powerful MOBA games like Vainglory were long-time iOS exclusives, and cult hits like Infinity Blade are still only available on the Apple Appstore. If you're in the market for a powerful tablet with a great screen and a giant collection of games, you can't go wrong with the iPad Air 2.
Nvidia Shield Tablet
The Nvidia Shield Tablet is an ambitious product. It's an alternative to the Nvidia Shield device, which was a cross between a controller and small tablet, melded together in an odd sort of way for portable gaming. The Shield is a traditional tablet, beefed up with some gaming specs, streaming capabilities, and some nifty Nvidia tricks up its sleeve.
Overall, in terms of build, specifications, and design, the Shield Tablet is a middle-of-the-line tablet, with a decent price point of $299 for the 16GB and $399 for the 32GB LTE enabled tablet. The screen can't hold up to the best tablets out right now, but it still looks great, with an 8-inch 1920x1200-pixel IPS display. It also hosts a Tegra K1 Processor, which is powerful enough to play games like Half-Life 2 and Portal in console quality. The tablet also comes with the Nvidia experience, which hosts various options for game streaming. These options can be a bit confusing to use and understand the differences.
You have Grid, which is an online subscription service that lets you access an online library of games to stream. Then, you have Nvidia Game Stream, which allows you to stream games from your Nvidia graphics-compatible computer. You also have the Tegra Zone marketplace on the tablet itself, which has a handful of games optimized for play. Needless to say, there are plenty of options here for gamers. Streamable titles also have the potential to look like console quality, provided you have an extremely capable internet connection.
The Nvidia Tablet is a complete niche package for gamers. Besides the gaming platforms available, there is still access to the Play Store, which has many playable games. However, many players already have consoles to use or computers to play games on, or they simply lack the technical know-how to use the tablet. The native controller also costs a considerable add-on price of $60, and it's not exactly ergonomic.
Application Market
Any iPad variation
Android Tablet
Applications on tablets and smartphones are the foundation of the user experience. It seems like there's almost an app for everything, and in some ways that means a lot of app markets have a lot of junk. There are social experiences that have become mainstream solely because of their apps, like Instagram. Then there are games, photo-editing apps, and other extraneous tools made for the mobile experience.
Even the Apple App Store, known for its restrictions on content, still has a lot of "duds" floating around. It's becoming harder and harder to find quality games that aren't on "top seller" or most popular lists simply because of how many games there are. Those lists seem useful, but they reflect the latest gaming craze, not necessarily game quality or new innovative features.
So which mobile operating systems have the best application markets? Currently, the Google Play store and the Apple app store hold the reins. Both have their strengths, even if both need to find a way to make finding new and better apps easier.
The Apple app store has always had an advantage in getting applications first. There are two significant reasons: fragmentation and piracy concerns. Developers don't like the idea of developing for a platform that has so many devices out in the wild. It makes the development process much more difficult when considering resolutions, product specifications and more. Developers certainly don't like how piracy is much easier on Android platforms.

This release distinction is very evident, as popular games tend to come out first on iOS and later on Android. Take Hearthstone and Instagram – both popular apps, but they are only two examples of many applications that made their home on iPad much sooner than on Android tablets.
Since Apple also regulates the market better, a lot of the apps have fewer bugs and safety issues. This regulation means there are more restrictions on application control, but I have found that apps on my Apple tablets run better and crash less.
While Apple apps are more stable but restricted, the Google Play store has more apps with fewer restrictions. That means that emulators and other apps like torrent apps are easy to find and very accessible. There is also a multitude of different launcher solutions that can drastically overhaul your tablet's interface and general feel. The Play store is still playing catch-up a bit with the Apple app store, but it's made some huge strides in terms of app quantity, if not quality.
Conclusion:
There's a huge variety of tablets out there, and most from the big boys will run decently. Let us know if you have a favorite tablet, and why, in the comments below.