Photography Insurance: Is It Necessary?
Because photography insurance should always be in the picture

If you understand the difference between sharp, soft, noisy and raw without thinking about an edible product, then you're definitely a photographer, and definitely in the right place.
Whether you're a professional photographer or considering turning your Instagram hobby into a profession, you'll need more to be successful than understanding that the best light is during the golden hour.
We know that insurance and photography don't exactly flow off the tongue. But photography equipment isn't cheap, and anything that's bringing in an income deserves some financial protection. That's why we've rounded up everything you need to know about insurance for your photography business. We're talking different kinds of insurance, cost to purchase, and how to find the best insurance for you. Let's do this.
| | |
| --- | --- |
| Cost to Start a Photography Business | |
| Two cameras | $1,500 to $2,000 each |
| Multiple lenses | $1,000+ each |
| Two flashes | $700 |
| Multiple memory cards | $50+ each |
| Two external drives | $120 each (keep one backup off-site) |
| Computer or laptop with sufficient memory | $2,000 |
| Website (Wix, PhotoShelter, SmugMug and/or Squarespace) | $60+ |
| Lightroom and Photoshop subscription | $120 per year |
| Business licenses | $150 (varies) |
| Insurance | $600 per year (varies) |
| Accounting | $300+ per year (varies) |
| Contracts | Free to $1,000+ (varies) |
| Online proof gallery, such as ShootProof | $120 per year |
| Business cards | $20+ |
How Risky Is a Photography Business?
To put it simply, photography is not risky. Unless you're hanging off a cliff in order to get the best shot, you're entering a safe career. However, that doesn't mean you don't have valuable items that you'd be really sad to break or lose.
You may even have a studio or rental space that you need to protect. From your camera, lenses, and tripod to you and your clients, these are all reasons to invest in some equipment and liability insurance.
Getting the Right Insurance for Your Business
The two most important types of insurance you can purchase for your photography business are equipment insurance and liability insurance.
Equipment insurance: For those times when you're standing at the edge of the ocean for a perfect shot and a wave wipes your camera into the water.
Sometimes your homeowners insurance will cover hobby equipment, and if you're not a full-time photographer, this may be enough insurance to make you feel comfortable. But once the cost of your equipment is more than your homeowners hobby equipment insurance will pay out, you'll want to seek a separate policy.
Liability insurance: For those times when you ask your subject to stand on top of that rock for the perfect photo and they sprain their ankle on the way down. Or when someone trips in your studio over the cord for the lighting.
Depending on the type of photographer you are, you may also want to consider a policy that will cover personal injuries, the vehicle you use for work, and property insurance if you're working out of an owned or rented work space.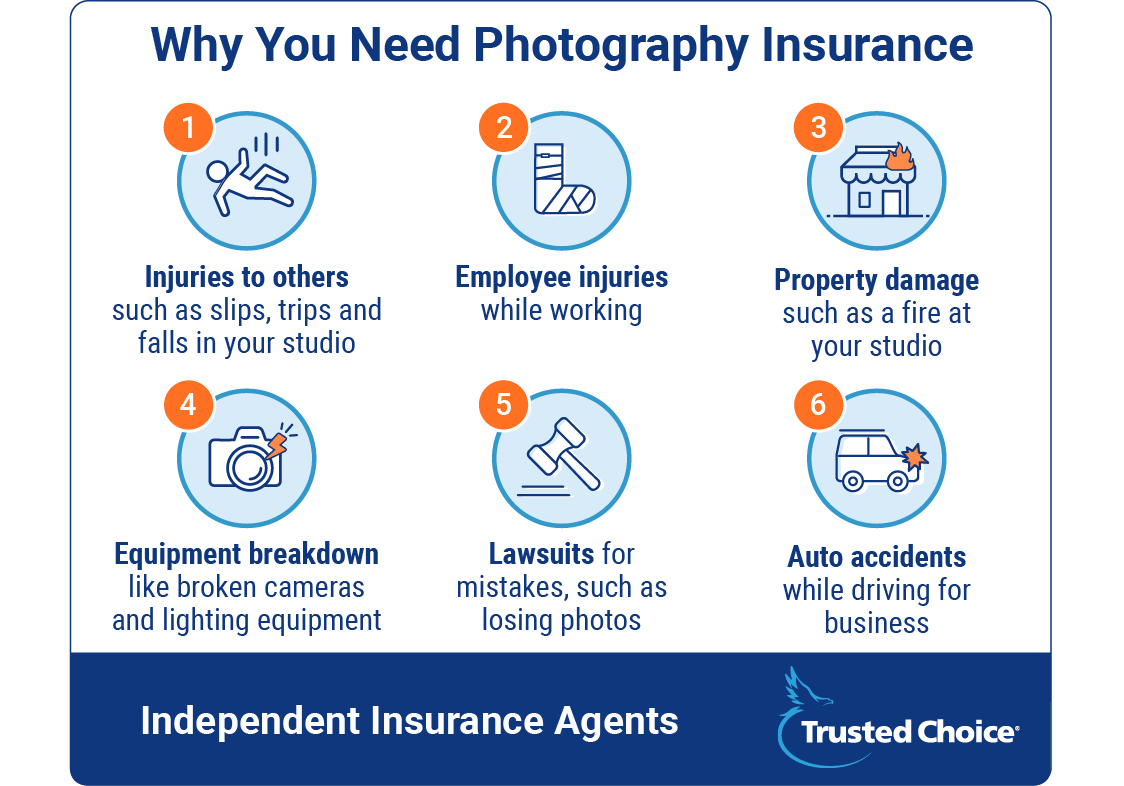 How to Find the Best Photography Insurance
There are about as many insurance options as there are food items on a Cheesecake Factory menu. How do you decide what's going to satisfy your needs?
The best option is to go through an independent insurance agent. An agent can take a look at your entire business package and help you find what will best fit your needs.
Picturing the Future
Over the past five years, the photography industry in the US has grown by 1.6% to reach revenue of $10 billion in 2018. In the same time frame, the number of businesses has grown by 3% and the number of employees has grown by 2.4%. These stats show that the photography industry is a great one to be a part of.
If you're ready to turn your hobby into a business and get in weird positions for the perfect photo angle, then make sure your equipment and business are protected with great photography insurance.
©2022, Consumer Agent Portal, LLC. All rights reserved.
https://www.ibisworld.com/industry-trends/market-research-reports/professional-scientific-technical-services/professional-scientific-technical-services/photography.html
https://www.ppa.com/benefits/protection/basic-equipment-insurance
https://www.businessnewsdaily.com/9506-how-to-start-photography-business.html
https://www.themoderntog.com/photography-business-insurance/
https://www.businessnewsdaily.com/9506-how-to-start-photography-business.html