Hippo Insurance Company Review
We've looked at over 1,000 insurance companies, rating them on strength, accessibility, and service to find the best ones. Here's what people think about Hippo Insurance Company.
Hippo Insurance Company at a Glance
Founded in 2015
Offers several forms of coverage
Rated "A" (excellent) by the Better Business Bureau (BBB)
60-second online quotes
24/7 claims reporting
Discounts available
Hippo Insurance pros: High rating through the BBB. Offers 60-second quotes online. Offers several discounts. Offers 24/7 claims reporting. Several forms of coverage available. Coverage offered in most states.
Hippo Insurance cons: Not rated by AM Best. Not as many contact options as other carriers. Some complaints filed through the BBB.
To find insurance in your state, use our national insurance company directory to find the best company to meet your needs. You can locate insurance companies that specialize in your specific coverage needs and get connected to an agent near you.
What Type of Insurance Does Hippo Offer?
Here's an overview of the coverages offered by Hippo:
Homeowners insurance
Fire insurance
Landlord insurance
HOA Insurance
HO3 Insurance
Your independent insurance agent can help you find more information about the coverages offered by Hippo Insurance, and help you decide if this insurance company is right for you.
What to Know about Hippo Insurance
Founded in 2015, Hippo Insurance is one of the younger insurance companies on the market today. The carrier offers homeowners insurance as well as landlord insurance, fire insurance, and HOA and HO3 insurance. Coverage is available in 37 states currently.
The carrier is headquartered in Palo Alto, CA. Hippo's LinkedIn profile states that they have 537 employees. The insurance company's original mission was to provide homeowners with better insurance products than those that were previously available.
Hippo Insurance is not currently rated by AM Best, the leading global credit organization monitoring the insurance industry. However, the carrier does have an "A" or excellent rating by the BBB. While Hippo is BBB accredited, they've also had a somewhat high volume of complaints filed against them in the past three years already.
Find The Right Company Today.
Shopping for a company? We have the right one for you.
What Discounts Does Hippo Offer?
Hippo advertises the following discounts on their homeowners insurance policies.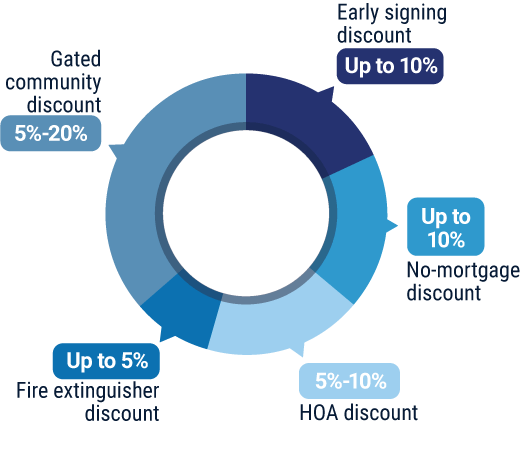 Early signing discount: Offered to customers who sign up for coverage at least eight days in advance of its intended start date. (Up to 10%)
No-mortgage discount: Offered to customers who paid for their home up front. (up to 10%)
HOA discount: Offered to customers who are part of an HOA. (5-10%)
Fire extinguisher discount: Offered to customers who keep fire extinguishers in their home. (up to 5%)
Gated community discount: Offered to customers who live in a gated community. (5-20%)
For more information about these discounts or others available through Hippo, work with an independent insurance agent. Independent insurance agents work hard to get you the most affordable coverage.
Hippo Insurance Customer Service
Here's a breakdown of Hippo's customer service options and availability:
Phone
Email
24/7 claims reporting via phone
Customer service department has the following hours:
| | | | |
| --- | --- | --- | --- |
| | | Day | Hours (CT) |
| | | Monday-Friday | 6:30 am - 7 pm |
| | | Saturday | CLOSED |
| | | Sunday | CLOSED |
To ensure a great customer service experience, work together with an independent insurance agent. Independent insurance agents can help handle claims and other matters for you, so you can relax and enjoy your coverage.
Hippo Insurance FAQ
What is Hippo's average claim response time frame?
Hippo states that they must acknowledge receipt of your claim within 10-15 calendar days. If your claim is approved, they must pay out your settlement within five business days.
What is Hippo's customer service availability?
Hippo is available at extended hours by phone during the week, and also allows customers to contact them by email.
What is Hippo's claims process?
Hippo outlines their claims process as follows:
"You contact Hippo Claims
We'll assign a dedicated Claims Concierge to help you right from the start and begin gathering details about your claim.
Hippo creates a record of your claim
We'll send you what's called a First Notice of Loss Acknowledgment (FNOL). It's the initial report that starts the formal process of your claim.
Hippo assigns an adjuster
Your dedicated Claims Concierge will assign an adjuster to your claim.
Hippo schedules an inspection
We'll schedule an inspection with you and the adjuster or one of our preferred partners to visit your property, review the loss and gather information.
Hippo follows up if anything more is needed
This could be things like photos, receipts, police reports, or certificates.
Hippo reviews all the information
The adjuster reviews information gathered from the inspection and explains coverage and next steps.
Hippo notifies you if your claim is approved or denied
If you believe we missed something, we want you to send us additional information so we can take another look.
Hippo pays the claim quickly
If the claim is approved, Hippo will make payment as quickly as possible, helping you get things back to normal."
Does Hippo create a user-friendly experience for customers?
Hippo's website is easy to navigate. They have fewer contact options for customers than most modern carriers do. Their social media presence is also more limited than many other modern carriers'. But the insurance company does offer 24/7 claims reporting by phone.
Does Hippo have good landlord insurance?
Hippo offers the following coverages through their landlord insurance policies:
Dwelling coverage
Other structures coverage (i.e., for fences, sheds and detached garages)
Personal property coverage
Liability coverage
An independent insurance agent can help you decide if Hippo's landlord insurance is the right choice for you.
Is Hippo a good insurance company?
Hippo has a high rating by the BBB. However, they're one of the younger carriers on the market today and are not rated by AM Best. Most customer feedback seems to be positive, though, so it can be argued that Hippo Insurance is a good carrier.
Hippo Insurance Customer Reviews
Clearsurance

It was very easy to sign up online and claims are handled very quickly, along with a home monitoring system included.
Clearsurance

Had hail damage to my roof. They had an independent adjuster come look at it. Claims department was great and took care of the claim.
Clearsurance

This company is a complete scam, it's been less than a year and they're already canceling my policy. My house is exactly the same as when I moved in now they're telling me there's something wrong with my roof and shingles and the only way to communicate with them is through email. Think twice before choosing this company.
Better Business Bureau

Easy setup, great customer service, quick inspection process that was not obtrusive, good choice of care package to go with policy, and easy access to policy.
Better Business Bureau

Because this has been a seamless, easy process with wonderful customer service. Even the mortgage company I just refinanced with was happy to hear I had this company because it made their life easier as well. HIGHLY RECOMMEND IF YOU, LIKE ME, HATE THE GRUELING PROCESS OF TRYING TO NAVIGATE THE INSURANCE WORLD.
TrustedChoice.com's Final Review

We award Hippo Insurance a final rating of 3.25 stars. The insurance company is one of the younger carriers on the market today, but they are BBB accredited and have a high rating through the organization. Coverage is available in most states, and there are several products offered.
Most customer feedback about Hippo is very positive. While there are some complaints filed against them through the BBB, the vast majority of customers seem to be satisfied with their coverage and customer service experiences. The carrier offers 24/7 claims reporting and fast online quotes.
Overall, we do recommend looking into Hippo Insurance with the help of your independent insurance agent as an option to be your next trusted carrier.
©2023, Consumer Agent Portal, LLC. All rights reserved.
hippo.com/claim
bbb.org/us/ca/palo-alto/profile/insurance-companies/hippo-insurance-services-1216-901822/customer-reviews
linkedin.com/company/hippo-insurance/about/
clearsurance.com/insurance-reviews/hippo-insurance-594bc58254439f1a02cc8eeb