Keep Cold Air Out This Winter With These Window Kit Installation Tips


Window kits can be a quick, albeit temporary, way to insulate your windows for the winter months and protect your home from harsh, cold air and wind.
There are a few different types of window kits to consider when you need protection from external forces, all of which help to insulate windows for the short term before you have installation experts come to your home and help you decide which windows to have installed.
Installation Tips
Window kits all have the same basic installation process:
First, make sure the interior window trim is clean and free of dust or dirt buildup. Wipe the trim down with a damp cloth, and make sure it dries before applying the double-sided tape. Otherwise, the dust, dirt and moisture will not allow the adhesive to stick.
Now that everything is clean and dry, apply the double-sided adhesive around the outside border of the window trim. Don't leave any gaps in the tape lining, as that will create spaces for cold air to seep in past the insulating film.
Measure the size of the window from the adhesive, and cut your film accordingly.
Peel away the backing on the double-sided adhesive. Then, working from the top down, press the edges of the film against the adhesive, making sure to limit the amount of slack or wrinkles.
Once the film is attached to the adhesive, grab a hair dryer. With the heat setting on, blow-dry the film so it shrinks to fit, working from the outside in. This will also reduce any creases or wrinkles where air could get through.
Which Window Kit Should You Choose?

3M Window Insulator Kit
The most popular window kit is likely the 3M Window Insulator Kit. Application is quick, affordable and relatively painless, as long as you are careful when putting the film in place. Starting as low as about $5 per kit, you can cover a room full of windows without spending much at all for temporary but effective results.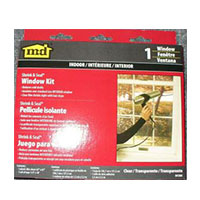 MD Building Products Window Kit
The MD Kit is similar in functionality and coverage as the 3M kit and costs just $4 per kit. Make sure you don't touch the film to the tape before you have it in place, or you could create tears and wrinkles and it could become a big mess. Steady hands are crucial!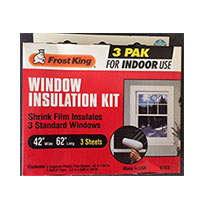 Frost King Window Kits
Frost King is the brand to consider if you have larger windows or more windows to cover. They offer extra-large shrink window insulation kits, which run around $14 per kit and cover a larger area. In the Frost King kit, there are two window films that cover extra-large windows, patio doors and any other types of windows and glass doors in your home that will eventually need to be replaced.

Keeping Your Home Insulated For The Future
Window kits are a great temporary solution for insulating windows from harsh winter weather. However, they are precisely that—temporary fixes. If windows in your home are producing more cold air and drafts than they are protecting from the elements, this means your windows will need to be replaced in the near future.
Older windows do not come equipped with certain energy-saving elements, including frame insulation foam and Argon gas, which is commonplace in new windows. Windows can contract and expand over years of drastically changing temperatures, creating gaps and hairline creases between the frame and the house where cold air can seep inside.
If you choose to apply a window kit to get through the colder months that are now upon us, it's a good idea to plan a meeting with a brand-name, warrantied window installation contractor in the spring. New windows are an investment that will save money on your energy bills and avoid the hassle of applying unsightly window kits in the future. But for a quick fix, they do the trick!