A Guide to Buying a House in: Tennessee
(So you can live in the place with the hottest music scene)

Want to buy a house in The Volunteer State, but you're much more familiar with the state's famous tunes than its housing market? No need to worry, since we've taken the effort of putting together a bite-sized guide to buying a house in Tennessee, with a bit of trivia about the state as an added bonus. So, without further delay . . .
The Most and Least Expensive Cities in Tennessee
After you've carefully chosen which state you want to buy a house in, it's time to narrow down your potential-move radius to one specific town. A trick to help speed up that process? Knowing which cities in the state are the most/least pricey. Thanks to our sources, we've found a few in each category, for 2019.
Most expensive cities:
Pigeon Forge
Cookeville
Sevierville
Crossville
Athens
Least expensive cities:
Manchester
Humboldt
Union City
Lexington
Rockwood
Now you're better equipped to start your house-hunting journey in a town that fits within your budget. The couch in that brand new living room of yours will feel all the more relaxing.
No matter where you choose to buy your new home, you can always find affordable home insurance within our trusted network.
Tennessee's Housing Market
Tennessee's well known as the "Birthplace of Rock 'n' Roll", but its current housing market's status isn't as widespread. That's why we're taking a look at a brief overview of Tennessee's market, next.
Tennessee currently has a seller's market, but trends have been shifting towards buyers as of late 2018. Home prices are still rising, but not as much as in previous years. Inventory's also still on a slight decline, but that's leveling out, too. Homes spend an average of 74 days on the market, and the market overall is said to be "healthy".
Nashville's specific housing market, however, is totally hot — red hot. In fact, researchers predict the city will have the 8th-hottest market in the nation for 2019. The market has shifted to favor buyers since 2018, with property appreciation having slowed and inventory steadily increasing. Nashville homes spend an average of 68 days on the market.
Save on Home Insurance
Our independent agents shop around to find you the best coverage.
Popular Places to Move to in Tennessee
Obviously, Nashville is the first thought to come to mind. Everyone seems to be eager to lock up a new home there, and we can't say we blame them. Not only is Nashville home to the famous Grand Ole Opry, but it's also got a strong economy and tons of job opportunities, offers a great quality of living, is super affordable, and is one of the fastest-growing metropolitan areas in the US.
Home values in Nashville currently average $262,600. Homes have appreciated in value 8.3% over the past year, and they're expected to rise 5.5% within the upcoming year. The price per square foot is about $191. Homes are listed on the market for about $319,900, and they're selling for about $271,900. Renting a house in Nashville costs about $1,650/month.
In addition to Nashville, there's still plenty of options to move to in Tennessee, since the state has plenty of new construction in development. Most of it's underway in the state's central area, from Clarksville to Nashville and on down to Chattanooga. There's also lots going on in eastern Tennessee, around Knoxville, and up north, around Johnson City.
Home Property Values and Costs in Tennessee
Now that we've thrown out a few options of where to search for your new house in Tennessee, we'll take a look at how much you might be paying for one, depending on where you go. So, let's get into those home costs and property values, shall we?
Tennessee home values currently average $164,400. Home values have increased 8.9% over the past year, and they're expected to rise another 5.7% within the upcoming year. The price per square foot is about $130. Homes are listed on the market for around $245,000. Rent for a house is about $1,295/month.
Now let's check out some apartment averages. In Nashville, the state's capital, you'll find one-bedrooms going for about $1,200/month, which seems to be on the higher end of the spectrum. In Knoxville, Memphis, and Chattanooga, you can find one-bedrooms listed between $716/month and $814/month. In Johnson City, listings average $708/month.
And if townhouses are more your style, we're talking to you next. Townhouse rent in Tennessee ranges from the low-end of about $400/month for a two-bed/one-bath joint in Memphis to the high-end of about $4,000/month for a four-bed/three-and-a-half-bath place in Nashville. Clearly, location matters.
You'll Want to Review Your Tornado Coverage in Tennessee
Hopefully the vision of your new Tennessee house is starting to shape up, but next you'll need to consider your homeowners insurance policy. All types of tornadoes visit Tennessee on the regular. The state's technically located just outside of Tornado Alley, but that doesn't seem to stop the storms aggression.
Average Number of Tornadoes per Year (1953-today)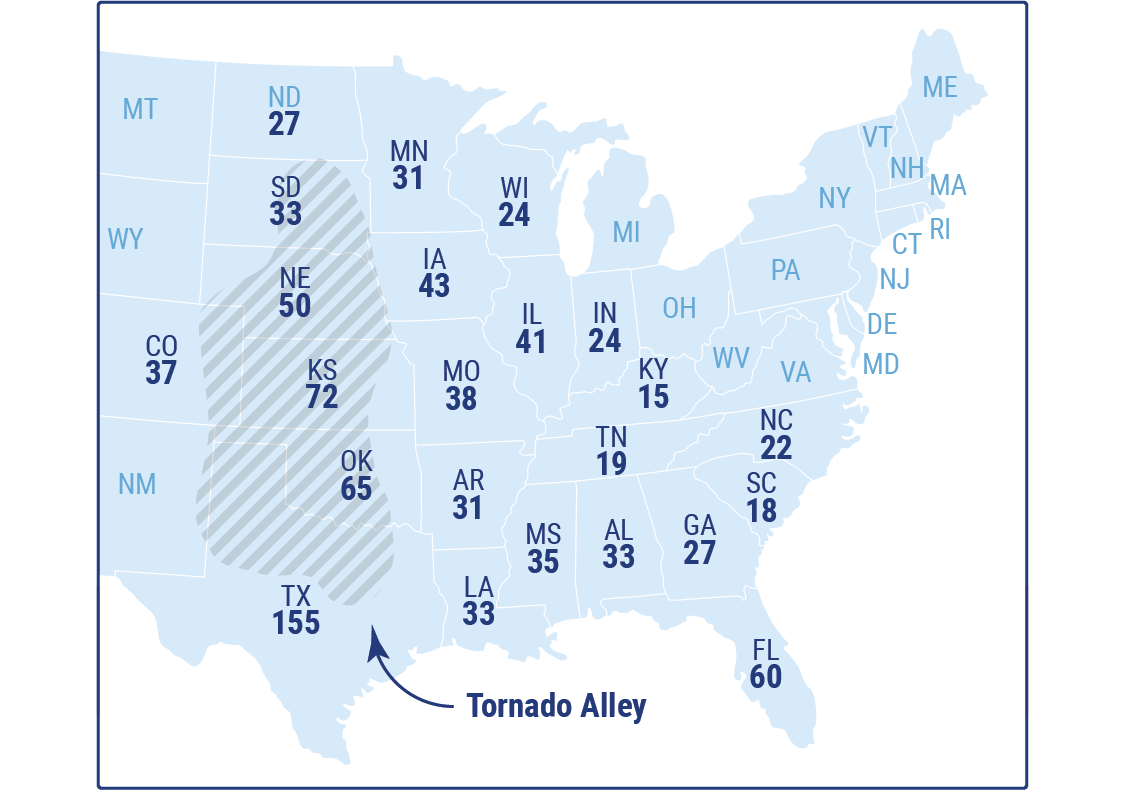 Basically, you'll just need to review your insurance policy to make sure you're protected. Luckily most homeowners insurance includes coverage for tornadoes, but you'll need to double check yours, in order to seriously up your confidence level. Some policies may require you to get an additional, separate tornado insurance rider, or to specifically name tornadoes among the events that you want them to cover.
Damage to your actual home and personal possessions is typically covered by a regular homeowner's policy. For renters, renters insurance should cover your personal property. Your policy is also likely to provide short-term housing in case the storm is so intense it leaves you temporarily homeless, which would be just plain mean.
Call up your agent to review your policy with you, if you're even a tiny bit unsure. It's just better to be prepared ahead of time. Trust us.
Quality of Schools in Tennessee
If education's an important factor in where you buy your new house, then you'll want to check out this overview of Tennessee's school system. We found out how the state's teaching and learning department stacks up against the rest of the US, just for you.
Here are some 2018 WalletHub stats about how Tennessee schools ranked in the country:
#35 overall for the US
#39 for quality
#15 for safety
#37 for spending
The top-rated schools in the state are the Central Magnet School (high school) in Murfreesboro, and Vanderbilt University, in Nashville.
Moving to Tennessee: Pros and Cons
It's time for the more fun section of this guide, where we dive into some cool factoids about Tennessee, itself. Now that you've got the lowdown on some important factors that could influence your decision to buy a house in The Big Bend State, let's find out why other people already did. The locals chimed in on some PROs and CONs to Tennessee living for us.
PROs, as voted by Residents of Tennessee:
No income tax: That's right, if you take up residence in Tennessee, there's one less pesky deduction from your paychecks. However, the state does make up for it a bit, by having a higher sales tax rate than much of the rest of the country.
Music scene: Sorry, we just can't stop talking about it. But besides Memphis and Knoxville and their musical royalty, there's also United Record Pressing, which produced many famous Motown classics, including works by Michael Jackson. And for the country fans out there, you've got Dollywood, the Grand Ole Opry, AND the Country Music Hall of Fame. Then there's the Tina Turner Museum, the Musicians Hall of Fame, the Historic RCA Studio B, and the Memphis Rock 'n' Soul Museum. Not to mention all the bars and halls where the up-and-comers get their start.
Free community college: In 2014, the Tennessee Promise Program was launched, making community college tuition and fees free for recent high school grads. As of fall 2018, however, any adult without an associate's or bachelor's degree will also receive the benefit of free community college, making Tennessee the first state in the nation to offer free community college for all adults.
Low cost of living: Tennessee was ranked the second-least expensive state to live in by Usa Today, with a cost of living index of only 89.7. We saw earlier that rent here is pretty affordable, and combined with no state income tax and low property taxes, your wallet will stay even fuller.
CONs, also as voted by Tennessee Residents:
Landlocked: Some residents who relocated from a coastal area say they miss the ocean and beaches. Though there are many rivers, lakes and waterfalls within the state, the landlocked feeling can make some a bit homesick.
Tornado country: We mentioned this earlier, but it's a big enough deal to mention again. Though Tennessee isn't located in Tornado Alley, it IS located in DixieAlley, which is the part of the US that has a higher risk of developing tornadoes. Basically, it's kind of a danger zone, at least as far as strong winds are concerned. According to sources, the injuries from the storms are due to a higher percentage of mobile homes in the area, with a denser population.
Traffic: Many residents called out the horrible traffic problem around here. The population spikes in the state over the past several years have contributed to a traffic nightmare that Tennessee was not equipped to deal with when its roadways were configured. The surge in population and traffic has contributed to a rise in highway accidents.
Save on Home Insurance
Our independent agents shop around to find you the best coverage.
Activities to Do in Tennessee
Well, now that you know WHY you may want to buy a house in Tennessee, we'll give you a few ideas of some fun stuff to do after you're settled in. We heard from some people who already live in Tennessee about some of the less-obvious gems the state has to offer.
Here just a few of the state's coolest attractions:
Ruby Falls: In Chattanooga, an underground waterfall is hidden inside a cave in Lookout Mountain. A tour here is filled with incredible views of stones and formations, and the added bonus of a waterfall lit up by multicolored lights. And it'll never be closed because of rain, so there's another bonus.
Sun Studio: The recording studio that prides itself on being "The Birthplace of Rock 'n' Roll" is located right in Memphis. Musical icons Johnny Cash, Elvis Presley and Jerry Lee Lewis got their start here. The studio opened in 1950 and has produced many hit records and music stars since its inception.
The Sunsphere: This iconic landmark in Knoxville is one of the last remaining artifacts from the great World's Fair of 1982, and this specific structure was the symbol associated with the event because of its slogan, "Energy Turns the World." Postcards and promotional material for Knoxville never stopped featuring the Sunsphere, even though the fair was only hosted once. It was also featured in an old episode of The Simpsons, so it's a pretty big deal. Though it was out of commission for decades, the observation deck was renovated and reopened to the public in 2014 and now overlooks the Knoxville Convention Center, where festivals and activities go on all the time.

Titanic Museum: Located in Pigeon Forge, this is the second museum of its kind to feature a recreation of the doomed ocean liner of 1912. Since 2010, attendees have been able to explore re-creations of rooms based on actual Titanic blueprints, including a dining room and the oh-so-impressive grand staircase. Once you arrive, you're given a boarding pass with information about one of the real Titanic passengers, and you'll find out your fate at the end of your tour. Another attraction inside features ice water that you can touch to feel the exact frigid temperature that the poor passengers met with as the ship went down. The museum holds more than 400 artifacts from the ship.
Concluding Your Tennessee Home Buying Process
We hope you found this guide helpful for you home buying needs. If you want to learn more about the home buying process feel free to explore our home buying checklist to make your process less stressful.
Make sure your new home is covered properly with an affordable home insurance policy.
©2023, Consumer Agent Portal, LLC. All rights reserved.
tnrealtors.com
zillow.com
rentcafe.com
https://www.fema.gov/media-library-data/20130726-1801-25045-0298/ra1_2011_tornado_risks_tagged_011912.pdf
usatoday.com
tripsavvy.com
wkrn.com