Which Room Do You Think Is the Most Dangerous in Your House?
(And do you have the proper protection in case something happens?)

There are a lot of rooms in a house that can be considered dangerous. Like a kitchen that's full of accessories that can burn you or knives that can cut you, or a garage that's filled with tools and gadgets that could fall and injure you. But the actual most dangerous room in the house might surprise you. Don't worry, we'll tell you what it is and we'll also tell you if you're covered.
No matter what room in your house you're in, an independent insurance agent can help you keep the risks of that room in mind. They'll find you the right protection when you need it, and protection against potential risks you haven't even thought of. But first, let's talk about this mysterious dangerous room.
What Is the Most Dangerous Room in the House?
Drum roll please... the most dangerous room in the house is the bathroom! Just look at these stats.
Every year around 234,000 people slip in the bathroom
79% of bathroom injuries occur to people ages 65 and older
33% of elderly who fall in the bathroom need hospitalization
One person dies every day by using a bathroom or shower
Even though we tend to perform pretty mundane acts in the bathroom, slippery surfaces, poorly lit pathways, and bathtub sides cause a lot of injuries.
What Insurance Is Going to Help Protect Me or Get Me Back on My Feet after an Emergency?
If you experience a slip and fall in your bathroom, you're going to have to turn to your health insurance in order to receive coverage. Unfortunately, your homeowners policy is not designed to cover personal injuries in a home. It's only designed to provide protection against property damage or liability claims made by a third party. This means if a friend was staying at your home and they were to slip and fall in your bathroom, your liability insurance would provide coverage.
Fortunately, for your personal injuries, your health insurance covers you no matter where are.
How Can I Prevent Bathroom Injuries?
Even though it's the riskiest room in the house, there are a variety of ways that you can help prevent injuries that may occur in your bathroom. These include:
Installing shower bars
Installing raised toilet seats
Adding automatic night lights
Changing to a walk-in bathtub
Adding non-slip mats to your shower
Putting toiletries in an easily accessible location
Can Property Coverage Help Me in This Situation?
Once again, if you are the person who is injured in your own bathroom, your property coverage isn't going to do much. However, your property coverage does provide a different type of protection for your bathroom. Should you experience overflow from the sink or the tub which causes water damage throughout your home, your property coverage will help pay for the damage. You will receive compensation up to the limits of your policy,
How about Liability Coverage?
If a third-party is injured while visiting your house and using your bathroom, your liability coverage can provide coverage for the following:
The cost of repairs to their property
Any medical expenses to the injured person
The cost of your legal defense when an attorney must defend you against bodily injury or property damage
Essentially, if a friend slips in your bathtub and racks up a $5,000 medical bill, your insurance will step in. If a friend is staying at your house and your tub overflows and floods the room they're staying in and damages their laptop, your liability insurance will pay for the property.
If someone sues you, a variety of your assets are at risk. This includes everything from your checking and savings accounts, your investments and retirement accounts, your personal property such as your home and any other properties such as vacation homes. Ultimately, you have a lot to lose, so liability insurance is crucial coverage to have.
Umbrella Coverage for Homeowners
Depending on your home and other factors, you may want to consider umbrella coverage to help extend your liability limits. Umbrella insurance is essentially excess liability coverage that stacks on top of the underlying liability coverage provided by your homeowners policy. Umbrella insurance policies typically come with limits of $1 million in coverage.
While a bathroom injury may not require excess liability or umbrella coverage, there are many common lawsuits that could easily become extremely costly. The most common lawsuits filed against homeowners include:
Dog bites: Even injuries caused by a family pet can cost an average of $30,000 in claim settlements.
Fallen trees: If a tree on your property falls and damages your neighbor's home, the resulting financial damage could easily reach into the ten-thousands.
Hired help injuries: In the event a domestic worker, such as a maid or gardener, is injured on your property due to your failure to maintain a safe premises, the resulting lawsuit and medical payments required could get expensive, fast.
Intoxicated guests: When you throw a party and it gets a little out of hand, you as the homeowner are still held responsible for any property damage or bodily injuries an intoxicated guest causes to other guests.
Save on Home Insurance
Our independent agents shop around to find you the best coverage.
Other Common Home Insurance Claims
While liability claims happen, they're not the most common home insurance claims. In fact, property damage claims account for 98% of insurance claims each year. Losses result from a variety of natural disasters such as fire and lightning, wind and hail, and water damage and freezing.
Homeowners Insurance Losses by Cause, 2014 to 2018
(Percent of losses incurred)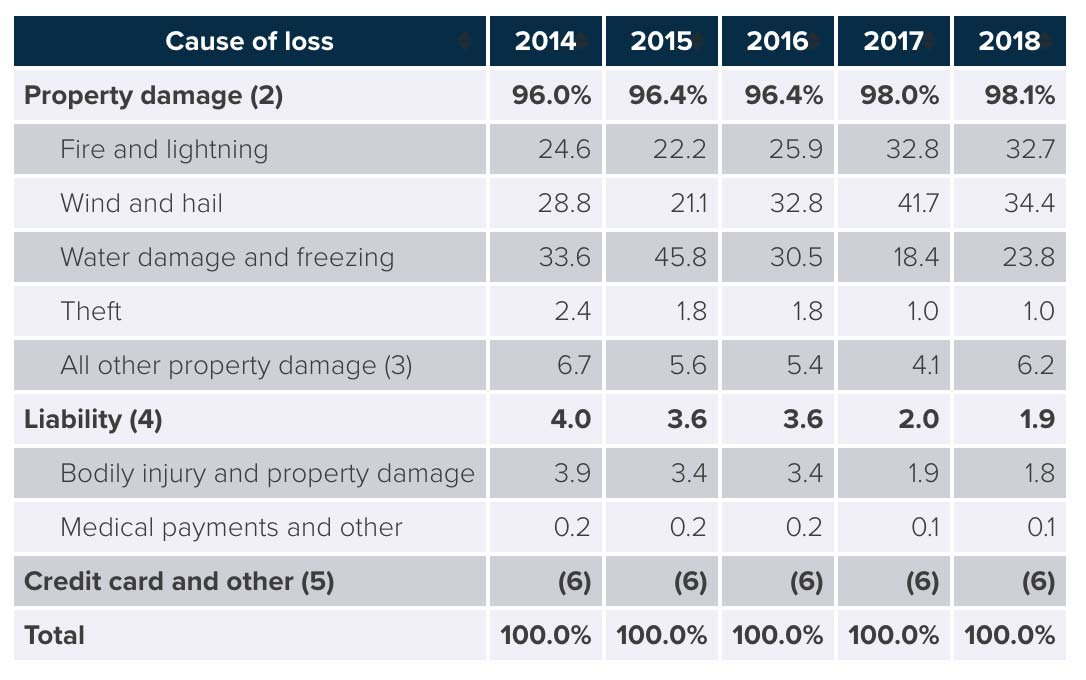 From 2014 to 2018, the most commonly submitted claims by homeowners were a result of wind and hail damage. Close behind was water damage and freezing. Property damage, fire and lightning, and theft were also commonly reported, as were bodily injury claims, theft, medical payments, and credit card misuse.
Homeowners Losses Ranked by Claims Frequency, 2014 to 2018 (1)
What about Endorsements? Do I Need Them?
While your homeowners insurance will cover a variety of common risks, there are some things that are not inherently protected in your policy. This is where endorsements can be beneficial. Endorsements are added coverages that protect you above and beyond what's offered in your general policy.
Some endorsements to consider adding to your policy include:
Home-based business endorsements: This endorsement protects you if you run a business out of your home. If you have a home office or studio, home-based business endorsements ensure you have adequate liability coverage.
Personal property endorsements: There are limits on standard homeowners policies when it comes to personal property items like jewelry and electronics. If you have highly valuable personal property you want to protect, you may want to look into this endorsement.
Flood insurance: If you live in an area prone to flooding, you'll want to purchase a flood insurance policy to protect your home against damage or destruction due to floodwaters.
Sewer backup endorsements: Sewage backup is not usually covered in your homeowners policy.
Earthquake insurance: This coverage protects homeowners against home damage due to earthquakes, mudslides, and other related natural events. Standard homeowners policies do not provide coverage for these types of disasters.
Here's How an Independent Insurance Agent Would Help
Independent insurance agents are there to do the hard work for you. They understand the risks that come with owning a home including what can go wrong in any room in your house. They'd search through multiple carriers to find providers who specialize in home insurance, deliver quotes from a number of different sources, and help you walk through them all to find the best blend of coverage and cost.
TrustedChoice.com Article | Reviewed by Paul Martin
©2023, Consumer Agent Portal, LLC. All rights reserved.
https://visual.ly/community/Infographics/home/bathroom-falls-injuries-statistics-causes-prevention