Is a Prefabricated House the Right Call for You?
If overpaying and over-waiting is your thing, probably not.

If there are two things most Americans feel like they don't have enough of, it's time and money—with bacon coming in a close third. So when it comes to buying a new house, why not save yourself some time and money with a prefabricated house? Heck, you can use what you save in both to go to the store and fry yourself up some bacon. That's a win-win-win.
But what if you don't know much, or even anything, about prefabricated homes? Don't worry, we've gathered up plenty of information to help you determine if it's the right call for you. Just make sure you're covered with an affordable home insurance policy.
What Is a Prefabricated Home?
Technically, a prefabricated home is one that's built in a climate-controlled factory off-site before being transported to the site you choose to live out its life. Most often when people talk about prefab homes, they're referring to modular homes, though they could also mean manufactured or mobile homes too. And here's how they're different from each other:
Modular home: Created in individual sections inside a warehouse, a modular home is then transported and assembled like a bunch of massive LEGO blocks at your new address. It is basically a DIY fabricated house kit - they're typically put together and treated like a traditional house when it comes to financing and appraisals, so no big curve balls here.
Manufactured home: Built on steel beams, a manufactured home is delivered in big sections with an obnoxious yellow 'Oversized Load' banner tacked on. Once it arrives, it's assembled and can either be left on beams or built onto a foundation. An important note is that they are treated more like mobile homes until they are permanently fixed to the earth, then they're just like modular or traditional homes.
Mobile home: Built on wheels, a mobile home can be pulled by a vehicle, and put anywhere your vehicle can take it. However, unlike their modular and manufactured cousins, mobile homes are treated as personal property and are actually licensed by the departments of motor vehicles.
Are Prefabricated Homes More Affordable?
Absolutely, and it's one of their most endearing features (besides their charming personalities). Prefabricated homes are built in a climate-controlled setting, where fewer laborers take a much shorter time to build them. This massive reduction in labor costs gets passed along to buyers, and everyone's happy.
Each type of prefab house is going to come with totally different prices. Modular homes alone can range in price from $100,000 to $300,000 and more, according to Modular Today. So what exactly impacts modular home prices? Well, these things do:
Square footage: The bigger the home, the bigger the price tag. More materials are needed and someone's gotta cover that cost. In this case, it's you. So make sure you aren't wasting space when you're looking at designs.
Home style: Different home designs use the space differently, and the larger the foundation, the higher the cost. Which is why it's typically better to think vertical over horizontal (i.e., a 2000 square foot rambler will cost more than a 2000 square foot, 2-story home).
Labor: Like we said, prefab houses have super labor efficient practices, but labor is also more costly in some geographic areas than others. A prefab built in Manhattan, NY will be much more than one built in Manhattan, KS. So double-check the company's area code before you get too deep in the process.
Energy efficiency: Most modular homes are highly energy efficient. But, to get to that point, a lot of design hacks need to be handled up-front, including: better insulation, higher-quality windows, and even extra HVAC zones. And guess what? Yep, that can affect the cost quite a bit.
Customization: Now obviously you don't want some cookie-cutter house that looks the same as your neighbors'. For every small, or big for that matter, custom change you make, your cost will rise. So think to yourself, how much do you reaaallly want marble counter tops?
Save on Home Insurance
Our independent agents shop around to find you the best coverage.
Pros and Cons of Prefabricated Homes
It's important to take a good, solid look at both sides of the coin when purchasing a prefab home.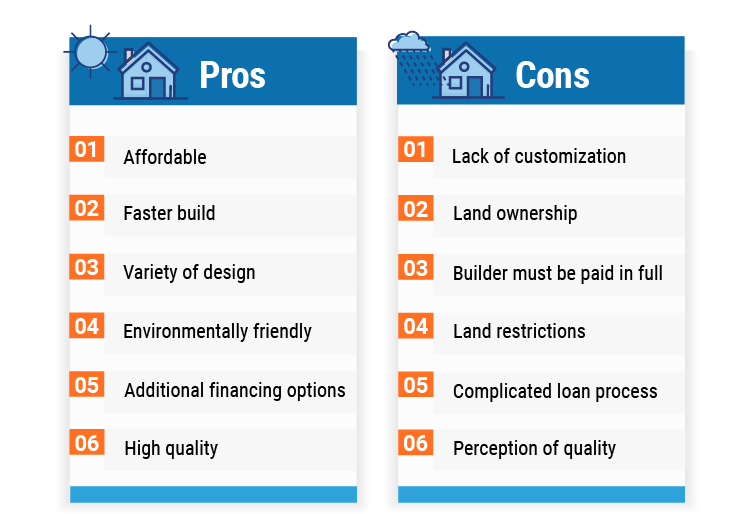 What to Know Before You Build a Prefabricated Home.
There's not much to dislike about a prefab. So if you've decided this is the best route for you, keep these things in mind before signing over that check:
Find a home for your home: That's right, you'll need to find land for your new home. The easiest way to do this is to contact a real estate agent. Make sure the land is zoned for a prefab and has an existing well/water hookup, electrical power hookup, and operating sewage system or septic system.
Decide on the size of your home: A prefab can really be as big or small as you want. If you're feeling trendy you may look into a tiny home, or if you're feeling extra-swanky, you could be looking to build a sprawling mid-century modern home that'll catch eyes from space. Either way, knowing the size will help you find the perfect builder.
Purchase the right home package: When you build a prefab, you'll be selecting a home package that includes fixtures, appliances, windows and flooring. It's important to fully understand what's offered in your home package so you know whether pr not you'll need to bring in an on-site contractor.

Step 1: Get a prequalified estimate
Step 2: Compare rates
Step 3: Apply for the loan
Step 4: Get approved
Step 5: Set up a disbursement schedule
Step 6: Close the loan
Step 7: Build your home
Step 8: Make your construction loan a permanent mortgage
If you've got your mind set on building your own home, but are scared of the cost and time commitment that come with a DIY house build, then a prefabricated house may be the perfect answer for you. As with purchasing any home, do your homework, shop around and make smart choices. In the end, you'll save time, money and effort. Just make sure you're covered with an affordable home insurance policy.
©2023, Consumer Agent Portal, LLC. All rights reserved.
https://www.modulartoday.com/modularconstructionrules.html
https://www.modulartoday.com/advantagesofgoingmodular.html
https://www.modulartoday.com/prosandconsofbuyingmodularhome.html
https://www.modulartoday.com/modularhomeprices.html
https://www.modulartoday.com/whoneedsmodularhomes.html
https://www.claytonhomes.com/learn/home-building/what-is-a-prefabricated-home
https://freshome.com/2013/03/27/10-basic-facts-about-modular-homes/
https://www.moneycrashers.com/building-prefab-home-types-cost/