7 Surprising Dangers of Driving with Pets
(Making sure you're fully prepared)

What do your dog, your cell phone, and a hamburger have in common?
Answer: They are all potentially lethal distractions when driving.
You're a busy mom. Ferrying kids about. Dashing off to work. Not to mention finding the time to shop and walk the dog. Mind you, it helps that the dog is a good boy. He hops in the passenger seat like an angel and sits looking out the window. Your furry copilot. Do you buckle him up? No. It's only a short trip.
And you're not alone. According to a survey by TrustedChoice, out of a hundred people questioned, over 80% do not buckle up and use a doggy seat belt (or other method of restraint) while traveling with their canine companions.
"So what?" you ask. Unrestrained pets are a significant cause of accidents, and they are likely to suffer serious harm themselves and cause injury to other passengers.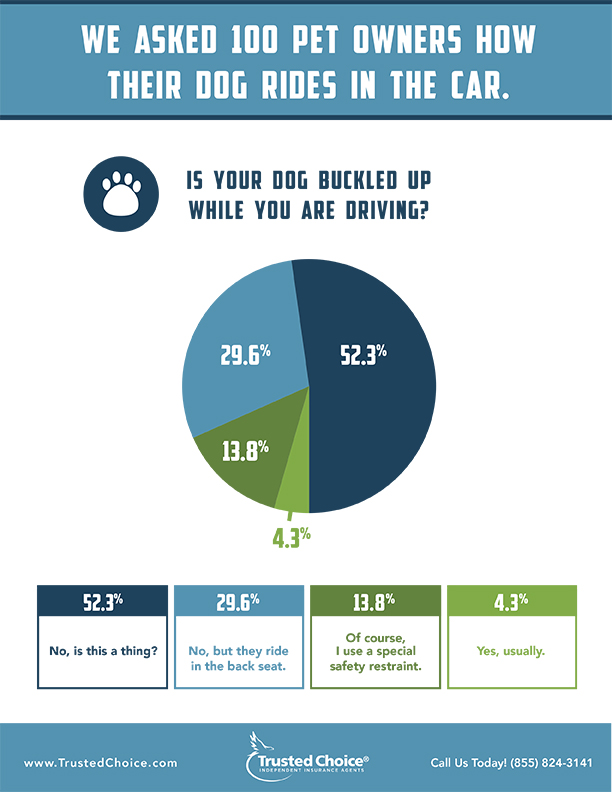 Not convinced why you should buckle your pet? Here are some reasons why it may be in your best interest to invest in proper restraints:
#1: Canine Cruise Missile
Do you know that an adult Cocker Spaniel in a 35 mph crash is propelled forward with the force of one-and-a-half charging horses? That's going to hurt both him and you when he hits you on the back of the head. Not only that, he could also impact the windshield and sustain serious injuries. A small Labrador in that same collision travels forward with a force equivalent to an Angus bull – dangerous for him and for you.
#2: Driving Distraction
The statistics are frightening. Annual reports from the AAA consistently show "driver distraction" is responsible for around 6,000 fatalities each year. These are potentially preventable vehicle collisions caused by the driver being distracted for as little as two seconds.
That's right – those two seconds of wandering attention actually double your chances of being in a crash. The AAA also reports that 31% of drivers admit to being distracted by a pet in the car. Indeed, 24% admitted using a hand to physically restrain their dog while they braked.
Of course, a distraction doesn't have to be major to be dangerous. It could be a cute look, the dog throwing up, or your furry friend climbing onto your lap for a cuddle. The point is that when traveling you need to know your pet is safely restrained in the back, so you can concentrate 100% on the road.
#3: Airbag Danger
Unfortunately, if you think your pet is safe because you hold him securely on your lap – think again. In the event of a collision, your pet is in a precarious position. If the vehicle's airbag deploys, the force of the inflation can kill the dog. Much like the manufacturer's advice that children should not travel in the front because airbag deployment would harm them, the same goes for pets.
Save on Car Insurance
Our independent agents shop around to find you the best coverage.
#4: Runaway Dog
You crash. The dog is unharmed, but still there are problems. Why?
One scenario is that your faithful friend sees his owner is hurt and tries to protect him. This can mean guarding you and becoming aggressive when strangers approach, which is not so great when they are paramedics who are trying to rescue you.
Another unfortunate outcome is that the dog runs off in a panic, only to cross into the opposite lane and be fatally struck by an oncoming vehicle. I've treated dogs for this myself, including a Labrador who had a leg amputated as a result of injuries sustained in the secondary incident. It's safest for everyone if the dog is restrained.
#5: Legal Issues
The law varies from state to state. Hawaii was the first state to outlaw dogs sitting on laps in the front, and breaking this law invokes a fine. In many states, the police have discretionary power to fine the driver of a car containing an unrestrained pet (especially in the front) under careless driving legislation. However, the law is not necessarily a guide to best practice. Even if your state does not have such a law yet, it's still in your best interest to keep your dog out of your lap while driving.
#6: Lapdog Liability
You're in a fender bender and the dog escapes with a broken leg but is otherwise OK. You're not too worried because your auto insurance collision coverage will pay for his veterinary treatment – right? Wrong.
The majority of car insurance policies do not cover the costs of treatment should your pet be injured in a crash. A minority of companies may offer a low level of protection, but this is unlikely to meet the full bill if your pet is seriously injured. In short, if you travel with a pet, you should consider taking out a separate pet insurance policy for those unforeseen incidents.
#7: Proper Pet Protocol
Enough of the unpleasant truths. What can you do to ensure you don't become part of a canine tragedy?
Dog Seat Belt: Fit your dog with a seat belt harness. These are comfortable to wear and won't distress your pet, but could save his life. Look for crash-test approved equipment that has been proved safe in high-speed collision situations.
Backseat is Best: Always have your dog ride in the back. That way those large brown eyes are less likely to make you look away from the road, and he's safe from airbag deployment.
Collar and Tag: Make sure your dog is easily identifiable when on a journey, just in case something happens and he runs off.
Chow Down: If going on a long journey, feed your pet three or four hours beforehand to decrease the likelihood of him getting nauseated and causing a distraction.
Your pet is well-behaved and you are rightfully proud of him. The trouble is, that isn't enough to keep you safe on the road. We all want the best for our pets and to keep them safe and well. So when traveling by car, there's no escaping the logic that this means buckling your pet up in the back on every trip.