10 Types of Houses (with Pictures)
A detailed picture book for grownups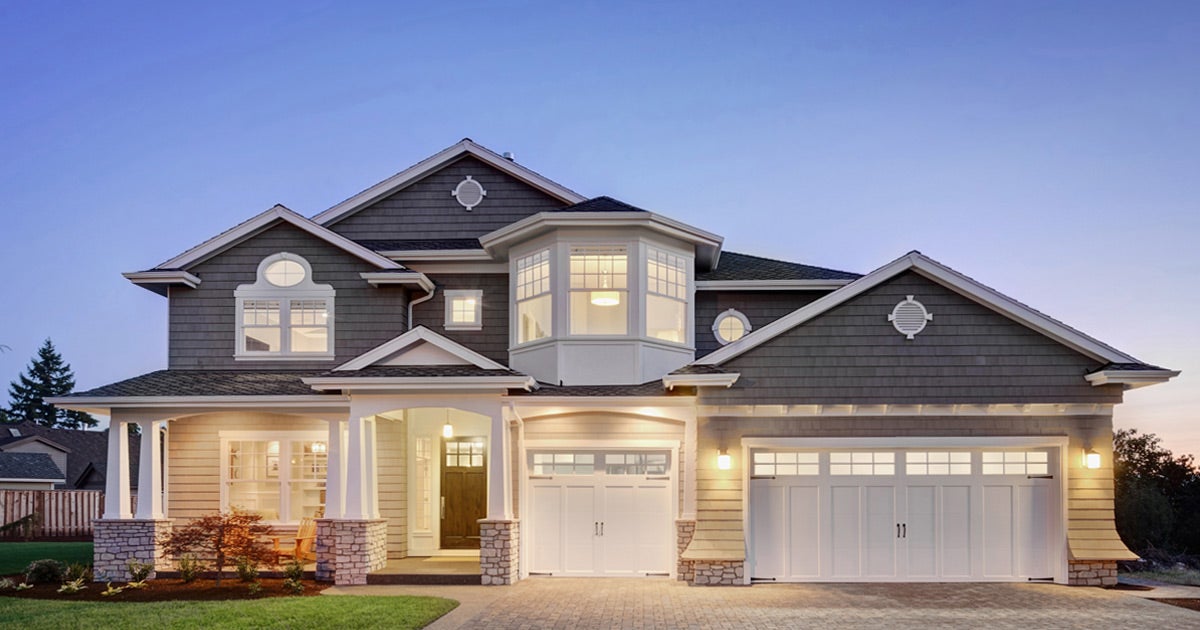 There are over 30 types of houses in America. Lucky for you, you don't have to use a matchmaking site that involves swiping left or right to find the one you love. Well, maybe it's not too different from that, but the whole process can be time-consuming unless you know how to narrow down your search.
First, you need to know what you're looking for, and understanding the different types of homes, what they look like, and their key features will be a huge help. Find out more about home insurance by contacting an insurance agent in your area.
Spoiler alert: We're not going to go through the 30 types of homes available in the good ol' U.S. of A. Instead, we're going to explore the 10 most common types of homes you're likely to find in your neck of the woods.
So without further ado, let's get to it.
1. Colonial Homes
Have you ever wanted to live like it's 1599, but with modern conveniences? Rewind back to a more formal style with a Colonial. These homes can be broken down into several subcategories that will determine roof shapes and how boxy your home will be.
Subcategories types:
Dutch
Georgian
Federal/Adam
Key features:
Shuttered windows
Aristocratic columns
Symmetrical designs and features
Good for:
Reminiscing about the good ol' days
Combining modern and classic styles
Hosting low-key political debates
2. Contemporary Homes
Contemporary doesn't mean modern, per se. Contemporary means "now" and "cutting edge," like the "interesting" fashion trends no one really gets. The look of modern and contemporary are similar, but trust us when we say they're different.
Key features:
Eco-friendly and energy-efficient
Open living areas
Geometrically shaped exterior
Good for:
Those who love the letters "L" or "U"
Lego-building enthusiasts
Classy fundraising events
The quick 411 on contemporary vs. modern:
Contemporary: No set time period, cutting-edge with some curves, and may feature an indoor-outdoor floor plan.
Modern: Built between 1920 and 1950, straight lines, flat roofs, white interiors and large windows.
3. Modern Homes
Are modern homes contemporary? They might look it, but technically, they're not. Modern homes, ironically, could have been built almost 100 years ago. For a quick refresher on the difference between modern and contemporary, see the 411 above.
Key features:
Clean lines, angles and windows
Low, flat, uniquely shaped roofs
White interior
Good for:
Cocktail parties with important people
Rooftop sunsets
People who want to explain the difference between modern and contemporary
4. Cottage Homes
Cottages are smaller homes with asymmetrical architecture and steeply pitched roofs. They come in an assortment of crayon-box colors and have major curb appeal. These charming gems are in high demand, so you should not hesitate to claim one if you're into this style.
Key features:
Cozy and quaint ambience
Double-hung grid-style windows
Adorable front porches
Good for:
Pretending you're a woodland elf
Romantic-comedy movie marathons
Having more to love and less to clean
5. Victorian Homes
Victorian homes (in their day) were beautiful structures with ornate features, unique shapes and imperial porches. However, if they're not properly lit at night, they can look an awful lot like haunted houses. So installing some exterior LEDs before you move in is highly recommended.
Key features:
Elegant and intricate designs
Ornate finishes and moldings
Historic beauty
Good for:
Feeling fancy and accomplished
Halloween get-togethers
Tea parties and wine nights
Save on Home Insurance
Our independent agents shop around to find you the best coverage.
6. Craftsman Homes
Go "au naturel" with a Craftsman home. These are the homes of yesteryear and hail from the Arts and Crafts Movement. They're constructed primarily of wood, stone and brick and are easily recognized by their wrapped porches.
Key features:
Wide front porches
Low-pitched roofs
Built-in cabinets… everywhere
Good for:
Sipping lemonade in a rocking chair
Waving to your neighbors
Having the perfect canvas for landscaping
7. Ranch Homes
These widespread, one-story modern ramblers rock an aesthetic that's a throwback to the days of raising and rounding-up cattle. Saddle up for some stylistic simplicity and lasso yourself one of these classic American beauts.
Key features:
Widespread "open-concept" floorplan
Sturdy-as-hell construction
Simplistic, country-esque charm
Good for:
People who have bad knees or hate stairs
Wannabe cowboys
Creating home-made stew recipes
8. Log Homes
Our good ol' pal, "Honest Abe" Lincoln, was a huge fan of log homes. These days, log homes are primarily luxurious getaways… or off-the-grid eyesores. Fun fact: Not all log homes are built of the same types of logs. Depending on where you live, the logs will differ.
Key features:
Good acoustics inside
Nostalgic fresh scent
Genuine wood and other natural materials
Good for:
Reading leather-bound books
Becoming one with nature
Relaxing with fleece blankets
9. Mediterranean Homes
Mediterranean homes are popular in warmer climates because of how stupid they'd look if covered with snow. Plus, if you're awful at matching patterns and colors, Mediterranean-style homes give you a great excuse to go crazy and blame it on the type of home you bought.
Key features:
Tiled roofs and stucco exteriors
Often include several balconies
Easter-egg color explosion throughout
Good for:
Power-washing enthusiasts
Livin' la vida loca
Re-enacting Romeo and Juliet from 10 balconies
10. Tiny Homes
Even though these homes are miniscule in size, the tiny house movement is huge and has built a fairly large following. There's even a show about them on HGTV, so you know it's legit. Tiny homes pack the bare minimum into a small space for people who like to live freely.
Key features:
Between 100 and 400 square feet
Commonly built with wheels for easy transport
Creative multipurpose layout and functionality
Good for:
Free-spirited travel
People who don't own a lot of stuff
People who are genuinely trying to save the world
Ready to Home Shop Till You Drop?
Congrats! You can now sort out cottages from Craftsmans, and moderns from contemporaries. And testing your knowledge is as easy as a drive down the street.
When you're all studied up and have the different styles down, you can hit the real estate sites and filter out the "uggos" to make finding your dream home much easier. You can even show off your newfound knowledge on tours, 'cause why not? Find out more about home insurance by contacting an insurance agent in your area.
Good luck, and we believe in you.