Is Disability Insurance Required in My State?
(Find out which coverages are mandatory to offer your team as an employer.)

Employers have a responsibility not only to their customers, but also to their team of hard workers. But not all employee injuries happen due to incidents on the job. So what about employees who develop disabilities outside of work and are unable to perform their job tasks for an extended period? As an employer, are you required by your state to offer disability insurance? The good news is that we know, so you don't have to.
Independent insurance agents know all about disability insurance and whether you're required to offer it, too. They know exactly what kind of coverage is mandatory to protect you and your team and where it's necessary, and they'll help you find all the coverage you need long before you need it. But before we get ahead of ourselves, let's take a closer look at disability insurance and how to know if you're required to offer it.
Is Disability Insurance Required in My State?
It might be. While no federal or state laws require any employer to offer long-term disability insurance, the same is not true of short-term disability coverage. To find out whether your state requires employers to offer short-term disability insurance, check your local laws, or ask your independent insurance agent for help. Currently, there's only a handful of states that require employers to offer short-term disability coverage to their employees.
Which States Require Short-Term Disability Insurance?
Since only a few states require employers to offer short-term disability insurance, it's important to know whether your location is one of them. The following states have mandated disability insurance requirements:
California
Hawaii
New Jersey
New York
Rhode Island
Puerto Rico also has mandated disability insurance requirements. If your business is located in one of these areas, work with your independent insurance agent to get equipped with the kind of disability coverage you need in order to avoid any issues.
What Does Disability Insurance Cover?
Disability insurance can be thought of as a benefit for employees. Coverage provides a replacement of a worker's income if they become unable to work for an extended period due to a disability that develops for any reason. This is usually two-thirds of the employee's normal wages, and they don't have to pay taxes on the income.
There are two main types of disability insurance:
Short-term disability insurance: There is often a waiting period of 30 days before the coverage kicks in, and employees are typically compensated for up to six months.
Long-term disability insurance: Coverage kicks in after short-term disability insurance's term is up, as long as a doctor verifies that the employee is still unable to work. Long-term disability insurance policies may cover the employee all the way up until they turn 65 or are medically cleared to return to work.
A disability does not have to develop due to job-related tasks in order to qualify for reimbursement. Talk with your independent insurance agent to get your company set up with all the coverage it needs to care for your team.
Save on Disability Income Insurance
Our independent agents shop around to find you the best coverage.
What Size Company Is Required to Have Disability Insurance?
Well, it depends on the state. If you live in one of the five states where providing short-term disability insurance is required, it's really important to get familiar with your local laws. In order for an employee to qualify for disability insurance benefits, each state requires them to have worked a different specified number of hours or weeks within a set period, and to have made over a certain amount in wages.
Your independent insurance agent can help you find more exact details about your state's requirements for short-term disability insurance. However, it's worth noting that about half of mid-sized to large employers in the US choose to also offer long-term disability insurance. While no laws require employers to offer long-term disability coverage, it's certainly a respectable benefit to offer your team.
Is Disability Insurance the Same as Workers' Compensation?
No, it's not the same coverage. While workers' comp. has a disability component to it, the coverage is broader than disability insurance. Workers' comp is designed to cover employees that get injured, ill, or even die due to workplace-related incidents. Employees are also covered while traveling between job sites and working outside the office.
Workers' comp insurance includes the following coverages:
Medical care: Reimburses employers for medical care of their employees, including doctor office and hospital visits, rehabilitation, medications, diagnosis fees, long-term treatment, and more.
Employee wages: Reimburses hourly wages or salary that an employee loses while out of work due to workplace injury, illness, or disability.
Legal protection: If a deceased employee's family sues the business, workers' comp offers protection by covering attorney and court fees, as well as settlements the business may be ordered to pay.
Benefits: In the event of disability or death of an employee, workers' comp. may pay out a lump-sum benefit. If the employee is killed, the benefit will be paid to their dependents.
Funeral costs: If an employee dies on the job, workers' comp may provide reimbursement for funeral arrangements and services.
Additionally, workers' comp provides protection against employee injury, etc. due to other perils, such as workplace violence, terrorist attacks, and natural disasters. Workers' comp also differs from disability insurance because it pays all bills related to an injury, illness, or disability for the rest of the employee's life, rather than for a set term.
Is Workers' Comp Mandatory in My State?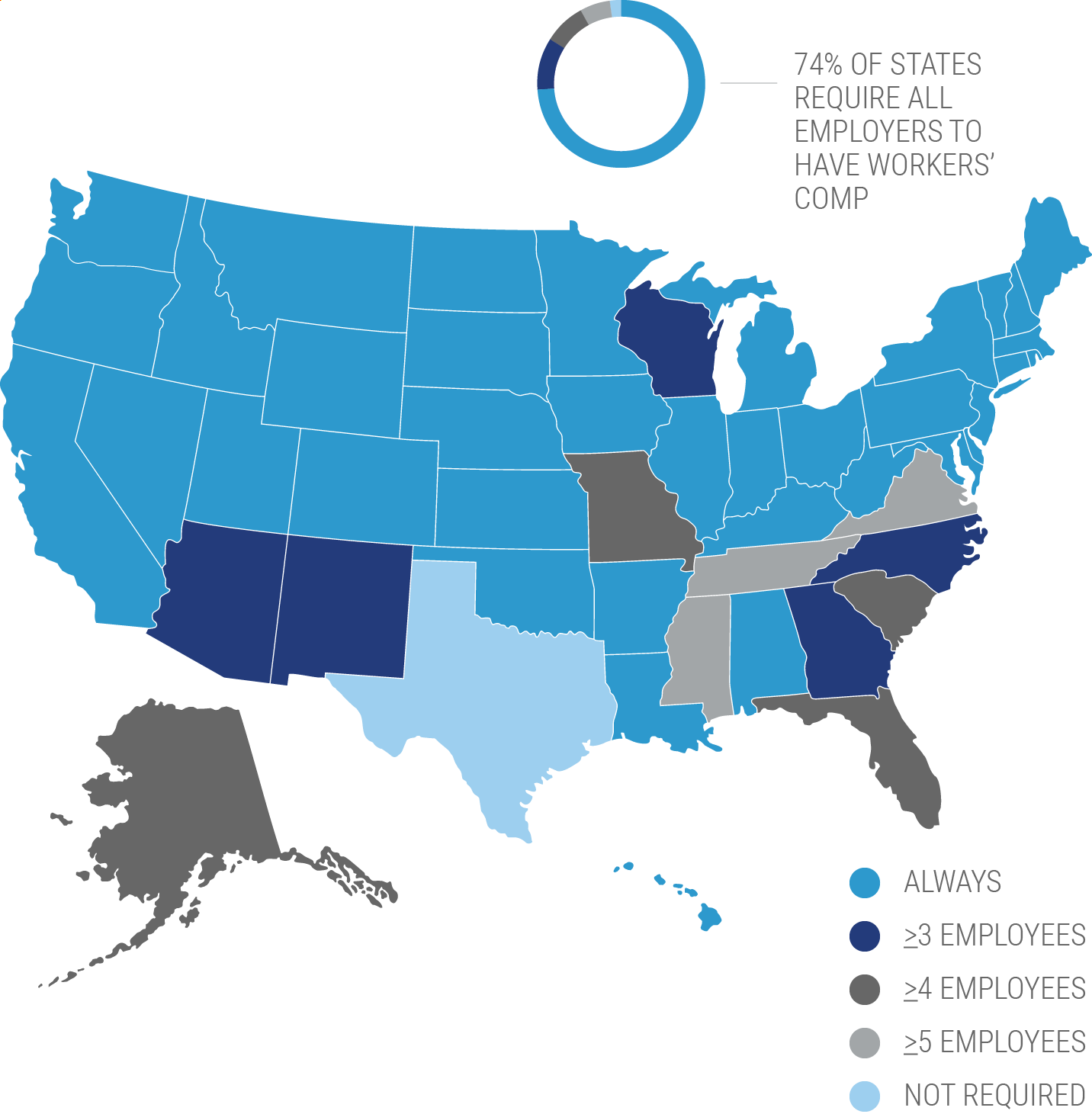 The answer is yes for most states, but there are some exceptions. Honestly, it's a safe bet to just get coverage no matter what if your business has employees, though. Since workers' comp requirements vary by state, it's crucial to find out your location's specific laws. Certain states provide exemptions for businesses with fewer than a certain number of employees, for agricultural businesses, or for businesses that maintain a low payroll under a specified amount.
Is Disability Insurance Tax-Deductible?
For employers, unfortunately, the answer is no. Premiums paid for disability insurance are not legally allowed to be deducted from your taxes. However, employees do not have to pay taxes on any benefits they receive from disability insurance. So, while premiums are not tax-deductible, benefits offered by the coverage are tax-exempt.
What Other Business Coverages Should I Consider Adding?
In order to protect your business from multiple risks, you'll need to consider coverage for more than just your employees. The following coverages are commonly added on to standard business policies:
Your independent insurance agent can help you determine whether your business may be lacking important coverage in any area, and get you equipped with the right insurance to protect you from all potential hazards.
Here's How an Independent Insurance Agent Would Help
When it comes to protecting your business and your team of hard workers, no one's better equipped to help than an independent insurance agent. Independent insurance agents search through multiple carriers to find providers who specialize in business insurance, disability insurance, and workers' comp, deliver quotes from a number of different sources, and walk you through them all to find the best blend of coverage and cost.
TrustedChoice.com Article | Reviewed by Paul Martin
©2023, Consumer Agent Portal, LLC. All rights reserved.
iii.org
shrm.org
policygenius.com
disabilitysecrets.com
blr.com