A Guide to Moving to: Illinois
(Everything you need to know - and more)

So you're interested in moving to Illinois, and you'd like to get more insider info on the place. You're in luck - we're here to illustrate some details of the Land of Lincoln (the state's official nickname), a.k.a. the Prairie State, so that you can adjust your sails accordingly.
Illinois is home to Chicago, the third-largest major metropolitan area in the U.S. (behind only LA and NYC), but that's not all the state has to offer. It also features freshwater beaches, drool-inducing unique food trends, national parks, plenty of museums and rich history, lots and lots of sports and a seriously groovin' music scene.
No matter where you choose to move in Illinois, make sure you're covered with an affordable home insurance policy.
Read on to discover why an average of 300,000 people have flocked to this place over the past several years (according to budgetblog.ctba), and to see if you think you're cool enough to be one of them this year. Prepare your ears, and your tastebuds.
Job Market
Odds are good for you to find a job in Illinois. The current unemployment rate is just 4.8%, according to the Bureau of Labor Statistics, and it's been in a steady decline over the past few years. The unemployment rate is currently less than half of what it was in 2009 (11.7%), and has continued to decrease from the 8.2% it was at the beginning of 2014.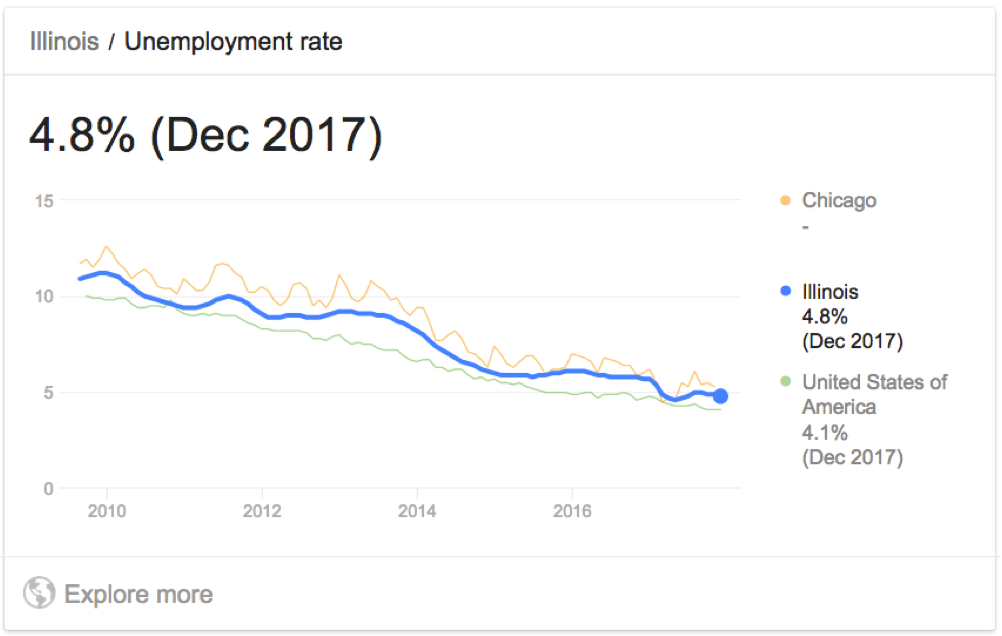 Minimum-wage.org states that the current minimum wage here is $8.25/hour. There are an impressive number of opportunities available in the following fields: mobile development, machine engineering and development, JavaScript development, respiratory therapy, clinical research, financial and data analysis, food science and project development.
Physicians and surgeons, OB/GYNs, psychiatrists and air traffic controllers were among the highest-paid professions in the state.
There are also plenty of jobs available in the clean energy industry. According to chicagobusiness, "clean energy is booming in Chicago - the metro area has 23 wind companies, 14 of which are headquarters, and solar farms are about to sprout, too."
So if you've got a love of computers and technology, squeaky-clean energy, food or the health/medical industry, this may just be the place where you can make your dreams come true.
Housing
Unless you're planning on crashing with your supercool relative who lives in downtown Chicago, you'll probably be looking for a house when you make your move. You'll be among about 12,768,320 other current Illinoisans.
The median price of homes sold over the past year was $192,700, with the median rent being $1,550. For those looking for something smaller, one-bedroom apartments average $1,350 per month.
Fans of architecture from the mid-1900s are in luck - the major decade of origin for housing in the Prairie State is the fabulous '50s. However, if you don't find older homes charming, there is plenty of new construction afoot, too - predominately in the northeast corner of the state (around Chicago), but also in central Illinois (near Champaign) and the southwest corner (around Belleville).
So whether you want your next home to be almost as rich in history as the Land of Lincoln itself, or if you prefer something shiny and brand-spankin' new, Illinois has something to fulfill your heart's desire.
Culture and Natives
Illinoisans are describe themselves as work-hard/play-hard, down-to-Earth, opinionated-and-proud types with a dash of that friendly Midwestern vibe. If you find yourself lost, you're likely to encounter a local who will happily point you in the right direction...as long as you don't insult "Da Bears," or get caught with ketchup on your hotdog.
It's true - putting ketchup on your hotdog is practically seen as a crime in this state - it's said to mask the flavor of the meat and is considered insulting to the chef. Be on your best behavior and stick to mustard, pickles, tomatoes and onion to top your dog, and you'll get the approval nod to go with your lunch, instead of a knuckle sandwich on the side.
The people of Illinois are fiercely proud of their sports teams, including the Chicago Bulls, the Chicago Cubs and the Chicago White Sox - but there is no loyalty fiercer than that of Chicago Bears fans'. Perhaps you remember this quote from "Ferris Bueller's Day Off" (which was set in Chicago):
Ed Rooney: "What's the score?"
Pizza Joint Owner: "Nothin'-nothin'."
Ed Rooney: "Who's winning?"
Pizza Joint Owner: (angrily) "The Bears!"
Aside from "Ferris Bueller," several other famous movies were set and filmed (at least in part) in Illinois, including a couple of other John Hughes classics ("The Breakfast Club" and "Home Alone"), the Batman film "The Dark Knight," "Wayne's World" and "A Nightmare on Elm Street," to name a few.
If you're into the art scene beyond just film, you'll be in good company - Illinoisans are proud of their interesting and jaw-dropping architecture, as well as their many museums, concert venues and theatres. There's a scene here for just about everyone - even the weird kid who sat in the back of your high school drama class (dressed in all black) and never said a word.
Save on Home Insurance
Our independent agents shop around to find you the best coverage.
Can't-Miss Illinois Fun + Activities
So what do the people of Illinois do when they're not dodging movie sets? Quite a bit, actually.
Here are just a few of the state's don't-miss activities:
Chicago deep dish pizza: Chicagoans pride themselves on having the best deep-dish pizza in the world. Come armed with a fierce appetite, and try it for yourself.
Field Museum of Natural History: Located in Chicago, it houses the skeleton of the largest T-Rex ever found. (Gulp.)
Lincoln Presidential Library and Museum: They don't call it the Land of Lincoln for nothin'. The 16th president of the U.S. only owned one home in his lifetime, in Springfield. The walking tour serves up sights from Lincoln's lifetime, including a stop at his home and - a bit creepier - his tomb.
Wrigley Field: Home of the Chicago Cubs, this is a must-see stop for Major League Baseball fans and "Ferris Bueller" fans alike.
Starved Rock State Park: The city of Lowell offers a beautiful park featuring 13 miles of trails, 18 forest canyons, cliffs along the Illinois River, waterfalls and fishing/boating. Locals recommend visiting in autumn after the leaves have turned, to expand your visual color palette.
Lollapalooza: Started in 1991, Chicago's annual music festival takes place in late summer and features dozens of artists from multiple genres, including punk rock, alternative rock, heavy metal, hip hop and electronic music, as well as comedy and dance performers... and crafts. The festival stretches across three days, so your eardrums can soak up their fill.
Pros and Cons of Living in the Prairie State
We know you're super excited about all the awesome activities Illinois has to offer, and you've already packed your bags and started working on perfecting your hot dog order, but not so fast - just like anywhere else, there are pros and cons to living in the same state as Lincoln's remains. We've compiled a few for you to ponder and base your huge life-altering decision on.
Some general-consensus PROs to Illinois life:
The food: You already know about Chicago deep dish pizza and fancy hotdogs, but the people of Illinois love their food so much that they have several festivals dedicated just to food annually, including: Taste of Chicago (the world's largest food festival), Chicago Food Truck Festival, Collinsville's International Horseradish Festival, Springfield's Downtown Bacon Throwdown and Sausage Fest Chicago. Feel your taste buds watering?
The sports: The state is home not only to "Da Bears," but also the Chicago Bulls (once home of the legendary Michael Jordan), the Chicago Cubs, the Chicago White Sox and the Chicago Blackhawks. No matter your sport of choice, there's something for all to enjoy (or nap through).
The sights: Between the famous architecture, movie set locations, museums and national parks, this state packs a mean punch of beauty that'll leave your eyeballs tearing with joy.
The sounds: The music scene is huge - and it extends beyond one annual festival. There are several concert venues scattered across the state, in everything from restored theaters to intimate lounges, and they showcase all genres imaginable - from jazz to hip-hop, blues, country, rock n' roll and a hybrid of all of them.
And of course, the less-enthusiastic CONs:
The traffic: There are more than nine million people residing in Chicago alone, and the third-largest metropolitan area in the U.S., the highways are bound to get jammed - badly, and often.
The harsh winters: Illinoisans warn their prospective new neighbors that the summers here are short, hot and humid, while the winters are long, severe and unforgiving. Blizzards and other storms are common, debilitating and costly. If you are Illinois-bound, invest in some excellent winter attire...and shovels.
The rising crime rates: Chicago has been to blame for 10% of the nation's spike in homicide rates in the past couple of years. The city has also seen a recent increase in aggravated assaults and robberies, including motor vehicle theft.
The annual mass exodus: The U.S. Census data states that for the past several years, more people have moved from Illinois than to it. For example, 2015 saw a net loss of about 125,000 people. Further, abc7chicago declared Illinois the "most moved from state" of 2017. The reason for this (as you may be wondering) seems to be a combination of rising property/income taxes, crime rates, heated politics and sub-zero winters. All important components to contemplate before your next move.
Weird Laws
For your amusement, we've looked into some of the Land of Lincoln's most outrageous, outdated, eyebrow-raising laws still in existence.
Here are a few:
You can be arrested for vagrancy if you leave the house without at least one dollar in cash on you. Better trade in those IOUs you've collected.
It's illegal to make faces at dogs in the town of Normal. That sounds anything but "normal" to us. (Get it?)
Obstructions cannot be hung from rear-view mirrors: This includes (but is not limited to) fuzzy dice, GPS units, your graduating class tassel, jewelry, framed selfies...you get the picture.
You can't eat inside a burning building in Chicago. Dang, and we'd just gotten that deep dish pizza perfectly well-done...
It's illegal to give a pet a cigar. There's no mention of cigarettes or vapes, though.
Prairie State-Bound
There it is - a compilation of some of the main consideration points for a move to a new state. While we can't possibly cover every detail (we're not armed with enough snacks for a task that big), we do hope that we've given you a sufficiently large slice of informative pizza to chew while you make your decision (or we've just really got pizza on the brain now).
Only you will know if the Land of Lincoln - with all of its history, food, architecture, famous sights, concerts and sports- is the right place for you. Just make sure you're covered with an affordable home insurance policy. We hope you've enjoyed this little snapshot of the state as much as we have.
Good luck - and remember that you were warned about the ketchup.