Advantages of Buying Insurance through an Agency Instead of Online
(It's not about what you know but who you know.)
These days we do everything online, from ordering groceries to keeping in touch with loved ones. This is why last year alone an estimated 1.8 billion people worldwide purchased goods online. But is insurance something you should buy online or through an insurance agent?
When you can pull an insurance quote in less than five seconds online, you may be asking yourself what does an insurance agent do? And why do you need one? Sometimes there are real benefits to dealing with a live person, and this is one of those times. Let us explain why.
How Buying Online Works
Online insurance engines will prompt you to enter personal information like ZIP Code and date of birth. Depending on what type of coverage you're buying (like auto, home, or health) you'll be asked to fill in specific types of data. Let's say you're looking to buy auto insurance online. In this case, you'll need the year, make, and model of your vehicle and drivers license numbers for all the family members who'll be driving the car.
The website will then provide you with a variety of insurance quotes to choose from. You'll select an option and often can pay for your quote at that time.
Pros and Cons of Buying Insurance Online
Even though most insurance companies allow you to purchase insurance online, that doesn't mean that the average customer (aka you) has the insurance knowledge to know if they're getting a good policy. Even if you can compare multiple coverage choices on the same website, an online quote service can never replace the value of a local independent insurance agent. Online quotes are convenient and save time, but the cons of buying insurance online greatly outweigh the pros.
Pros of Purchasing Insurance Online
Buying insurance online seems simple enough, right? So what are the advantages we're talking about?
Buying insurance online is quick, easy, efficient and can be done from anywhere at anytime.
You're in total control without feeling any pressure from a sales agent.
Usually, you can immediately download insurance ID cards and the policy booklet.
You can compare prices across multiple carriers yourself.
Cons of Purchasing Insurance Online
Most ordinary people like you really don't know all the ins and outs of insurance. So do you ever really know if you're picking the right policy? Here are a few of the cons of purchasing insurance online:
Other cons of buying insurance online:
It's up to YOU (and only you) to read all the policy fine print and understand what you purchased.
Online agencies are not obligated to give you the best policy for your state or circumstances.
Reaching someone via chat bot, email, or toll-free numbers with phone prompts can be frustrating.
Never talking to the same person twice means no one knows your personal situation or needs. Without an agent, you have no one advocating for your best interests.
You may or may not speak with an online customer service representative who's experienced and licensed.
Making changes or getting issues resolved without an agent can be time-consuming and headache-inducing.
Most online insurance providers will have you sign off on a Waiver of Liability basically releasing them from any responsibility for your poor policy choices.
Ready to Save On Insurance?
Our independent agents shop around to find you the best coverage.
The Benefits of Buying Insurance through Independent Agents
It's becoming more and more uncommon for people to buy anything the old-fashioned way, and that includes buying insurance at a local independent agency. However, even though many shoppers look online for insurance, recent studies show that people still value dealing with a live person. Liberty Mutual and Safeco Insurance surveyed millennials and discovered that they are more likely than older generations to buy insurance online, but half of them bought insurance through an exclusive or independent agent. While they're likely to research their options online, at the end of the day, they're still looking for advice from an expert adviser.
When you choose to buy insurance through a live person, you can use an independent insurance agent or purchase directly from an insurance writer. Let's take a peek at buying insurance through an independent insurance agent vs. direct.
What Is an Insurance Agent?
To start, it's best to understand what an insurance agent is. An independent insurance agent is an insurance consultant who is licensed to sell all types of insurance but doesn't work for a single insurance company. Insurance agents usually have their own company or work with independent insurance companies, and their job is to shop insurance policies for you.
Insurance agents get to know you and your needs and help you find insurance packages that fit them. They're not only experts in the insurance industry, but they also know how to shop multiple carriers to make sure you're getting the best price possible. They also become a lifelong advocate for you and your insurance needs. Should you be in an accident or need to use your insurance, your agent is there to help you make a claim and understand and get through the process.
How Buying through an Independent Agent Works
Insurance agents are available by phone, email, or physically stopping by their office to learn about your insurance needs. They'll get to know what you're shopping for and they'll begin the process of quoting coverage right away. By working with an independent agent, you'll be able to get different quotes from a bunch of different insurance companies. The licensed agent is obligated to walk you through each quote and through the positives and negatives of each policy. You can ask questions right on the spot so you understand and can make an educated decision.
Pros of Working with an Independent Agent
Independent agents in your community are consultants, not employees of particular insurance companies. This means they are working for you and will offer objective advice, since they aren't tied to any particular insurer.
The rest of our pros make it clear that sometimes it's really not what you know but who you know.
Independent agents offer one-on-one help like a neighbor, not a number.
They are licensed and must act ethically according to the rules of your state's department of insurance.
They offers lots of different products from different companies so they can take care of all your needs at one time.
Independent agents are obligated to present the best insurance value in terms of benefits, services, and pricing.
They aren't just available when you first buy a policy, but also every day after that.
They have inside knowledge of how insurance companies work and what's best for you.
They offer help with navigating the claims process when disaster strikes.
Every year they'll bug you (in a good way) around renewal time to figure out if your policy is still the best coverage at the best price.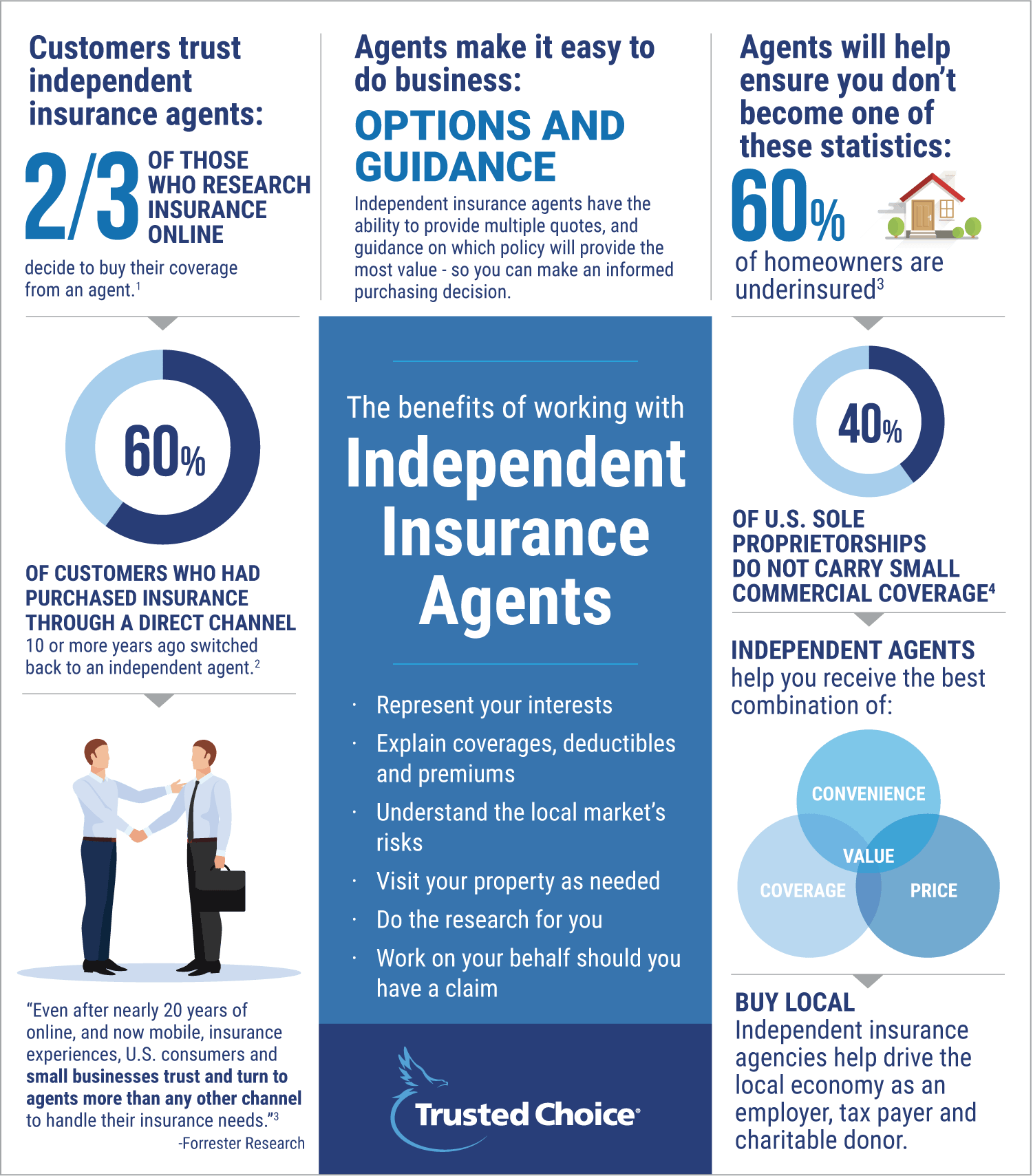 1. U.S. Insurance Shopping Study, J.D. Power, 2016
2. 2013 study conducted by InsightExpress and The Hanover
3. Forrester Research, Loyal Insurance Agents Drive Sales, February 2016
4. Small Commercial Insurance: A Bright Spot in the U.S. Property-Casualty Market, McKinsey & Co, 2016
This material is provided for informational purposes only and does not provide any coverage. For coverage please contact an independent insurance agent.
Cons of Working with an Independent Agent
The main con (and primary reason the public started moving towards online coverage) is not having enough time to work with a neighborhood agent. Basically, if you don't want to slow down and talk with a real person, then shopping online may be best for you.
Ready to Save On Insurance?
Our independent agents shop around to find you the best coverage.
Independent Agent vs. Direct Insurance Writer
The main difference between an independent agent and a direct insurance writer is that independent agents have the ability to shop multiple carriers. A direct writer is tied to a single company and can only offer you coverage from one company. That means they may not be able to get you the best price available.
Let's Shop
So there's there scoop on buying coverage through an independent insurance agent vs. direct. Now you just have to figure out what's better for you. No matter how you go about getting a policy, please be sure you are asking questions and getting answers. It's better to do that during the quoting process than finding out later that you picked a bad plan.
Should you decide to get help, then talk to a knowledgeable independent insurance agent. These agents are always available to answer questions you may have about your various homeowners, auto, business, and life insurance coverage options. They can assist you in reviewing your current policy and help you compare the premium and coverage options from different insurance providers. With the help of an independent insurance agent, you can be sure the insurance policy you choose offers the lowest premiums with the best coverage. Talk to an agent in your area today.
©2023, Consumer Agent Portal, LLC. All rights reserved.
https://www.infinityauto.com/knowledge-center/understanding-insurance/buying-insurance-online