What's the Difference between Independent Insurance Agents and Brokers?
(Not the start of a joke. We're here to literally help answer this question for you.)

So here you are, looking for the perfect kind of insurance at the absolute best possible price for your budget. And hey, maybe someone you know recommended their independent insurance agent. Or maybe someone else you know recommended their insurance broker. Great. But what's the difference between the two?
Well, we're so glad you asked. To help give you a better understanding, let's start with the easy questions.
What's an Independent Insurance Agent?
Basically, an independent insurance agent is a local insurance pro who gets to know you and every single one of your needs before tracking down the right coverages and laying all your options out for you – kinda like a personal shopper.
And when we say independent, what we mean is they aren't directly tied to one insurance provider for coverage options. They can offer you multiple choices from a whole list of carriers to help find what works best for you. This works especially well if you need a bunch of different insurance policies at once — they can streamline the entire process and save you a ton of time and money.
So Then What's an Insurance Broker?
Like Wall Street stockbrokers, insurance brokers sell — and sometimes negotiate — all sorts of different types of insurance products to individuals and corporations. Brokers are similar to agents in that they can both discuss the customer's needs, then shop around and provide, often, multiple insurance options.
Wait, They Sound the Same, Though. Are They?
Here's where it gets a little tricky. There are a few key differences between the two:
Independent agents can write insurance policies, brokers can't. And that makes the whole process a lot easier — and faster, too. Brokers can only gather up your info and submit applications on your behalf. During this period, the brokers acquire a "binder" (or temporary policy) that will become a full-grown policy after 30 or 60 days.
Independent agents have contracts, brokers don't. This means independent agents have trusted connections they've built with multiple insurers, making them able to give their customers a great deal of insight into each company's background. Heck, they could probably even tell you their favorite claim rep's birthday. On the other hand, brokers can search options at literally any company. Unfortunately, they typically won't have the extra insight to tell you in great detail about each company's specialties.
Brokers specialize in "everything." Agents specialize in "niches." Both independent agents and brokers are licensed, highly educated professionals who specialize in providing their customers with the insurance that fits them best. However, because of a broker's ability to work with literally any carrier out there, they are often used in situations where finding coverage might be tricky, like international mega-trillion dollar companies that deal with hazardous waste.
Independent agents specialize in pretty much everything else. Which is great when it comes to simplifying the process of looking for life insurance, boat insurance, homeowners insurance and more all together — a one-stop shop, really.
FACT: Some states don't actually have broker's licensing, which means it's independent agents who fill the role of brokers.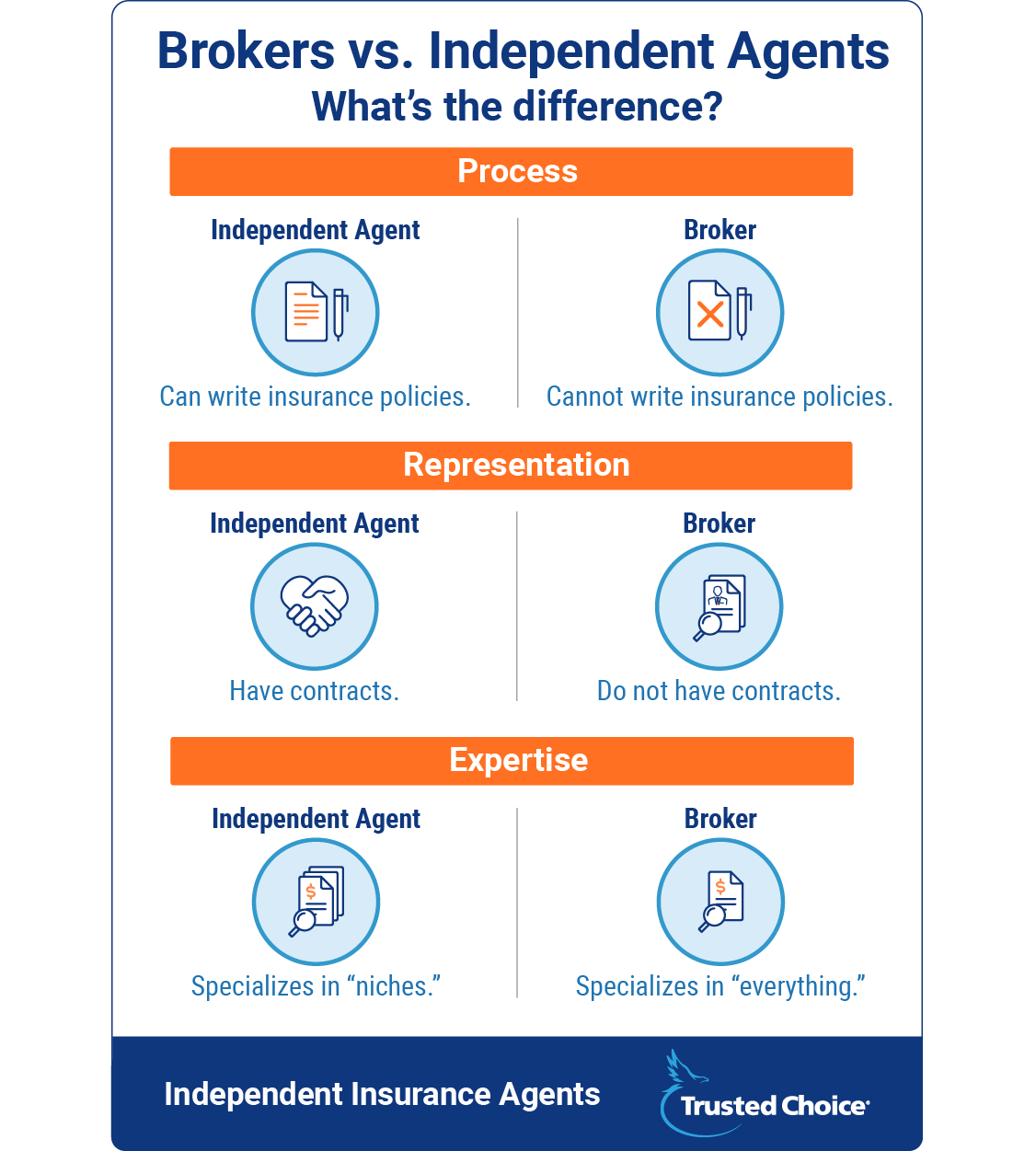 Which Costs Less: An Insurance Broker or an Independent Agent?
Technically, the cost should be the same if you're comparing straight apples to apples. However, a broker does have the ability to set their own fees or tack on extra admin fees that could make it more expensive. But in either situation, agents and brokers are both required by law to disclose all of this to you before your purchase. So you'll know what you're signing up for before signing up for it.
Ready to Save On Insurance?
Our independent agents shop around to find you the best coverage.
Should I Use a Broker or an Independent Agent?
Well, it's like we said, it all depends on your story and what exactly it is you're looking for. If you're looking for business insurance for a global energy powerhouse that requires employee coverage for thousands of workers, a broker would most likely be your best bet. But if you're looking for homeowners insurance, bundled with some auto insurance for yourself, your spouse, and an 18-year-old driver, an independent agent is probably perfect for you.
An independent insurance agent can always begin your process and, if the situation calls for it, bring a broker in to help search and negotiate the right options for you.
Where Can I Find a Broker or an Independent Insurance Agent Near Me?
To find either, the Internet's always a good place to start. Or friends. Or coworkers, too.
Of course, you're in a good place now, too — it's right here. TrustedChoice.com connects insurance searchers with the right agents all day, every day. It all starts with just a few simple questions to identify your needs and we'll direct you to options that fit you best in a matter of minutes.
Whenever you're ready, you can get started here.