The Six Key Steps to Help You Prep Like a Hurricane Pro before the Disaster Strikes
Knowing how to prepare for a hurricane can help you not only protect your property, but get the maximum amount of reimbursement from insurance.

About five hurricanes hit the coastline of the US every three years. When it comes to strong winds and heavy rainfall, being properly prepared for extensive potential damage is the key to success. It's also critical to have the right insurance coverage on hand to help you get back on track in the aftermath.
An independent insurance agent can help you get set up with all the coverages you need to prepare for and recover from hurricanes. They'll make sure you're covered long before hurricane season rolls around. First, though, here's a handy guide to preparing for hurricanes and safeguarding your assets during storm season.
The First Step before a Hurricane Hits: Review Your Coverage
Long before you ever hear an announcement for a hurricane, all homeowners and renters should talk with their independent insurance agent and review their existing coverage to check that it's enough to cover them in an emergency. Since there can often be up to a three-month waiting period before coverage changes take effect, you'll need to do this step long before hurricane season hits. Most often you'll need to make sure you have enough homeowners insurance in combination with a flood insurance policy to be fully protected from hurricanes.
Top hurricane coverages to have:
Homeowners insurance: Standard home insurance includes coverage for wind damage to your property, including winds caused by hurricanes.
Flood insurance: Home insurance does not provide coverage for natural sources of flooding, such as the heavy rainfall that accompanies hurricanes. To protect your home against flood damage in a hurricane, you'll need to add a separate flood insurance policy.
Some things to look into with your independent insurance agent:
Your policy limits: Ask your agent to help you review your homeowners insurance and flood insurance coverage limits. Consider that the average flood claim amount is over $90,000, so you'll need a good bit of coverage for your property.
Your deductibles: Your agent can also tell you your policies' deductible amounts that you'll be required to pay out of pocket before receiving reimbursement for hurricane damage. If these amounts are too high, you can usually change them.
Your coverage's effective date: It can take 30-90 days for a new homeowners insurance policy's coverage to go into effect. Flood insurance policies often take 30 days to be effective. That's why it's helpful to look into your coverage long before a hurricane shows up in the forecast.
Having strong coverage in place to protect your property should always be the first step in hurricane and other natural disaster prep.
The Five Next Steps to Help You Prep Smarter before the Hurricane Hits
After you've got your coverage secured, it's time to move on to the next preparation steps for a hurricane. Follow this checklist of action steps to help increase your family's and your assets' chances of staying safe during the disaster.
1. Create a Personal Inventory
Creating a record of your personal property can help expedite the insurance claims process. It also helps you to itemize your possessions to receive the proper reimbursement. You can create a personal inventory using online templates, a regular Excel spreadsheet, or another method of your choice.
2. Secure Your Belongings
When the storm's approaching or just been forecast, it's time to secure your property. Do this by:
Bringing outdoor furniture and loose objects indoors
Securing windows, shutters, and doors
Clearing outdoor drains and gutters
Trimming trees and shrubs away from the home
Setting your fridge and freezer to their coldest settings
Turning your TV and radio on to emergency channels
Grabbing a stash of extra batteries to keep nearby
Following these tips can help you minimize possible property damage during the hurricane. It can also prepare your family to stay connected to important local updates on the storm's location and progress.
3. Gather Vital Documents
Your important paperwork should be kept in a waterproof and fireproof safe that's kept in a secure location in your home, no matter what season it is. That way you'll never have to worry about losing critical documents like birth certificates, Social Security cards, etc.
Also keep these documents in your safe:
Pet and family medical and dental records
Passports
Marriage certificates
Insurance documents
Home and property deeds
Knowing where all your important documents are kept can help you easily grab them if you're ordered to evacuate your home or your city during the storm.
Save on Home Insurance
Our independent agents shop around to find you the best coverage.
4. Have a Plan
Your family needs to have a plan in place in case a hurricane does strike your area. This includes informing all members of where the emergency kit is located and two possible methods to evacuate the home and city. Make sure everyone agrees on a course of action if you get separated, too.
You may want to designate one family member to get in touch with an emergency contact, such as another family member who lives out of town. Make arrangements to contact them to let them know when you're all safe. Set a designated spot for your family to meet up if you get separated during an evacuation.
5. Grab Supplies
Your emergency kit must include vital items like non-perishable food, bottled water, extra batteries, blankets, dry clothing, medications, pet food, a first aid kit, flashlights, and some basic tools. Any other essential items for survival can be included as well. For more information about how to prepare an emergency kit, or for other natural disaster safety tips, check out ready.gov.
How Often Do Hurricanes Hit?
Hurricanes hit the states more often than you might expect. Knowing which areas get impacted the most frequently can further help you prepare for these disasters.
Number of hurricanes that made landfall in the United States from 1851 to 2020, by state: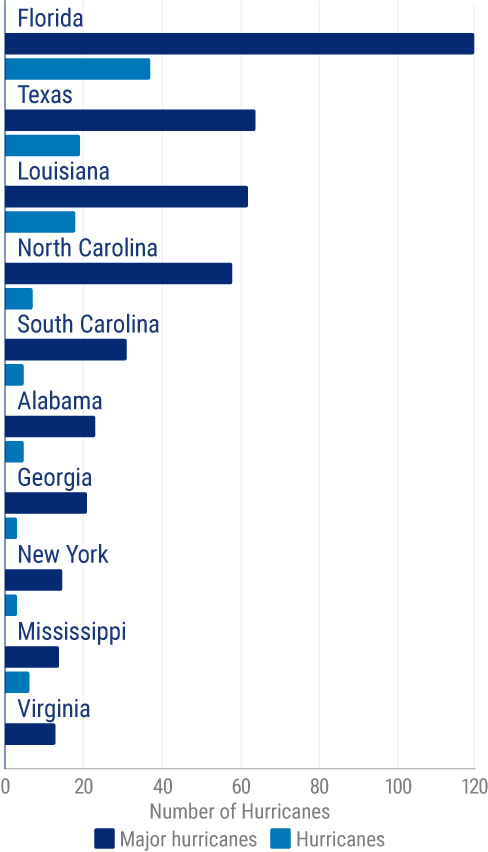 Perhaps unsurprisingly, Florida has been hit by the most hurricanes by far since 1851, at a total of 120, with 37 of them being major storms. Next-highest on the list is Texas, with a total of 64 hurricanes, 19 of which were major. Louisiana falls in third place but is practically tied with Texas, with a total of 62 hurricanes, 18 of which were major.
| Year | Total hurricanes | Made landfall as hurricane in the U.S. | Deaths |
| --- | --- | --- | --- |
| 2016 | 7 | 3 | 36 |
| 2017 | 10 | 4 | 147 |
| 2018 | 8 | 2 | 48 |
| 2019 | 6 | 2 | 15 |
| 2020 | 13 | 6 | 47 |
The number of hurricanes that have made landfall in the past few years increased from two in both 2018 and 2019 to six in 2020. In 2020, there were a total of 13 hurricanes and 47 related deaths.
These safety tips can help you safeguard your assets during a hurricane. Though your property preparation is a critical part of it, so is reviewing your insurance coverage with your independent insurance agent. Both of these aspects together help you create a strong defense against not only hurricanes, but all kinds of natural disasters.
Why Choose an Independent Insurance Agent?
Independent insurance agents simplify the process by shopping and comparing insurance quotes for you. Not only that, but they'll also cut through the jargon and clarify the fine print so you'll know exactly what you're getting.
Independent insurance agents also have access to multiple insurance companies, ultimately finding you the best insurance coverage, accessibility, and competitive pricing while working for you.
TrustedChoice.com Article | Reviewed by Jeffrey Green
©2023, Consumer Agent Portal, LLC. All rights reserved.
https://www.ready.gov/hurricanes?gclid=Cj0KCQiAubmPBhCyARIsAJWNpiPuUiMjDlGBBH7PKSOoJvg3nPyYWB6bF4pjFXSpgo6z54vKWwTx94QaAtJ2EALw_wcB
https://ussartf.org/hurricanes.htm
https://agents.floodsmart.gov/sites/default/files/flood-insurance-small-price-pay-peace-mind_fact-sheet_jun20.pdf
https://www.ready.gov/kit