The Ultimate Summer Ice Cream Road Trip
(Let's do summer right, with a big scream in every state.)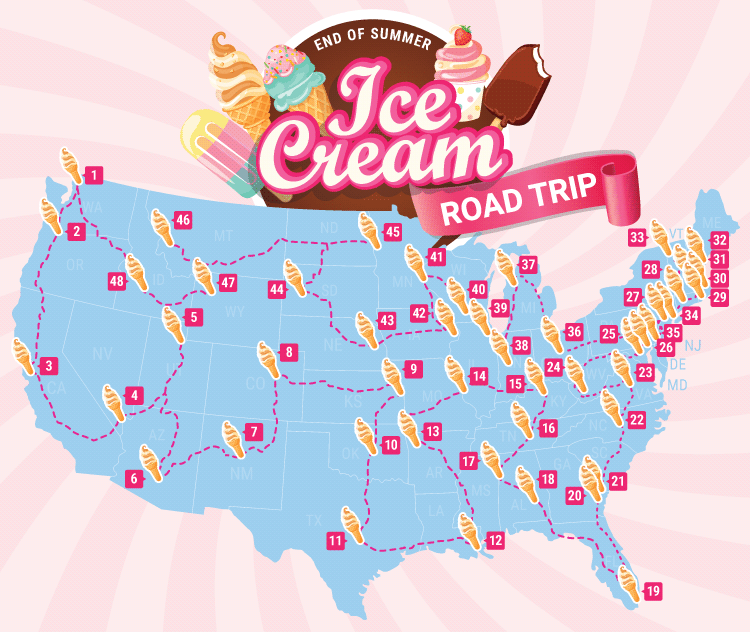 Let's kick summer into overdrive, with a screaming brain freeze. We put together this list of unique ice cream shops worth visiting state by state to help you put a big old exclamation mark on the end of your summer. That's right, it's road trip time — ice cream style. Now this is by no means a ranking thing. We're not saying these are the best shops in each state, besides that's all just a matter of opinion. What we are saying is that these are great spots to visit to try something new.
So grab the kids (if you want to), make sure your car insurance is all current, and let's hit the road, Jacks and Jills.
EDITOR'S WARNING: Ice cream headaches are a common side effect of incredible road trips like this. So if you do experience one, or one in each state, simply press your tongue to the roof of your mouth, apply pressure, and get right back in there.
1. Mallard Ice Cream (Bellingham, WA)

Super Vanilla ice cream? Strawberry? Cool. But Olive Oil? Green Tea? Turmeric? Now we're having some fun. There are over 600 flavors in this Washington staple's cookbook. Our winner is the Marañón Chocolate, though. It's practically like slurping down chocolate mousse.
2. Salt & Straw (Portland, OR)

With a slew of shops up and down the West Coast, this place is far from your grandpa's ice cream parlor. But it is home to some pretty incredible ice creams that sit high atop the "artisanal" ladder. Pear and Blue Cheese? Sure, why not?
3. Smitten Ice Cream (San Francisco, CA)

Un-fresh ice cream? No thanks. Smitten Ice Cream puts on a real show making EVERY scoop to order with some kind of patented super-sciencey liquid nitrogen machine. We'll take a bucket of the Blueberry Crisp ice cream, please.
4. Luv-it Frozen Custard (Las Vegas, NV)

If you're more on the Team Frozen Custard side of the game, you're gonna luv this one. A must-have in the hot, hot Vegas life, this place has been rocking long lines since 1973. How about a Death By Chocolate for the road?
5. Farr Better Ice Cream (Ogden, UT)

A local Utah staple since 1929, Farr Better Ice Cream is about as old-fashioned as it gets — counter service and everything. INSIDER TIP: Buy it by the bucket and the whole station wagon can share it on the way to your next stop. Here it's all good, but you just can't beat Brownies on the Moon, we say.
6. Churn (Phoenix, AZ)

Imagine if Pinterest, Etsy, and a majestic unicorn all made an ice cream shop together. That's Churn. This adorable shop combines aspects of old-fashioned parlors with a modern twist to deliver a setting that'll make all your social followers jealous and treats that'll sweeten up any day – like the Fat Elvis Sundae.
7. Caliche's Frozen Custard (Albuquerque, NM)

Frozen custard's thickness has earned it the nickname 'concrete' in the Midwest. But here in the Southwest corner of the country, this unique shop calls them 'caliches.' Packed with gooey bits, fudges, and candies, these rich treats are a must-have on a hot New Mexican day, especially the Big Hawaiian— mmmmmmmmm MMM!
8. Little Man Ice Cream (Denver, CO)

Featuring an iconic 28-foot milk can, this little gem is located right in the middle of Denver's trendy LoHi neighborhood on the corner of Nostalgia St. and 21st Century Ave. And they've been serving up incredible ice cream, novelties, and other assorted sweets to die-hard fans for over a decade. You like homemade waffle cones? Of course you do. Go ahead and fill one up with 3 scoops of French Toast, you'll thank us later.
9. Sylas and Maddy's (Olathe, KS)

Steering clear of the eye of the storm that is the Kansas City Metropolitan Area, we're stopping in Olathe, Kansas next. In this city on the outer ring of KC is the unassuming local favorite, Sylas and Maddy's. With fresh-baked waffle cones and homemade ice cream, this place is a summer must-have around here with softball-sized scoops of heaven. Try the Kansas Twister, you won't forget it.
10. Braum's (Oklahoma City, OK)

What's a drive dedicated to ice cream without a stop where ice cream powerhouse Braum's began it all. Now an empire of nearly 300 locations throughout the South, the big Braum's "B" sign is a beacon on hot summer days around here, calling folks in for ice cream, shakes, and even burgers and breakfast. Grab a sundae, a couple of spoons and make yourself a new best friend.
11. Lick Honest Ice Creams (Austin, TX)

Right in the heart of Austin, home to all-things-hip, is an ice cream shop that lives up to every bit of the local way of life. Lick Honest Ice Cream hosts community meetings, how-to lessons, and more while delivering some of the most inventively delicious ice creams around. The Roasted Beets and Fresh Mint is incredible, but Texas Sheet Cake is a love of all the locals.
12. Sno-La Snowballs (Metairie, LA)

You don't have to dare us to eat ice cream every day, we'll gladly do it without the arm twisting. But sometimes it's nice to switch things up a bit. And here in New Orleans, a local summertime staple to beat the humidity is the snowball — light, fluffy shaved ice flavored with syrups and topped with all sorts of goodies. And for our money, it just doesn't get any better than Sno-La, home of the original cheesecake-stuffed snowball. You're so welcome.
13. Spark Café (Bentonville, AR)

Bentonville, AR is the town where Sam Walton (founder of Walmart) got his start. In fact, his first store, a small five-and-dime, was the beginning of what is now the Walmart Museum. But the end of the museum is our favorite part. It's home to Spark Café, a small ice cream shop that serves up old Sam's favorite ice cream, Yarnell's. Stretch your legs in the quaint city square with a scoop or two of the Blackberry Cobbler.
14. Ted Drewes Frozen Custard (St. Louis, MO)

We've already mentioned Caliche's Frozen Custard in New Mexico, but it's impossible to talk about frozen custard in this country without mentioning Ted Drewes of St. Louis. Right in the center of the city's action, these "concretes" have been served upside down for over 80 years with all the extra toppings you can imagine. Of course, since it's located near Busch Stadium, it'd be bad form not to get the Cardinal Sin concrete.
15. The Comfy Cow (Louisville, KY)

When ice cream is made with the right ingredients, you know it. This Southern charm gem is a home away from home for many in the area, offering up delicious flavors like our favorite, Bourbon Ball, the award-winning creation packed with a little nip of Kentucky bourbon in every bite.
16. Mike's Ice Cream & Coffee Bar (Nashville, TN)

Featured in People magazine, Rachel Ray, and many more, this Nashville hotspot is home to handmade ice cream with a nostalgic twist that locals and tourists all love. I mean, when was the last time you had an egg cream, anyway?
17. Local Culture (Starkville, MS)

Depending on where you started this creamy road trip, you're probably about ready for something a little lighter. Enter the Fro-yo. And Mississippi's own Local Culture has brought it. Flavors change every day, but Milk & Honey was definitely worth the hype.
18. Bruster's Real Ice Cream (Prattville, AL)

For some, a simple Vanilla does the trick. Others love an ice cream overflowing with chunky treats. For the latter lovers, Bruster's is a must. Fresh ice cream chock full of cookie pieces and fruit chunks? Yes please. We'll have the Boston Cream Pie, please — again.
19. Chill-N Nitrogen Ice Cream (Miami, FL)

Is there anything science can't do? In Miami, scienceer/ice cream lover Danny Golik created Chill-N Nitrogen Ice Cream, a made-to-order method of delivering some insanely fresh, delicious ice cream to lovers like himself. These people don't just scoop ice cream, they invent it every time you order. Try the Nutella, it's IN-credible.
20. Leopold's Ice Cream (Savannah, GA)

100 years ago, the Leopold brothers started an ice cream shop in the heart of Savannah, GA. And to this day, it continues to be a local ice cream blast from the past, soda fountain and all. The Tutti Frutti is a total game changer, you won't be sorry.
21. Hilton Head Ice Cream (Hilton Head, SC)

On a family vacation, nothing beats a visit to the local ice cream shop. And Hilton Head Ice Cream has perfected that game. Right in the center of one of the country's hottest vacay spots is this little slice of heaven, serving up scoop after scoop of Cherry Chocolate Chip and a ton more.
22. The Parlour (Durham, NC)

Local fans of The Parlour in Durham can't get enough of this stuff. In fact, you can find the ice cream all over the town, in grocery stores and restaurants, too. Trust us, the Salted Butter Caramel will change your life.
23. Carl's Frozen Custard (Fredericksburg, VA)

This place is so ingrained into the local scene that the building is registered as a Virginia Historic Landmark. And the frozen custard here is as rich and creamy as it gets. The best part is, the menu isn't 300 flavors deep. Only 3 flavors of custard, and that is plenty, because each one is incredible. Though we're a little partial to Strawberry.
24. Ellen's Homemade Ice Cream (Charleston, WV)

Located right on Capitol Street, this place couldn't be any more Main Street. It's as quaint as an ice cream shop gets with the flavors to match. Butter Pecan? We'll take ten — no regrets!
25. Justine's OC Ice Cream Parlour (Ocean City, MD)

Another incredible ice cream shop right in the middle of a popular vacation spot is Justine's in Ocean City. With all the summer action going on here every year, Justine's is an important part of it all. Hand-dipped Vanilla cones for everybody!
26. Woodside Farm Creamery (Hockessin, DE)
When your ice cream is served in the same place it's harvested, that's fresh. That's why this cow-to-cone creamery is such a hit, with fresh-as-it-gets ice cream and other novelties the whole family loves. Try the Cow Pie Sundae, it's waaaaaaay better than it sounds.
27. Cliff's Homemade Ice Cream (Ledgewood, NJ)

Home of premium ice cream since 1975, Cliff's has been drawing in Jersey boys and girls for years. The picnic area is a perfect place for the whole fam to sit and share, and no doubt a few hundred first dates have happened here. The award-winning Sticky Buns ice cream is impossible to forget.
28. The Collins Creamery (Enfield, CT)

Another great farm stop, Collins Creamery is killing the local agriculture game with fresh dairy and ice cream treats for everyone. Three words: Ice…Cream…Cakes.
29. Brickley's Homemade Ice Cream (Narragansett, RI)

Winner of the Providence Journal's Readers' Choice Award, this unassuming little hotspot packs the fans in all summer long for homemade waffle cones and incredible flavors. Rum Raisin, Butter Brickley, and Maple Walnut? Yes, yes, and yes.
30. Cape Cod Creamery (Hyannis, MA)

To many East Coasters, you can't spell summer without Cape Cod. And this place is at the center of it all, treating locals, tourists, and celebs to the seasonal splurges they love. Ours: Provincetown Pistachio.
31. King Kone (Merrimack, NH)

Since 1972, King Kone has been soft-serving up delicious treats to the locals, generation after generation. And on a hot day, nothing beats a cone of Creamsicle.
32. The Gelato Fiasco Old Port (Portland, ME)

Finally, it's time for some gelato. And this place knows how it's done. Dedicated to staying true to the same values, ingredients, and process that Italians invented, the quality really shows here. Like awards? They've pretty much got 'em all. Ours goes to the Maine Wild Blueberry Crisp.
33. Palmer Lane Maple (Jericho, VT)

Now that you're in Vermont, you could certainly go to a Ben & Jerry's or two or three, or even see the plaque commemorating their first store. Instead, why not try something unique to Vermont, the maple creemee. A maple creemee is similar to soft serve but with a couple of unique differences: real Vermont milk and maple syrup. We'll take two for each hand.
34. Ample Hills Creamery (Brooklyn, NY)

You know, a lot of ice cream shops out there buy big plastic bags of mix-ins like cookie pieces and chocolate chips, but not Ample Hills. This place makes just about all their mix-ins in-house, pasteurizes their dairy on-site, and has been awarded the nickname 'Brooklyn's Freshest.' We'll take the biggest bowl of Breakfast Trash you've got.
35. The Franklin Fountain (Philadelphia, PA)

Most often, the nostalgic ice cream shops are the ones that have been around for decades and decades. Not the case here, but that ain't bad. The Franklin Fountain is an ode to the way ice cream shops used to be, with the finest ingredients modern days can buy. Franklin Mint Chip? That's where it's at.
36. Jeni's Splendid Ice Cream (Columbus, OH)

Now a chain of 10 locations with pints in grocery stores all over, the first Jeni's is right in Columbus, Ohio. Home to hundreds of imaginative flavors, you might want to just add a couple more visits here before moving on to the next city. For our money, it just doesn't get any better than a scoop of Sweet Cream Biscuits and Peach Jam.
37. Moomers Ice Cream (Traverse City, MI)

Just five short miles from downtown Traverse City, Moomers isn't just an ice cream shop, it's an experience. Combining the farm and the shop in one spot, tourists and locals alike can enjoy the start-to-finish of ice cream enjoyment right before their eyes. The Amaretto Cherry gets a blue ribbon in our book.
38. BRICS (Indianapolis, IN)

Right on the Monon Trail, this place is an oasis for families whether they traveled by car or by bike. With over 36 flavors, a dog-friendly patio, and more, it's leaving that's the worst part. The Whistle Stop Wake Up will really get you in gear and back on the trail.
39. Lickity Split (Chicago, IL)

Because there's just no such thing as too much frozen custard, we added another to our list. And here, the concretes are made with so much love that they were all given nicknames. Bing Crosberry. Sophie's S'More. OMG.
40. Chocolate Shoppe (Madison, WI)

If there's one thing Wisconsin knows, it's cows. So you can imagine that translates pretty nicely into the world of ice cream. And since 1962, Chuck and Nancy Deadman have been raising the bar on what ice cream should taste like while racking up multiple awards. While you're in the area, grab yourself a scoop of Door County Cherry, you'll love it.
41. Izzy's Ice Cream (St. Paul, MN)

What started out as a few small batches of ice cream has grown into a staple for Minnesotans who know what cold means. The trademark here is the "Izzy Scoop™." This little scoop on top of a much bigger one is a company identity for Izzy's, making them stand just a little taller than the rest of the shops around. The Dessa's Existential Crunch is like a dream, inside a dream, inside another dream.
42. Whitey's Ice Cream (Bettendorf, IL)

A longstanding summer tradition for folks in Illinois and Iowa, Whitey's has been serving up creamy scoops of joy and shakes of happiness since 1933. Now with nine stores, you can even find their products in grocery stores. But while you're driving through the cornfields, a quick stop at Whitey's for a scoop of Honeycomb Crunch will do you good.
43. Ivanna Cone (Lincoln, NE)

While you're moving right along through the heartland, a stop at Ivanna Cone in Lincoln is just what the backseat bunch needs to keep going. Designed like an old-school soda shop, the bold colors of this place give it a nice modern edge. And for all the vegans who've felt left out on this trip, here's your chance, because Ivanna has vegan ice cream, sundaes, and whipped cream just for you. But if dairy is your thing, the Amaretto French Toast is totally gonna be your new favorite thing.
44. Silver Lining Creamery (Rapid City, SD)

Our next stop is worth the drive just for the cones alone. We're talking homemade waffle cones in different flavors, colors, dipped in chocolate, covered in sprinkles and, oh my. And if you like taking your ice cream for the road, grab a mason jar sundae. Our vote, though, goes to the Bangkok Fire — it's just fun to say.
45. Tutti Frutti (Fargo, ND)

There's something fun about a little DIY, and here you're the boss of what goes in your Fro-yo sundae. Grab a cup or bowl, choose your Fro-yo flavor, add on the goodies and voila. Careful, though. As great as toppings are, they charge you by weight. But we say you can't beat the Vanilla with a pound and a half of gummy bears on top.
46. Big Dipper (Missoula, MT)

With three locations throughout Montana and a big yellow truck to take the operation mobile, Big Dipper has been serving up handcrafted ice cream since 1995. It's a must-stop spot for anyone visiting Yellowstone from the east. And good news, once you get to Yellowstone, they serve Big Dippers ice cream there too. Grab a scoop of the El Salvador Coffee, it'll give you the kick you need to finish this trip strong.
47. Moo's Gourmet Ice Cream (Jackson, WY)

Right in the middle of historic Jackson Hole is Moo's, home to award-winning natural and organic ice creams and sorbets. When you're there, ask for a scoop of the Chocolate Gran Marnier, you're gonna love it.
48. Goody's Soda Fountain & Candy (Boise, ID)

Smack dab in the middle of Boise's Hyde Park is Goody's Soda Fountain, a shop that's as cute and quaint as it is nostalgic. Glass jars sit behind the counter filled with candies and confections, cases of chocolate-covered strawberries and oh boy, the ice cream. Here it's tough to pick just one, but we definitely recommend you try the Salted Caramel — it…is…delightful.
Who Wants Seconds?
What do you say, should we go back around once more? Well, there's always next year. We hope you enjoy the ride as much as we did and any brain tingling has gone away. See you next year.