The Best Things to Do and Places to Eat in Texas Hill Country

Texas Hill Country is an area unlike any other. Imagine endless two-lane highways that roll across magnificent vistas, cross pristine rivers surrounded by mature trees and lead you to tiny old towns with unique character and culture.
Then throw in a few cowboys, random animals, a limitless array of things to do and places to eat, and you're just starting to scratch the surface of what you'll find in this delightful area. Needless to say, there are many reasons 5 million people visit this area every year!
Though no official borders exist, the general area of Texas Hill Country stretches from just north of Austin down to San Antonio in the south, and roughly 200 miles west of these two points.
We've spent a ton of time in this area. We're voracious explorers who travel full time in an RV all around the country. Sure, we love to visit all the big attractions, but we also like finding the unique gems out there that haven't received the attention they deserve.
Without further ado, here are 11 cities in Texas Hill Country you should add to your bucket list right now. We've also included our top picks for what to do and where to eat while you're in town. We'd love to hear from you if you have other places to add or if you agree or disagree with our picks. Just leave a comment at the end of the article.
Listed in alphabetical order, so no one thinks we've playing favorites!
1. Austin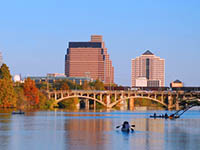 Austin is known as the "Live Music Capital of the World" and boasts the unofficial motto "Keep Austin Weird."
Things to do in Austin:
Walk down Rainey Street, where a bunch of old one-story bungalows have been converted into unique eateries and bars. While there, make sure to stop by Craft Pride. Order some of the best pizza in the U.S. in the back patio at Via 313. Seriously, VIA 313 is mouthwateringly good and a mandatory stop every time we're even remotely near the area.
Traffic and parking is a bear in Austin. So rent electric bikes at Rocket Electrics on East Riverside Drive. Then parking is free and there are no traffic concerns. Boom! You can even pedal backwards going uphill.
See Austin from the water. Congress Avenue Kayaks offers kayak rentals so you can tour Lady Bird Lake, which runs along the downtown skyline. You'll also be able to go under the Congress Avenue Bridge, which is known for its famous bat colony.
If you are going to be in the area for a while and don't mind waiting in line for the best BBQ on the planet, stop at Franklin BBQ. But bring a folding chair; the line is really long. Don't believe it's the best? Google Franklin now. I dare you.
2. Dripping Springs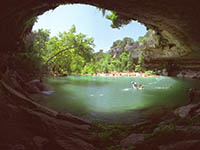 Just 25 miles west of Austin, you'll find Dripping Springs.
Things to do in Dripping Springs:
One of the most beautiful places we've ever visited is Hamilton Pool Nature Preserve. Just 10 miles outside Dripping Springs, this is an absolute must-see, especially if you enjoy hiking or swimming.
If you want to taste old school Texas BBQ in an original setting, the experience at Salt Lick BBQ is the one to try. Eight miles from Dripping Springs, this place just feels like Texas.
The Texas Hill Country Olive Company provides some of the finest award-winning olive oil in the state. They have wine and balsamic vinegar tastings and have some food offerings as well.
3. Fredericksburg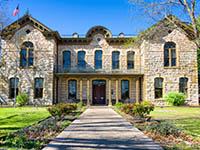 If you love those old Texas towns with historic main streets, endless wine tastings and tons of shops, Fredericksburg is quite possibly the ultimate stop for you. Rich with German heritage and boasting a national museum, Fredericksburg is one of the busiest Texas Hill Country destinations.
Things to do in Fredericksburg:
If you can only do one thing, the National Museum of the Pacific War is the one to do. This is a national museum of Smithsonian proportions. It took us four hours to go through it at a steady pace. Most of the artifacts are original, including a Japanese submarine that attacked Pearl Harbor on December 7, 1941. You'll also see an original atomic bomb casing from the six the U.S. had left after Hiroshima and Nagasaki.
The place to eat is Alamo Springs Café. It is seven miles out of town in the middle of nowhere, but is touted as having one of the best burgers in Texas. In fact, the burger here was featured on the cover of Texas Monthly as one of the best in the state.
Enchanted Rock is just outside of Fredericksburg and is a stunningly gorgeous place to visit for hiking and nature viewing.
4. Gruene Historic District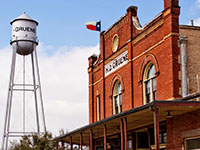 Gruene used to be a ghost town. Now it's a thriving historic district with shops galore and a special landmark. Technically it isn't a city; it's a historic district, but no one pays much attention to that in these here parts.
Things to do in Gruene:
Gruene Hall is the oldest continuously active dance hall in Texas. The floors and walls have history all over them and you can sense it as soon as you walk in. Great bands play all the time and there's usually no cover!
A stone's throw from Gruene Hall is The Gristmill. It's a fantastic restaurant with some of the best pina coladas around. Every time we are near this place, I don't even have to ask my wife Brittany if she wants to stop. It's just a given!
We love antique stores and Black Swan Antiques is one of our favorites. The owner travels to Europe regularly and brings back the very best antiques that can be found. Everything here has a story.
5. Johnson City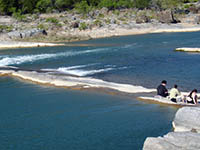 Did you know LBJ spent a good portion of his White House years on his ranch in Texas? It's just outside Johnson City, a great little town that you won't want to miss.
Things to do in Johnson City:
Stop by the Lyndon B. Johnson National Historical Park and the co-located Sauer-Beckmann Living History Farm. The farm tour will take you back in time to the days before electricity. Volunteers live on the farm and work it using no technology that wasn't available when the farm was first built. The LBJ National Historical Park allows you to tour LBJ's ranch and the "Texas White House." According to Johnson's wishes, the ranch remains active to this day.
If you happen to visit in the late spring or summer, make sure you dip into the water at Pedernales Falls State Park. It offers one of the most refreshing experiences in Texas Hill Country.
When you're ready to grab some grub, head over to Pecan Street Brewing. It's a family-owned brewery and brewpub that is regularly packed to the rafters, for good reason.
6. Kerrville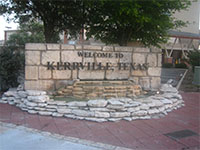 Who would have thought a little town like Kerrville could be so awesome? Here you'll find great food, fun shopping, a quaint main street and even a cocktail lounge that rivals what you might find in New York City.
Things to do in Kerrville:
This city is the home of the Museum of Western Art, one of the main reasons people travel here. So don't miss it if you're in town.
For dinner, stop by Classics Burgers and Moore. Yes, we spelled that right. Don't ask, it's just the name, but the burgers are out of this world. Do it!
After dinner, take a walk through the historic downtown district and end the night at Azul Lounge. While there, make sure you order a Godiva Chocolate Martini. Any of their cocktails are worth trying. The lounge is lovely and the service friendly. They also usually have live music on the weekend.
7. Marble Falls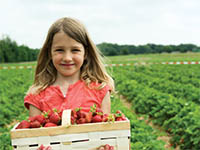 Ask anyone in Texas Hill Country where to get some of the best pies and desserts and they'll point you to Marble Falls. But there is more to Marble Falls than dessert, and if you are in the area these are the things we recommend.
Things to do in Marble Falls:
We'll start with dessert because that is what everyone thinks about. The place is called The Bluebonnet Café. Simply put, their pies may be the best ever.
If you are the adventurous type, give Hidden Falls Adventure Park a shot. Not for the faint of heart and by appointment only, this is a place that will live on in your memory for a lifetime.
If you're traveling with kids in the spring or summer and you'd like something really fun to do, check out Sweet Berry Farm. The berry picking starts in March.
8. New Braunfels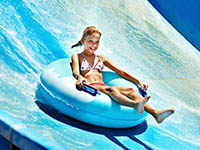 People from all over the world descend upon this little city every summer to visit Schlitterbahn, the number one water park in the world. If you've never been, you have no idea how amazing it is. If you have, then you know we aren't exaggerating.
Things to do in New Braunfels:
By far the number one reason people come here is to go to Schlitterbahn. We've personally had Schlitterbahn season passes before and used them regularly. There is no better spot to cool off in all of Texas.
While in the area, stop by The Red Oak Bakery and get blown away by the goodness this little place offers.
For a wild animal experience, check out Animal World and Snake Farm Zoo. It's a diamond in the rough, but that doesn't stop people from visiting regularly to check it out.
Visiting Natural Bridge Caverns is like stepping into a different world. The caverns are incredible and should be added to your list of places to visit right now.
9. San Antonio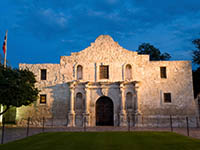 San Antonio sits at the southern end of Texas Hill Country. There are far too many things to do to list here, but these are our top picks for you to enjoy.
Things to do in San Antonio:
You have to visit the Alamo. But don't miss the Menger Hotel just across the street. It's where Theodore Roosevelt recruited his Rough Riders for the Spanish-American War. Walk through the halls of this old hotel and look at all the artifacts they have on display.
No trip to San Antonio would be complete without a stroll along the Riverwalk. Countless restaurants and shops line the river at arguably the top tourist destination in Texas. While on the Riverwalk, make sure you stoop at Boudro's and sit on the outdoor patio. Order a prickly pear margarita and the tableside guacamole. You'll thank us later.
Sure you already knew about the Alamo and the Riverwalk. But did you know about MAARS Pizza? They have a pizza there called The Heaven's Brisket. It's so good that the last time we were in San Antonio for five days, we ate at MAARS twice.
Looking for a fun Mexican food experience? Most people know about Mi Tierra, which is fantastic, but if you want to go off the beaten path check out La Fogata. On your way there, you'll think to yourself, what was I thinking following that goofy article? Once you arrive, you'll understand why we love it.
Want to top the night off with an incredible cocktail? Stop by the SoHo Wine & Martini Bar downtown, located at 214 W Crockett. They don't have a website as of this writing. Heck, they don't need one. The mixologists here may be a little too good. Have a designated driver.
10. San Marcos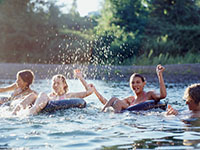 Folks come from all over to shop at the outlet malls in San Marcos. They are some of the best in the entire country. But there is much more to San Marcos than shopping.
Things to do in San Marcos:
The Root Cellar Café in the heart of downtown San Marcos is one of those places you might normally walk right by. But step in, take a seat and order anything on the menu. Yes, anything. You'll be glad you did.
If classic cars are your thing, stop by Dick's Classic Car Garage. They have some of the most pristine and beautiful classic cars in the world. Yep, right in San Marcos.
If you are going to go to the outlet malls, don't bother eating at a local chain. Stop by Centerpoint Station for some of the best burgers and shakes around. We've been many times and have loved it every single time.
Lockhart, Texas is just 20 minutes from San Marcos and has some of the best BBQ joints in Texas. They're so good that some don't even serve BBQ sauce. The meat is so flavorful and tender that you simply don't need it!
Go tubing on the San Marcos River. It's pretty much a Texas Hill Country tradition.
11. Wimberley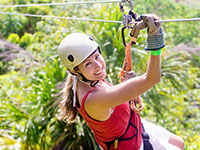 Possibly my wife's favorite city in Texas Hill Country, Wimberley is just a great little town. There's something for everyone.
Things to do in Wimberley:
Wimberley Glass Works is a studio where some of the finest hand blown glass in the world is made. It's just seven miles from the historic center of Wimberley, and they offer free glass blowing demonstrations throughout the day.
Fly through the air at Wimberley Zipline Adventures. Gliding over the Hill Country tree tops is an incredible thrill and the guides are knowledgeable and friendly. Once you've gone during the day, you can request a spot for nighttime ziplining. It changes the entire experience.
In the heat of summer, there are fewer places better to cool off than Blue Hole Regional Park. This well-maintained park is a phenomenal way to experience Texas Hill Country.
For dining, check out The Leaning Pear and Linda's Fine Foods. These are our top two choices in the area and are sure not to disappoint.
If you want to take home that perfect Texas souvenir, don't bother with something you'll never use. Get yourself a pair of cowboy boots from the one and only Wild West Store in downtown Wimberley. The owner is known as the "Boot Whisperer," and it's said she can look at your feet and, after a few minutes of talking with you, pick out the perfect pair of boots for you. She's been doing it for years and her shop is always packed.
There you have it, folks. We've put a lot of hard work into exploring these places, just so we can recommend them to you. It's a rough life, but someone has to do it.
We'd love to hear from you. Got any places you'd add? Disagree with us? Let us know in the comments below.
©2023, Consumer Agent Portal, LLC. All rights reserved.
http://nomadicpursuits.com/
http://rvwanderlust.com/
http://via313.com/
http://www.rocketelectrics.com/
http://congresskayaks.com/home.php
http://www.saltlickbbq.com/
http://texashillcountryoliveco.com/
https://www.facebook.com/alamospringscafe
http://gruenehall.com/
http://www.gristmillrestaurant.com/
http://blackswanonline.com/
http://www.gruenetexas.com/
http://pecanstreetbrewing.com/
http://en.wikipedia.org/wiki/Kerrville,_Texas#mediaviewer/File:Kerrville_welcome_IMG_0917.JPG