Best Individual Short-Term Disability
(Just because you're out of work, doesn't mean you need to be out of money)

You insure your car, your home, your health, maybe even your pets, but what about insuring your paycheck? Every year, 5.6% of working Americans suffer from a short- term disability that keeps them out of work, and less than 50% of workers receive disability insurance from their company.
This means it's on you to find your own individual short- term disability insurance.
But don't fret. That's what independent insurance agents are for. Whether you're an adventure junkie or just have an unfortunate family medical history, independent insurance agents can help you understand and find individual short-term disability insurance.
What Is Individual Short-Term Disability Insurance?
Besides being a mouthful, individual short-term disability insurance is a personal insurance policy that will pay part of your income if you become unable to do your job as a result of an accidental injury or disease. The injury cannot be work-related -- that's what workers' compensation is for.
When it comes to disability insurance, there are long-term and short-term options. Just like it suggests, the short-term pays a percentage of your income for a short amount of time until you're able to return to work.
How Does Individual Short-Term Disability Insurance Work?
Individual short-term disability insurance is offered through life insurance companies. The term individual refers to the fact that you're purchasing the policy yourself, vs. being offered a group term policy through your employer.
Just like other insurance policies, when you purchase short-term disability insurance, you'll pay a monthly premium. If you become ill or get injured and can no longer work, your short-term disability insurance policy will pay a percentage of your income for a specific amount of time.
The average policy pays around two-thirds of your income for three to six months, but can be longer.
Within a short-term disability policy are two different types of protection, guaranteed renewable and noncancellable.
Guaranteed renewable: A guaranteed renewable policy means you can renew your policy every year with the same benefits and that the insurance company cannot cancel your policy. However, the insurance company does have the right to increase your premium.
Noncancellable: A noncancellable policy means that the insurance company can only cancel your policy if you don't pay your premium. With noncancellable disability insurance, the insurer cannot increase your premium or reduce your benefits.
Number of individual disability insurance policies in the United States in 2018, by type (in 1,000s)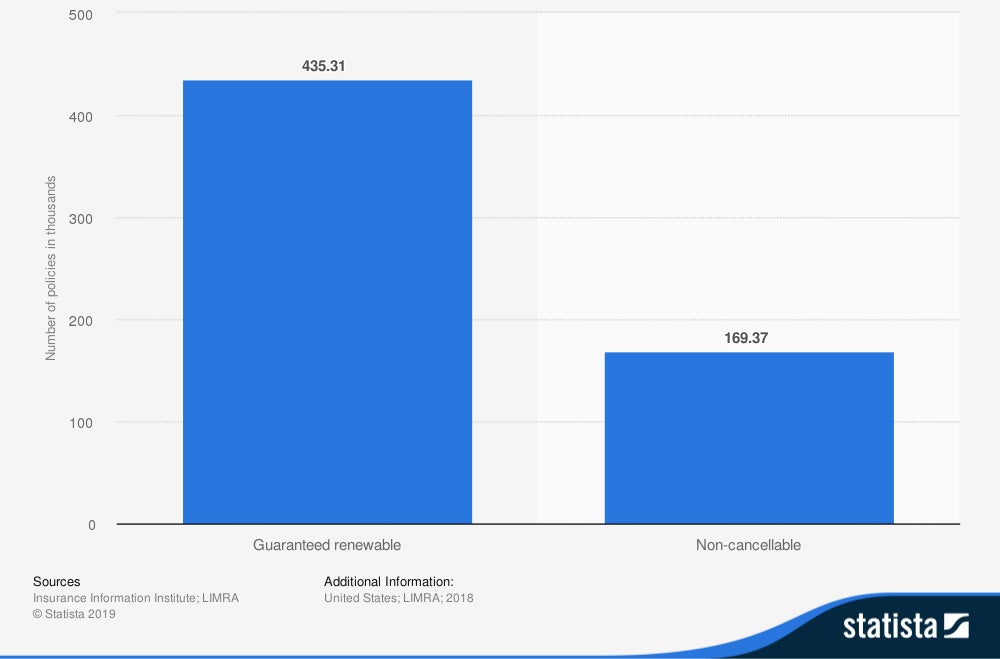 A review of hundreds of thousands of individual insurance policies shows that Americans are nearly three times more likely to choose guaranteed renewable policies than noncancellable.
If you find yourself in need of using your short-term disability insurance, you'll be able to receive benefits after a waiting period that's no longer than 14 days, according to the Insurance Information Institute.
Based on the extent of your injuries or illness, the insurance company will determine how many days, weeks, months, or years you'll need to collect disability benefits for.
Save on Disability Income Insurance
Our independent agents shop around to find you the best coverage.
Is Short-Term Disability Insurance Right for You?
Not everyone needs disability insurance, and it may even be offered to you through your current job. If your company does offer short- term disability insurance, it's a good idea to read about the specific benefits and determine if they're a good fit for you.
When determining whether you need short-term disability insurance, you can ask yourself the following questions.
How much money do you have in the bank?
How much does it cost you to "live" every month?
If you were to get injured and be out of work, how many months could you live off your savings?
Do you have a dangerous job or risky habits?
If you're a good saver and could afford to be out of work for six months or a year, you may not need short-term disability insurance. But if you'll be broke after not getting a paycheck for two months, you'll want to invest in the coverage.
How to Choose the Best Individual Short-Term Disability Insurance
Not all policies are created equal. While you may think your final deciding factor will be based on cost, there are some other things to keep in mind. Most insurance companies will differentiate themselves by offering specific benefit features or add-on options.
Some companies will offer a cancer benefit as an add-on. With this add-on, you would pay a few extra dollars a month, and if you were to get diagnosed with cancer, you'd immediately receive a $25,000 payout for treatment, hotels, and costs associated with the disease.
Other add-ons include:
The ability to receive a partial refund on your premium if no claims are made within a specific time frame
A waiver of your premium
Cost-of-living adjustments
And more
There are also some policies that you want to stay away from. Some policies include exclusions, like skydiving, being a pilot, spelunking, and scuba diving. If you frequently participate in any of the excluded activities, you'll want to make sure your policy covers that activity.
Depending on your personal finances, medical history, age, and current lifestyle, all of the above factors should be considered when selecting the best individual short-term disability insurance policy.
What Company Offers the Best Individual Short-Term Disability Insurance?
Disability insurance has been around a long time, and it's best to go with well-known companies. Our friends at Good Financial Cents looked at price, options, customer service, financial standing, company history, and credit rating to determine the top ten best disability insurance companies of 2019.
Assurity
Guardian Life
Illinois Mutual
PIU (Petersen International Underwriters)
MassMutual
Mutual of Omaha
Ohio National
Principal Financial Group
The Standard
Ameritas
When you purchase disability insurance is not the time to go with someone you've never heard of or cut corners. Well-known companies have the ability to pay out benefits and offer a variety of disability options.
Which Disability Insurance Companies Offer the Best Rates?
The price of disability insurance will vary greatly depending on your age, income, and policy. On average, you can expect to pay between 1% and 3% of your income for disability insurance.
Example: If your income is $100,000 a year, you'll pay between $1,000 and $3,000 for disability insurance.
Save on Disability Income Insurance
Our independent agents shop around to find you the best coverage.
Why Independent Insurance Agents?
Disability insurance policies can be complex, and searching through options can be confusing, time-consuming and frustrating. An independent insurance agent's role is to simplify the process.
They'll make sure you get the right coverage that meets your unique needs. Not only that, they'll break down all the jargon and explain the nitty-gritty, so you understand exactly what you're getting.
And in the unfortunate event that you need to file a claim, you won't be alone. Your agent will be right there to help guide you through every last step so you can keep paying for your life. How great is that?
TrustedChoice.com Article | Reviewed by Paul Martin
©2023, Consumer Agent Portal, LLC. All rights reserved.
https://www.iii.org/article/what-are-types-disability-insurance
https://www.goodfinancialcents.com/insurance-quotes/disability/best-companies/
https://oneamerica.com/newsroom/news-releases/harris-oneamerica-disability-insurance-survey