International Travel Health Insurance
(Because nothing is worse than being sick when you're thousands of miles away from home.)

Seeing the world is an amazing adventure, until your dream vacation turns into a self-guided tour of all the bathrooms in Europe.
Learning about international travel health insurance can save you a lot of time, money, aches and pains should you fall ill or get injured during your travels outside the US.
However, international travel health insurance is not always necessary, which is why our independent insurance agents can help you understand what it is and how to determine when you need it.
What Is International Travel Health Insurance?
International travel health insurance is a specific insurance plan that will cover emergency health care costs should you get injured or fall ill while traveling outside of the United States.
In some cases it is a stand-alone plan that you can buy in addition to your existing insurance policy. In other cases it is an added benefit to your existing insurance.
Which health risks would make you change your travel plans?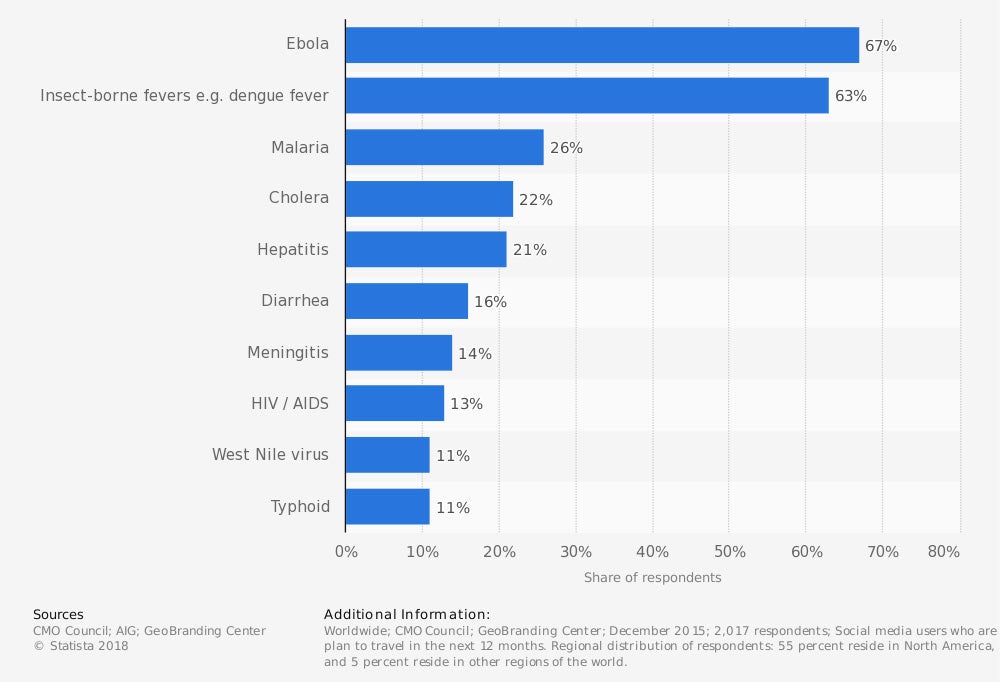 Does Health Insurance Cover International Travel?
Most likely your current health care plan will offer some type of coverage for traveling internationally. However, it will depend on the type of plan you have, since visiting an international doctor is almost always out of network.
HMO health insurance plans: An HMO insurance plan provides coverage for certain doctors and hospitals within its network. These plans are usually more affordable, but have more limited coverage should you seek a doctor that is outside your network.
PPO health insurance plans: PPO insurance plans are more flexible about the doctors and hospitals you can visit and place fewer restrictions on seeing out-of-network providers. However, PPO plans usually cost more than HMO plans.
Once you are out of the network, the payment that the insurance company is responsible for becomes significantly less than what they would normally pay.
They may only pay 60% of what is billed, or require you to pay the bill and then file paperwork to get reimbursed. It will vary depending on your insurance plan and company.
Some health insurers who know their clients travel frequently may have special provisions that they'll pay up to a certain amount in the event of overseas emergencies.
How Much Travel Health Insurance Do I Need?
Determining the amount of travel health insurance that you may need depends on a variety of factors. Ask yourself the following questions to determine whether you need travel health insurance and how much of it you should buy.
What type of international coverage does my current insurance offer?
What is my current state of health?
How risky is the trip I'm taking? Will I be relaxing or engaging in dangerous activities?
What is the health coverage offered for tourists in the country I'm visiting?
The biggest factor in determining how much travel insurance you need, if any at all, is understanding the health care coverage of the country you're visiting.
Many foreign countries will offer free or universal health care coverage, which means that a trip to the doctor or pharmacy would cost you little or nothing. Many Americans even travel to different countries to receive medical care.
Percentage of adults in the US who had traveled abroad specifically to receive medical treatment to select countries as of 2019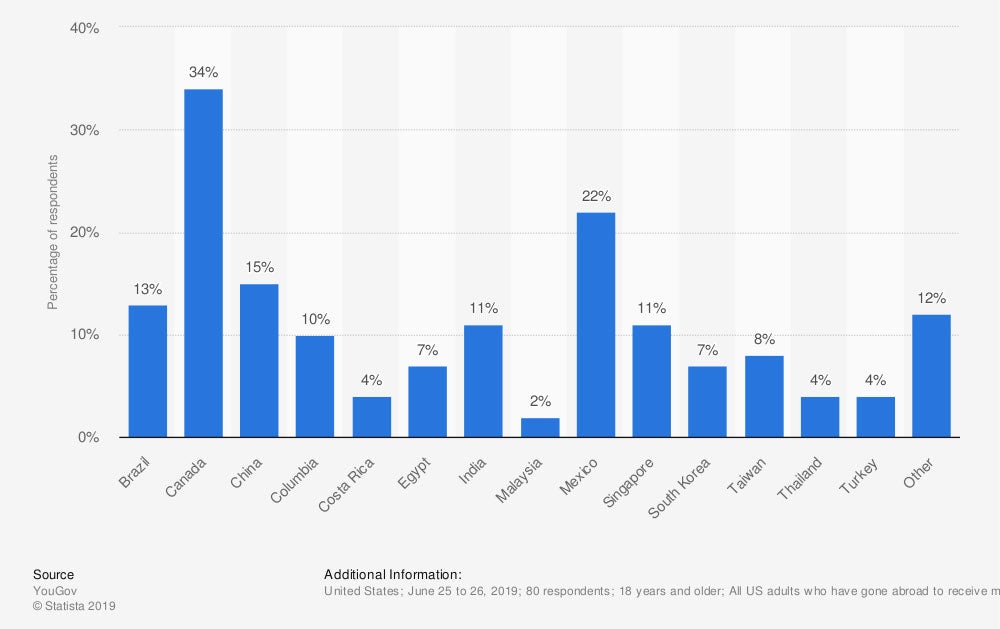 However, there are a few differences to note between free and universal health care.
Free health care: Means that all citizens receive health care for free or at a very minimal cost.
Universal health care: Means that at least 90% of citizens will receive health care that is paid for by the citizens of the country via taxes.
The following countries offer universal health care systems.
| | | |
| --- | --- | --- |
| Universal Health Care | | |
| Australia | Greece | Norway |
| Austria | Hong Kong | Portugal |
| Bahrain | Iceland | Singapore |
| Belgium | Ireland | Slovenia |
| Brunei | Israel | South Korea |
| Canada | Italy | Spain |
| Cyprus | Japan | Sweden |
| Denmark | Kuwait | Switzerland |
| Finland | Luxembourg | United Arab Emirates |
| France | Netherlands | United Kingdom |
| Germany | New Zealand | |
Before you get to thinking that you can travel to any of these countries and pay minimal bills for health care costs, know that every country's laws differ when it comes to what is extended to travelers. Which is why you want to do your research on the country you plan on visiting.
Often, a visit to a foreign doctor will be much more affordable than a visit to a US doctor. It's also common for a variety of medicines to be available over the counter at foreign pharmacies that you would need a doctor's prescription to get in the US.
Once you have a full understanding of the potential cost of an injury while traveling compared to the cost of a potential travel health insurance plan, you can determine the proper amount of coverage.
How Much Does Travel Health Insurance Cost?
The good news is that travel health insurance is usually relatively inexpensive. It can be as little as a dollar a day.
As with any insurance, costs will vary depending on how much insurance you get, your age, your destination, the length of the trip, and your health status. But a week of coverage could cost as little as $5 or could be more than $100.
How To Find the Best Travel Health Insurance
For the more obscure/less common types of insurance coverage out there, you might not be able to find what you're looking for just anywhere.
While our independent insurance agents may not be able to provide you with this kind of coverage directly, we'll happily provide a list of agents in your neighborhood who have access to multiple insurance companies.
Leading travel insurance companies in the United States in 2019, by emergency medical benefits rating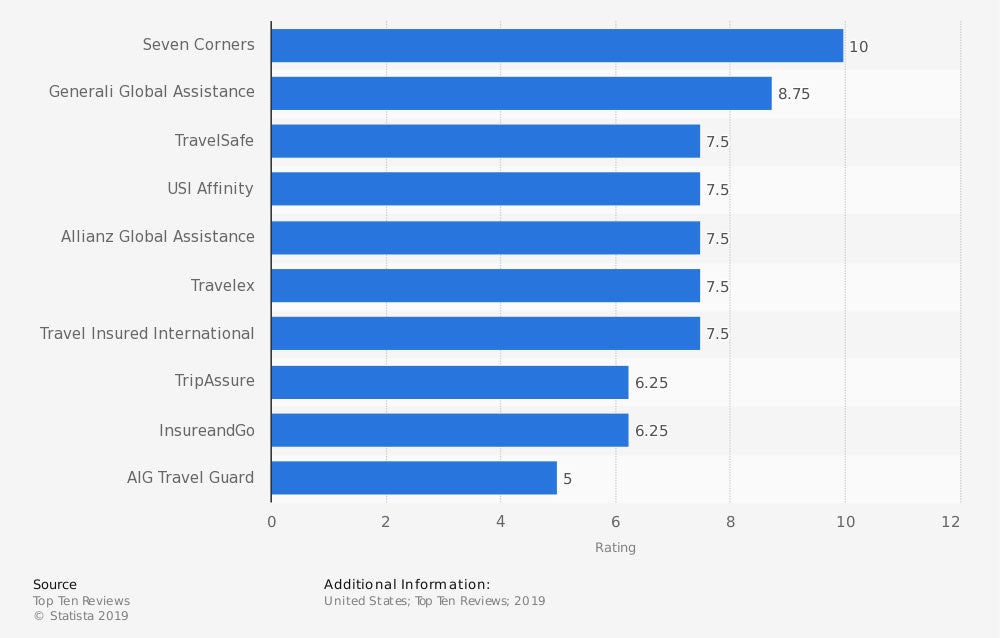 TrustedChoice.com Article | Reviewed by Paul Martin
©2023, Consumer Agent Portal, LLC. All rights reserved.