Loss of use coverage
Does Homeowners Insurance Cover Additional Living Expenses?
(Loss of use coverage can help you feel at home—even when you're forced out of it.)

Owning the roof over your head comes with all kinds of benefits, including the freedom to develop pretty much whatever kind of lifestyle you choose. But what happens when disaster strikes and forces you to temporarily live elsewhere? What all does homeowners insurance cover while you're displaced?
The good news is that homeowners insurance provides something called loss of use coverage, which accounts for the extra funds necessary to maintain the lifestyle you're accustomed to while you're displaced from home.
Our independent insurance agents are here to help get you set up with the right homeowners insurance for your specific needs. But first, let's talk about loss of use coverage.
What Is Loss of Use Coverage?
Broken down, loss of use coverage is an aspect of homeowners insurance that pays any extra expenses necessary to maintain your normal style of living should you be forced to temporarily leave your home.
In order for loss of use coverage to kick in, the reason you're displaced from your home must be due to a covered peril—such as fire or water damage (as long as it's NOT due to floods).
Say a heavy windstorm tears the roof off of your house and shatters several windows. Thanks to loss of use coverage, your homeowners insurance policy will pay the funds for your hotel room while your home is being repaired, AND they'll cover any additional expenses necessary to maintain your lifestyle.
We'll take a closer look at what that entails in just a second.
What's Included Under Loss of Use Coverage?

Aside from the expenses necessary for your temporary housing, loss of use coverage will also reimburse you for additional expenses required to maintain your standard of living. This standard varies from person to person, but we'll take a look at a few possible examples of what this could mean, as well as what else is covered.
These expenses might be included under loss of use coverage:
Cost of temporary housing: If you're staying at a hotel/motel/Holiday Inn while your home undergoes repairs, loss of use coverage will pay for it. The quality of the hotel must match your normal standard of living to be covered. For example, those who live in luxury estates will receive reimbursement for much fancier suites in say a Ritz Carlton, while more middle class folk will not.
Extra fees associated with temporary housing: If you're required to get a credit check or pay for utilities in a temporary residence you're renting, loss of use coverage will take care of the fees.
Additional living expenses: If, for example, you're unable to cook while displaced from your home, loss of use coverage will pay the extra funds required for you to eat out while you're away. Additional living expenses could apply to lots of things, like any extra gas required due to your increased commute time from your temporary residence.
Lost rental income: If you normally rent out a part of your house and your tenant is temporarily displaced due to a covered peril, loss of use coverage will reimburse you for what they'd normally pay. However, loss of use coverage will NOT provide anything for the rentee—they'd need a renters policy for that.
Prohibited use: If the government should deny you access to your undamaged home due to a disaster that's damaged other homes in the neighborhood, loss of use coverage would apply. However, you're not covered if the city orders you to evacuate due to harsh storms or other disasters that have not resulted in damage already.
Having your home suffer severe damage and require extensive repairs is stressful enough on its own, but being displaced from home is even more stressful. Luckily homeowners insurance can offer at least some reassurance by covering your temporary residence and any additional living expenses while the mess gets cleaned up.
Why Would I Need Loss of Use Coverage?
Though it's one of those aspects of insurance you desperately hope you'll never actually need, there are a couple of scenarios when it really pays to have loss of use coverage.
Loss of use coverage can help in the following situations:
You're temporarily displaced from your home due to a fire/windstorm/other covered peril under your homeowner's insurance and must find another residence while repairs take place.
You're barred from accessing your home by the government due to a local disaster, and must find a temporary residence until you're allowed to return.
You're temporarily displaced from your home due to a covered peril or government order, and need to recover income you'd normally receive from a renter.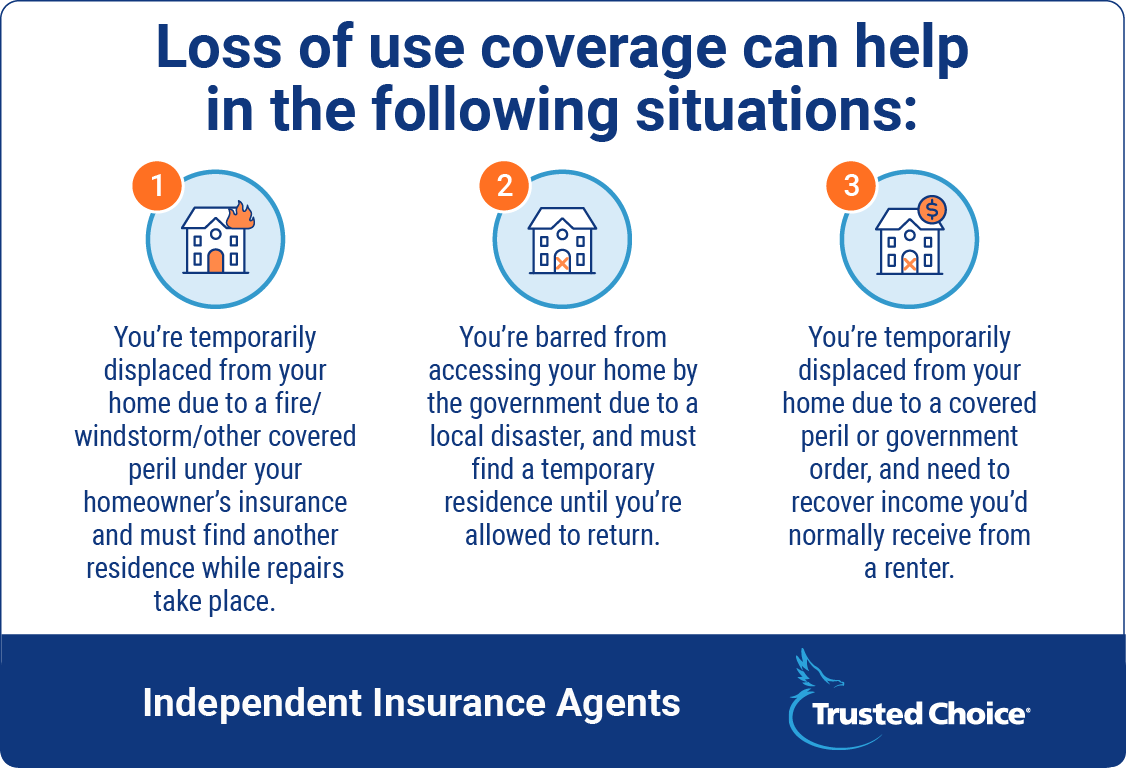 No one wants to think about losing their home, even for a little while. Still, it's good to keep in mind the scenarios in which loss of use coverage would come in handy and help lighten the burden.
Does My Homeowners Insurance Policy Cover Additional Living Expenses?
Almost certainly, yes. Loss of use coverage is included under most standard homeowners insurance policies—the only question is how much is included in YOUR specific policy. You'll want to double check with your independent insurance agent to be sure. If necessary, you can always add more coverage if you feel you don't have enough.
How to Find the Best Homeowners Insurance
In order to get the protection you need (and deserve), you'll want to work with a trusted expert. Independent insurance agents will not only know where to find the best coverage and price, but also help to make sense of the fine print.
Consider your unique needs, then connect with an agent to help you take it from there. Have a list of your specific concerns and desires handy before you reach out, to help the process run even smoother.
Compare Homeowners Quotes with an Independent Insurance Agent
We all know how valuable your time is, so why spend it doing all the hard work yourself? From homeowners insurance policies to additional loss of use coverage, our expert independent insurance agents will help you determine which type of homeowners insurance makes the most sense for you.
Our independent insurance agents stay on top of the insurance industry and all the latest discounts so you don't have to. That means they'll help find the right coverage at the right price for you.
They're not just there at the beginning, either. If disaster strikes, your agent will be there to help walk your loved ones through the process of getting the benefits they're entitled to. Now that's thinking ahead.
TrustedChoice.com Article | Reviewed by Paul Martin
©2021, Consumer Agent Portal, LLC. All rights reserved.