Understanding Home Insurance Claims
(It's easier than you think)

Your home is much more than a place to hang your hat. In fact, it's also a great place for storing your snacks, collecting couches and protecting your private photos. If anything bad were to happen, you could be left without any of that stuff, and more. But hey, that's why you bought homeowners insurance in the first place.
Our independent agent matching tool will find you the best insurance solution in your area. Tell us what you're looking for and we'll recommend the best agents for you. Any information you provide will only be sent to the agent you pick.
In the event of damage, destruction or burglary, you'll have to decide whether to file a claim. No worries though, with help from the following guide, we'll make sure the claim filing process goes smoothly.
Steps for Filing a Homeowners Insurance Claim
Whether some neighborhood punks stole all your belongings or shady weather left your home with some serious damage, here's what to do when something bad happens to your home.
Step 1: Assess and document the damage.

Take photos and videos of the damage, and write down what's been destroyed or taken. NOTE: If the damage is structural, use caution when shuffling through your home.

Step 2: Report crimes to the police.

If you've been burglarized, let the police know when it happened and what was stolen. NOTE: The police can be reached at 911.

Step 3: Contact your insurance agent .

Get in touch with your insurance agent and ask what you should do next.

Step 4: Fill out the claim forms.

If you decide to file a claim, you'll need to provide a list of everything that was lost or damaged to your insurance company.

Step 5: Prepare for an adjuster to come.

Don't move or touch anything until an adjuster can come assess the damage.
Save on Home Insurance
Our independent agents shop around to find you the best coverage.
When Not To File a Claim
According to the ISO, 5.2% of insured homes had claims in 2016. Of those claims, 97% related to property damage. Filing a claim can trigger an unwanted premium increase. So you'll want to be smart about deciding whether to file.
If there is significant damage to your home where the cost to repair or replace will drastically outweigh your deductible, you always want to file a claim.
Here are a few situations where you would not want to file a claim:
If your claim is not much more than your deductible. The payout won't be worth the potential increase in premium.
If you've made several claims in the past 5 to 10 years. This could cause your insurance company to drop you.
If the claim is for something your insurance doesn't cover.
If the damage is related to poor maintenance.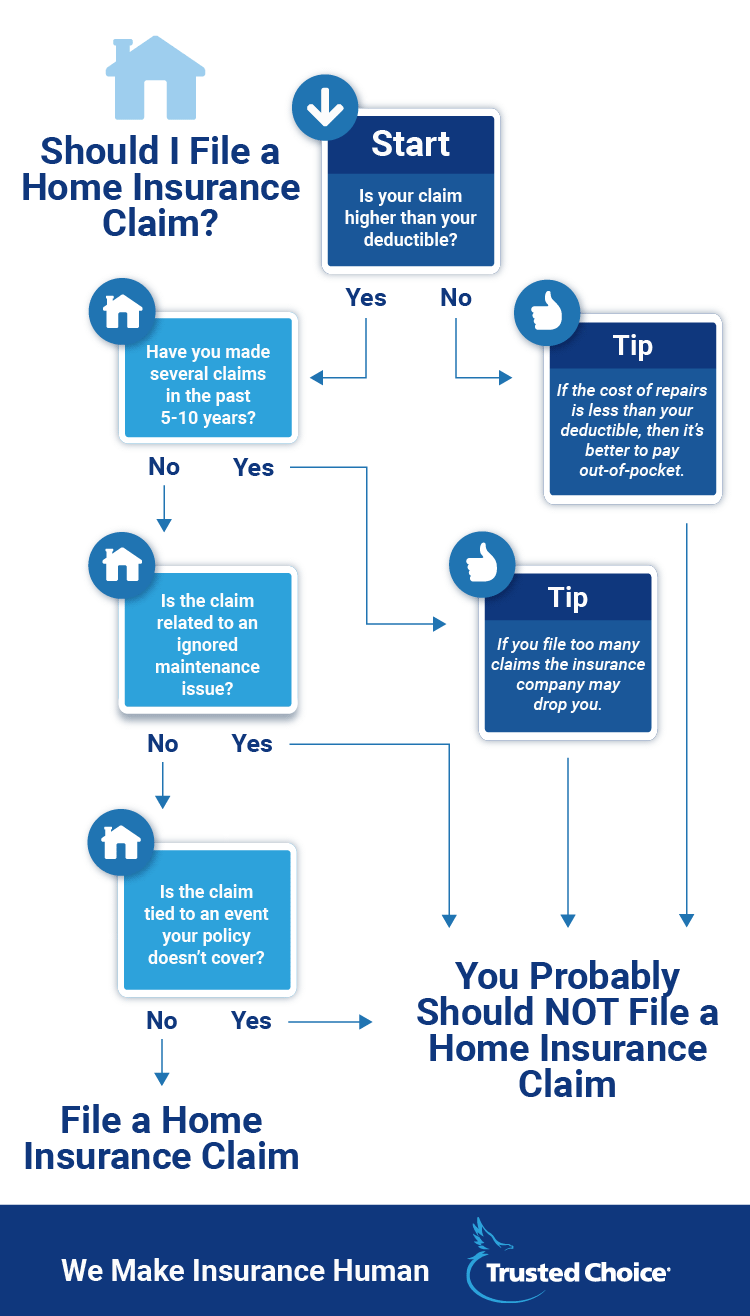 Preemptive Measures Before Claim Time Comes
If your entire house burned down unexpectedly, chances are you wouldn't remember every item of value inside. Being organized and having purchase records and receipts can help make the claim process much easier. There are a few simple things you can do to be prepared:
Make a video of your house that shows your belongings. Narrate with how long you've had the items and where you bought them (like a Cribs episode).
Make note of anything of particular value and how much it cost.
Keep receipts from any furniture and home décor purchases.
Know the specific models of appliances and electronics.
Keep records and receipts from any home upgrades.
Have a list of all possessions and know how much they're worth.
Understand your insurance policy and what's covered and not covered.
What If My Home Is Uninhabitable During the Claim Process?
If a hailstorm wipes out half your roof, you won't be able to stay in your home during the claim process. If you're displaced during your claim, be sure to keep track of your extra living expenses. This can include the following costs:
Hotels
Eating out
Laundromat
Commuting to work
Loss of rental income if you were renting a room in your house
Most insurers cover extra living expenses, so be sure to keep track of any financial burden that comes with leaving your house temporarily.
Save on Home Insurance
Our independent agents shop around to find you the best coverage.
Damage That Homeowners Insurance Won't Cover
Not everything is covered in your basic homeowners policy. In fact, the following will not be covered in a standard insurance policy:
Flood damage
General wear and tear
Cracked driveways
Insect damage
Damage from earthquake
Paint fading from sunlight
Removing a tree from your property
If you live in an area where any of these situations is a potential threat, you can always add the proper coverage to your insurance. Just talk to your agent and they'll handle it.
In the long run, understanding your insurance policy, having a list that shows the value of your belongings, and working with your insurance agent can help make for a smooth claim process.
TrustedChoice.com Article | Reviewed by Paul Martin
©2023, Consumer Agent Portal, LLC. All rights reserved.