Average Time for Home Insurance Claim to Close
(And how can you make it go even faster.)

If you're ever forced to file a home insurance claim, how comfortable are you with the whole process? Filing a claim might be easier than you think, but getting your claim paid can take anywhere from weeks to months.
Factors like the type of claim, your location, and your insurance company will affect the time frame for when you'll see your money. The good news is, an independent insurance agent can help guide you through the entire process. From making a claim to understanding the time frame and keeping things moving along, an agent is with you every step of the way. To give you an idea of how it all works, here's some important background info to know.
How Long Does the Average Home Insurance Claim Take to Be Closed?
Unfortunately, there is no exact amount of time that it takes for a home insurance claim to be closed. The time frame will vary from state to state, between insurance companies, and depending on the situation as a whole.
To help speed things up, most states have adopted fair claim practice laws that were created by the National Association of Insurance Commissioners to ensure that all insurance claims are handled in a timely and fair manner.
However, the law doesn't dictate how long an insurance company has to respond to a claim and pay. In some states, it's within two weeks, and other states give several months. In many cases, the insurance company must at least acknowledge and start investigating the claim within 30 days. Additional time is given to actually pay the claim.
Do Different Home Insurance Claims Take Different Amounts of Time to Close?
As might be expected, a major disaster that affects more than one home can take much longer to pay out than a single claim.
If an insurance company is dealing with multiple large insurance claims as the result of a hurricane, tornado, massive flooding, or a fire, you're going to be waiting longer for your money than if you have a small kitchen fire.
Also, claims that require a higher payout can take longer to be completed. A company may do a more thorough investigation of the claim and ask you to fill out a proof of loss form. If your claim is not very complicated, you may get to skip this step.
Homeowners Losses Ranked by Claim Severity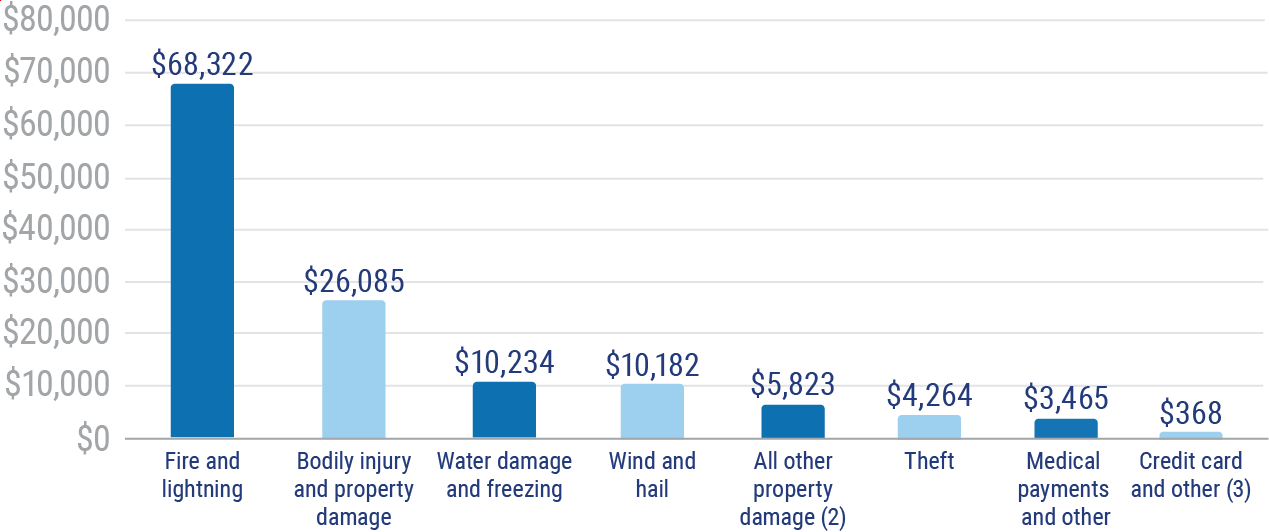 Fire and lightning pose the biggest risk to homes, while stolen items are the lowest amount of claims paid out.
What Is the Claim Process Like?
When filing a claim, there are a few things that have to happen. The process of properly filing a claim can delay payment, seeing as insurance companies have a variety of procedures they have to follow. Here's what happens behind the scenes of a home insurance claim.
Steps for filing a homeowners insurance claim:
The owner reports the claim.
The insurance company assigns a claims professional to handle your claim. Most states have a time frame for when a claims professional has to acknowledge and start investigating your claim. It usually ranges between 15 and 30 days.
The insurance company will get in touch with you to discuss your coverage and how your claim will be handled.
Your insurance professional will evaluate and estimate the cost of damage.
For less complicated claims, the inspector may choose to cut you a check for the damage after the first inspection. More complicated claims have longer payout times.
Once you're paid, the insurance company closes your claim.
The good news is, there are a few steps you can take in order to make your claim move along faster, which gets you paid quicker.
What to Do to Make a Claim Process Faster
A lot about a claim comes down to the insurance company getting through their established procedures, but there are a few things you can do to make the process have fewer bumps.
File promptly: Delaying on filing a claim doesn't do you or the process any good. Most states require that you file a claim within 30 days of the damage as well. So file as quickly as possible.
Follow up: Stay in touch with your adjuster and request important forms and documents immediately instead of waiting for the insurance company to email you.
Keep track of conversations: Take notes on the time and content of your conversations with your adjuster.
Make copies of receipts: Make copies of any documentation or receipts associated with your claim.
Meet your deadlines: The insurance company will ask you for a variety of information. Make sure to provide it promptly and by any deadlines.
Take photos of the damage: Document any damage via photos and video so you have a record of it later.
Get estimates from contractors: Once you have a full assessment of the damage, get estimates from contractors for repair, the earlier the better.
Make emergency repairs: If you're able to make some minor repairs in order to prevent further damage, you can.
Attend all inspections: Stay in the know about your claim by responding promptly to your claims adjuster and attending any inspections of the damage.
Staying on top of your game and your claims adjuster can help get you paid faster. The more organized you are, the easier it is to file your claim.
Save on Home Insurance
Our independent agents shop around to find you the best coverage.
Benefits of an Independent Insurance Agent
No matter where you are in the insurance claim process, working with your independent insurance agent can help make the process run smoothly and help get you paid faster.
Independent insurance agents have access to multiple insurance companies, ultimately finding you the best coverage, accessibility and competitive pricing while working for you. Find an independent insurance agent in your community here.
©2023, Consumer Agent Portal, LLC. All rights reserved.
Source: https://www.iii.org/fact-statistic/facts-statistics-homeowners-and-renters-insurance