Home Insurance Claims
(Because your insurance policy exists to help protect your home)

As a homeowner, you want nothing more than to keep your oasis safe. Unfortunately, homeowners face all kinds of potential hazards daily including fires, break-ins, natural disasters, and more. That's essentially what your homeowners insurance is for, to help to keep your home safe from common perils. But should disaster strike, it's important to understand not only what a homeowners insurance claim is, but also how to file. Get ready for a breakdown of home claims.
What Is a Homeowners Insurance Claim?
Basically, a claim is what you file when something goes wrong with your home. If something bad happens, you'll call up your insurance company to file a report as long as the mishap is a covered peril on your policy. Once you've connected with your insurance company, they'll start the process of determining whether or not the incident qualifies for reimbursement from them.
In other words, if you have coverage for the event, your insurance company will help pay for some or all of the damage or destruction. If the cause of the claim is not covered under your policy, unfortunately the claim will be denied and you won't receive any reimbursement.
Homeowners may file claims for many reasons, but a few of the most common include:
Fire damage
Windstorm and hail damage
Liability issues (i.e., bodily injury or property damage)
Water damage and freezing
Theft/vandalism
Other natural disasters (e.g., lightning, blizzards, etc.)
Fortunately, homeowners insurance includes coverage for many of the major common perils that put homes at risk. If you have any questions regarding your specific coverage, speak with your independent insurance agent. They'll be able to tell you what your policy covers and where you may be lacking coverage.
How to Submit a Claim
When you decide to file a homeowners insurance claim, you'll start by contacting your independent insurance agent. Your agent can help guide you through the process and outline the actions your insurance company will take next. They'll also be able to help calm your nerves by answering your questions. They can even hook you up with an estimated time frame for the entire claims process.
After you've had a chat with your agent, you'll need to wait to hear from your insurance company. One they reach out, they'll let you know all the required actions on your part, what step of the process they're currently on, and what's next on their end. The insurance company may have to conduct an investigation of the claim you file, which could include getting statements from a third party or conducting a damage appraisal.
Make sure to act quickly after a mishap occurs if you decide you want to file a claim. Many homeowners insurance companies allow a 30-day grace period for filing claims, while some may extend this up to one year. Regardless of the allotted time frame, however, it's better to act ASAP. This helps your insurance company start the investigation quickly, which also increases your chances of getting your potential reimbursement that much faster.
Save on Home Insurance
Our independent agents shop around to find you the best coverage.
Top Homeowners Insurance Claims in the US
Homeowners Insurance Losses By Cause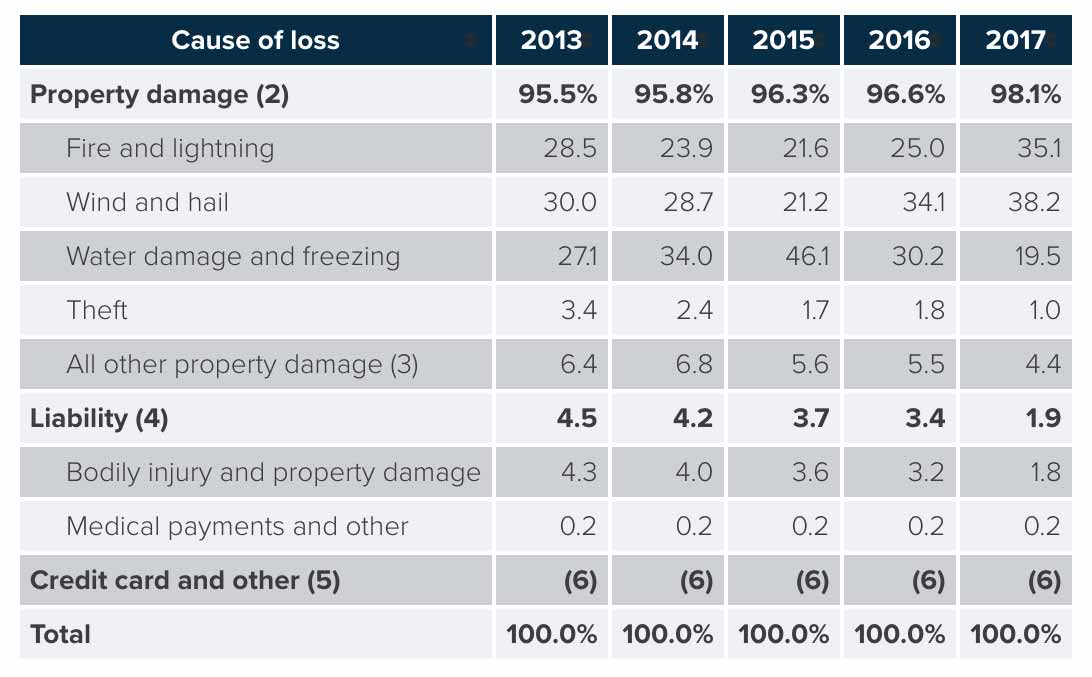 When it comes to homeowners insurance, the most commonly submitted claims by far are related to property damage. Between 2013 and 2017, the percentage of total homeowners insurance claims comprised of property damage claims rose from 95.5% to 98.1%. Fire and lightning, and windstorm and hail damage claims consistently ranked at the top of the category, with water damage and freezing following behind.
As far as the liability category, the frequency of claims filed ranked well below that of property damage. As of 2017, bodily injury and property damage liability claims only composed 1.8% of all homeowners insurance claims. Medical payments and other was even lower, at just 0.2%.
Average Homeowners Insurance Claim Payout Per Year
Average Homeowners Losses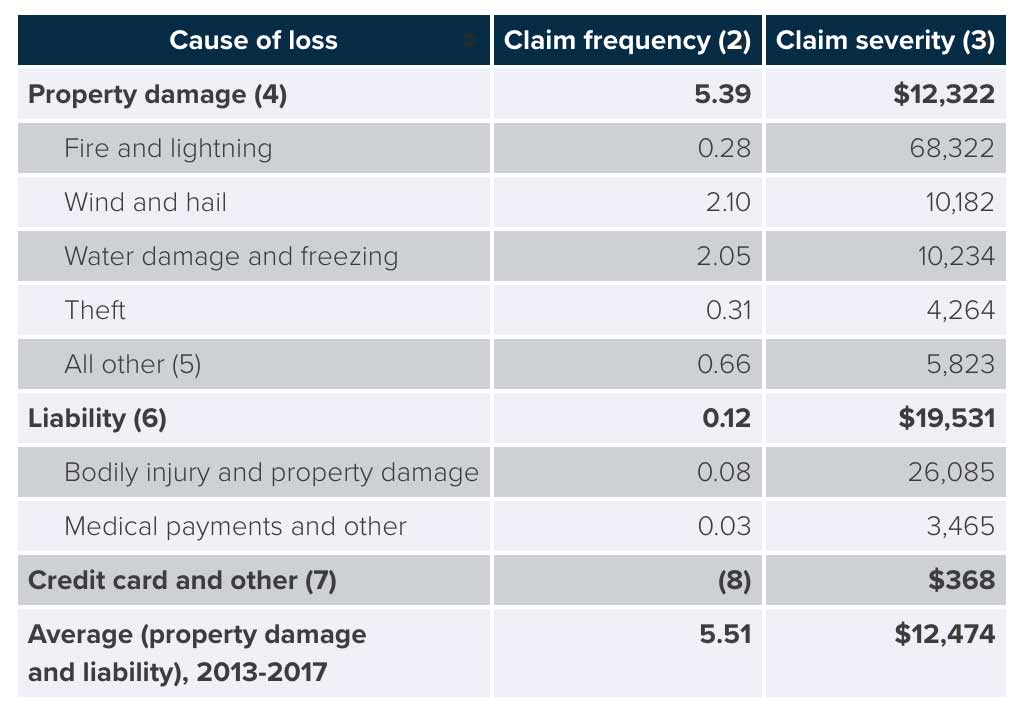 The Insurance Information Institute found that during the period of 2013-2017, the average homeowners insurance claim payout per year was $12,474, which combined property damage and liability claims. Claim severity for property damage peaked at $12,322, while the claim severity for liability issues peaked at $19,531. Credit card issues including forgery, etc., had a claim severity high of $368.
Save on Home Insurance
Our independent agents shop around to find you the best coverage.
Benefits of an Independent Insurance Agent
Independent insurance agents have access to multiple insurance companies, ultimately finding you the best coverage, accessibility, and competitive pricing while working for you. Find an independent insurance agent in your community here.
TrustedChoice.com Article | Reviewed by Paul Martin
©2023, Consumer Agent Portal, LLC. All rights reserved.