21st Century Insurance Company Review
21st Century Insurance Company At a Glance:
Founded in 1958
Owned by Farmers Insurance
Offers car insurance to residents of California
24/7 claims service hours
"A+" (excellent) rating by Better Business Bureau
"A" (excellent) rating by A.M. Best
Online and phone presence only
Network of independent insurance agents
Multiple discounts available
Strong financial stability
21st Century Insurance Pros: Well-established company with more than 60 years' experience in the insurance business. Providing insurance policies to residents of California from a long-standing carrier with established financial strength. Providing 24/7 claims service and fraud reporting to customers. Offers multiple discounts to new and long-term customers alike. Offers complimentary roadside assistance to policyholders. Offers flexible billing options. Offers a variety of coverage options. Modern carrier with a user-friendly website.
21st Century Insurance Cons: Not accredited by the Better Business Bureau (BBB), which indicates that the carrier has not been determined to meet certain standards, such as resolving customer complaints and more. Only one type of insurance offered. Now only caters to customers in California. Company has an average of 1-star ratings by customers on BBB. Customers have noted high premium costs and unexpected premium increases over the years. Concerning volume of customer service complaints.
What Type of Insurance Does 21st Century Offer?
A specialty insurance company, 21st Century only offers car insurance at the present time. Additionally, the carrier now only sells policies to residents of the state of California.
If you're in the market for a new auto insurance policy or want to switch from your existing policy to a different insurance company for a better offer, 21st Century Insurance may be just what you're looking for — as long as you live in California.
What to Know about 21st Century Insurance
21st Century was founded in 1958, making it a well-established insurance carrier with decades of experience in offering quality insurance policies and service to customers in California.
According to the official website, 21st Century belongs to the Farmers Insurance family, which has more than 24,000 employees nationwide. 21st Century primarily conducts business virtually, through their website or email, over the phone, or by mail. This makes the company ideal for customers who aren't interested in in-person meetings with their insurance agents.
21st Century's history and well-known parent company aids the carrier's reputation as a financially stable insurance provider. A.M. Best, the leading global credit rating agency monitoring the insurance industry, gives 21st Century an "A" rating, indicating the carrier is an excellent choice for insurance customers. The "A" rating assures customers that 21st Century Insurance is capable of offering guaranteed, secure coverage from a trustworthy and reputable carrier.
Established in 1899, A.M. Best is one of the oldest rating companies in the world. Reviews from A.M. Best indicate an insurance company's financial strength and creditworthiness, and are based on comprehensive evaluations of the company's operating performance, business profile, and balance sheet. For customers who aren't as familiar with insurance companies' reputations, A.M. Best's rating system allows them to make an informed decision about who they can trust to meet their needs in the short term, and also to remain a strong, financially sound company in the long term.
What Discounts Does 21st Century Insurance Offer?
21st Century offers a handful of competitive discount programs for new and loyal auto insurance customers. These discounts include: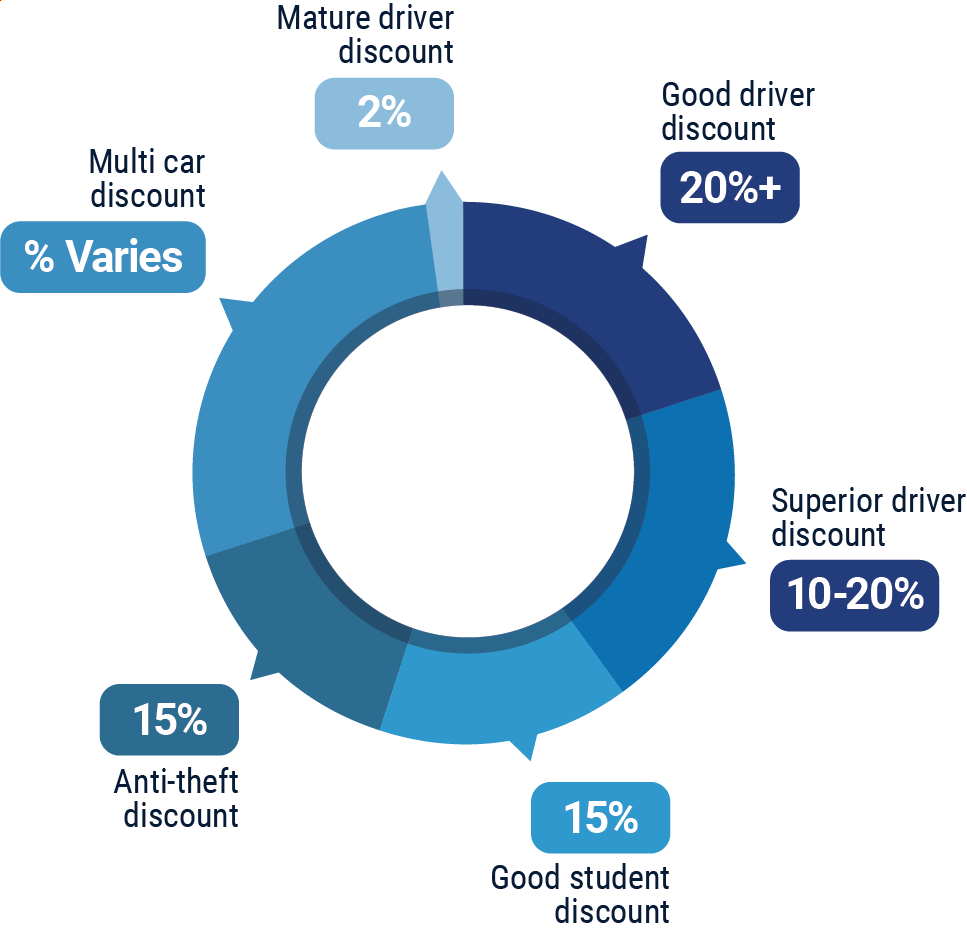 Good driver discount: Available to customers with a clean driving history for at least the last three years. Drivers with one point or less for moving violations within the three-year period qualify for this discount.
Superior driver discount: Those who qualify for the good driver discount may also qualify for this one, which requires a clean driving record for at least four consecutive years. Greater savings are available to customers with more than five years of clean driving history.
Good student discount: Available to students under the age of 25 who maintain a "B" average or higher.
Mature driver discount: Available to customers 55 years old or older after completing a state-recognized defensive driving course.
Multi-car discount: Available to customers who own multiple cars or insure multiple drivers under the same policy.
Anti-theft discount: Available to customers whose vehicles are equipped with anti-theft systems that are up to date.
An independent insurance agent can help you find even more discounts that are available through 21st Century Insurance, helping you get the most bang for your buck out of your coverage.
21st Century Insurance Customer Service
21st Century allows customers to handle customer service issues over the phone or online, any time of the week. The following services are available to assist customers with questions, concerns, or claims:
Claim/fraud report representatives available 24/7
Complimentary roadside assistance available 24/7
Live chat option is available to customers during the following times:
| | | | |
| --- | --- | --- | --- |
| | | Hours (PDT) | |
| | | Tuesday-Friday | 7 am - 6:30 pm |
Customer service phone assistance available during the following times:
| | | | |
| --- | --- | --- | --- |
| | | Hours (PDT) | |
| | | Monday-Friday | 7 am - 7 pm |
| | | Saturday | 7 am - 6 pm |
Quote assistance available during the following times:
| | | | |
| --- | --- | --- | --- |
| | | Hours (PDT) | |
| | | Monday-Friday | 8 am - 8 pm |
| | | Saturday | 8 am - 6 pm |
21st Century sells insurance primarily through independent insurance agents. These agents are also available to handle claims and insurance concerns for you, making customer service even easier.
Find The Right Company Today.
Shopping for a company? We have the right one for you.
21st Century Insurance FAQ
What is 21st Century's average claim response timeframe?
21st Century's Claims Reporting Hotline is available for customers in need 24/7 via a toll-free phone number. Customers can also submit claims and file appropriate reports online. The carrier promises to contact customers within one business day of filing a claim. Should a visit from an adjuster be necessary, 21st Century states that one will be assigned to assist you within 48-72 hours.
What is 21st Century's customer service availability?
21st Century offers an Interactive Voice Response system and their website for customers 24/7, but live phone and online chat representatives are only available during scheduled business hours.
What is 21st Century's claims process?
21st Century outlines the claims process on their official website as follows:
"After an accident, gather license plate numbers, contact information (don't forget phone numbers), auto insurance information, and if possible, take photographs of damage at the scene of the accident. If road conditions or weather were a factor, then try to capture that with a photograph.
Now it's time to navigate the process of filing an auto claim. You should notify your insurance company that the accident has occurred as soon as possible. At 21st Century Insurance, you can do this online or over the phone through the HelpPoint Claim Services by Farmers.
Here are some important steps to remember when filing an auto insurance claim:
Report your claim to HelpPoint Claim Services immediately. You will be assigned an auto insurance claims representative who will help you.
If you have rental car coverage, your claims representative will assist in making arrangements for a rental vehicle.
A vehicle inspection will then occur, at which time an appraiser will write an estimate of damage.
If another vehicle was involved, an investigation will also be conducted. This is where your police report comes in; to help inform investigators to determine what really happened.
By being prepared before an accident, knowing what to do on the scene, and filing an auto insurance claim immediately after an incident, you will stand the best chance of a satisfying claims experience."
As far as reimbursement is concerned, 21st Century's website states the following:
"Most losses are paid within 7 days of a report. If you wish, we can pay your shop directly. Just tell your adjuster to call your shop. If you need to contact us, please call our auto claims department at the following number 1-888-244-6163. The claims department is open 24 hours a day, 7 days a week, we can further assist you."
Does 21st Century Insurance create a user-friendly experience for customers?
For current and prospective insurance customers who are fans of virtual interactions and claims filing processes, it can be argued that 21st Century Insurance provides a highly user-friendly experience. However, for customers who find interpersonal meetings or speaking with live representatives at any hour important, this carrier may fail to deliver a user-friendly experience.
21st Century handles the vast majority of customer concerns through their official website or over the phone. Customers can also request quotes, pay their bill, manage their policy, and make changes to their account preferences through the official website, which is fairly easy to navigate. The carrier also has a presence on both Facebook and Twitter, allowing greater customer access. 21st Century claims to be "very responsive" to messages received through their Facebook page. They also have a mobile app available for smartphone users.
21st Century Insurance Customer Reviews
WalletHub

"My boyfriend and I both have insurance with 21st Century for our cars. Once, his car was hit and had to have body work done and he had a rental car for a week while they fixed it. It was only $500 dollars for the $2000+ they put into the car. His starter also died once and he had to get his car towed, which was covered by our insurance. I've also had my car towed and jumped once, and I didn't pay a dime! I've also had them come out several times because I locked my keys in my car. All in all, it's not too expensive and their customer service is on point."
Better Business Bureau

"After six years with no late payments and no issues, we were notified that 21st was pulling out of Florida and our policy would be canceled. So I took action to find another company to find the same coverage for the same drivers and vehicles in my family. That's when I found out that quotes from other insurance companies were quoting me 61% less on a 6-month policy than what I was paying 21st. I couldn't believe it. So I went with another company and called 21st to cancel, and they told me that I owed them another $57 and I would be billed for it. The cancelation was 5 business days before my next premium monthly payment. So, not only did I find out that I was being ROBBED by this company on overpriced premiums but they dared to tell me I owed them MORE money even though I was cancelling mid-term. Farmers? No. Thank. You."
Yelp

"Love my insurance co. Great price and it also includes roadside assistance! Became a policyholder after I was in a car accident and the person that totaled my car had 21st century. The [company's] fast response and payout made me decide to switch to 21st century. I have switched all my family members and received a $50 gift card."
Consumer Affairs

"I'd been with them for nearly 40 years in California. Had two accidents. One was not my fault (I was good Samaritan who stopped to help an accident and was sued as cause. Even though non-owner in other car, expired license, expired plates, this co blamed me at 51%.) Had another accident which was deemed my fault 20 years later. Redeeming my rental car while my car was repaired, was hassle. Had to go thru their third-party agent. This person continued to harass me because mechanic hadn't finished repairs -- in less time than estimate. They were non-responsive to MY almost daily follow ups."
Clearsurance

"In general this company is known for having the lowest rates in town but over the last five years I have noticed my rates going up over time. I have never had an accident and the company is supposed to reward you for this, but my rates keep going up. I am at the point that if I get another rate increase in the next six months, I am going to bail and go with another provider..."
TrustedChoice.com's Final Review

We award 21st Century Insurance a final rating of 3 out of 5 stars. The carrier's well-established history and impressive financial stability are huge pros within the insurance industry, but a concerning number of customer complaints clearly demonstrates that 21st Century still has plenty of room to grow in certain areas. Additionally, 21st Century offers fewer discounts than other comparable auto insurance companies, and now only caters to customers in California. However, its user-friendly website and large virtual presence largely help 21st Century to hold its weight as a reputable, modern insurance company.
©2023, Consumer Agent Portal, LLC. All rights reserved.
21st.com
bbb.org
ambest.com
wallethub.com
clearsurance.com
yelp.com
consumeraffairs.com