AAA Insurance Company Review
AAA Insurance Company At a Glance:
Founded in 1902
Offers a wide variety of insurances
"A+" (excellent) rating by Better Business Bureau
"A" (excellent) rating by AM Best
Longstanding insurance company
Strong financial stability
Multiple discounts available
24/7 member services hotline
Roadside assistance available for auto insurance members
AAA Pros: Well-established company with more than 100 years' experience in the insurance business. Provides a variety of insurances including auto insurance, home insurance, life insurance, travel insurance, umbrella insurance, and more. Offers roadside assistance to auto insurance members. Provides 24/7 member services assistance via phone. Offers driver training courses. Offers credit and auto loans. Offers multiple discounts to new and long-term customers alike. Members receive numerous benefits, such as discounts on hotel and car rentals. Customers report that rates are reasonable.
AAA Cons: Auto insurance is only available to AAA members. No discounts offered for teen drivers. Customers report long response times. Customers report difficulty in having claims approved. Concerning overall volume of customer service complaints across multiple review websites. Official website is not the easiest to navigate and does not provide a promised claims response time.
What Type of Insurance Does AAA Offer?
AAA offers a wide variety of insurances, and also offers bundling discounts to members who purchase more than one type of insurance. The carrier currently offers the following types of insurance:
Auto insurance
Home insurance
Renters insurance
Travel insurance
Umbrella insurance
Boat insurance
Life insurance
Business insurance
Buying multiple types of insurance through the same carrier, such as auto insurance and homeowners insurance, can net you a significant discount on your premiums. Thanks to its wide selection of coverages, AAA has the ability to satisfy the needs of customers on the market for multiple forms of insurance.
What to Know About AAA
AAA was founded in 1902, making it a well-established insurance carrier with more than a century's worth of experience in offering dependable coverage to its customers.
According to the official website, AAA serves more than 50 million members across the US and Canada. With their 24/7 members services hotline, website, and social media presence, the carrier makes itself highly accessible to its current policyholders as well as prospective customers.
AAA's reputation as being a well-known, long-standing carrier aids its reputation as being extremely financially stable. AM Best, the leading global credit rating agency monitoring the insurance industry, gives AAA an "A" rating, indicating the carrier is an excellent choice for insurance customers. The "A" rating assures customers that AAA is capable of offering guaranteed, secure coverage from a trustworthy and reputable carrier.
Established in 1899, AM Best is one of the oldest rating companies in the world. Reviews from AM Best indicate an insurance company's financial strength and creditworthiness, and are based on comprehensive evaluations of the company's operating performance, business profile, and balance sheet. For customers who aren't as familiar with insurance companies' respective reputations, AM Best's ratings system allows them to make an informed decision about who they can trust to meet their needs in the short term, and who will remain a strong, financially sound company in the long term.
What Discounts Does AAA Offer?
AAA offers a plethora of competitive discounts to its policyholders, especially for auto insurance. Their auto insurance discounts include: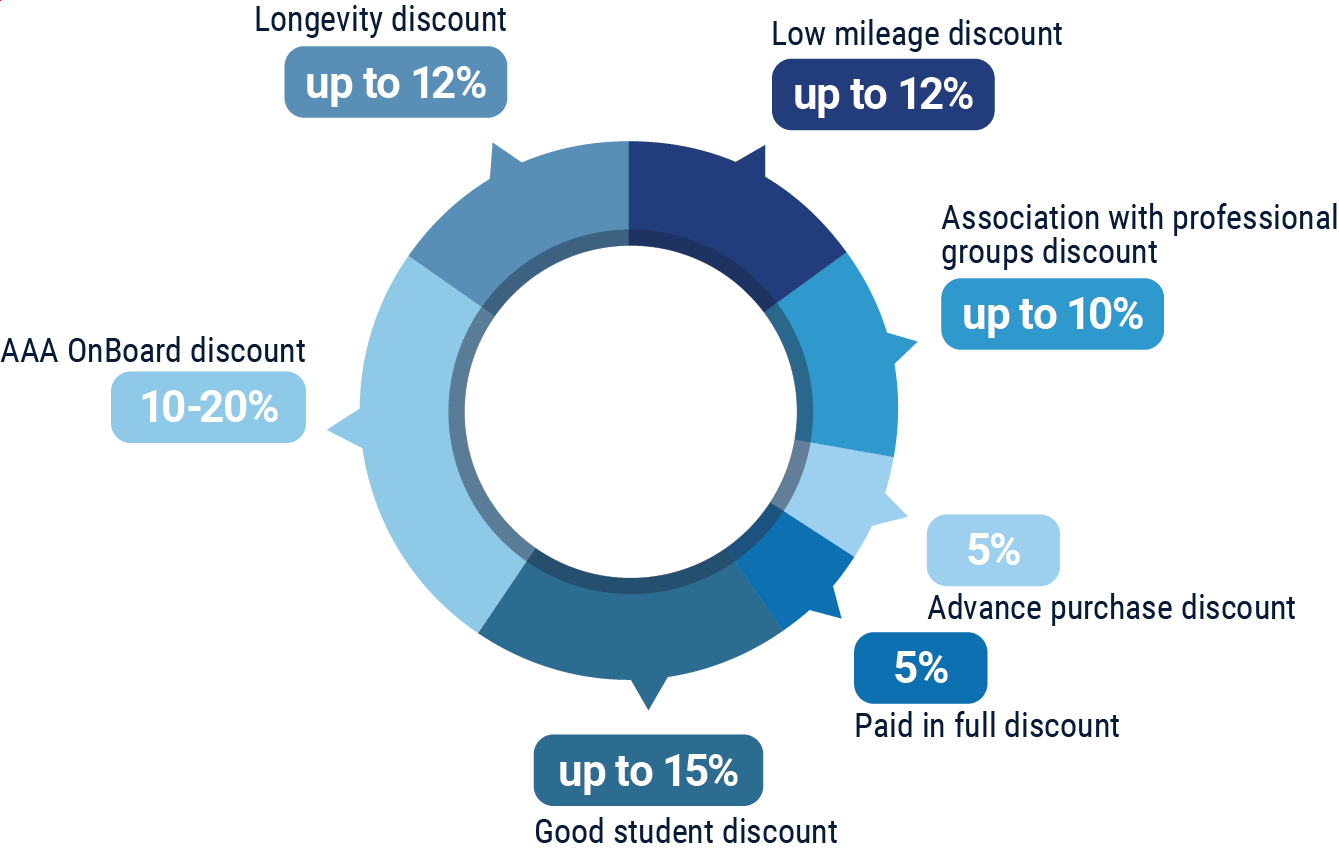 Low mileage discount: Offered to customers with verified low driving mileage.
Association with professional groups discount: Offered to customers who have connections to professional or affinity groups.
Advance purchase discount: Offered to customers who purchase an auto insurance policy at least seven days before their existing policy from another carrier expires.
Paid in full discount: Offered to customers who pay their entire premium up front.
Good student discount: Offered to customers who are young drivers and maintain a good grade average.
AAA OnBoard discount: Offered to customers who equip their vehicle with a safe driving monitor. Discount only available in Texas.
Longevity discount: Offered to customers who've had three or more years worth of continuous auto coverage with a previous carrier.
An independent insurance agent can help you find even more discounts available through AAA, helping you get the most bang for your buck out of your coverage.
AAA Customer Service
AAA allows customers to handle insurance inquiries and issues via their website at any time. They also provide hotlines for member services and customer service inquiries.
Customer Service Notes - Member services number is available 24/7.
Customer Service Availability - AAA's customer service hours for insurance inquiries have some slight restrictions:
| | | | |
| --- | --- | --- | --- |
| | | Hours (ET) | |
| | | Monday-Friday | 9 am - 5 pm |
| | | Saturday | 9 am - 5 pm |
| | | Sunday | 9 am - 5 pm |
AAA sells insurance through a wide network of brokers, including independent insurance agents. Independent insurance agents are also available to handle claims and insurance concerns for you, making customer service even easier.
Find The Right Company Today.
Shopping for a company? We have the right one for you.
AAA FAQ
What is AAA's average claim response time frame?
AAA's member services hotline is available for customers in need 24/7 via a toll-free phone number. Customers can also report and file claims online. Unfortunately, a specific promised time frame for claims responses is not listed on the official website.
What is AAA's customer service availability?
AAA offers member services 24/7 via their toll-free phone number, but insurance-related customer service inquiries must be made between 9 a.m. and 5 p.m., Monday through Sunday.
What is AAA's claims process?
AAA outlines the claims process on their official website as follows:
"To file a claim, you must:
Contact your insurance company. Find out whether you're covered and the deadline for filing your claim. Ask if you need to get estimates for the cost of any repairs. AAA Insurance customers can call 800-922-8228 to start the claims process.
Complete your claim forms. Make sure to include any documentation your insurer requests, such as a police report. If you're filing a life insurance claim, you'll need to submit a death certificate.
Contact local law enforcement if your home was robbed or vandalized, or if you were involved in a traffic accident, and police haven't already taken a report. Note that most states require you to report collisions involving injuries or significant property damage.
Document the details of an auto accident: the date, time, and what happened; the other driver's name, address, and phone number; and a description of the other driver's vehicle, including the license plate number. When safe to do so, take pictures of any damage.
Keep track of expenses you incur as a result of your accident, such as medical bills.
Prepare for a visit from a claims adjuster if your home was damaged. Put together a list of items that were damaged or destroyed. Be ready to show the adjuster around the property.
Your claims representative will explain the process and answer any questions, such as when you can expect the claim to be paid, and whether your policy covers transportation expenses, such as a rental car, while your vehicle is being repaired.
Your claim will be reviewed by a claims adjuster to make sure that your damages are covered by your policy.
If your claim is approved, a claims adjuster will determine the payout due to you and you'll receive a payment. Keep in mind that the first payment may simply be an advance (a portion of the total amount owed to you), so you may receive additional payments."
Does AAA create a user-friendly experience for customers?
AAA's official website makes reporting and filing claims online fairly easy for distressed policyholders. It's also easy to request a quote right from their website. While AAA's official website is perhaps not the most intuitive carrier site to navigate, most all the information and services customers could need does seem to be available. The carrier also has a presence on both Facebook and Twitter to make themselves even more accessible to both prospective customers and loyal policyholders. However, many auto customers complain that the complimentary roadside assistance offered is not timely or satisfactory.
AAA Customer Reviews
Consumer Affairs

"AAA is awesome. The process of filing a claim is easy and the representative was very helpful. It was settled quickly and I was able to buy a new car within a few weeks. Also, they are willing to find solutions and discounts to match premiums with what you can afford."
Consumer Affairs

"AAA insurance is less expensive than Liberty Mutual and Allstate. I was with Liberty Mutual for 10 years and became more and more expensive and I never made a claim. Before I was with Allstate for over 30 years and only had a minor non-chargeable accident 15 years before I dropped them. AAA Insurance (the auto company) is out of California and customer service is excellent."
Yelp

"I'm actually not surprised of my experience thus far after reading the reviews about how horrible their service is when you actually need them! They are fantastic as long as you are paying them. I called 7 days ago to make a claim because my car was stolen! I have yet to speak to anyone about my claim. I've called every day, sometimes twice a day, even tried to speak with the manager. No one is available. WOW, is really all I can say. I'm so disappointed in them at this point. This is completely ridiculous."
WalletHub

"Have been with AAA for auto and home for five years. NO claims for anything! Paid insurance in full at each billing. Each renewal the cost increased by hundreds. Calling agent was of no help. Attitude was a "shrug and so what". Clients mean nothing to them. No more AAA!!!!"
Yelp

"Rates are reasonable. Worst Customer Service. Been a member 4 months and 3 times I've had to call in (twice for corrections, once for removing a car). They NEVER call back/follow up and have left me calling and emailing repeatedly every time. I have better things to do and all of these requests have been very straight forward. Disappointed."
TrustedChoice.com's Final Review

We award AAA a final rating of 2.5 out of 5 stars. The carrier's well-established history and financial strength are huge pros within the insurance industry, but a concerning number of customer service complaints clearly demonstrates that AAA is lacking excellence in certain areas. AAA's failure to provide a specific claims response time frame on their official website is also concerning, and could perhaps explain the high volume of customer complaints regarding claims across multiple review sites. However, the carrier offers several types of insurances across all 50 states, making AAA an accessible option for many prospective insurance customers.
©2023, Consumer Agent Portal, LLC. All rights reserved.
aaa.com
ambest.com
bbb.org
https://www.yelp.com/biz/aaa-texas-austin-5?sort_by=date_desc
https://wallethub.com/profile/ci/aaa-insurance-13012407i?page=3
https://www.consumeraffairs.com/insurance/aaa-auto-insurance.html