Ameritas Insurance Company Review
Ameritas Insurance at a Glance
Founded in 1887
Offers a variety of coverages
Offers coverage to individuals and businesses
Offers annuities
Coverage available nationwide
"A" (excellent) rating by A.M. Best
"A+" (excellent) rating by Better Business Bureau (BBB)
Offers retirement planning
Offers investment options
Strong financial stability
Ameritas Pros: Carrier has more than a century of experience in the insurance industry. Provides coverage to individuals and businesses. Coverage is offered nationwide. Offers multiple types of coverage including life insurance, dental/vision/hearing insurance, and disability income. Strong financial stability.
Ameritas Cons: Not all coverages offered in every state. Concerningly high volume of customer complaints and dismal reviews. No 24/7 customer service. No 24/7 claims reporting. Official website is sorely lacking in pertinent information such as claims processes. Electronic claims filing option comes with a fee. No discount information provided. Severely restricted customer service hours.
What Type of Insurance Does Ameritas Offer?
Ameritas offers several products and coverages designed for both personal and business insurance, including:
Life insurance
Dental/Vision/Hearing insurance
Disability income
Retirement plans
Annuities
Public financing
For individuals and businesses alike, Ameritas offers several coverage options. Whether you're in the market for life or health insurance, annuities, or retirement planning options, Ameritas may just have exactly what you're looking for.
What to Know about Ameritas
Ameritas was founded in 1887, meaning the carrier has been in the insurance industry for more than a century. The carrier has established itself as offering quality insurance products, annuities, financing and retirement planning options to individuals and businesses over their 130+ years as an insurance company.
Ameritas' long-standing status and company size further aids its reputation as a stable and dependable company. Many of the carrier's insurance products are available nationwide, but not every policy option is offered in every state. The official website states that Ameritas currently serves more than 4 million customers across the US. As of 2019, the carrier had $37.4 billion in total assets and $99 billion of life insurance in force.
The carrier's extensive history, number of customers, and amount of in-force insurance serve as proof that Ameritas is a financially stable insurance provider that's likely to be around for many more years to come. A.M. Best, the leading global credit rating agency monitoring the insurance industry, gives Ameritas an "A" rating, indicating the carrier is an excellent choice for insurance customers. The "A" rating assures customers that Ameritas is capable of offering guaranteed, secure coverage from a trustworthy and reputable carrier.
Established in 1899, A.M. Best is one of the oldest rating companies in the world. Reviews from A.M. Best indicate an insurance company's financial strength and creditworthiness, and are based on comprehensive evaluations of the company's operating performance, business profile, and balance sheet. For customers who aren't as familiar with insurance companies' reputations, A.M. Best's rating system allows them to make an informed decision about who they can trust to meet their needs in the short term, and also to remain a strong, financially sound company in the long term.
Using our insurance company directory can help you find the best insurance companies that specialize in your specific coverage needs. The company directory can also help you get connected to an agent near you.
What Discounts Does Ameritas Offer?
While information about Ameritas' discounts is not readily available, there are several common discounts offered by many insurance companies on the same type of products they offer. These discounts include: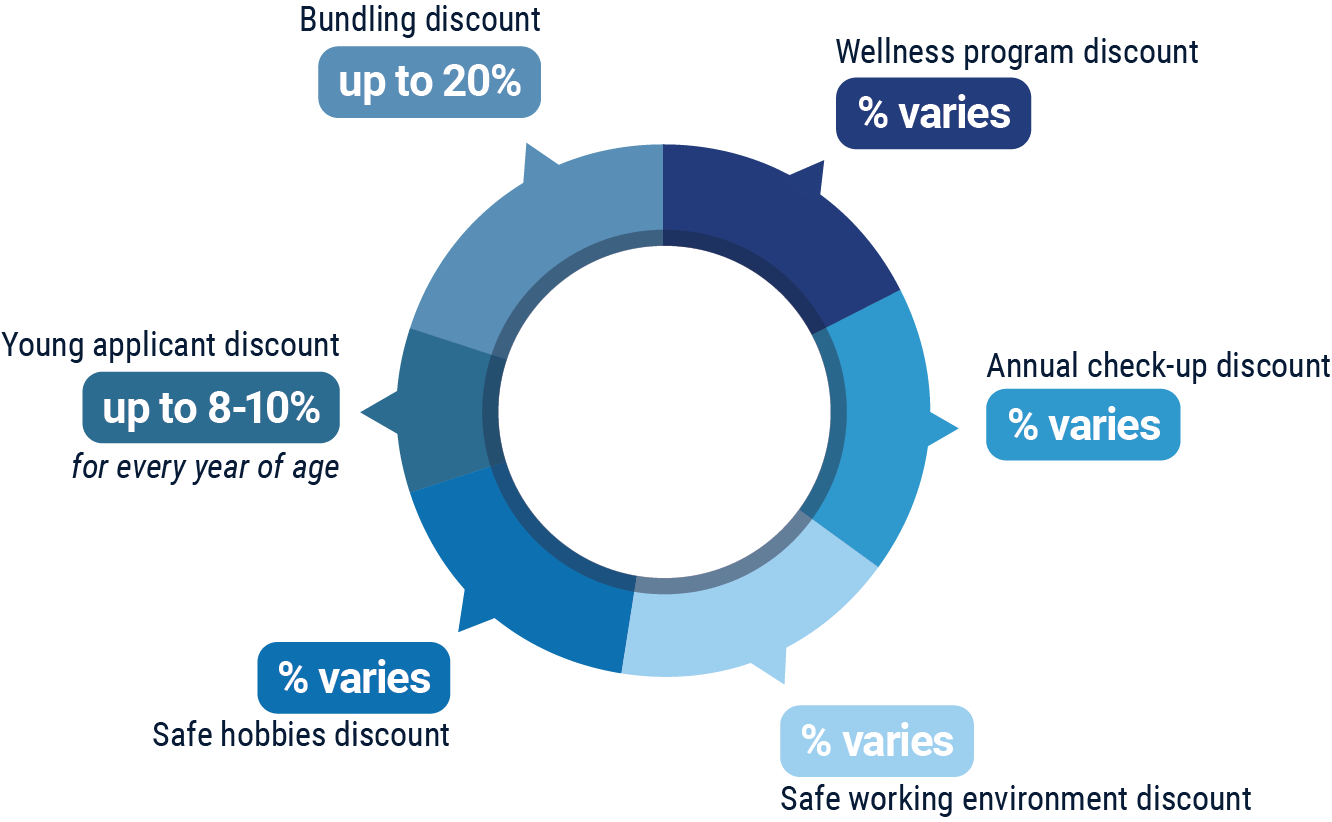 Wellness program discount: Offered to business customers who work at employers with wellness programs in place.
Annual check-up discount: Offered to business customers who work at employers that require mandatory annual check-ups with a physician.
Safe working environment discount: Offered to business customers who work for employers that provide safe working environments with few occupational hazards.
Safe hobbies discount: Offered to individuals who practice safe, non-life threatening hobbies (e.g., no skydiving) for life insurance.
Young applicant discount: Offered to individuals who purchase life insurance when they are younger, such as in their 20s or 30s.
Bundling discount: Offered to customers who combine multiple forms of coverage through a single carrier.
An independent insurance agent can provide more exact discount information and premium quotes for coverage through Ameritas. These agents work hard to help to get you the most bang out of your buck on your coverage.
Ameritas Customer Service
Ameritas primarily handles customer service inquiries over the phone. Additionally, the carrier provides the following customer service options:
Email contact options available for general inquiries or claims questions.
Additional options to file claims via fax or electronically, for a fee.
Main hotline for customer service has the following hour restrictions:
| | | | |
| --- | --- | --- | --- |
| | | Hours (CST) | |
| | | Monday-Friday | 8:00 am - 5:00 pm |
Ameritas offers direct contact options, but a much easier way to get set up with the right coverage for you is through working with an independent insurance agent. These agents also help make customer service easier for you, by handling claims and other customer service issues.
Find The Right Company Today.
Shopping for a company? We have the right one for you.
Ameritas FAQ
What is Ameritas' average claims response time frame?
Ameritas accepts claims primarily through regular mail and over the phone. Customers can download the necessary forms through the website. However, the carrier makes no official claims response time frame promise for these methods of filing on their website. That being said, many customers have complained about lack of response on the carrier's end after submitting claims, or having to wait a frustrating amount of time to receive their payouts.
For their electronic claims service, Ameritas states that claims can be processed the day they're received, with checks issued to customers within 7 business days. However, this service comes with an additional fee.
What is Ameritas' customer service availability?
Ameritas offers a customer service hotline with restricted hours, Monday-Friday. The carrier does not provide any 24/7 customer service options.
What is Ameritas' claims process?
The carrier accepts claims via regular mail, fax, phone, or submitted electronically — for an additional fee. However, the carrier's official website does not detail their claims process. Forms are provided online for customers to download and fax, email, mail, or submit electronically. Telephone numbers are also provided for further questions customers may have about filing claims. The carrier's claims FAQ still does not really detail their claims process, but it does list the information customers need to have ready before filing.
Does Ameritas create a user-friendly experience for customers?
While Ameritas' website is certainly far from the worst when compared to other modern insurance carriers, it also has a long way to go. The layout and navigation could be more intuitive and easier to navigate, and more options could be added to help both prospective and current customers. For example, there is no option to request quotes online. Ameritas' official website also does not make the carrier's claims process clear, nor does it offer a claims response time frame promise. The lack of services provided by many other modern carriers could certainly deter prospective customers. However, the carrier does have a social media presence on Facebook, Twitter, LinkedIn, and Instagram, which makes them more accessible.
Ameritas Customer Reviews
Better Business Bureau

"I have been dealing with Ameritas for many years. They have always been very kind and helpful. Due to the recent disaster in Texas I had to pull money from my account to help while my husband was unable to work. I made my request on a Friday and the money was in the bank by Tuesday. Lifesavers for us and we highly appreciate the prompt response to our need. Great company!"
Yelp

"What a joke of a company!!! I had to call many times over a few months period to get my claims straightened out. In the end they overpaid me. What a mess of a company! So happy they no longer insure my family. :)"
Better Business Bureau

"We have had dental insurance for over a year. I filed our charges for 2018 and almost all were denied for not filing in a timely manner. I feel they misrepresented their reimbursement advertising. The insurance has been no help to my family."
Better Business Bureau

"Ameritas Dental has been sending me a refund check I haven't received since October 2019. We are going into the New Year...Where is my money??? I am so frustrated with them. I'm on my 2nd sent check because the 1st went to an address I haven't lived in over 10 years! Thanks Ameritas Dental!!"
Consumers Advocate

"If I could give no stars I would. Not sure if it is the company I work for or Ameritas but the customer service is the worst I have ever had. It seems all they are really interested in is collecting their weekly money but not putting out any services! Online accessibility is the worst I have ever encountered. It's designed to not really offer you any assistance if you have a real problem accessing their services."
TrustedChoice.com's Final Review

We award Ameritas a final rating of 2 out of 5 stars. The carrier has been around for well over a century, which demonstrates Ameritas' capability of offering reputable coverage, annuities, finance options, and more to customers across the US. However, customer reviews tend to challenge that. A concerningly high volume of customer complaints across the web detail frustrating encounters in attempting to contact the carrier for various inquiries, as well as getting claims approved or even acknowledged. It's extremely challenging to find a customer review of this carrier that isn't dismal at best. The carrier's website also leaves much to be desired, as does their customer service availability and lack of official claims process.
Bottom line: While strong financial stability and high ratings through both A.M .Best and the BBB are major pros for any carrier in the industry today, we're more concerned with whether the company delivers on promises they make to their loyal customers. When trusting an insurance company with your hard-earned cash, you deserve not only quality coverage, but also respect and acknowledgement and quality service from the company in return, and we're not sure Ameritas provides the latter. Thanks to the voices of many current and former customers, we have no choice but to recommend that you work closely with your independent insurance agent to survey other options to meet your coverage needs before settling on Ameritas.
©2023, Consumer Agent Portal, LLC. All rights reserved.
ameritas.com
bbb.org
ambest.com
yelp.com
consumersadvocate.org