Arbella Insurance Company Review
Pros, cons and info you need to know.
Arbella Insurance Company at a Glance
Founded in 1988
Coverage available in New England
"A-" (excellent) rating by A.M. Best
"A+" (excellent) rating by Better Business Bureau (BBB)
Offers several types of coverages
Offers coverage for individuals and businesses
Several discounts available
Good customer feedback
24/7 claims reporting
24/7 customer service
Arbella Insurance Pros: This is a well-established carrier with more than 30 years worth of experience in the industry. It is highly rated by both A.M. Best and the BBB and offers several types of coverage including home insurance, auto insurance, umbrella liability insurance, business insurance, and more. It offers a generous number of discounts, provides 24/7 claims reporting and customer service, and is committed to providing excellent customer service.
Arbella Insurance Cons: Its coverage is only offered in select states. Some customers report high premium rates compared to other carriers.
To find insurance in your state, use our national insurance company directory to find the best company to meet your needs. You can locate insurance companies that specialize in your specific coverage needs and get connected to an agent near you.
What Type of Insurance Does Arbella Offer?
Arbella Insurance offers a variety of coverage solutions to individuals and professionals. Their products include:
Car insurance
Home insurance
Home and auto insurance
Umbrella liability insurance
Business insurance
Carpartment (car plus renters) insurance
Motorcycle insurance
If you live in New England and are in the market for any of the coverage options above, Arbella may just be the right insurance company to meet your needs.
What to Know about Arbella
Arbella Insurance was founded in 1988, giving the carrier more than three decade's worth of experience within the insurance industry. The insurance company currently only offers coverage in the states of Massachusetts, Connecticut, New Hampshire, and Rhode Island. Not all products are offered in each of these states.
Despite its relatively small size, Arbella has six claim offices in New England, and is the only regional insurance company that does. The carrier places a strong emphasis on customer service and pays personal attention to their valued policyholders. Today, Arbella has written more than 3 million insurance policies and paid out $10 billion in claims.
Arbella Insurance reportedly earned $35.9 million in revenue in 2019. The insurance company also reported having $649.5 million in surplus. A.M. Best ranks Arbella as belonging to the $500-$750 million financial size category.
Thanks to its history, impressive financial strength, and commitment to excellent customer service, Arbella has become known as a trustworthy insurance company with a strong outlook for the future. A.M. Best, the leading global credit rating agency monitoring the insurance industry, gives Arbella an "A-" rating, indicating the carrier is an excellent choice for insurance customers. The "A-" rating assures customers that Arbella is capable of offering guaranteed, secure coverage from a reputable insurance company.
Established in 1899, A.M. Best is one of the oldest rating companies in the world. Reviews from A.M. Best indicate an insurance company's financial strength and creditworthiness, and are based on comprehensive evaluations of the company's operating performance, business profile, and balance sheet. For customers who aren't as familiar with insurance companies' respective reputations, A.M. Best's ratings system allows them to make an informed decision about who they can trust to meet their needs in the short term, and who will remain a strong, financially sound insurance company in the long term.
What Discounts Does Arbella Offer?
Arbella offers a generous amount of competitive discounts on their coverages, especially for car insurance. Their discounts include: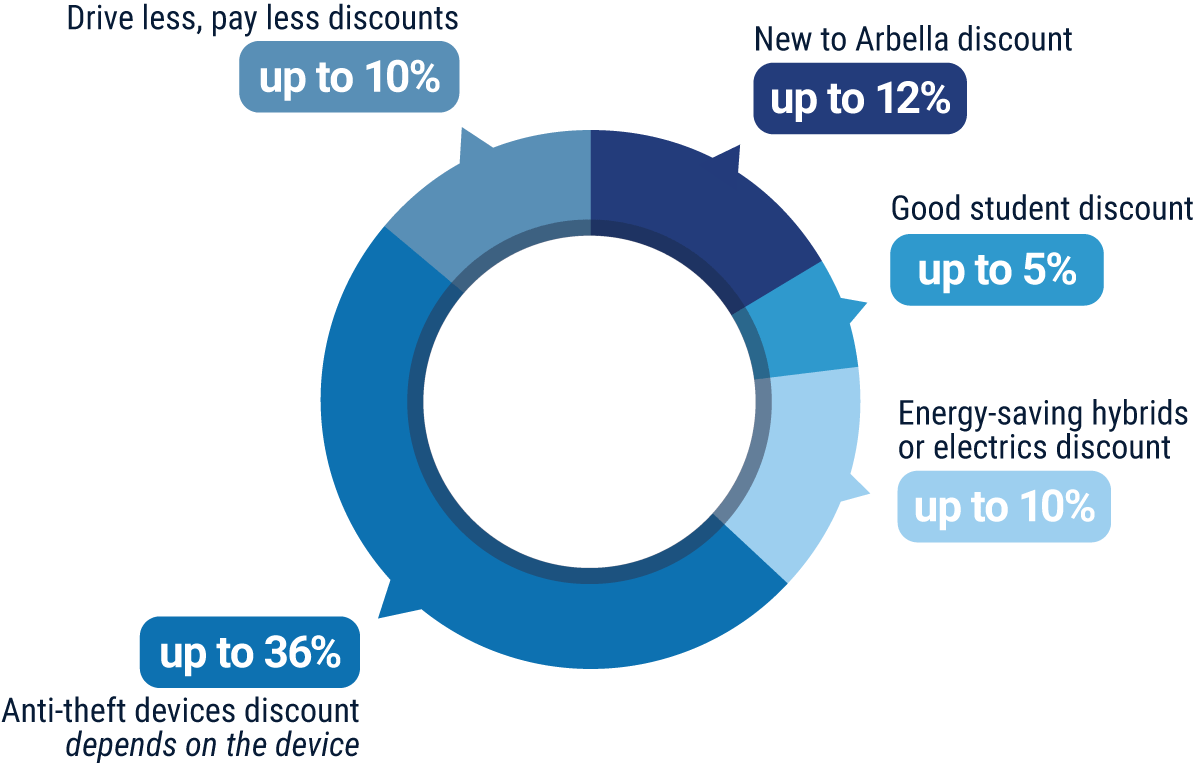 New to Arbella discount: This is offered to new car insurance customers who switch to Arbella from another carrier.
Good student discount: This is offered to full-time students who make the dean's list or honor roll, or maintain a grade average of "B" or higher.
Energy-saving hybrids or electrics discount: This is offered to car insurance customers who have hybrid or electric vehicles.
Anti-theft devices discount: This is offered to comprehensive car insurance customers who install anti-theft devices in their vehicles.
Drive less, pay less discount: This is offered to car insurance customers who drive less than 10,000 miles annually.
An independent insurance agent can help you find even more discounts and ways to save with Arbella Insurance, as well as provide you with quotes and help answer any other questions you may have.
Arbella Insurance Company Customer Service
Arbella Insurance allows customers to file claims online or over the phone, any time of the week. The carrier also provides the following customer service options:
Email contact option
Snail mail contact option
Mobile app support
Customer service and claims reporting hotline available 24/7
Another way to handle your customer service needs is to work with an independent insurance agent. Independent insurance agents can help make customer service easier for you by handling claims and other concerns.
Connect with an Arbella Agent Today.
Shopping for insurance? Arbella has you covered.
Arbella Insurance Company FAQ
What is Arbella's average claim response time frame?
Arbella Insurance allows customers to file claims through several methods, including online or over the phone, 24/7. The official website lists a promise that the insurance company will respond to claims within the same business day they are filed.
What is Arbella's customer service availability?
Arbella Insurance offers one hotline for both customer service inquiries and claims reporting, which is available 24/7. The carrier also has a social media presence on Facebook, Twitter, and LinkedIn, making them more accessible to customers.
What is Arbella's claims process?
Arbella Insurance allows customers to file claims via phone, email, snail mail, or through the website. The official website breaks the claims process down into just three simple steps for customers:
1. Contact
"First, report your claim. Your Claim Service Specialist will contact you to obtain facts of the loss and review your policy coverage with you. We know you will have questions. Your Claim Service Specialist will explain the process and answer all of them.
2. Evaluation/investigation
Your Claim Service Specialist will investigate the claim, contact all involved parties, determine liability for the accident, and assess all damages.
3. Resolution
Once the investigation and evaluation are complete, the Claim Service Specialist will finalize your claim. This may include payment depending on what's covered under your policy. The time frame can vary based on the nature and severity of your loss."
Customers can also check the status of existing claims through the website or by calling the insurance company.
Does Arbella Insurance create a user-friendly experience for customers?
Arbella Insurance's official website is quite impressive. It's detailed, highly intuitive, and easy to navigate, which places it among the best modern insurance company websites around. Important information can be located with ease for both prospective and current customers alike, and pages are fleshed out enough to provide satisfying responses. The insurance company outlines their claims process and response time frame process in a straightforward manner and provides a FAQ to further resolve customer inquiries. The official website also provides many service options insurance customers today expect, such as requesting quotes, getting matched with a local independent insurance agent, filing claims, checking claims statuses, and more. The carrier is also active on social media. Overall, Arbella provides an extremely user-friendly experience for customers.
Does Arbella have good car insurance?
Customers and insurance reviewers alike have rated Arbella's car insurance as excellent. Arbella provides the following car insurance options:
Bodily injury and property damage liability coverage
No-fault personal injury coverage for other occupants in your vehicle
Physical damage coverage for your vehicle due to accidents, theft, or vandalism
Auto loan/lease gap endorsements
Accident forgiveness
Pet passenger protection
Arbella's car insurance coverage is currently only offered in Massachusetts and Connecticut.
Is Arbella a good company?
Arbella proudly boasts a 96% customer satisfaction rating. The carrier works with local independent insurance agents and offers an extremely fast claims response. Between a commitment to excellent customer service, high ratings through the BBB and A.M. Best, glowing customer reviews, dependable coverage, a wide variety of discount options, good financial strength, and 24/7 claims reporting and other inquiry contact options, Arbella certainly earns it status as a good and reputable insurance company.
Arbella Insurance Company Customer Reviews
Car Insurance Guidebook

"Arbella is one of the best companies I've ever had. Our dedicated customer service agent and our personal insurance consultant are always friendly, knowledgeable, and responsive. Thanks to my consultant's recommendations we had the coverage necessary when we had a really bad accident. The claims team has been compassionate and professional. Thanks to these extraordinary people, we always feel confident that we're protected. I've already sent my family and friends to our agent, and now they're covered too."
Car Insurance Guidebook

"I believe that Arbella is one of the better auto insurance companies out there right now. They offer great customer service and are readily available whenever I need to make a claim or request information about my policy. Although they are known for being one of the more expensive insurance companies, you definitely get what you pay for! I have also told some of my friends and family about Arbella, and they switched over and could not be happier!"
WalletHub

"I had a very wonderful experience at Arbella. I felt like family. One of the agents gave me her undivided attention and made the transition from my old agent hassle free. She did all the work! I just had to sign. It is compassionate people like [her] that make buying insurance enjoyable. I will be sure to spread the word about the excellent customer service at Arbella."
Clearsurance

"Someone else cut in front of me and the accident was totally their fault. Arbella was on my side and took care of everything very quickly and gave me top dollar for my truck, which was totaled. It was wonderful not to have to chase them and to get my money so quickly."
Clearsurance

"Always helpful and friendly. Needed to file before and they were out to access car damage within two days. Happy with service."
TrustedChoice.com's Final Review

We award Arbella Insurance a final rating of 5 out of 5 stars. For starters, Arbella Insurance has been around for more than 30 years now, giving them ample time to perfect their craft. Arbella also seems to live up to their promise to prioritize excellent and prompt customer service, demonstrated by many glowing customer reviews across the web. The carrier's official website provides many convenient services such as requesting quotes, filing claims, checking claims status, and more. Customer service inquiries and claims can be filed 24/7, either by phone or online, which is a huge help for customers. The carrier also has extremely high ratings through both A.M. Best and the BBB, and has impressive financial strength. Coverage may not be offered nationwide, but Arbella seems to really focus its efforts on providing the best products and customer experience possible within the areas it does operate. The insurance company also offers numerous generous discount options, making them even more attractive to prospective customers. So with all that being said, if you're located in the New England area and are in need of any of their products, we highly recommend entrusting Arbella Insurance to satisfy your coverage needs.
©2023, Consumer Agent Portal, LLC. All rights reserved.
arbella.com
bbb.org
ambest.com
clearsurance.com
carinsuranceguidebook.com
wallethub.com