Direct Auto Insurance Company Review
Direct Auto Insurance Company at a Glance
Founded in 1991
Offers a wide variety of coverages
Coverage offered in 12 states
Offers both personal and business coverage
"A" (excellent) rating by A.M. Best
"B-" (good) rating by Better Business Bureau
Several discounts available
Affordable coverage rates
Strong financial stability
24/7 claims reporting
Direct Auto Insurance Pros: This company provides several coverage options for individuals and businesses, including auto insurance, renters insurance, term life insurance, and more. It has high rating through A.M. Best. Direct offers 24/7 claims reporting online, has affordable rates with many discounts available and strong financial stability.
Direct Auto Insurance Cons: This is not a BBB accredited company. Coverage is not available in most states, and there is a concerning volume of complaints filed through the BBB in recent years. There is also a concerning high volume of customer complaints across the web.
What Type of Insurance Does Direct Auto Insurance Offer?
Direct Auto Insurance offers a wide range of coverages for both individuals and businesses. While their primary focus is auto insurance, they have several products, including:
Auto insurance
Motorcycle insurance
Mexico auto insurance
Commercial auto insurance
Roadside assistance
Term life insurance
Renters insurance
This list of insurance products offered by Direct Auto Insurance is not exhaustive. An independent insurance agent also can help you find comparable coverages offered by many other insurance companies.
What to Know about Direct Auto Insurance
Direct Auto Insurance was founded in 1991, giving the carrier multiple decades of experience within the insurance industry today. The insurance company currently offers coverage in 12 states in the southeastern US. The carrier's original mission was to provide affordable car and motorcycle insurance, but Direct Auto Insurance has since expanded to offer several types of coverage.
Direct Auto Insurance is a member of the Direct General Group. The carrier's LinkedIn page reports that they have between 5,001 to 10,000 employees currently. Direct Auto Insurance reportedly draws $10 million in annual revenue as of Q3 2020. A.M. Best ranks the carrier in the $100 to $250 million financial size category overall.
Thanks to its history, size, and financial strength, Direct Auto Insurance has become known as a stable insurance provider with a strong outlook for the future. A.M. Best, the leading global credit rating agency monitoring the insurance industry, gives Direct Auto Insurance an "A" rating, indicating the carrier is an excellent choice for insurance customers. A high rating from A.M. Best assures customers that Direct Auto Insurance is capable of offering guaranteed, secure coverage from a trustworthy and reputable carrier.
Established in 1899, A.M. Best is one of the oldest rating companies in the world. Reviews from A.M. Best indicate an insurance company's financial strength and creditworthiness, and are based on comprehensive evaluations of the company's operating performance, business profile, and balance sheet. For customers who aren't as familiar with insurance companies' respective reputations, A.M. Best's ratings system allows them to make an informed decision about who they can trust to meet their needs in the short term, and who will remain a strong, financially sound company in the long term.
What Discounts Does Direct Auto Insurance Offer?
Direct Auto Insurance offers several competitive discounts on their products, especially for auto insurance. These discounts include, but are not limited to: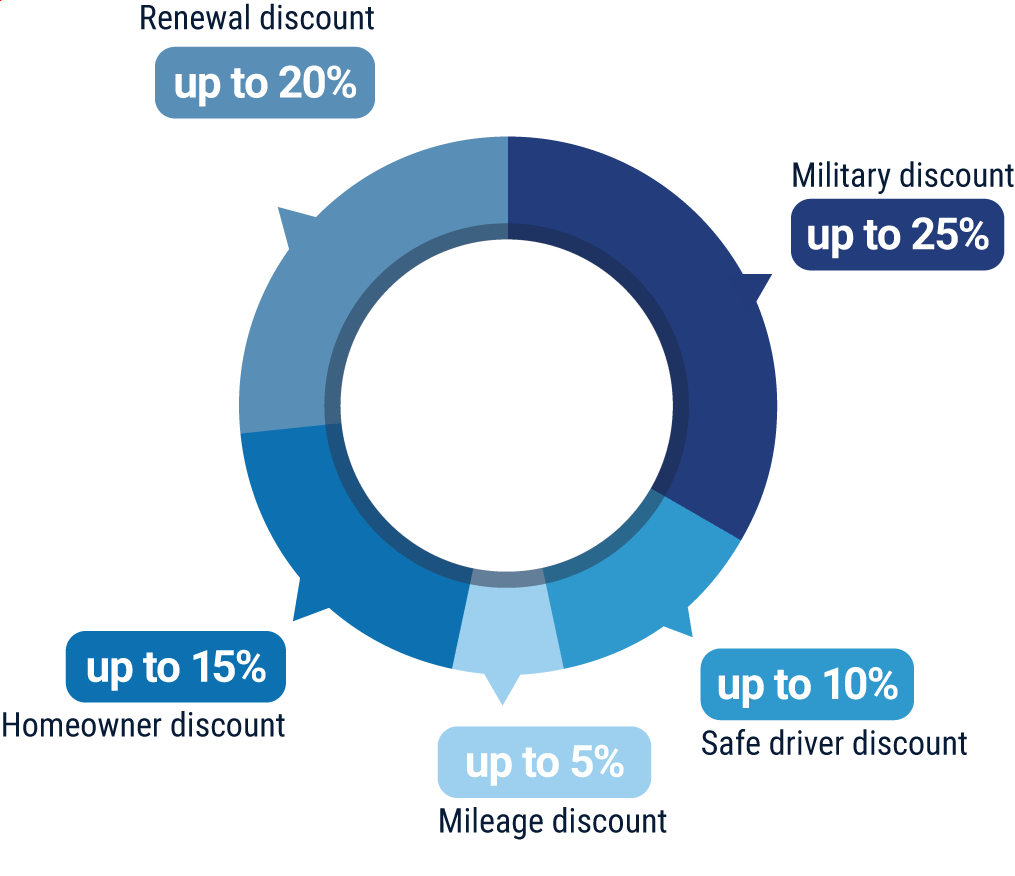 Military discount: This is offered to active service members.
Safe driver discount: This is offered to auto insurance customers that have violation-free and accident-free records for the past 36 months.
Mileage discount: This is offered to auto insurance customers who drive their vehicles less than a dictated amount of miles per year.
Homeowner discount: This is offered to auto insurance customers who own a home where they keep their insured vehicles.
Renewal discount: This is offered to auto insurance customers who haven't had a lapse in their policy within the past 12 months and also have renewed their policy within 7-10 days of its expiration.
Your independent insurance agent can help you find more information about discounts and other ways to save through many modern insurance companies, helping you to get the most bang for your buck on coverage.
Direct Auto Insurance Customer Service
Direct Auto Insurance allows customers to file claims online, any time of the week. The carrier also provides the following customer service options:
24/7 claims reporting via email or through the website.
Claims reporting hotline also available at restricted hours.
Live chat customer service option available.
Main customer service hotline has the following hours restrictions:
| | | | |
| --- | --- | --- | --- |
| | | Hours (CST) | |
| | | Monday-Friday | 9 am - 6 pm |
| | | Saturday | 10 am - 4 pm |
Another great way to get your customer service needs met is through an independent insurance agent. Independent insurance agents can help make customer service easier for you by handling claims and other concerns.
Find The Right Company Today.
Shopping for a company? We have the right one for you.
Direct Auto Insurance FAQ
What is Direct Auto Insurance's average claim response time frame?
Direct Auto Insurance offers 24/7 claims reporting for their customers, via email or through the official website. The carrier promises that a claims adjuster will be in contact with the customer by the end of the next business day after filing a new claim.
What is Direct Auto Insurance's customer service availability?
Direct Auto Insurance offers separate phone lines for general customer inquiries and claims filing. Their toll-free claims reporting hotline is available for customers at restricted hours Monday-Friday, and the customer service hotline is also available at restricted hours, Monday-Saturday. The carrier also has a social media presence on Facebook, Twitter, and LinkedIn, making them more accessible to customers.
What is Direct Auto Insurance's claims process?
Direct Auto Insurance allows customers to file claims via email, through the website, or over the phone. They break down their auto insurance claims process on the official website as follows:
"Step 1: Contact Us
Report your claim as soon as possible. Call 1-800-403-1077 to speak with a specialist or conveniently file your auto claim online. Simply log into MyAccount and follow the steps in our online portal. We're available 24/7 for new claims!
Step 2: Investigation/Appraisal
A licensed insurance claims adjuster will be assigned to your claim and will contact you by the end of the next business day.
The claims team will then complete a thorough investigation of your claim, evaluate the damage, and will answer any questions you may have about your claim.
Step 3: Repair
You have options when it comes to repairing your car or truck.
Get a virtual photo inspection: Through our MyClaimPics, you can upload photos of your vehicle for a virtual photo inspection. A staff appraiser will complete an appraisal on your vehicle, provide an estimate of the repairs needed, and answer any questions you have about the repair process.
Have an appraiser come to you: If you're busy, we can send our appraiser to your location to inspect your vehicle's damages and provide you with an estimate for the repairs.
Choose a repair shop from the Direct Repair Group: Choose a shop from our Direct Repair Group, and we'll guarantee your repairs for as long as you own your vehicle. Get the process started by selecting your shop from the list. We'll take care of the rest.
Find a repair shop on your own: Or, if you prefer, you always have the option to choose your own repair facility.
Make rental car arrangements: And, if your policy includes a rental vehicle, your claims adjuster can make your arrangements and explain the rental process.
Step 4: Stay in the Loop
Your claims adjuster will periodically check the status of your repairs and address any issues that may arise, such as: additional damage, payments for additional damage owed, or changes to the expected completion date. Keep your adjuster's phone extension handy, too. This will help you get in contact with them quickly when you want to check your claim status."
After filing, customers can call the carrier's claims hotline or go through the website to check on a claim's status.
Does Direct Auto Insurance create a user-friendly experience for customers?
While Direct Auto Insurance's official website isn't the most visually appealing among modern insurance carriers, it's fairly easy to navigate. Important information is easy enough to find for both prospective and current customers. Customer service options such as online bill pay, requesting free quotes, and online claims filing are available. However, Direct Auto Insurance does not provide the option to get matched with an agent through their website, which is a service many modern carriers offer. The insurance company does have an active presence on social media. So, while they're not the most user-friendly carrier around today, overall Direct Auto Insurance provides a fairly connected experience for their customers.
Does Direct Auto Insurance have good auto insurance?
Direct Auto Insurance advertises affordable rates and multiple discounts on their auto insurance. Their policies include the following important coverages:
Bodily injury and property damage liability
Comprehensive and collision
Medical payments
Personal injury protection
Uninsured motorist
Rental reimbursement
Towing
Accidental death
Your independent insurance agent can help you compare auto insurance options across multiple carriers, so you can find the best blend of coverage and cost.
Is Direct Auto Insurance a good insurance company?
Direct Auto Insurance has received good ratings through both A.M. Best and the BBB and demonstrated consistent financial strength. The insurance company provides several types of coverage and also offers 24/7 claims reporting for its customers. However, a high volume of concerning customer reviews across the web report frustrations in having claims acknowledged or accepted. So, Direct Auto Insurance may still have some room to grow before truly being considered a good insurance company.
Direct Auto Insurance Customer Reviews
Clearsurance

"I absolutely love this company. They work with you to make sure you get the coverage you need and want. Prices are low."
Clearsurance

"Great company, great prices. Coverage is perfect. Treats you like family. Truly in it for the protection of you and your car, not the money. They also extend payments to prevent a lapse in insurance which is great."
WalletHub

"They are one of the worst companies to deal with. You cancel your policy with them, their untrained customer care people say 24-72 business hours and it turns out to be more like 2 weeks. I called, emailed and was DENIED the chance to speak to someone in their 'made up' treasury department. Stay away from this HORRIBLE company."
WalletHub

"Please search somewhere else for auto insurance. This is the worst insurance I've ever had, also the most expensive. I spent almost five hours waiting for a tow truck I had to miss work for this inconvenience."
Better Business Bureau

"I was in an accident with a person insured by Direct Auto, about six months ago. My car has still not gotten fixed, Direct Auto closed our claim because they could not get a hold of the person whom they cover. This is a predatory company, they wrongfully closed a claim and refused to pay my damages, worth $4,000.00. I DO NOT UNDERSTAND HOW THEY ARE IN BUSINESS. Please shut them down."
TrustedChoice.com's Final Review

We award Direct Auto Insurance a final rating of 2.5 out of 5 stars. The carrier has just about three decades worth of experience in the insurance industry under its belt now. While Direct Auto Insurance did receive an excellent rating through A.M. Best, its rating through the BBB is considerably lower than many other modern carriers'. There have also been a concerning volume of complaints filed against the carrier through the BBB in recent years, and the carrier is not accredited through the organization. While the insurance company does offer many coverage solutions, it does not work with independent insurance agents, which limits their reach to prospective customers greatly. Coverage is also currently limited to just 12 states. The real kicker, however, is the high volume of customer complaints across multiple review websites.
Bottom Line: Though high official ratings for financial strength, many discount options, and affordable rates are certainly appealing aspects of an insurance company, what we're most concerned with is if the carrier takes care of its customers. Feedback from customers across the web suggests that though Direct Auto Insurance may present quality insurance products in their catalogue, the carrier doesn't necessarily deliver on that coverage when it counts. If customer service is important to you, we recommend surveying your other options first before selecting Direct Auto Insurance as your trusted insurance company.
©2023, Consumer Agent Portal, LLC. All rights reserved.
directgeneral.com
bbb.org
ambest.com
finder.com
zoominfo.com
clearsurance.com
wallethub.com