EquiTrust Life Insurance Company Review
EquiTrust Life Insurance Company at a Glance
Founded in 1996
Specializes in life insurance
Also offers annuities
Subsidiary of Guggenheim Partners
"B++" (good) rating by A.M. Best
"A+" (excellent) rating by Better Business Bureau (BBB)
A top performing insurance company
Offers coverage with no medical exam
Offers income tax-free benefits
Strong financial stability
EquiTrust Pros: About a quarter of a century's worth of experience in the insurance industry. Offers life insurance and annuities. High rating through the BBB. Strong financial stability.
EquiTrust Cons: Not a BBB accredited company. No official claims response timeframe promise. Official website is sorely lacking. Only dismal customer reviews spotted across the web. No separate claims reporting hotline. No online claims reporting option.
What Type of Insurance Does EquiTrust Offer?
EquiTrust Life is a specialized insurance company, with a focus on life insurance. Their coverage offerings include:
WealthMax Bonus Life Insurance
WealthHorizon Life Insurance
Wealth-Transfer Life Insurance
Annuities
If you're on the market for life insurance or annuities, EquiTrust Life Insurance Company may have just the type of product you're looking for.
What to Know About EquiTrust
EquiTrust Life Insurance Company was founded in 1996, giving the carrier just about a quarter of a century's worth of experience in the industry today. The insurance company was originally a subsidiary of the FBL Financial Group, and began operating in the independent insurance channel in 2003. EquiTrust Life Insurance Company was purchased by Guggenheim Partners in 2011.
In 2016, EquiTrust surpassed $17 billion in total assets. The insurance company also received recognition on Ward's list of the Top 50 Performing Insurance Companies that same year. EquiTrust began working with independent insurance agents and expanded its reach from just 15 states to a nationwide presence in 2003. As of 2020, the insurance company has a reported $20.7 billion in total assets.
Because of its high ratings, award-winning recognition, and impressive progression over time, EquiTrust Life Insurance Company has developed a reputation as a financially stable insurance company with a positive outlook for the future. A.M. Best, the leading global credit rating agency monitoring the insurance industry, gives EquiTrust a "B++" rating, indicating the carrier is a good choice for insurance customers. A high rating from A.M. Best assures customers that EquiTrust is capable of offering guaranteed, secure coverage from a reputable carrier.
Established in 1899, A.M. Best is one of the oldest rating companies in the world. Reviews from A.M. Best indicate an insurance company's financial strength and creditworthiness, and are based on comprehensive evaluations of the company's operating performance, business profile, and balance sheet. For customers who aren't as familiar with insurance companies' respective reputations, A.M. Best's ratings system allows them to make an informed decision about who they can trust to meet their needs in the short term, and also to remain a strong, financially sound company in the long term.
What Discounts Does EquiTrust Offer?
While EquiTrust does not make information about their specific discounts readily available, most life insurance companies today offer several common discounts on comparable coverages. These discounts often include: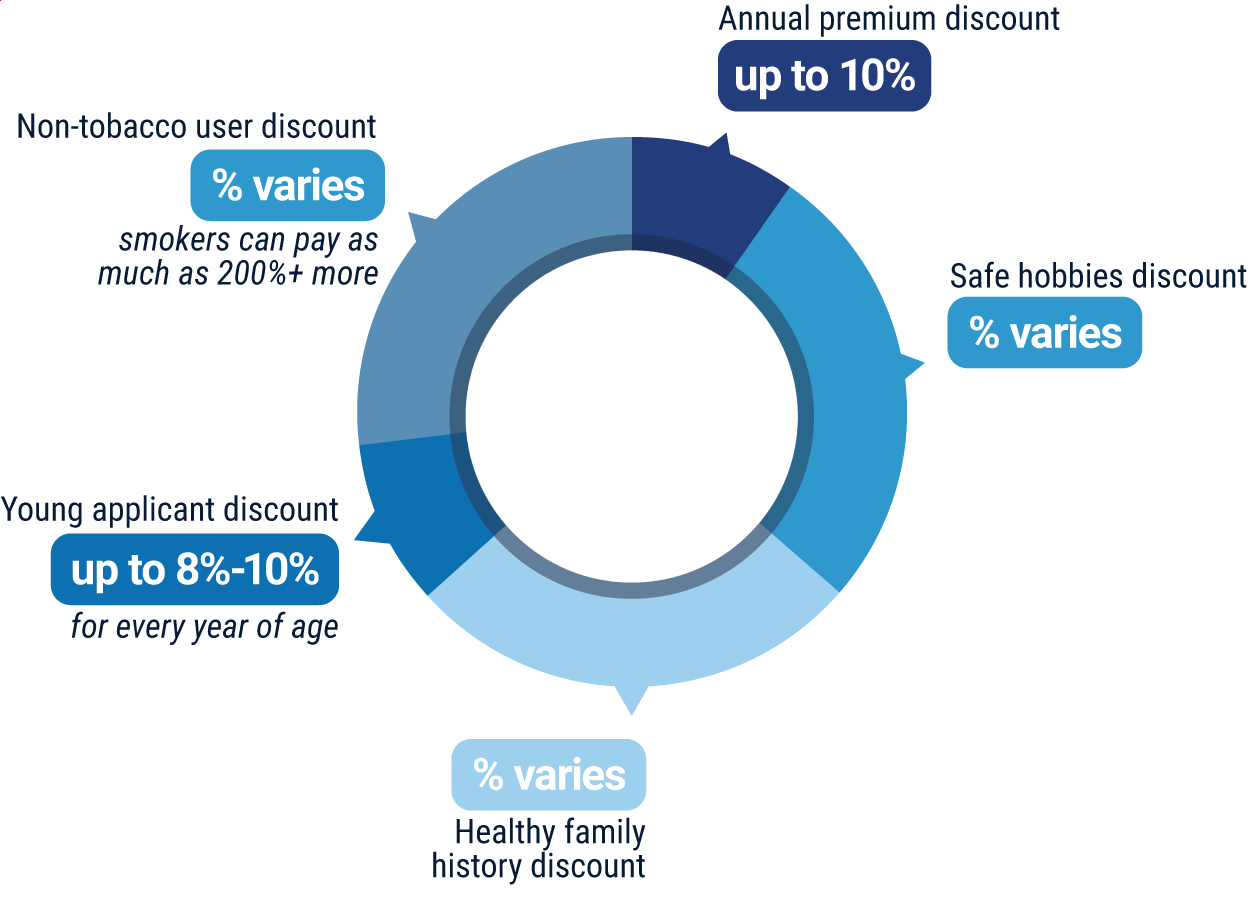 Annual Premium Discount: Insurance companies often award discounts to customers who pay their premiums annually instead of monthly.
Safe Hobbies Discount: Life insurance companies often award customers who practice safe, non-life threatening habits (e.g., no skydiving) with cheaper premiums.
Healthy Family History Discount: Life insurance companies also reward applicants with healthy genetics, or a good family health history.
Young Applicant Discount: When signing up for life insurance, considerable discounts are often awarded to applicants who purchase coverage when they are younger, such as in their 20s or 30s.
Non-Tobacco User Discount: Life insurance companies tend to reward customers who do not use tobacco products with cheaper premiums.
Your independent insurance agent can help you find more information on exact discounts offered by EquiTrust and additional ways to save money through the insurance company, helping you to get the most bang out of your buck on coverage.
Find The Right Company Today.
Shopping for a company? We have the right one for you.
EquiTrust Life Insurance Company Customer Service
EquiTrust offers just one phoneline for all customer inquiries. The carrier provides the following customer service options:
Fax contact option available.
Email contact option available.
Main customer service and claims reporting hotline has the following hours restrictions:
| | | | |
| --- | --- | --- | --- |
| | | Hours (CST) | |
| | | Monday-Thursday | 8 am - 5 pm |
| | | Friday | 8 am - 4 pm |
EquiTrust sells its insurance products through a wide network of agents, including independent insurance agents. Independent insurance agents can help make customer service easier for you by handling claims and other concerns.
EquiTrust Life Insurance Company FAQ
What is EquiTrust's average claim response timeframe?
EquiTrust allows customers to file claims via email, fax, or phone. However, the carrier does not provide a specific claims response timeframe promise. Customers have reported frustration with having claims answered and processed within a reasonable timeframe.
What is EquiTrust's customer service availability?
EquiTrust has just one phoneline for customer service and all other inquiries. The phoneline contact option is offered at restricted hours, Monday-Friday. The insurance company also has a social media presence on Facebook, LinkedIn, and Twitter, which makes them more accessible to customers.
What is EquiTrust's claims process?
EquiTrust provides phone claims reporting as well as fax and email claims reporting options for their customers. The insurance company does not list their official claims process on their website beyond how to file. Customers can call the carrier or contact their independent insurance agent if they have questions about how to file. Forms are available on the website to make claims filing easier.
Does EquiTrust Life Insurance Company create a user-friendly experience for customers?
Compared to many modern insurance companies, EquiTrust's official website leaves much to be desired. Many pages could stand to be fleshed out quite a bit more, and a disturbing amount of pertinent information seems to be lacking entirely. For example, there is no outline of an official claims process or claims response timeframe to be found. The insurance company also does not offer online claims reporting through their website, which puts them far behind many other modern carriers. The official website is also lacking common customer service options such as getting matched with an agent or requesting quotes.
Does EquiTrust have good life insurance?
EquiTrust specializes in life insurance. Their life insurance policies come with the following perks:
Tax-deferred growth
Income tax-free benefits for beneficiaries
Death benefits that bypass probate
Partial withdrawal and loan access
Approval based on medical questions but no exam required
Your independent insurance agent can help you find out more about EquiTrust's life insurance policies, as well as their other products.
Is EquiTrust Life a good insurance company?
EquiTrust has a good rating through A.M. Best, but it's not as highly rated as many other modern insurance companies. Its "A+" rating through the BBB is impressive, though. The carrier does have solid financial strength, and A.M. Best places them in the $1.25-$1.5 billion financial size category. However, the insurance company is not accredited through the BBB. Also, there are many dismal customer reviews across multiple sites detailing frustrating encounters with the insurance company, and disappointment in their coverage.
EquiTrust Life Insurance Company Customer Reviews
WalletHub

"Firstly, I was scammed into annuities with this company. Promises of a 6% return when it's been 0-1%, they literally laughed at me and said I should have read the fine print and that I signed it. I am stuck with absurd 15% surrender penalties and when trying to get my yearly penalty free with drawl it's like pulling teeth. They have very uninformed customer service, I get put on indefinite -hold - ignore or hung up on. They do not call back and rarely have an answer to the status of my request."
WalletHub

"As a beneficiary, I have been disgusted at the overall lack of professionalism and customer service. Cannot even get the most basic of answers. Instead I have been confronted by an attitude of not my monkey not my circus. Have essentially put a halt to the claim process. Do your beneficiaries a big favor and choose another annuity provider."
WalletHub

"You must be well informed before you do business with these people. The fine print, skulduggery, and laggardly pace in a ponderous plodding will wear on the patience of Job. You need to see the historical records of judicial actions against them. You have been warned."
Yelp

"I have been fighting with this company for five months over my family's trust money. I have sent three sets of forms to them, my agent (their agent) also sent a set of forms. They always reject. I even filled out the forms with one of their employees on the phone and still rejected. They also will then ask for new, never brought up, forms. They just want to keep my family's money for themselves. Beware of this company!"
Yelp

"I am so upset with this company, I have gone through a divorce and this was to be a new contract through a QDRO. I have filled out all the paper work I have been sent, I called and they told me the paperwork was lost in the mail. I faxed copies of the papers. I have called many times and have been on hold for 30-45 minutes, being transferred from one department to another. I called again today and was transferred twice, waited on hold for an hour and then a recorded message stated they were in a meeting and to please leave my phone number and they will call me. How do you run an insurance co. in this manner? This is not a company I would ever refer to anyone. They are dragging their feet on giving me the funds from my new contract. They need to hire more customer service personnel, this is inconceivable that a person has to go through this to receive their own money."
TrustedChoice.com's Final Review

We award EquiTrust Life Insurance a final rating of 1.5 out of 5 stars. The carrier does have a couple of decades' worth of experience under its belt in the industry now, and has a high rating through the BBB. However, the insurance company's rating through A.M. Best is noticeably lower than many other modern carriers', despite them being known for having reputable financial strength. EquiTrust is also not currently BBB accredited, and has had several customer complaints filed against them through the organization in recent years. The insurance company's official website could use a complete overhaul, and does not provide many customer service options today's insurance customers have come to expect such as online claims reporting or getting matched with an agent. The website also does not provide important information about claims processing. EquiTrust only offers one phoneline for customers to inquire about any of their needs, including filing claims. That just isn't up to par with other insurance companies around today.
Bottom Line: EquiTrust is known for offering life insurance that does not require medical exams, and has even been recognized as a top performing insurance company by Ward's. However, what we're most concerned with is whether or not an insurance company takes care of its hardworking customers and delivers on the coverage promises it makes. It's virtually impossible to find any customer reviews above a 1-star rating anywhere on the web, which says a ton about the carrier's customer service practices. At the end of the day, all the financial strength in the world can't make up for an insurance company that fails to cater to its customers. If you're looking for life insurance or annuities from an insurance company that makes its customers a priority, we strongly encourage you to work together with your independent insurance agent to survey all other options before settling on EquiTrust Life Insurance Company as your trusted carrier.
©2023, Consumer Agent Portal, LLC. All rights reserved.
equitrust.com
ambest.com
bbb.org
yelp.com
wallethub.com