Foresters Financial Insurance Company Review
Foresters Financial Insurance Company at a Glance
Founded in 1874
"A" (excellent) rating by A.M. Best
"A-" (excellent) rating by Better Business Bureau (BBB)
Coverage available in the US, Canada, and the UK
A part of the Foresters family of companies
Offers flexible premium payments
Offers accelerated death benefits
Offers disability income
Strong financial stability
Foresters Financial Pros: Long-standing carrier with nearly a century and half's worth of experience in the insurance industry. Offers several benefits on life insurance coverage. Strong financial stability.
Foresters Financial Cons: Not accredited through the BBB. High volume of customer complaints filed against the carrier through the BBB. Dismal customer feedback across the web. No 24/7 claims reporting. No online claims reporting. No online quotes. Slower claims response than many other carriers.
What Type of Insurance Does Foresters Financial Offer?
Foresters Financial is a specialized insurance company that focuses on life insurance. Their coverage offerings include:
Term life insurance
Whole life insurance
Universal life insurance
If you're on the market for any of these products, Foresters Financial may just be the right insurance company to meet your coverage needs.
What to Know About Foresters Financial
Foresters Financial was founded in 1874, giving the carrier nearly a century and a half's worth of experience in the insurance industry today. Foresters Financial is a division of the Foresters family of companies, which includes Foresters Canada, Foresters Life, Foresters Investment Management Company, Inc., Foresters Investor Services, Inc., and more. The Foresters family of companies' total assets currently reach more than $12 billion.
Foresters Financial serves customers across the US, Canada, and the UK. The Foresters group of companies offer all types of life insurance products, as well as many different annuities, mutual funds, and savings and retirement planning services. Foresters Financial focuses its efforts on term, universal, and whole life insurance coverages.
The insurance company's LinkedIn profile states that they currently have between 1,001-5,000 employees across all their locations. Foresters Financial is headquartered in Toronto, Canada. A.M. Best ranks the carrier in the $1.5-$2 billion financial size category. Foresters Financial offers membership benefits such as scholarships and loans.
Thanks to its extremely long-standing history, wide reach, group of well-known companies, and financial strength, Foresters Financial has earned a reputation as a stable insurance company that's projected to be around for many years to come. A.M. Best, the leading global credit rating agency monitoring the insurance industry, gives Foresters Financial an "A" rating, indicating the carrier is an excellent choice for insurance customers. A solid rating from A.M. Best assures customers that Foresters Financial is capable of offering guaranteed, secure coverage from a reputable carrier.
Established in 1899, A.M. Best is one of the oldest rating companies in the world. Reviews from A.M. Best indicate an insurance company's financial strength and creditworthiness, and are based on comprehensive evaluations of the company's operating performance, business profile, and balance sheet. For customers who aren't as familiar with insurance companies' respective reputations, A.M. Best's ratings system allows them to make an informed decision about who they can trust to meet their needs in the short term, and also to remain a strong, financially sound company in the long term.
What Discounts Does Foresters Financial Offer?
While Foresters Financial does not make information about their specific discounts readily available, many life insurance companies today offer several common discounts on comparable coverages. These discounts often include: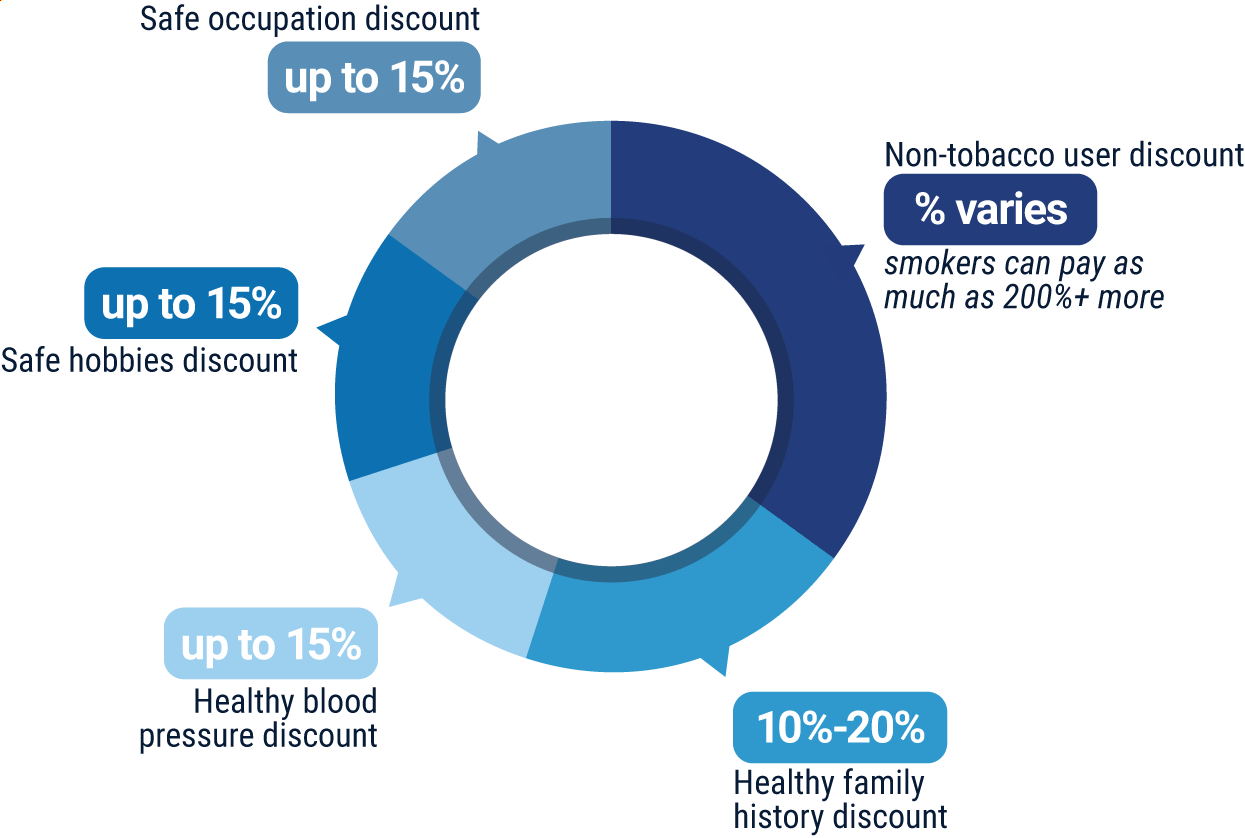 Non-Tobacco User Discount: Life insurance companies tend to reward customers who do not use tobacco products with cheaper premiums.
Healthy Family History Discount: Life insurance companies also reward applicants with healthy genetics, or a good family health history.
Healthy blood pressure discount: Offered to life insurance customers who have what's considered to be a healthy blood pressure upon evaluation.
Safe Hobbies Discount: Life insurance companies often award customers who practice safe, non-life threatening habits (e.g., no skydiving) with cheaper premiums.
Safe occupation discount: Offered to life insurance customers who work in safer occupations that are not typically life-threatening.
Your independent insurance agent can help you find more information on exact discounts offered by Foresters Financial and other ways to save money through the insurance company, helping you to find the coverage you need at the rate you deserve.
Foresters Financial Customer Service
Foresters Financial allows customers to report claims via phone at restricted hours during the week. The carrier also provides the following customer service options:
Snail mail claims reporting.
Phone claims reporting.
Email contact option.
Main customer service hotline has the following hours restrictions:
| | | | |
| --- | --- | --- | --- |
| | | Hours (ET) | |
| | | Monday-Friday | 8 am - 8 pm |
The best way to ensure a smooth customer service experience is to work with an independent insurance agent. Independent insurance agents can help handle claims and other concerns for you, so you can relax and enjoy your coverage.
Find The Right Company Today.
Shopping for a company? We have the right one for you.
Foresters Financial FAQ
What is Foresters Financial's average claim response timeframe?
Foresters Financial allows customers to file claims through phone or snail mail. The insurance company does not offer 24/7 claims reporting. The carrier's official website states that claims will be processed within 5-10 business days, and make a decision about approval within 15-20 business days.
What is Foresters Financial's customer service availability?
Foresters Financial does not provide 24/7 contact options for customers. The main customer service hotline is available at generous hours, Monday-Friday. The claims reporting hotline is available at more restricted hours, Monday-Friday. The carrier also has a social media presence on Facebook, Twitter, and LinkedIn, making them a bit more accessible to customers.
What is Foresters Financial's claims process?
Foresters Financial makes claims filing simple for its customers. The official website outlines their claims process as follows:
"Give us a call
You can call our toll-free claims number at 1 800 828 1540 to inform us of the death of your loved one and to start the claims process. Our hours of operation are 8 a.m. to 6 p.m. ET, from Monday to Friday.
Complete your claims form
Our experienced claims representatives can determine the form you'll need and mail you a claims package to complete. Call us at 1 800 828 1540 with the following information to get started.
Name of the deceased member or certificate holder
Contact information of the person where forms are being sent
The date the member or certificate holder died
The cause and manner of death, if available
Collect the information you need
We know this is an emotional time and paperwork can feel overwhelming. To make things easier, here is a list of the basic information you'll need to gather to submit a complete claim.
Completed claimant's statement
The date the member or certificate holder died
The cause and manner of death, if available
A certified death certificate
Medical authorization (for contestable claims or those related to a living benefit)
Police, toxicology, coroner's reports (for claims related to accidents or homicide)
Additional medical information may be required for contestable claims
Send us your claim
When your claimant's statement is complete and you have all the other required information, please mail everything to us at:
Foresters, P.O. Box 179, Buffalo, NY 14201-0179
What you can expect
Once your claims forms are received, we will review and contact you if any additional information is required. If the forms and information provided are complete and in good order, we will process your non-contestable claim within 5 to 10 business days. Note: If the death occurred outside of the U.S. or Canada, or was the result of an accident, additional information may be required.
If the certificate is contestable (if the death occurred in first two years of the certificate or if the certificate was reinstated in the last two years), we will request medical records from the decedent's medical providers. Because we rely on medical providers and third parties to obtain this information, the process can take some time. We are committed to keeping you up-to-date with regular updates on the status of our review. Once all the requested medical records are received, we will provide a claims decision within 15 to 20 business days."
Does Foresters Financial create a user-friendly experience for customers?
Foresters Financial's official website is polished and visually-appealing, and it's also intuitive and easy to navigate. Prospective and current customers alike can easily locate important information, and pages are detailed enough to be satisfying in their responses. The carrier also provides a FAQ for customers with questions. The official website allows customers to connect with an agent, however, it does not offer online claims reporting, which is strange for a modern carrier. Foresters Financial may be a bit behind other insurance companies with their claims reporting processes, but overall the official website and their social media presence provides a fairly user-friendly experience.
Does Foresters Financial have good life insurance?
Foresters Financial specializes in life insurance. The insurance company offers the following coverage options and benefits through its life insurance policies:
Term policies for 10, 15, 20, 25, or 30-year increments
Accumulated cash value payouts
Flexible premium payments
Long-term growth potential
Policy loans
Cash withdrawals
Guaranteed and variable benefits
Early access to cash value for living expenses and major life events
Accelerated death benefit (optional rider)
Accidental death coverage (optional rider)
Disability income coverage (optional rider)
Your independent insurance agent can help you find out more about Foresters Financial's life insurance coverage.
Is Foresters Financial a good insurance company?
Foresters Financial has received high ratings through both A.M. Best and the BBB and has solid financial strength. However, the insurance company does not offer 24/7 claims reporting or online quote options. They've also had more than 30 complaints filed against them through the BBB in recent years, and are not currently accredited through the organization. Customer feedback also appears to lean heavily towards the negative side. So, it may be up to individual interpretation whether or not Foresters Financial can be considered a good insurance company.
Foresters Financial Customer Reviews
Better Business Bureau

"Still waiting on a check. My dad passed away in Sept. I have been given every excuse you can think of. I was also blocked from their website. They are hoping people just give up. Well I am not. I will put them in blast every day until they do what is right…"
Better Business Bureau

"I called Foresters on June 13th, 2019 and told them I wanted to surrender my policy. I was told that I could take a portion if I would care to. I stated that I wanted to surrender the entire amount. Since then I have sent them all the papers they required. On the fifth call I was told they had all the papers needed and the check would arrive by overnight delivery by no later than July 23, 2019. It is JULY 24TH and still no check. They have never responded to me unless I called them."
Better Business Bureau

"My dad passed away and they still have not paid out the life insurance. I called them on March 7 and they asked if I was calling about a letter they sent. Had not received it. I faxed them the will they needed AGAIN, and on March 12th the letter arrived. I didn't realize snail mail took ten days, and they are still working Saturdays. When I called on the 14th they said they needed a form that I had already completed. So I supplied them two wills, family trust and all their paperwork TWICE and they still have no idea if and when they will honor their policy. It took two weeks to get a check from them."
Google

"Truly not a good place to invest!"
Expert Insurance Reviews

"Do not trust the Foresters agents. Paperwork was filled out wrong and the claim was denied."
TrustedChoice.com's Final Review

We award Foresters Financial a final rating of 1.5 out of 5 stars. The insurance company has been around for nearly a century and a half now, which is certainly noteworthy and respectable. The carrier has also received high ratings through both A.M. Best and the BBB, however they are not accredited through the latter organization and have had many complaints filed against them in recent years. A lack of 24/7 claims reporting or even an online claims reporting option puts Foresters Financial behind most modern insurance companies. However, what we're even more concerned about is the high volume of customer dissatisfaction easily spotted across the web. It's virtually impossible to find any glowing reviews about the insurance company, which is not something to be overlooked.
Bottom line: While respectable life insurance coverage options and strong financial ratings are important in an insurance company, if the carrier can't deliver on its coverage promises to customers, then those pros don't hold much weight. With its extremely long-standing history, we're honestly baffled that Foresters Financial hasn't learned to keep its customers satisfied over time. If good customer service from an insurance company you can rely on to be there when you need your coverage most is important to you, you may want to look elsewhere. Overall, we say that if you're on the market for life insurance, work with your independent insurance agent to survey all your other options before entrusting Foresters Financial as your next insurance company.
©2023, Consumer Agent Portal, LLC. All rights reserved.
foresters.com
ambest.com
bbb.org
google.com
expertinsurancereviews.com