A Guide to Major Home Appliance Maintenance and Replacement
(Find out how to care for some of your home's biggest appliances, and when homeowners insurance covers related incidents)

Homeowners have to stay up to date with all kinds of maintenance to keep their homes running smoothly, including monitoring any major appliances. Since no one wants a broken dishwasher after hosting a backyard barbeque or a busted oven on Thanksgiving, it's important to check on these appliances regularly. However, many homeowners may not know how long these appliances typically last.
Fortunately, it's easy to learn the life expectancy of major home appliances, plus maintenance tips to keep them going strong until the end. It's also important to make sure you're equipped with the proper homeowners insurance in case there's ever an incident, and an independent insurance agent can help you find the right coverage long before you'd ever need to file a claim. But first, here's a quick guide to home appliances, routine maintenance, and what incidents are covered under homeowners insurance.
How to Maintain Your Kitchen Appliances
Kitchen appliances like ovens, microwaves, refrigerators, and freezers aren't just important for occasions when company comes over, they're often used on a daily basis. General wear and tear of appliances over time can lead to disasters like fires if routine maintenance isn't kept up with. Follow these important tips to maintaining your major kitchen appliances in order to prevent issues down the road.
Ovens: If properly cared for, ovens can last between 10-15 years before needing to be replaced. To maintain your oven, be sure to replace burners quickly if you see spots or blemishes on the coils. Keep oven knobs clean at all times. Also be sure to clean the inside of the oven regularly, about every three months. If something you cook splatters, however, the oven should be cleaned as soon as it cools down. If you're using a gas stove, inspect the gas line at least once a year.
Refrigerators/freezers: Well-maintained refrigerators and freezers have a typical lifespan of about 15 years, and should be replaced around this mark regardless of how they appear to be functioning. Early replacement can prevent your cooling units from dying unexpectedly, leading to spoiled food. Clean behind the refrigerator/freezer two to four times per year. Fridges should be kept relatively full to keep their temperature at about 37-40° F. Contrastingly, freezers should only be filled to just over half capacity to maintain their temperature while expending less energy. Keep both units' door seals clean by wiping them down at least twice a year.
Microwaves: Microwaves have an average lifespan of about seven years, but that becomes considerably less with heavy use and poor maintenance. Clean your microwave weekly if you use it often, and always use microwave-safe dishware when heating food or beverages.
With the proper amount of attention and care, it's easy to keep major kitchen appliances around through the end of their expected lifespan. Regular maintenance ensures that your devices will keep functioning optimally over the years, and keep your home safe.
How to Maintain Your Dishwasher
How often do you run your dishwasher?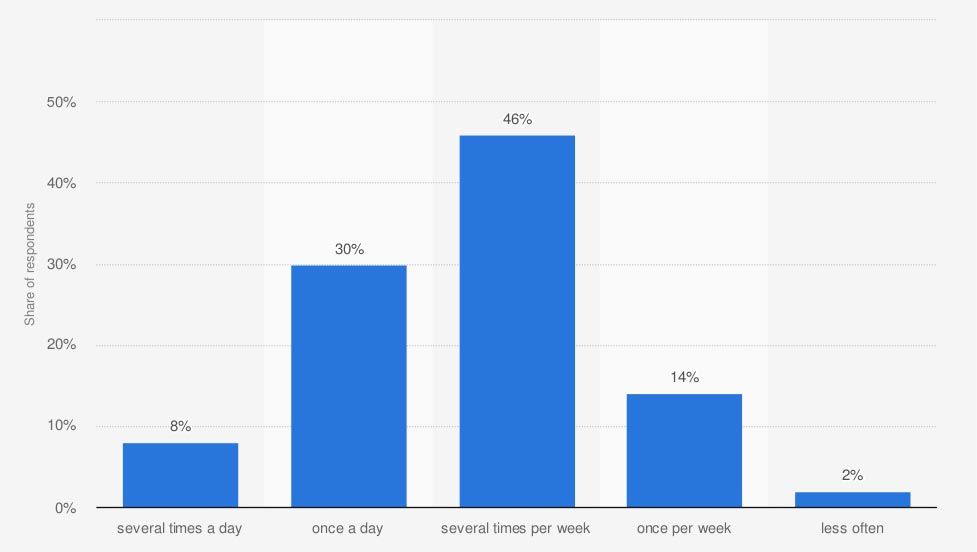 US homeowners aged 18-69 were asked how often they ran their dishwashers on average. The most common response by far was several times per week, with 46% of participants reporting that frequency of usage. The second most common response was once a day, with 30% of homeowners reporting such frequent usage.
Clearly dishwashers in the US get tons of regular use, and to keep them functioning at their max capacity over time, it's important to take care of them. Dishwashers have an average lifespan of eight to ten years. Once a year, your dishwasher should go through a deep cleaning by placing a cup of white vinegar on the top rack and then setting the unit on a hot water cycle. Dishes should always be scraped thoroughly before washing. The door gasket should also be inspected regularly to prevent water leaks.
Save on Home Insurance
Our independent agents shop around to find you the best coverage.
How to Maintain Your Air Conditioning and Heating Units
Kitchen appliances are important, but the heating and cooling units that circulate air through the entire home are equally important to maintain. Window AC units typically last 10-15 years, while HVAC units, aka central air, can last an average of 15-25 years with the proper care. AC units should be inspected at least twice annually, and filters should be changed every few months. Make sure to regularly inspect outdoor portions of the unit for debris, keeping a clear perimeter of at least 12 inches.
As for heaters, gas furnaces typically last 15-20 years, while electric furnaces often last more than 20 years. HVAC heating units should be professionally deep-cleaned annually. Air filters should be replaced regularly, up to once a month. Also be sure to check your thermostat often and compare its reading to the actual temperature of your home. If its report is off, it's time to schedule a professional maintenance visit to find the source of the problem.
When Homeowners Insurance Covers Your Appliances, and When It Doesn't
It's critical to review your specific homeowners insurance policy with your independent insurance agent, because newer policies sometimes include more coverage for major appliances than others. Sometimes additional coverage needs to be purchased to protect appliances. But as a hard rule, general wear and tear of major appliances is typically never covered by homeowners insurance. It's considered the homeowner's responsibility to keep up with routine maintenance.
Homeowners insurance also usually does not cover these appliance-related claims:
Breakdowns due to the owner's misuse of the appliance
Breakdowns due to improper installation of the appliance
Breakdowns due to lack of routine maintenance.
Breakdowns due to non-covered natural disasters, including floods and earthquakes
Homeowners insurance usually does cover these appliance-related claims:
Appliance damage or destruction caused by explosions. Explosion is a covered peril under standard homeowners policies.
Appliance damage or destruction caused by covered natural disasters, including windstorms, hail, lightning, fire, and blizzards.
No matter how familiar you are with your homeowners insurance policy, it's always a good idea to reach out to your independent insurance agent to double-check your coverage. Major home appliances are expensive, and are capable of causing even more expensive damage to your home. To avoid being caught without the proper coverage when disaster strikes, review your policy ahead of time.
Proper care and maintenance of all your major home appliances can ultimately save you time, money, and stress. Even more upsetting than having to replace a broken appliance due to a lack of maintenance would be having to rebuild your home after an oven fire that could have been prevented. Start following these maintenance tips today to help protect your devices, your home, and your family.
Here's How an Independent Insurance Agent Can Help
When it comes to protecting homeowners against appliance breakdowns and all other perils, no one's better equipped to help than an independent insurance agent. Independent insurance agents search through multiple carriers to find providers who specialize in home insurance, deliver quotes from a number of different sources and help you walk through them all to find the best blend of coverage and cost.
TrustedChoice.com Article | Reviewed by Paul Martin
©2023, Consumer Agent Portal, LLC. All rights reserved.
uniquerepair.com
mrappliance.com
searshomeservices.com
wisebread.com
cyborgservices.in
absoluteair.com