How Does Getting a Car as a Christmas Gift Change Your Coverage?
Find out if your existing auto policy changes after a surprise gift, and how.

Some folks take the spirit of giving to massive heights during the holiday season, even to the point of gifting someone a brand new car for Christmas. Gifts of that magnitude certainly help spread the holiday cheer, but a new car requires much more than just a giant red and green bow on top. Of course, we're talking about protection. Whenever you add a new vehicle to a household, it needs its own insurance.
Fortunately an independent insurance agent can help you get set up with all the car insurance you need to enjoy that new vehicle safely and legally. They'll also help you review any existing policies you may have and make the changes necessary to accommodate your shiny new toy. Here's a deep dive into everything you need to know about insuring a brand new car, holiday style.
How Many Cars Are Really Given as Christmas Gifts?
While we see those commercials on TV with the holiday music and a sparkling new sports car or SUV with the giant bow on top all the time, just how often do folks actually give out cars as Christmas presents? Turns out, it's more often than you might think. About 10% of luxury car sales in the month of December are from new vehicles being given as Christmas gifts, amounting to about 22,000 total in the year 2018. Check out some more car stats below.
Number of vehicles per household in the United States in 2017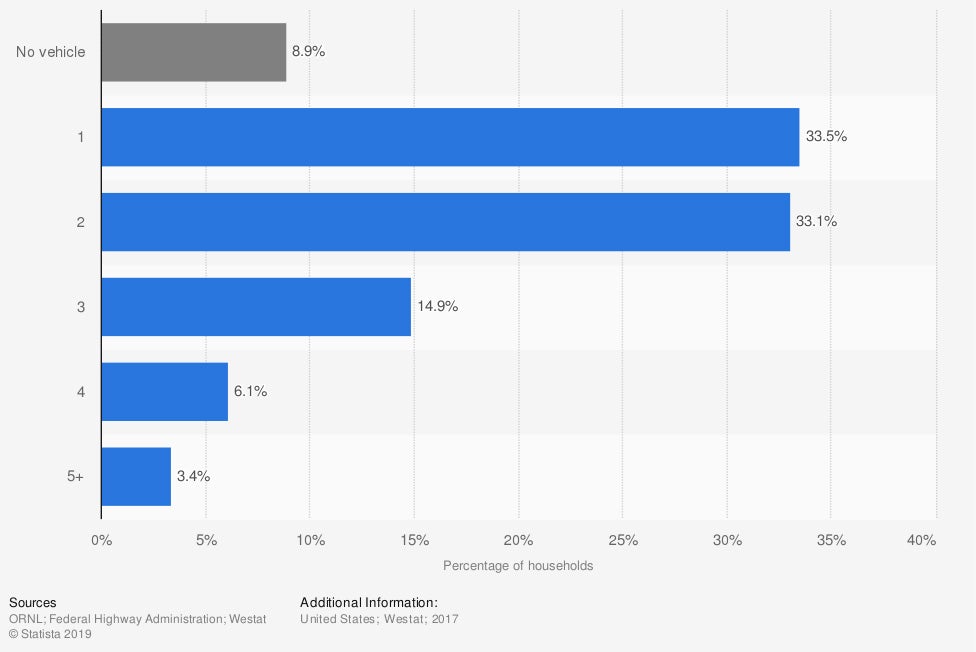 As of 2017, more than 33% of US residents reported having two vehicles to their household. More than a third reporting owning just one, but nearly 15% owned three. Of course, we can't be sure how many of these additional vehicles were given as Christmas gifts originally, but it's helpful to see that more than half of participants live in a multi-vehicle household.
Average annual expenditure on vehicle insurance per consumer unit in the United States from 2007 to 2019 (in US dollars)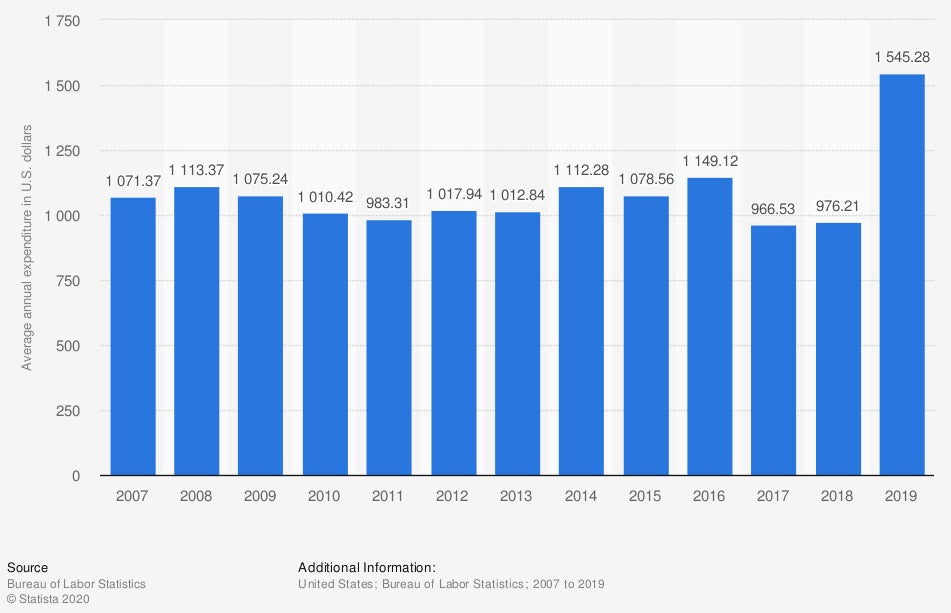 In the year 2007, US citizens spent an average of $1,071.37 on car insurance annually. As of 2019, however, this amount shot up quite a bit, to $1,545.28 spent each year on car insurance. Of course, more vehicles means more money spent on car insurance, but this increase could also be due, at least in part, to increasing rates from insurance companies. Something to keep in mind before deciding to gift that brand new hybrid to someone for Christmas.
The First Thing You Should Do When Adding a New Vehicle
When making a huge addition to the household like a new car, the first item of business is to call up your independent insurance agent. Giving away a car as a surprise gift requires even more forethought, because an additional vehicle requires all new insurance, whereas when an older car gets swapped out for another, you can just transfer coverage from the existing policy.
Before leaving the dealership, you'll need to be equipped with enough car insurance to cover the new vehicle, whether that means adding onto an existing policy or purchasing a new one entirely. Your independent insurance agent will know the best course of action for you to take to get your additional vehicle covered in the most efficient, affordable way.
How Will Adding a New Vehicle Change My Coverage?
Obviously if the new car is your first, you'll need a whole new car insurance policy. However, if you've already got at least one vehicle and have an existing policy, you'll still need to work with your independent insurance agent to make the appropriate changes. Your insurance company will need to be notified that you're adding a new vehicle to your policy right away, because it's illegal to drive without having at least your state's minimum requirements for coverage.
Save on Car Insurance
Our independent agents shop around to find you the best coverage.
How Will Adding a New Vehicle Change My Premiums?
Well, adding an additional vehicle could potentially double your existing car insurance premium. While the liability coverage portion shouldn't change if the extra car is being driven by the same driver on the existing policy, the fee for the property damage section will increase. However, the good news is that many car insurance providers today offer multi-vehicle discounts when you insure more than one car through them, which can be up to as much as 25% in savings.
If I Keep My Other Car, Can I Still Cancel That Coverage?
Yes, you can cancel an existing car insurance policy at any time if you wish. You may choose to change to a different policy to accommodate both vehicles at a more affordable rate, or you may want to swap car insurance companies altogether. There isn't usually a penalty for canceling your car insurance coverage early, either. As always, your independent insurance agent can help you make an informed decision about whether you should cancel your existing coverage or not.
Which Vehicles Cost More to Insure?
When giving away a car as a Christmas gift, you might want to consider how expensive the insurance on it will be, unless you're planning on paying the premiums for the recipient yourself. A general rule of thumb is the more expensive the vehicle, the more its insurance will cost. Pricier vehicles are more expensive for the insurance company to cover in the event of an accident, etc., so premiums must be higher in order to compensate.
New cars are typically more expensive to insure than older vehicles, since they're often worth a lot more. Of course, there are always exceptions to this rule. Also, cars that have the ability to do more physical damage, like giant trucks, can be more expensive to insure. If you want extra insight about which vehicles may come with more affordable coverage before selecting your surprise Christmas gift, your independent insurance agent can certainly help provide it.
Here's How an Independent Insurance Agent Would Help
When it comes to getting you set up with the right coverage before giving a car as a surprise Christmas present, no one's better equipped to help than an independent insurance agent. Independent insurance agents search through multiple carriers to find providers who specialize in car insurance, deliver quotes from a number of different sources, and help you walk through them all to find the best blend of coverage and cost.
TrustedChoice.com Article | Reviewed by Paul Martin
©2023, Consumer Agent Portal, LLC. All rights reserved.
Statista
santanderconsumerusa.com