Everything to Know about DIY House Building
(It's time to put your handiwork to the test)

Having trouble finding your dream home? Why not just build it yourself? After all, when you build a house yourself you know exactly what's going into it (besides blood, sweat, and tears).
Now, before you say no, or yes for that matter, hear us out. We piled together a lot of great information right here to help you weigh the pros and cons. Plus, Pinterest is probably chock-full of step-by-step guides on how to build your own home out of pallet wood on a shoestring budget.
So let's talk about it.
How Much Does It Cost to Build Your Own Home?
Well, how fancy are ya? For most DIY home builders, it costs between $150,000 and $430,000 to build a home. Now, maybe you think that's way cheaper than buying the kind of home you want. But keep in mind that estimate doesn't include land costs, construction loans, and how much work you actually do yourself vs. hiring someone.
How Long Does It Take to Build a House?
Definitely longer than writing a check for an already-built home, but at least your lengthy wish list will be fulfilled. And don't you want it all when it comes to a time/financial investment like this?
Most homes will take around seven months to build, but weather, construction material supplies, custom design changes, and the number of snack breaks can all drag out the process. To be safe, plan for your DIY house building to take a good, solid eight months or more.
Pros vs. Cons of DIY House Building
Taking on a DIY house building project is no small task (even if you're building a tiny home). So you'll definitely want to weigh the pros and cons as seriously, or more so, than if you were putting all your money on the Super Bowl. These are serious decisions! Here are a few of the advantages and disadvantages to think about when building your own home.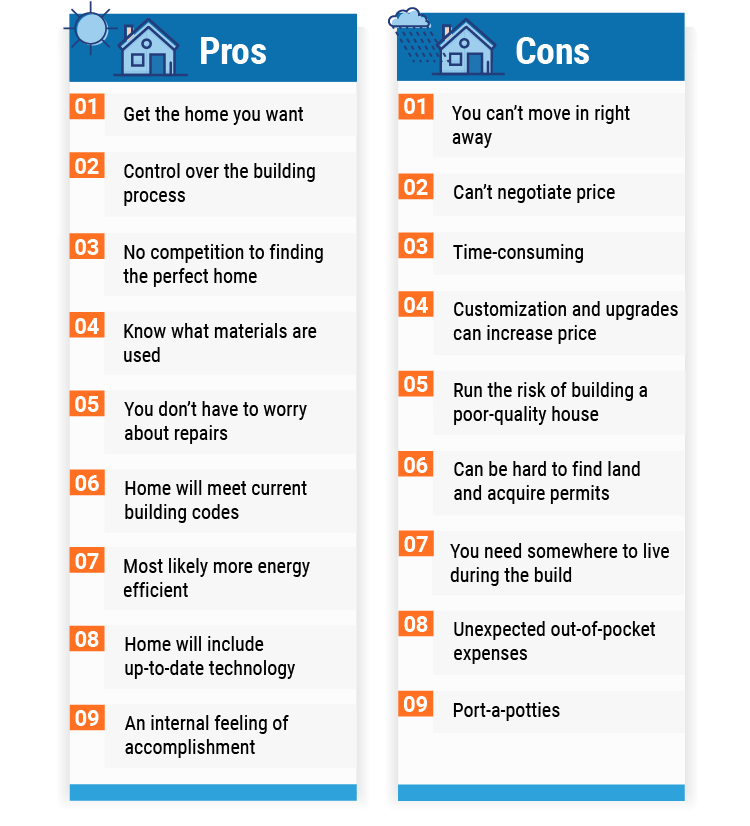 What to Consider Before Building Your Own Home
Before you decide if building your own home is the right call, and loooong before you start building, there are a few key decisions you'll need to make.
Full DIY or half DIY: If you plan on going all-in 100% DIY, make sure you're ready to follow through until the end, because their will be hiccups. Your game plan needs to include thorough budgeting, scheduling, design, interacting with all the trades, buying materials, performing quality control and adhering to building standards—whew. If you're not feeling up to the task, you may want to hire a contractor to take some of the load off—no harm in that.
Know your budget: Just like completing DIY upgrades to an existing home, having a budget is necessary. You don't want to get stuck with half a house and no money.
Understand all the costs: Make a list of every possible cost you can think of that's associated with building your house. Don't forget hidden costs like construction upgrades and inspections, cost overruns, and fees for missing deadlines. Oh, and new appliances. And furniture. Oh, flooring too. And definitely not the landscaping. Other than that, you should be good.
Pick a location: Choosing the plot to build your home on is not only important for making your dream home wishes come true, but will affect the type of house you build. Think about whether you want to be in a "mature" or new neighborhood, want a corner lot, a house near public transportation, enough land for kids, HOAs, fees, etc.
Save on Home Insurance
Our independent agents shop around to find you the best coverage.
Steps in Building a Home
So, you've weighed the good and bad, you understand your budget and time constraints, and know that building a house is the right decision for you. Awesome. Here are the next steps to take to actually get building:
Buying the land
Pre-closing steps
After closing steps
Hiring subcontractors
Buying materials
Site & foundation*
Framing*
Exterior masonry/miscellaneous tasks
Roofing
Cornice & siding
Plumbing rough*
Heating & cooling rough*
Electric rough*
Insulation
Ceiling & wall covering
Trim & cabinets
Interior paint
Final finish & trim*
Final clean up
Move-In
Feet up
NOTE: Steps with an asterisk mean that a builder will need to check the quality of work before you can continue with construction.
Make sure you do as much research as humanly possible before breaking ground. This is a big project after all, probably the biggest since that six-tiered Barbie birthday cake you made. But hey, nothing beats knowing that every time your house develops a problem, it was totally your fault. Welp, happy building!
©2022, Consumer Agent Portal, LLC. All rights reserved.
https://www.motherearthnews.com/diy/the-pros-and-cons-of-building-a-home-zbcz1703
https://www.daveramsey.com/blog/building-a-house