If Your Basement Floods, What Does Insurance Cover?
And where you might be left exposed

Homeowners have a variety of risks to think about when it comes to owning a home, including the possibility of flooding. So what happens if your basement is flooded? We'll tell you, we'll also tell you if you're covered.
The good news is that an independent insurance agent can help you prepare for the risk of flooding and other potential events that might occur as a homeowner. They've not only seen and handled a variety of claims, but they understand how big of a role location and the type of event that causes flooding affects your coverage. Here's how they'd protect you in the event that your basement is flooded.
What Happens if My Basement Floods?
To start, you could be looking at some serious damage, and the chances of it happening to you are quite high. Check out these stats according to Water Damage Defense.
98% of basements will experience a flood in their lifetime
Flooding costs the insurance industry $2.5 billion every year
14,000 people experience a water damage issue daily at home or work
If your basement floods, you'll need to take the necessary steps to stop the flooding (if it's not caused by a rainstorm). This includes removing the water and determining whether your insurance will cover the damage or not. If the flood is caused by a natural disaster, you'll be looking at a different set of insurance claim steps than if it's a result of burst pipes or a leaking toilet.
What Insurance Is Going to Help Protect Me in a Flood?
A flooded basement can rot your sheetrock, weaken support beams, and destroy your electrical system, so the damage needs to be assessed and taken care of as quickly as possible. There are two types of insurance policies that will protect you in the event of flooding, depending on the cause, and that's your homeowners insurance policy or flood insurance. Here's a breakdown of what each one covers.
Homeowners insurance: Homeowners insurance will cover flood damage if it's caused by frozen burst pipes, broken appliances, leaking water heaters, or an overfilled tub, sink, etc.
Flood insurance: Flood insurance covers flood damage from natural waters, like rain, waves, streams, rivers, etc. and will cover damage and loss to your home and also to your personal stuff.
Flood insurance is not included in your homeowners policy, it needs to be purchased separately. An independent insurance agent can help you determine whether you're in a flood zone. Sometimes even those not in a flood zone need insurance.
Do I Really Need Flood Insurance?
If you're in a designated flood zone, yes, you do. One inch of water in a home can lead to $21,000 in damage, and without flood insurance, that's coming out of your pocket. There's even a chance that your mortgage lender will require that you have it if your home is in a high risk flood zone. The Federal Emergency Management Agency (FEMA) has dedicated more than 20,000 counties in the US as potential flood zones. While some private insurers sell flood insurance, most homeowners purchase it through the National Flood Insurance Program (NFIP) run by FEMA. Even though policies are sold through the federal government, an independent insurance agent can obtain the insurance for you. Be aware that there is a 30-day wait period to receive flood insurance, so don't wait on taking action.
Can Property Coverage Help in This Situation?
Understanding the difference between property and homeowners insurance can be confusing. But think of property insurance as the toolbox, and other policies like homeowners insurance, flood insurance, earthquake insurance, and liability insurance as the tools inside the toolbox. If your property insurance includes flood insurance, then it will protect you and your property if a rainstorm floods your basement. Once again, flood insurance is not automatically included in property coverage, so you must add it separately.
What About Liability Coverage if My Basement Floods?
Liability coverage is designed to protect you should a third party get injured on your property. Let's say your basement floods and your next-door neighbor comes over to look at the situation or to help you clean up the damage. If they slip and fall on the floor and sue you, your liability coverage that's included in your homeowners insurance policy will protect you.
Liability coverage protects homeowners in the following ways:
Payment of legal fees: Liability coverage reimburses homeowners for court and attorney fees, as well as any settlements they're ordered to pay in the event they are held responsible for an incident.
Medical payments: Liability coverage also takes care of fees associated with treating any third-party injuries that occur on your property due to a covered peril, like slippery floors.
Slips and falls are one of the most common insurance claims, and dealing with a lawsuit is a hassle. Liability coverage makes sure you aren't dealing with the financial repercussions out of pocket.
Umbrella Coverage for Homeowners
Depending on your home and other factors, you may want to consider umbrella coverage to help extend your liability limits. Umbrella insurance helps increase your protection beyond the liability limits offered in your homeowners policy. If your liability limit is $300,000, adding an umbrella policy can increase that limit up to an extra $1 million in coverage.
While flood damage is not covered by liability insurance, there are a variety of risks that are. No homeowner is exempt from the most common lawsuits that include dog bites, fallen trees, hired help injuries, and intoxicated house guests.
It's important to consider all the common legal risks to homeowners that could warrant an umbrella insurance policy.
What Are Some Other Common Home Insurance Claims?
While liability claims happen, they're not the most common home insurance claims. In fact, property damage claims account for 98% of insurance claims each year. Losses result from a variety of natural disasters such as fire and lightning, wind and hail, and water damage and freezing.
Homeowners Insurance Losses by Cause, 2014 to 2018
(Percent of losses incurred)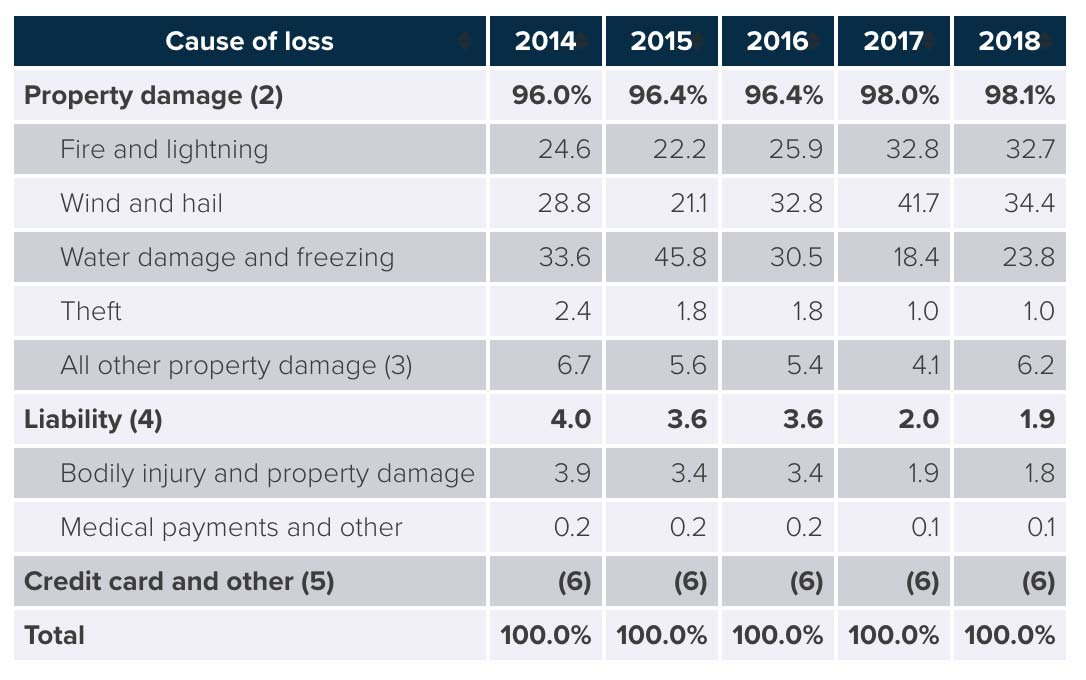 (1) For homeowners multiple peril policies (HO-2, HO-3, HO-5, and HE-7 for North Carolina). Excludes tenants and condominium owners policies. Excludes Alaska, Texas, and Puerto Rico.
(2) First party, i.e., covers damage to policyholder's own property.
(3) Includes vandalism and malicious mischief.
(4) Payments to others for which policyholder is responsible.
(5) Includes coverage for unauthorized use of various cards, forgery, counterfeit money, and losses not otherwise classified.
(6) Less than 0.1 percent.
Source: ISO®, a Verisk Analytics® business.
From 2014 to 2018, the most commonly submitted claims by homeowners were a result of wind and hail damage. Close behind was water damage and freezing. Property damage, fire and lightning, and theft were also commonly reported, as were bodily injury claims, theft, medical payments, and credit card misuse.
Homeowners Losses Ranked by Claims Frequency, 2014 to 2018 (1)
(Weighted average, 2014-2018)

(1) Claims per 100 house years (policies). For homeowners multiple peril policies (HO-2, HO-3, HO-5, and HE-7 for North Carolina). Excludes tenants and condominium owners policies. Excludes Alaska, Texas, and Puerto Rico.
(2) Includes vandalism and malicious mischief.
(3) Includes coverage for unauthorized use of various cards, forgery, counterfeit money, and losses not otherwise classified.
Source: ISO®, a Verisk Analytics® business.
What about Extra Endorsements? Do I Need Them?
When looking into your options for flood coverage, you may be able to purchase a separate flood insurance policy or add a flood endorsement to your existing policy. With an endorsement, you go through the same carrier as your home insurance policy and pay an extra fee for flood coverage. A separate flood policy does not need to be purchased through the same carrier as your homeowners policy and can be purchased separately from your policy. An independent agent can help you determine which option is best to protect you.
Flooding is the not the only risk that homeowners may consider endorsements for. Other common endorsements include:
Home-based business endorsements: This endorsement protects you if you run a business out of your home. If you have a home office or studio, home-based business endorsements ensure you have adequate liability coverage.
Personal property endorsements: There are limits on standard homeowners policies when it comes to personal property items like jewelry and electronics. If you have highly valuable personal property you want to protect, you may want to look into this endorsement.
Sewer backup endorsements: Sewage backup is not usually covered in your homeowners policy.
Earthquake insurance: This coverage protects homeowners against home damage due to earthquakes, mudslides, and other related natural events. Standard homeowners policies do not provide coverage for these types of disasters.
Here's How an Independent Insurance Agent Would Help
When it comes to protecting homeowners against flood risks and other potential perils, an independent insurance agent can help you think about these risks before they happen. They search through multiple carriers to find providers who specialize in this type of insurance, deliver quotes from a number of different sources, and help you walk through them all to find the best blend of coverage and cost.
©2022, Consumer Agent Portal, LLC. All rights reserved.