Can My Homeowners Insurance Protect Me from Common Holiday Decorating Hazards?
And how do I know if my coverage is strong enough to handle the holiday season?

Decorating for the holidays is meant to be a fun, festive activity, but it's not one that comes without its own set of unique risks. Especially if you've got a live tree in your house, there are all kinds of hazards that need to be considered. So what happens if your carefully hung stockings catch fire, or your tree goes up in flames like a roman candle?
Luckily an independent insurance agent can not only help you consider these risk factors, but also get equipped with the right coverage to make sure you're as safe and prepared as possible. They'll get you all the homeowners insurance coverage you need, just in case decking the halls goes horribly wrong. But first, here's a closer look at why having the right protection for the holidays is so critical.
Holiday Decorating Hazard Stats
While you're getting in the holiday spirit, it's crucial to keep safety as a top priority. Real Christmas trees are a well-known hazard, especially if they're too dry. In the period between 2011-2015, a reported 120 unintentional house fires were caused by burning Christmas trees. If that's not disturbing enough already, check out a few more holiday-themed disaster stats that might just inspire you to call up your independent agent sooner, rather than later.
Number of house fires caused by burning Christmas trees in the United States from 2000 to 2015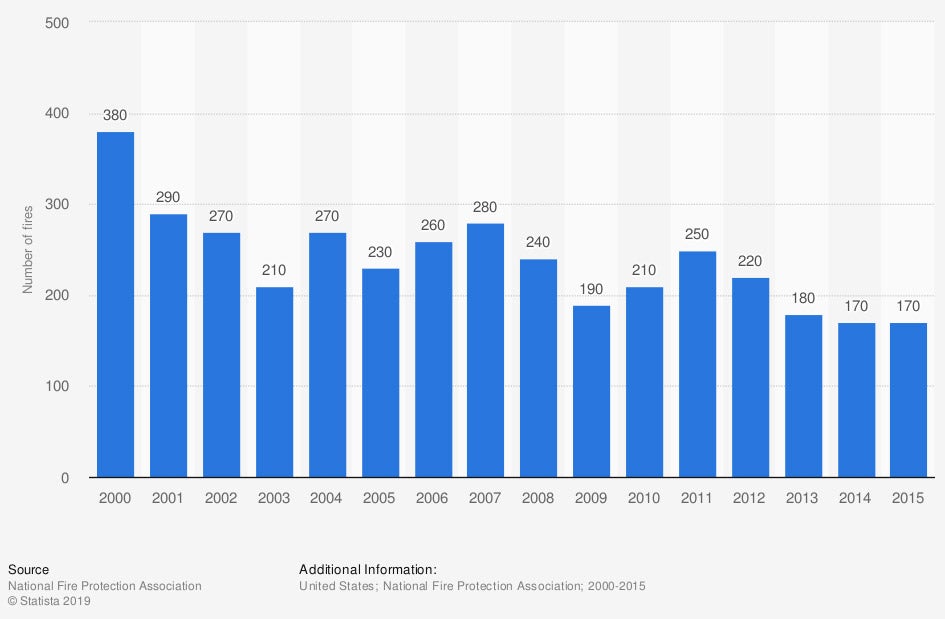 Over a span of 15 years, more than 150 Christmas trees caused house fires annually. In the year 2000, 380 trees burned to the point of causing house fires. As of 2015, this number had fallen quite a bit to 170 trees, but that should still be enough to motivate decorators to take extra precautions.
Direct property damage from house fires due to burning Christmas trees in the United States from 2000 to 2015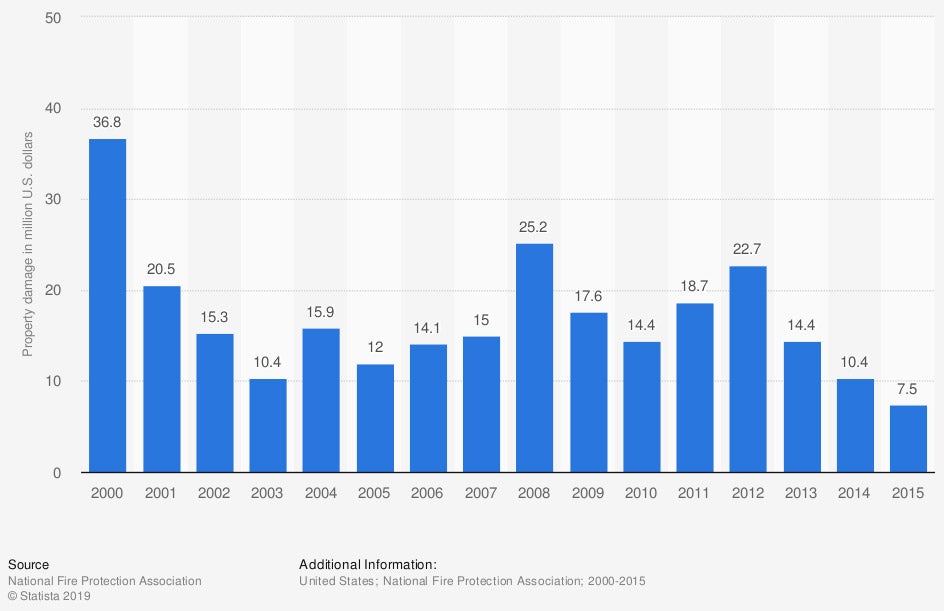 Of course, if the number of house fires caused by burning Christmas trees isn't shocking enough, perhaps the money lost due to property damage will be. In the year 2000, $36.8 million went up in flames to repair property damage caused by burning Christmas trees. Fifteen years later, this amount had dropped quite a bit, but still remained in the millions. A reported $7.5 million in property damage was reported for the year 2015 due to burning Christmas trees alone.
Average annual number of house fires caused by burning Christmas trees in the US from 2011 to 2015, by heat source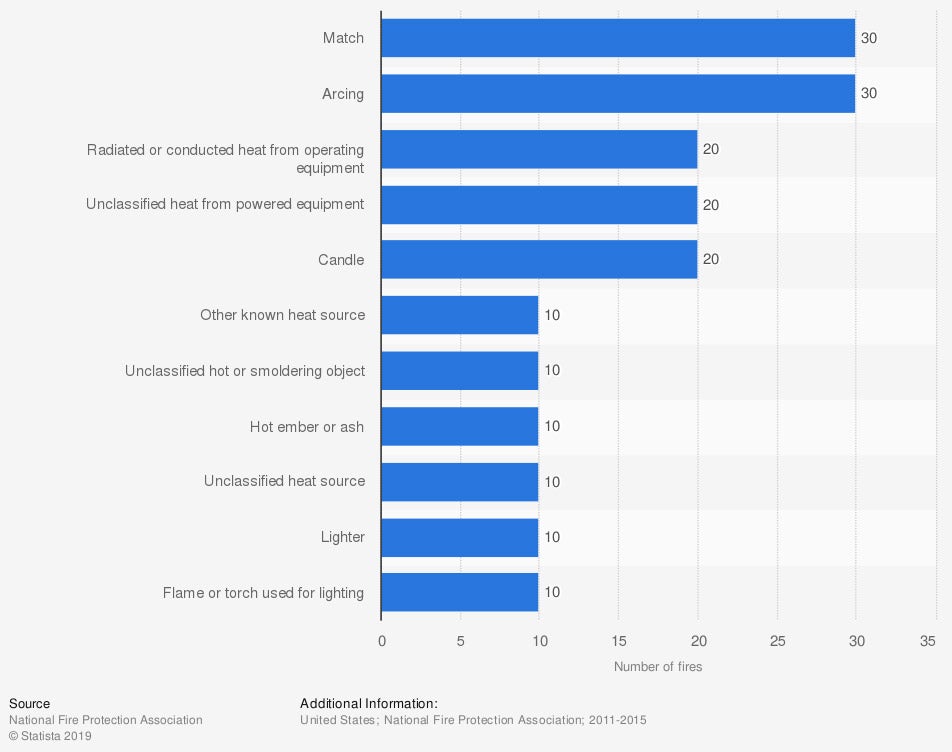 It's helpful to know what caused these trees to go up in flames, to be able to prevent mishaps from occurring in your own home. The top two causes of Christmas tree fires reported between 2011 and 2015 came to a tie between matches and arcing, otherwise known as an overloaded circuit. Operating and powered equipment tied with candles for the second-highest contributors to Christmas tree fires during the observed period.
Average annual number of deaths and injuries due to house fires caused by burning Christmas trees in the US from 2011 to 2015, by factors contributing to ignition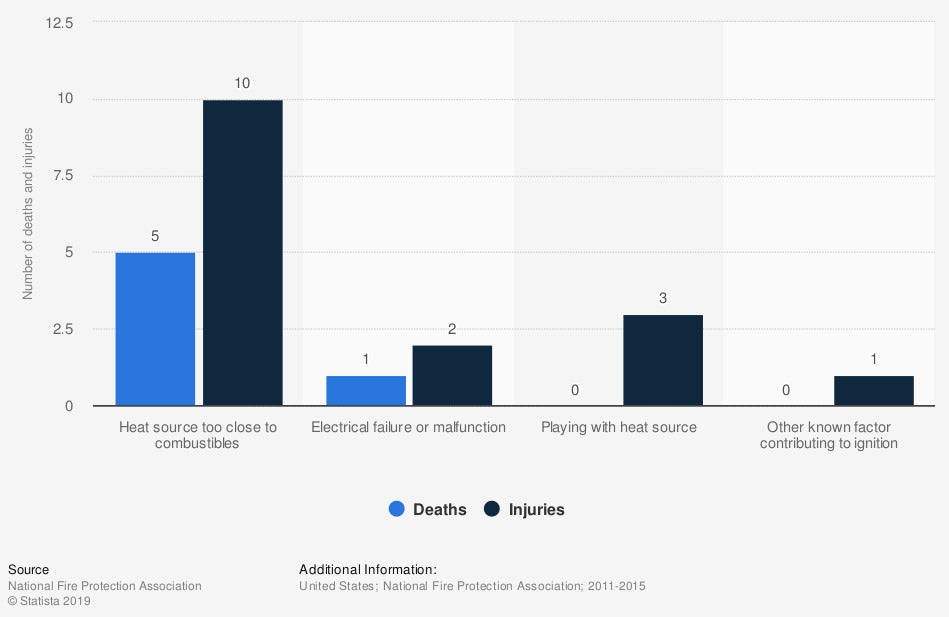 House fires, burnt trees, and property damage are all terrible, but nothing's more tragic than deaths that occur due to decorating disasters. During the observed period, five deaths were recorded due to a heat source being too close to combustible materials over the holidays, along with 10 injuries stemming from the same cause. A single death was reported due to electrical failure or malfunction, and three injuries were caused by playing with a heat source.
Common Around-the-House Holiday Hazards
Aside from crispy Christmas trees, there are other common scenarios that can wreak havoc on your home, family, and holiday celebration if not properly prepared for, like:
Falls from ladders, steps, porches, etc.: Many holiday injuries are actually caused by falls. With all the holiday excitement, it's critical to always remember to watch your step, especially if you're up on the roof adjusting Rudolph.
Objects above the fireplace: Though those stockings look gorgeous dangling off the mantle, their proximity to the flames in your fireplace can quickly get too close for comfort, especially if your holders are unsteady.
Overloaded electrical outlets: When you've got a string of Christmas tree lights and other electric-powered decorations all plugged into the same outlet, you've got the perfect recipe for another kind of house fire.
Cuts from ornaments: Those antique glass ornaments may be beautiful, but they're also fragile. Believe it or not, deep cuts from stepping on ornaments are another one of the most common holiday injuries.
Slipping on ice: Of course for many folks, the holidays also bring a specific type of weather. Slips and falls on snow, sleet, and ice are among the most commonly reported holiday injuries by far.
Your festive decorated house doesn't have to resemble a cringeworthy scene from Home Alone. With some extra attention given to potential hazards around the home, you can seriously help ensure that your holiday season only brings warm, happy, (and safe) memories.
Tips for Decorating Safely
Now that you're aware of all the ways your holiday decorations and festivities may be secretly plotting to harm you, it's time to put these important decorating safety tips into practice:
Clear the fireplace before using it: If you're one of the folks who actually uses your fireplace, take the extra time to remove stockings and other objects from the surrounding area before lighting that first log.
Distribute electric-powered decorations evenly: Make sure to never overload one electrical outlet. While surge protectors may help, even they come with limits. Never plug one power strip into another one, and be sure to divide the electrical load evenly between your outlets.
Keep indoor lights away from flammable materials: Make sure that all lights are a good distance away from drapes, carpeting, and furniture.
Set a timer: When going to bed or out away from the home, be sure to set a timer on those holiday lights and mechanical decorations in order to help prevent fires, and conserve energy.
Don't overdo powered ornaments: Those ornaments that require being plugged into one of the bulb sockets on your string of lights (like that talking Starship Enterprise) should be used sparingly, with no more than two per strand. But really, too many could of those could get tacky, anyway.
Decorating for the holidays doesn't have to turn into a nightmare. Keep these important decorating safety tips in mind so you and your family will be able to reap the rewards of relaxing and celebrating in a festive, but safe, home.
How Do I Know if I Have Enough Home Insurance to Protect Me?
Another important consideration for the holidays, and what should perhaps be priority number one, is making sure that your homeowners insurance is up to snuff. You'll want to double-check your specific policy with your independent insurance agent to be extra certain that you're fully covered in the following areas:
Possible damage to your home: You'll need to review your coverage limits for the dwelling category of your policy along with your independent insurance agent. Remember those Christmas trees that caused millions of dollars in property damage after they went up in flames? It's homeowners insurance that would help cover that.
Possible damage to your personal property: Aside from burnt stockings, fires from your fireplace or Christmas tree, or other decorating mishaps could result in damage or destruction of your personal property like furniture, clothing, or even priceless antique ornaments. You'll need to make sure the property damage section of your homeowners policy has a high enough limit to protect your stuff from possible holiday disasters.
Possible injuries and other accidents: Perhaps the most tragic incidents of all during the holidays are injuries or property damage that affect others, especially beloved guests in your home. The liability coverage section of your homeowners insurance reimburses for these mishaps when they affect third parties. Check your limits before the holidays hit.
Working together with your independent insurance agent to review your homeowners insurance before the holidays arrive is crucial to ensuring your family has a positive celebration together. If you're lacking in any important coverage areas, your independent insurance agent can help you increase your limits, or bridge the gaps by suggesting endorsements or other add-ons.
Here's How an Independent Insurance Agent Would Help
When it comes to protecting you and your home against Christmas tree fires and all other unfortunate holiday incidents, no one's better equipped to help than an independent insurance agent. Independent insurance agents search through multiple carriers to find providers who specialize in homeowners insurance, deliver quotes from a number of different sources, and help you walk through them all to find the best blend of coverage and cost.
TrustedChoice.com Article | Reviewed by Paul Martin
©2021, Consumer Agent Portal, LLC. All rights reserved.
Statista
iii.org
firstenergycorp.com