Rebuilding After the Joplin Tornadoes
How the right coverage helped victims, and how you can prepare for your own worst disasters.

Insurance provides coverage for catastrophes of all kinds, even devastating natural disasters. When the Joplin Tornado struck in 2011, it cost billions of dollars in damage and hundreds of deaths. Fortunately, coverages like property insurance were able to help the victims get back to their lives. If insurance can rebuild after a disaster like this, imagine what the right coverage can do for you.
An independent insurance agent can help you find the best protection for your own disasters, even if they're not quite as tragic as this one. But first, here's a closer look at the Joplin Tornado and all the ways insurance was able to help victims recover.
What Was the Impact of the Joplin Tornado?
The tornado that struck Missouri in 2011 is the deadliest on record since modern record keeping practices began in 1950. The Joplin Tornado is also one of the costliest tornadoes in the nation's history.
Quick stats about the Joplin Tornado:
158 deaths were reported
More than 1,000 injuries were reported
Ranked as the 7th deadliest tornado in US history
More than 4,000 homes were destroyed
Nearly 3 billion in damages were reported
Winds exceeded 200 MPH
Ranked as an EF-5 in terms of strength, which applies to less than 1% of all tornadoes
Lasted for 38 minutes
Stretched across 22 miles of ground
Affected nearly 1/3 of the town of Joplin
Though the Joplin Tornado was certainly a tragedy, fortunately the victims were able to receive financial aid and other assistance through insurance and relief efforts.
What Were the Deadliest Tornadoes in US History?
Deadliest Tornadoes in the History of the United States as of 2019, by Number of Victims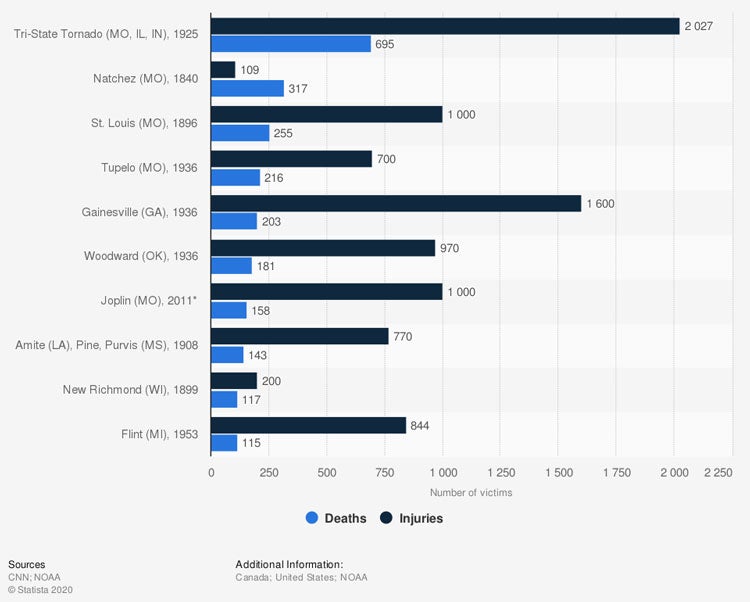 Though the Joplin Tornado claimed 158 lives and injured 1,000, it still was far from the deadliest tornado to ever hit the US. In 1925, the Tri-State Tornado, which affected Missouri, Illinois, and Indiana, claimed 695 lives and injured 2,027. The second-deadliest tornado struck Natchez, Missouri, in 1840, killing 317 and injuring 109 — the only tornado with more fatalities than injuries. The Joplin Tornado ranks 7th overall for the US's deadliest tornadoes in history.
Who Provided Help to the Victims of the Joplin Tornado?
In 2013, the Joplin Homeowners Assistance Program was created to provide financial assistance to homebuyers in the recovery area. Since the program began, it has provided $15.3 million towards down payments and closing costs, aiding the buyers of 504 different homes. The program's main goal is to encourage the regrowth of single-family housing in the affected areas.
Another assistance program, Habitat for Humanity, was responsible for constructing 105 houses in Joplin following the tornado. The program also offers other affordable housing projects and helped to repair 80 additional homes following the disaster.
Additionally, the Joplin Tornado First Response Fund, created in March of 2014, has provided nearly $1 million in assistance since the tornado. The fund offered grants to 27 different agencies that cater to victims' needs and relief including emergency radios, wheelchairs, housing and furnishings, storm shelters, children's equipment, and more.
How Did Property Insurance Help Victims Get Back to Their Lives?
Fortunately for victims of the Joplin Tornado, having property insurance allowed them further assistance in resuming their lives. Property insurance helped victims of the Joplin Tornado in the following ways:
Rebuilding homes: Property insurance coverage pays to rebuild homes in the event they are destroyed by a covered peril, such as a tornado. Victims of the Joplin Tornado were able to rebuild homes that were destroyed by the disaster, thanks to property insurance.
Ending homelessness: Many victims of the Joplin Tornado were left temporarily homeless following the storm. Fortunately their property insurance coverage provided the financial assistance necessary to rebuild their homes.
Replacing personal property: Victims of the Joplin Tornado were largely able to replace, repair, and recover from lost, damaged, or destroyed personal belongings such as clothing, furniture, silverware, etc. following the storm. Property insurance typically covers personal property up to 50% to 70% of the insured value of the structure of the home if it's lost/damaged/destroyed by a tornado.
Replacing property stored elsewhere: Property insurance also covered victims' personal belongings stored off premises, such as in storage units, following the disaster. Limits on off premises stored property are sometimes 10% of the total value of personal property coverage, but additional coverage can be added.
Mending foliage around homes: Property coverage also includes reimbursement for foliage around the home, including trees, plants, and shrubs if they are damaged or destroyed by a tornado. Limits typically cap at $500 per plant, but coverage amounts can be increased. Victims of the Joplin Tornado were able to repair their gardens and general appearance surrounding their homes thanks to property insurance.
Hopefully you'll never have to submit property insurance claims for severe tornado damage, but it's still useful to note all the relief this coverage provided to victims of the Joplin Tornado, and consider how property insurance could protect you from other disasters.
Is Tornado Coverage Part of Every Homeowners Policy?
While windstorm damage coverage is often included in standard homeowners insurance policies, there are some exceptions. Fortunately for the victims of the Joplin Tornado, homeowners insurance should have included this important coverage. A total of 19 states require mandatory windstorm deductibles (for disasters such as tornadoes and hurricanes) on homeowners insurance policies, but fortunately Missouri isn't one of them.
Adding a windstorm insurance policy to homeowners insurance is highly recommended for folks who live in any of the states with mandatory windstorm deductibles, such as Louisiana and Mississippi, but otherwise it's not necessary to have it. Windstorm insurance protects against damage due to heavy winds beyond the limit available in a standard homeowners policy.
Without adequate windstorm coverage, a homeowner would have to pay for damage exceeding their policy's limit out of their own pocket. Also, those in the states with mandatory windstorm deductibles would be required to pay their deductible amount out of pocket. Talk with your independent insurance agent if you have any concerns on whether you're adequately protected against tornado damage to your home.
How Did Car Insurance Help Victims to Get Back to Their Lives?
Auto insurance also aided victims of the Joplin Tornadoes in returning to their lives. Having auto insurance helped victims of the Joplin Tornado in the following ways:
Repairs: For victims whose cars were badly damaged by the storm, auto insurance covered repairs to their vehicles under the collision section of their policies.
Replacement: Those victims whose cars were completely totaled by the tornado were able to obtain new vehicles through the help of their auto insurance.
Rental cars: While victims awaited repairs on their vehicles, auto insurance provided them with rental cars so they could still commute to work, run errands, etc.
Medical payments: The victims who sustained injuries during the Joplin Tornado were able to be compensated by their auto insurance policy for medical payments while receiving treatment.
Though not all car insurance claims stem from damage caused by destructive tornadoes, it's helpful to see just how auto insurance provided relief for victims of this huge tragedy in a myriad of ways. Auto insurance can also help you with many more common disasters you may face.
How Did Business Insurance Help Owners Get Back to Work?
Not all victims of the Joplin Tornado were just homeowners, many were business owners as well. Luckily, business insurance provided additional coverage that allowed business owners to reopen their doors and get back to work.
Business insurance helped victims of the Joplin Tornado in the following ways:
Loss of income: Business insurance includes coverage for lost income suffered during temporary closings due to covered disasters, including tornadoes. Business owners who were victims of the Joplin Tornado were able to recover lost income thanks to business insurance.
Property repairs: Business insurance covers damage to or loss of your business's physical property, including the structure of the building and often the inventory inside of it, due to a covered disaster like a tornado. The Joplin Tornado's victims were able to rely on their business insurance to help them rebuild their businesses from the ground up, repair less major damages, and to recover lost property such as inventory.
Lost employee wages: Business insurance also helps pay employee wages that are lost while a business is closed due to covered perils like tornadoes. Victims of the Joplin Tornado were able to compensate their employees during long shutdowns thanks to business insurance coverage.
Businesses close for all kinds of reasons, not just due to catastrophes like the Joplin Tornado. That being said, knowing all the ways business insurance provided relief to business owners following this disaster proves just how important coverage is to have for all potential disasters.
Are the Town and Victims of the Joplin Tornado Back to Normal Now?
Fortunately for the victims of the Joplin Tornado and the town itself, life has very much returned to normal. Payouts from homeowners insurance allowed victims to repair or rebuild their homes and end temporary homelessness. Auto insurance allowed victims to repair/replace lost or damaged vehicles, and business insurance allowed professionals to recover lost income and wages and get back to work.
The town of Joplin is now reportedly thriving. Nearly all citizens who had been displaced by the tornado have homes once again. Businesses reopened, and in fact, there are actually more businesses in Joplin today than before the tornado ripped through town. More than one million hours of volunteer work helped the town to get rebuilt and back on its feet. Though the Joplin Tornado was a disaster, the community seems to have successfully restored its beloved town.
Here's How an Independent Insurance Agent Can Help Protect You from Your Own Disasters
You'll hopefully never encounter a natural disaster as devastating as the Joplin Tornado, but independent insurance agents can certainly help protect you from your own disasters. Independent insurance agents search through multiple carriers to find providers who specialize in home, auto, business, and all other forms of insurance, deliver quotes from a number of different sources and help you walk through them all to find the best blend of coverage and cost.
TrustedChoice.com Article | Reviewed by Paul Martin
©2023, Consumer Agent Portal, LLC. All rights reserved.
Statista
iii.org
weather.gov
joplinmo.org
ky3.com
thegaurdian.com