Rebuilding After Minnesota's 35W Bridge Collapse
(How the right coverage helped victims, and how you can prepare for your own worst disasters.)

Insurance provides coverage for catastrophes of all kinds, even when infrastructures collapse. When Minnesota's 35W bridge collapsed in 2007, it cost millions of dollars in damage and more than a dozen deaths. Fortunately, coverages like car insurance were able to help the victims get back to their lives.
An independent insurance agent can help you find the right coverage for your own disasters, even if they're not quite as tragic as this one. But first, here's a closer look at the 35W bridge collapse and all the ways insurance was able to help victims.
What Was the 35W Bridge Collapse?
On August 1st, 2007, Minnesota's I-35W bridge near downtown Minneapolis collapsed into the Mississippi River beneath it. A construction project had been taking place on the bridge, and the structure gave out under the weight of rush hour traffic.
Quick stats about the 35W bridge collapse:
111 vehicles were involved in the incident
145 people were injured
13 deaths were reported
The final victim's body was not recovered until August 20th, 2007
$250 million was authorized by Congress to rebuild the bridge
It took over a year to complete the replacement bridge
The replacement bridge opened on September 18th, 2008
Design error and "inadequate load capacity" were sighted as the official reasons for the collapse by the National Transportation Safety Board. Though the bridge collapse was certainly a tragedy, fortunately the victims were able to receive financial aid through insurance, relief packages, and settlements.
How Does the 35W Bridge Collapse Rank among Historical Infrastructure Collapses?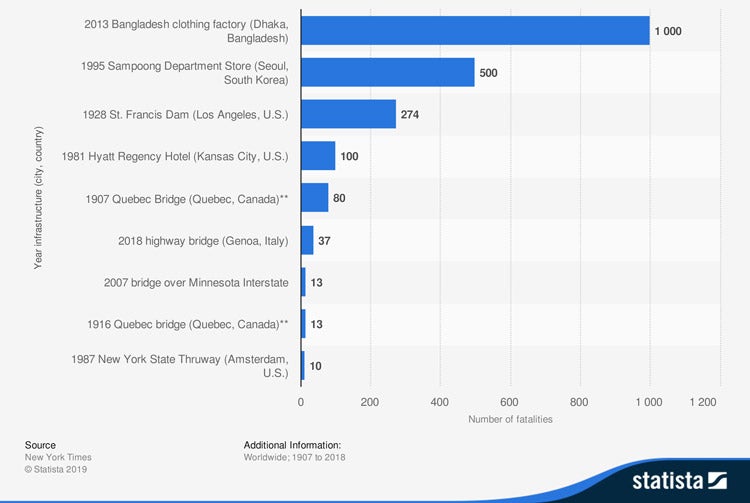 Number of Deaths in Major Historical Infrastructure Failures Worldwide Between 1907 and 2018
Minnesota's 35W bridge collapse ranks among the deadliest major infrastructure collapses worldwide over the last century. With a total of 13 deaths, the 35W bridge collapse ties for 8th place overall, along with the 1916 collapse of the Quebec bridge in Canada. The deadliest incident was 2013's collapse of a clothing factory in Bangladesh which killed 1,000 people.
Did the State Help Victims of the Bridge Collapse?
After the tragic bridge collapse, the state of Minnesota and former Governor Tim Pawlenty provided aid to victims of the incident. Financial assistance was offered in the following ways:
In November of 2007, Governor Pawlenty created the I-35W Emergency Hardship Relief fund, which provided $1 million in financial assistance and up to $10,000 in lost wages to the victims and families of victims of the bridge collapse.
In May of 2008, the governor signed a $38 million package for bridge collapse victims to help cover their financial losses and injuries.
The final form of assistance offered to victims came from the engineers behind the 35W bridge themselves, URS Corp, who paid out $52.4 million to bridge collapse victims in August of 2010.
How Did Car Insurance Help Victims to Get Back to Their Lives?
Fortunately for the bridge collapse victims, having auto insurance allowed them further assistance in resuming their lives. Auto insurance helped bridge collapse victims in the following ways:
Though not all auto accidents are as severe as a huge bridge collapse, it's helpful to see just how auto insurance provided relief for victims of this huge tragedy in a myriad of ways.
What Does Car Insurance Cover?
Car insurance provides tons of important coverage to drivers, from the obvious to non-obvious. The following forms of coverage are provided by standard car insurance policies across the nation:
Optional coverages under auto insurance include the following:
In the event of a weird circumstance, such as collision with a wild animal like a deer, a driver would need comprehensive coverage in order to be covered. It's important to consider comprehensive coverage for your vehicle for all those mishaps that may not immediately come to mind when choosing your policy. Your independent insurance agent can help ensure you walk away with all the coverage you need for unforeseen future events.
What Kinds of Things Won't Car Insurance Cover?
Though car insurance helps provide drivers with many forms of crucial coverage, unfortunately there are some areas it just can't take care of. Standard car insurance policies often have the following coverage exclusions:
Talk with your independent insurance agent about any concerns you may have about coverage exclusions under your auto insurance policy. They can help you find supplemental coverage to patch any holes for areas of concern.
Are the Bridge Collapse Victims and the State Back to Normal Now?
Fortunately for the state of Minnesota and victims of the tragic 35W bridge collapse, life has largely returned to normal. Payouts from auto insurance claims allowed bridge collapse victims to repair or replace their vehicles, and also offered some relief in the form of medical payments for injuries. Additionally, the relief fund and package issued by former Governor Pawlenty provided victims and their families further financial assistance to recover and move forward.
As for the state of Minnesota, thanks to the new bridge that opened the year following the incident, traffic patterns have been restored for well over a decade. The replacement bridge stands in the same location as the original bridge, allowing for an important flow of traffic across the Mississippi River. In 2011, a 35W Bridge Remembrance Garden was opened near Gold Medal Park in Minneapolis to serve as a memorial to the deceased victims of the bridge collapse.
Here's How an Independent Insurance Agent Can Help Protect You from Your Own Disasters
You'll hopefully never encounter an incident as tragic as a major bridge collapse, but independent insurance agents can certainly help protect you from your own disasters. Independent insurance agents search through multiple carriers to find providers who specialize in auto and all other forms of insurance, deliver quotes from a number of different sources, and help you walk through them all to find the best blend of coverage and cost.
TrustedChoice.com Article | Reviewed by Paul Martin
©2023, Consumer Agent Portal, LLC. All rights reserved.
Statista
iii.org
leg.state.mn.us