How the Right Insurance Helped Victims after Mt. St. Helens Erupted
And how the right coverage can protect you from other disasters.

The right insurance coverage protects against all kinds of disasters, including the most unpredictable and destructive. When Mt. St. Helens erupted in 1980, it cost the US more than a billion dollars in damages, destroyed hundreds of homes, and claimed dozens of human lives. Luckily for victims of the ruthless blast, critical coverages like business and property insurance helped them resume their lives.
Fortunately for you, an independent insurance agent can help protect you from your own worst disasters, even if they're not quite as anxiety-inducing as a volcanic eruption. Independent insurance agents have handled claims for tons of catastrophes, so they're well-equipped to anticipate yours. But first, here's a closer look at the eruption of Mt. St. Helens and how insurance allowed victims to recover from the devastation.
What Was the Impact of Mt. St. Helens Erupting?
On May 18, 1980, Mt. St. Helens, a volcano in the Cascade Mountains in the state of Washington, caused the most destructive eruption in the nation's history. The eruption was paired with a magnitude 5+ earthquake and rained debris over land, property, animals, and people. The impact of this extreme natural event is still felt today.
Quick stats about the Mt. St. Helens eruption:
Mt. St. Helens stood at 9,677 feet tall before the blast
After the eruption, the volcano lost 1,300 feet of height
The eruption also caused the largest landslide ever recorded
230 square miles of forest got destroyed within minutes
The blast traveled at 300+ MPH
900,000 tons of ash were cleared from around the state
The blast claimed thousands of animal lives
57 people were killed
More than 200 homes were destroyed
More than 185 miles of roads were damaged
Timber, civil works, and agricultural damages were estimated at $1.1 billion
Mt. St. Helens certainly shook things up for many residents of Washington, but fortunately victims of the blast were able to receive financial aid through insurance and relief packages.
How Does Mt. St. Helens Stack Up against Other Volcanoes?
Height of Select Volcanoes Worldwide (in meters)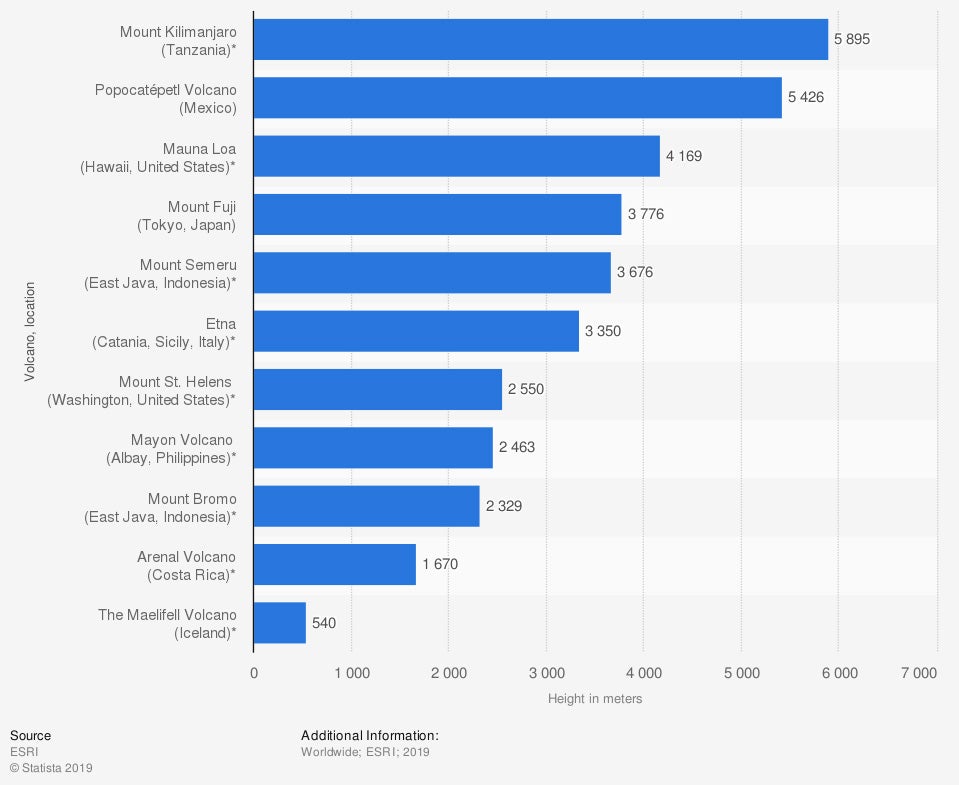 Mt. St. Helens is among the tallest volcanoes in the world, placing seventh highest overall. The volcano stands at 8,366 feet (2,550 meters) today. The tallest volcano in the world, Mount Kilimanjaro in Tanzania, stands at a massive 19,340 feet (5,895 meters), more than double the height of Mt. St. Helens.
Who Provided Help to the Victims of the Mt. St. Helens Eruption?
Congress provided relief to victims of the eruption of Mt. St. Helens by approving $950 million in emergency funds following the blast. The funding was distributed among the Federal Emergency Management Agency, the Small Business Administration, and the Army Corps of Engineers to help with various recovery efforts in Washington. Twelve different Federal agencies total were granted relief funding by Congress.
How Did Property Insurance Help Victims Get Back to Their Lives?
Victims of the Mt. St. Helens eruption were also able to get back on track thanks to property coverage provided by their homeowners insurance. Property insurance coverage provided relief for victims in the following ways:
Allowed homes to be rebuilt: Property insurance covered the repair or rebuilding of homes following volcanic eruption.
Provided an end to temporary homelessness: With more than 200 homes destroyed by the eruption of Mt. St. Helens, many victims of the blast were left temporarily homeless. Thanks to property insurance, victims were able to repair/rebuild their homes and resume life as they knew it before.
Funded personal property replacement: Property insurance also covers damage to personal property stored within the home such as clothing, furniture, knickknacks, etc., in the event its damaged/destroyed by volcanic eruption. Personal property is usually covered up to 50% to 70% of the value of the structure of the home. Property stored in storage units is also covered, typically up to 10% of the home's insured value.
While you'll hopefully never encounter a volcanic eruption, it's good to know that property coverage provided by your homeowners policy would protect you even in a massive catastrophe like this.
Ready to Save On Insurance?
Our independent agents shop around to find you the best coverage.
Is Volcano Coverage Part of Every Homeowners Policy?
Fortunately for homeowners, the answer is yes, for the most part. Homeowners and renters insurance provide coverage for property damage and destruction in the events of:
Volcanic blast
Airborne shockwaves
Ash
Dust
Lava flow
Fire
Explosion
The one caveat to coverage for homeowners or renters, when it comes to volcanic activity, is that these policies will not pay for damage resulting from earthquakes, landslides, mudflows, or land tremors following an eruption. For these perils, you'd need to add a separate earth movement policy to be covered.
Folks who live in areas with volcanoes in close proximity, or that are otherwise prone to earthquakes and landslides, etc., should seriously consider adding an earth movement policy to their homeowners coverage. Otherwise, victims of any of these natural disasters would have to pay for home and property damages out of pocket, and could potentially lose their homes.
How Did Car Insurance Help Victims to Get Back to Their Lives?
Auto insurance helped to provide even more relief to victims of the Mt. St. Helens eruption. Car insurance helped victims in the following ways:
Repairs/replacement: Victims whose cars were badly damaged or destroyed by lava flow, volcanic ash, or dust were able to repair or replace their vehicles as long as they had purchased comprehensive car insurance.
Rental cars: While victims awaited repairs on their vehicles, their auto insurance provided them with rental cars so they could still commute to work, run errands, etc.
Medical payments: Victims who sustained injuries were able to be compensated by their auto insurance policy for medical payments while receiving treatment.
Though your car insurance claims may not be as serious as those filed by victims of the Mt. St. Helens eruption, it's helpful to know exactly how comprehensive car insurance can provide relief following huge natural disasters.
How Did Business Insurance Help Owners Get Back to Work?
Many victims of the Mt. St. Helens eruption were not only homeowners, but business owners, too. Fortunately for them, business insurance provided additional coverage to help reopen their doors.
Business insurance helped victims in the following ways:
Protection against vandalism: Business owners policies provide coverage for property damage caused by vandalism or theft if looting occurs following a disaster like a volcanic eruption.
Loss of income: For business owners who purchase a volcanic eruption endorsement to add to their policy, business interruption coverage helps them to recover lost income while the business is closed due to damage from the disaster.
Property repairs: Business insurance covers property damage/destruction caused by the same volcanic perils as homeowners insurance does.
Lost employee wages: For those business owners who purchase the volcanic eruption endorsement, their business interruption coverage also provides replacement of lost employee wages while the business is closed for repairs.
Businesses close for all kinds of reasons, not just volcanic eruptions. Still, knowing how business insurance provided relief to business owners following the Mt. St. Helens eruption proves just how important coverage is for all possible disasters.
Is Everything Back to Normal Now?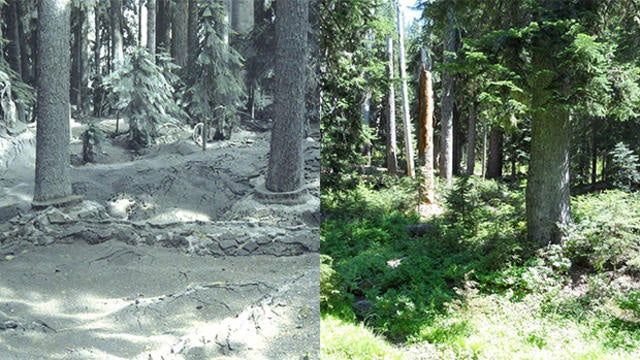 When Mt. St. Helens erupted, about 7,000 big game animals and 12 million salmon were killed in the blast. Spirit Lake, a popular tourist destination, and surrounding forests were also completely wiped out and buried in the aftermath. Today, however, much of the state's nature has largely recovered, though the process is still not complete. New ecosystems have formed over the past four decades and many species of animals have returned to the affected areas. The image above shows the same forest area in 1980 and 2013.
As for the people effected by the eruption, life has also largely been able to return to normal thanks to the right coverages. Because of homeowners insurance, many homes were able to be repaired or rebuilt and temporary homelessness was solved. Many vehicles were repaired or replaced thanks to auto insurance, and businesses were able to recover lost income and wages and reopen their doors thanks to business insurance.
Here's How an Independent Insurance Agent Can Help Protect You from Your Own Disasters
You'll hopefully never encounter disasters as destructive as the eruption of Mt. St. Helens, but independent insurance agents can help protect you from your own catastrophes. Independent insurance agents search through multiple carriers to find providers who specialize in home, auto, business, and all other forms of insurance, deliver quotes from a number of different sources and help you walk through them all to find the best blend of coverage and cost.
TrustedChoice.com Article | Reviewed by Paul Martin
©2023, Consumer Agent Portal, LLC. All rights reserved.
Statista
iii.org
cbsnews.com
cnn.com
livescience.com