How the Right Insurance Helped Victims after the Great Flood of '93
And how learning from it can help you can prepare for your own worst disasters.

We can't always anticipate when disaster will strike, especially one at the hands of Mother Nature. When the Great Flood of '93 hit, it claimed dozens of lives and caused billions of dollars in damage. Though the flood's impact was tragic, fortunately for victims, important coverages like flood insurance and business insurance were able to help them get back on track.
Fortunately for you, an independent insurance agent can help you anticipate and prepare for your own worst disasters, at least from a coverage standpoint. Independent insurance agents are well-versed in all kinds of catastrophes and the coverages needed for each one. But for starters, here's a deep dive into the Great Flood of '93 and all the ways insurance helped victims to recover.
What Was the Impact of the Great Flood of '93?
From May through September of 1993, nine states experienced the most costly and destructive flood in US history. Massive floodwaters impacted North Dakota, South Dakota, Nebraska, Kansas, Minnesota, Iowa, Missouri, Wisconsin, and Illinois, stemming from the Mississippi and Missouri Rivers. As one of the most significant disasters on record for the nation, the impact of the Great Flood of '93 is still felt today.
Quick stats about the Great Flood of '93:
About 50 deaths were reported
Total loss estimates ranged from $15-20 billion
Floodwaters completely inundated more than 75 towns
20 million acres were inundated
54,000 people were evacuated
50,000 homes were damaged or destroyed
Flooding affected certain areas for more than 200 days
Certain areas received more than four feet of rainfall
Many areas received more than 20 days of rain in July alone
Hundreds of levees failed
Traffic along the Missouri and Mississippi rivers was stopped for almost two months
Nearly 150 major rivers and tributaries total were affected
Though the Great Flood of '93 was certainly devastating, victims were fortunately able to receive financial aid through insurance and federal relief efforts.
The Great Flood of '93's Toll On the US Economy
Major Flood Events in the United States from 1980 to 2019, by Economic Cost (in billion US dollars)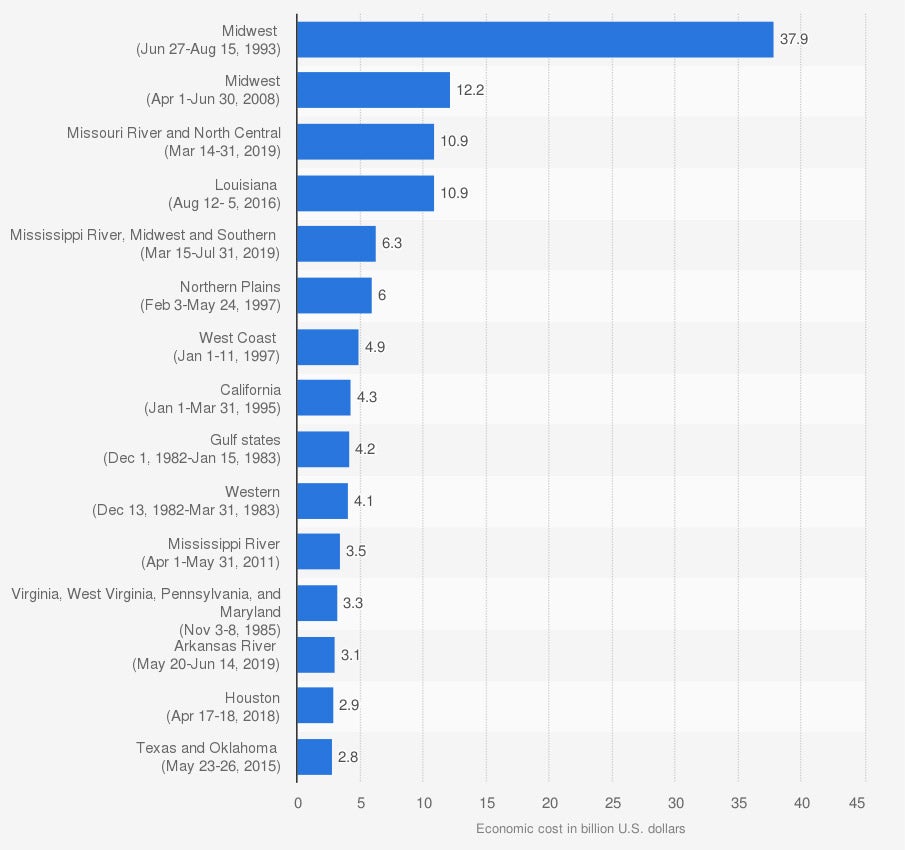 Source: NOAA ©Statista 2020
The Great Flood of '93 was the costliest and most devastating flood on record for the US. The flood caused a reported toll of almost $38 billion on the nation's economy. The second costliest flood on record also affected the Midwest in 2008, costing the US a reported $12.2 billion in damage, more than three times less than the economic impact of the Great Flood of '93.
Who Provided Help to the Victims of the Great Flood of '93?
Former President Bill Clinton signed a bill that provided $6.2 billion in federal assistance in August of 1993, before the flood had entirely finished. The federal relief package was distributed among farmers and other victims of the flood. A large portion of the funds was allocated to the Federal Emergency Management Agency (FEMA) to help repair housing and public facilities. Another portion went to small businesses in need of loans, and then to repair damaged roads and levees.
Is Flood Coverage Part of Every Homeowners Policy?
Unfortunately no, flood damage is not a covered peril under homeowners insurance. Because of this, victims of the Great Flood of '93 would have needed an additional flood insurance policy to protect their homes from damage. However, those who live in areas considered to be high-risk for flooding are often already required by their mortgage lenders to have flood insurance, so many victims could have possibly already had adequate coverage.
Flood insurance mends the gap in homeowners insurance and covers damage to homes and personal property due to floodwaters. Flood insurance is only available through the National Flood Insurance Program (NFIP), which is a part of FEMA. Without adequate flood insurance, victims of the Great Flood of '93 would have been forced to rely on the limitations of their homeowners insurance policies and had to pay for floodwater damage out of pocket.
How Did Flood Insurance Help Victims Get Back to Their Lives?
Flood insurance played a key role in helping victims of the Great Flood of '93 to rebuild and restructure their lives. Flood insurance coverage provided critical protection in the following ways:
Rebuilding homes: Victims with adequate flood insurance coverage were able to build their homes that had been badly damaged or even destroyed by floodwaters.
Ending homelessness: More than 50,000 residents were temporarily displaced from their homes during the flood. Thanks to flood insurance, homes were able to be restored which allowed victims to get back to their lives.
Replacing personal property: Contents coverage for personal property stored within the home is typically sold separately from coverage for a home's structure when it comes to flood insurance. Victims who purchased contents coverage were reimbursed up to the actual cash value of damaged, lost, or destroyed personal property.
Hopefully you'll never have to endure a flood as severe as the one that struck in 1993, but knowing the ways flood insurance helped protect victims of this massive catastrophe proves the amazing benefits coverage could offer you too.
Save on Flood Insurance
Our independent agents shop around to find you the best coverage.
How Did Car Insurance Help Victims to Get Back to Their Lives?
Fortunately for victims of the Great Flood of '93, auto insurance further helped them get back to life as they knew it before. Auto insurance helped victims in the following ways:
Repairs: Comprehensive car insurance, which covers damage caused by things other than collision, compensated victims for repairs to their vehicles.
Replacement: Victims whose vehicles were completed destroyed by the flood were able to replace their cars as long as they had comprehensive auto insurance.
Rental cars: While victims awaited repairs on their vehicles, their auto insurance provided them with rental cars so they could still commute to work, run errands, etc.
Medical payments: Victims who sustained injuries from the Great Flood of '93 were compensated by their auto insurance policy for medical payments during treatment.
It's helpful to see just how auto insurance provided relief for victims of this huge tragedy in a myriad of ways, even if your car insurance claims aren't ever from something as serious as a catastrophic flood.
How Did Business Insurance Help Owners Get Back to Work?
For those victims of the Great Flood of '93 who were also business owners, fortunately business insurance helped them to get back to work following the disaster — as long as they purchased additional flood coverage. Business insurance policies by themselves do not cover flood damage, so victims would have needed to add a separate flood insurance policy on top in order to be protected.
Business insurance with added flood coverage helped flood victims in the following ways:
Repairs to the business's structure: Flood insurance policies provide protection against property damage to businesses that's caused by flooding.
Replacement of inventory: Flood insurance covers flood damage to business inventory stored inside the structure.
Protection against bankruptcy: Flood insurance helps businesses stay afloat following a costly disaster by helping owners to repair their property and replace lost inventory, allowing them to avoid bankruptcy.
Replacement of lost income/wages: Business insurance with added flood coverage helps owners recover lost income while a business is temporarily closed for repairs, and also pays to compensate employees while they are out of work.
Listing all the ways business insurance provided relief to business owners following this disaster proves just how important coverage is to have for all potential disasters, not just record-breaking floods.
Are Victims of the Great Flood of '93 and the States Impacted Back to Normal Now?
Life has somewhat returned to normal for many victims of the Great Flood of '93, thanks to insurance. Compensation from flood insurance claims allowed many victims to repair or rebuild their homes and end homelessness. Car insurance allowed victims to repair or replace lost or damaged vehicles, and business insurance allowed professionals to recover lost income and wages and get back to work.
However, more than a quarter century after the flood struck the Midwest, some things still have not yet returned to normal. For example, a temporary post office constructed in Illinois following the flood is still being used today. Hundreds to thousands of residents were either inspired or forced to move further inland after the flood, and many of which never returned to their original locations.
Many businesses were unfortunately not able to be rebuilt due to the extent of damage not only to the structures, but to the land as well. That being said, many business owners were able to rebuild or otherwise recover and resume operations as normal. Other structures were also constructed following the flood to help life return to normal, such as the Clark Bridge built in 1994, which spans the Mississippi River from Missouri to Illinois.
Here's How an Independent Insurance Agent Can Help Protect You from Your Own Disasters
You'll hopefully never encounter a natural disaster as destructive as the Great Flood of '93, but independent insurance agents can certainly help protect you from your own disasters. Independent insurance agents search through multiple carriers to find providers who specialize in flood, auto, business, and all other forms of insurance, deliver quotes from a number of different sources, and help you walk through them all to find the best blend of coverage and cost.
TrustedChoice.com Article | Reviewed by Paul Martin
©2023, Consumer Agent Portal, LLC. All rights reserved.
Statista
iii.org
nwrfc.noaa.gov
weather.gov
usgs.gov
thetelegraph.com
nytimes.com
washingtonpost.com