If Someone Gets Sick at My Housewarming Party, Who's Responsible?
Plus how insurance can protect you from your own disasters.

One of the greatest rewards of becoming a new homeowner is being able to throw a party to celebrate. But it's not all fun and games, because responsible homeowners still have to keep the safety of their family, property, and guests in mind at all times. So what happens if a guest at your housewarming party gets sick after eating some old potato salad? Who's responsible for this mess, anyway?
Fortunately an independent insurance agent can not only help you answer this question, but also clear up any other insurance concerns you may have. Independent insurance agents are experienced in handling claims for all kinds of obscure situations, so they know exactly how to get you the coverage you need, long before you ever need it. Here's how they'd help protect you against a guest getting sick from the food at your housewarming party.
Who's Responsible If My Potato Salad Makes Someone Sick?
Even though your intentions for throwing a party may have been good, unfortunately, if one of your guests gets sick after consuming some sketchy potato salad, the blame will still fall on you as the homeowner. But even though your guest can absolutely sue you, you may not end up being held liable for their illness. If your guest can prove you caused them illness by one of the following methods, you could be in trouble.
You may be found liable if your guest can prove either of these claims in court:
Food poisoning: Whether you bought potato salad that was already gross upon leaving the store or you left it out baking in the sun, food poisoning is still a legitimate claim to get sued over.
Disease transfer: It's possible that the food itself wasn't bad, but just acted as a carrier for an illness that you or another member of your household spread. Guests can sue you for this, too.
Though a lawsuit would be the saddest possible ending to a housewarming party, fortunately, if you got sued by a sick guest, at least insurance coverage would help protect you.
Which Insurance Would Protect Me If My Potato Salad Poisoned My Guests?
Whether your potato salad had already turned or was just carrying another person's illness, either way your homeowners insurance would protect you if you got sued. Food poisoning and communicable disease transfer are both covered under standard homeowners insurance policies. Should you be found guilty in court for causing your guest's illness, your homeowners policy would offer critical protection through its liability coverage section.
Liability Coverage for Homeowners
Regardless of whether you actually end up being found guilty or not, if you get sued by a sick guest after your housewarming party, the liability coverage section of your homeowners insurance will protect you. Liability coverage offers two major forms of protection for homeowners:
Legal fee expenses: Liability coverage takes care of the costs for attorney and court fees if a homeowner is sued by a third party, including potato salad-poisoned party guests.
Medical payments: If your party guest was sick enough to require medical care, the liability coverage under your homeowners insurance would also cover the costs of their treatment.
Liability coverage provided by homeowners insurance can seriously help soften the blow of nasty lawsuits, especially those stemming from events that were supposed to be fun.
What Else Does Homeowners Insurance Cover?
Liability coverage is a crucial protection provided by homeowners insurance, but your policy also covers you for many other kinds of disasters. Homeowners insurance is designed to cover homeowners against many common threats, including those that aren't as obvious.
Homeowners insurance provides coverage for these perils:
Many natural disasters (i.e., windstorms, hail, lightning, and blizzards)
Falling objects
Fallen trees
Aircraft/vehicle damage
Fire and smoke
Water damage
Theft
Vandalism
Explosion
Riots
Your independent insurance agent can help you find out more about all the important ways your homeowners policy can protect you against threats to you and your home.
Save on Home Insurance
Our independent agents shop around to find you the best coverage.
What If I Don't Have Insurance?
If you throw a housewarming party, end up with a sick guest, and you don't have homeowners insurance, you might be in trouble. Without liability coverage, if your guest decides to press charges against you, you'll be stuck paying out of your own pocket for your lawyer and court fees, and any settlements you're charged with if the case rules against you. Legal battles can be extremely expensive, which is why it's best to get all the coverage you need just in case.
Do I Need to Add Endorsements to My Homeowners Policy?
When it comes to a sick guest at your housewarming party, you're not likely to need any extra endorsements on your coverage in order to fully protect you. The standard coverage under your homeowners policy would be enough in that scenario. However, there are other instances in which a homeowner would want to add an endorsement to their policy in order to be prepared with all the coverage they could need.
Here's a handful of common home insurance endorsements:
Your independent insurance agent can help you review your homeowners insurance policy and identify any areas where adding an extra endorsement may be the right choice for you.
Umbrella Coverage for Homeowners
Another additional coverage homeowners should consider is umbrella insurance, which helps to extend your existing liability coverage limits. Umbrella insurance is excess liability coverage that stacks on top of the liability coverage provided by your homeowners policy. Umbrella insurance policies typically come with limits of $1 million in coverage.
Though your nasty potato salad may not cause a super-expensive lawsuit, there are many common claims filed against homeowners that would absolutely require umbrella coverage, including:
Intoxicated guests: If one of the guests at your housewarming party had a little too much to drink, you as the homeowner would be held responsible for any property damage or bodily injuries the intoxicated guest caused to others.
Accidents: Third-party injuries on your property, such as slips on icy sidewalks or falls down unsteady stairwells, happen frequently and can be costly in terms of medical treatments.
Dog bites: Even injuries caused by a family pet can cost an average of $30,000 in claim settlements.
Fallen trees: If a tree on your property falls and damages your neighbor's home, the resulting damage could easily reach into the ten thousands.
Hired help injuries: If a domestic worker, such as a maid or gardener, is injured on your property due to your failure to maintain safe premises, the resulting lawsuit and medical payments required could get expensive, fast.
Though food poisoning incidents may not break the bank in the event of a lawsuit, it's still important to see all the scenarios in which umbrella coverage would be absolutely crucial to protect homeowners from expensive legal cases.
Other Common Home Insurance Claims
Not every homeowner will end up with a sick guest after their housewarming party, but knowing other daily risks all homeowners face can help you get set up with all the coverage you might need. Check out these stats regarding common home insurance claims.
Homeowners Losses Ranked by Claims Frequency, 2014-2018
(Weighted average, 2014-2018)
The most commonly submitted claims by homeowners in the 2014-2018 period were due to wind and hail damage. Following those disasters were claims made due to water damage and freezing. Property damage, fire and lightning, and theft were also commonly reported, as were bodily injury claims, theft, medical payments and credit card misuse.
Homeowners Insurance Losses By Cause, 2014-2018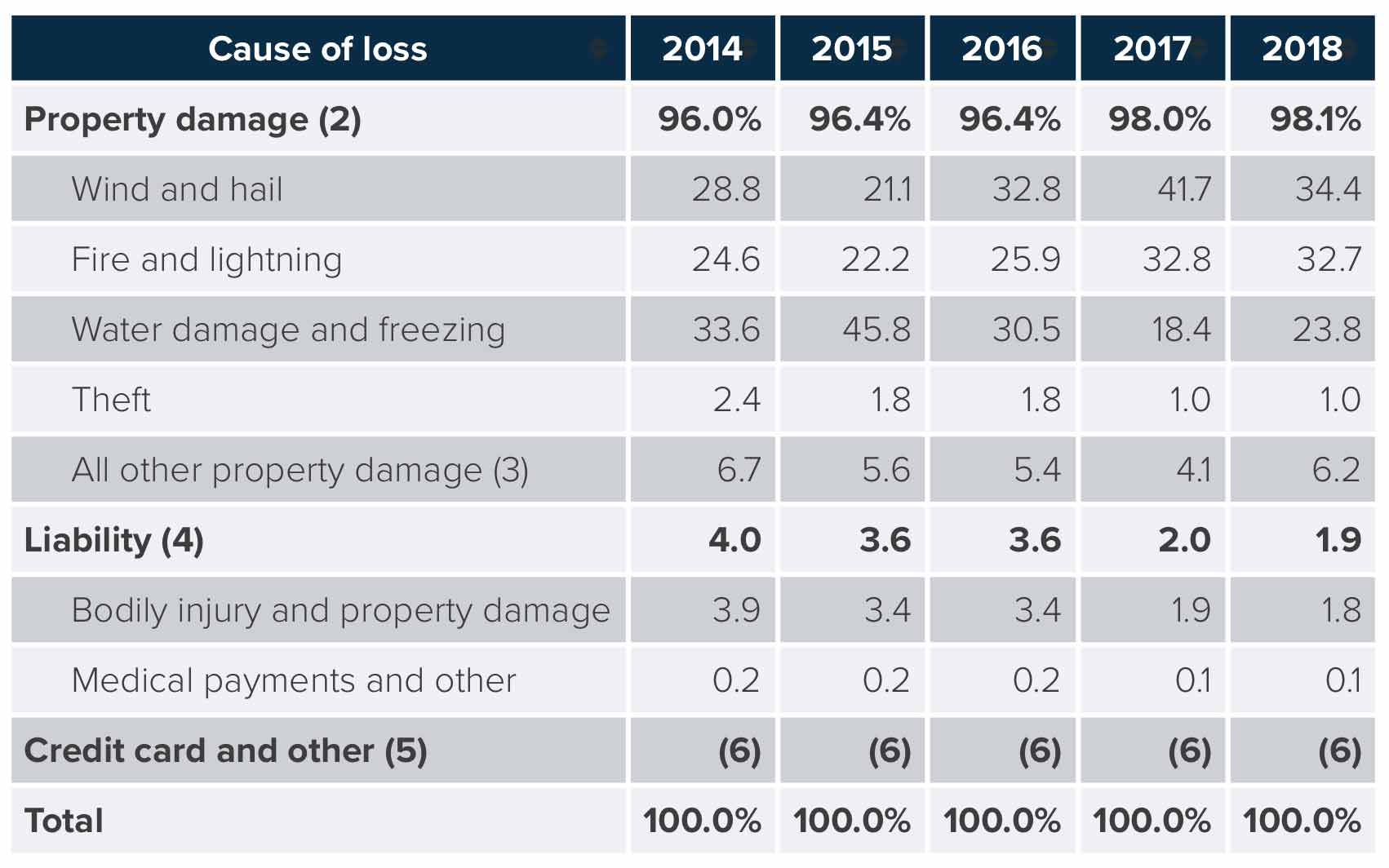 Property damage claims were by far the most frequently reported claims for home insurance between 2014 and 2018, with water damage and freezing specifically accounting for 33.6% of all claims in 2014. In 2018, wind and hail claims took the top spot for frequency, accounting for 34.4% of all home claims reported that year. Liability-related claims accounted for less than 4% of total claims each year during the observed period.
Here's How an Independent Insurance Agent Would Help
When it comes to protecting third parties against potato salad poisoning and all other strange incidents, no one's better equipped to help than an independent insurance agent. Independent insurance agents search through multiple carriers to find providers who specialize in homeowners and umbrella insurance, deliver quotes from a number of different sources, and help you walk through them all to find the best blend of coverage and cost.
TrustedChoice.com Article | Reviewed by Paul Martin
©2023, Consumer Agent Portal, LLC. All rights reserved.