How an Independent Insurance Agent Saves You Time
(And a Whole Lot of Money)

Are you looking for an agent that can save you time and money on your insurance? Look no further! An independent insurance agent is what you need. An independent agent is knowledegable and versatile.
Best of all they have options, and these options give you options and can save you hundreds and sometimes thousands of dollars in premiums.
At TrustedChoice.com, you can get matched up with a local independent agent and be on your merry way to better coverage and savings.
What Is an Independent Insurance Agent?
The independent insurance agent goes way back to 1896 when two agents decided there had to be a better way. They would pave the way to aid the consumer, aka you, in getting sufficient coverage with options and pricing that fit your budget.
Twenty agents banded together and formed an alliance called the Independent Insurance Agents of America (IIAA) on September 30, 1896. This day marks the start of the independent insurance agent advising you on all your personal, commercial, and health insurance needs.
What Products Do Independent Agents Sell?
Independent insurance agents can tailor each policy to your specific needs and price range. They can do this because they work with dozens of insurance companies. With these carriers, they can give you more options to choose from in all different price ranges.
The independent agent knows the complexities of the insurance market and is knowledgeable about the laws that could apply to each policy type.
An independent insurance agent is licensed to sell the following products:
Property and casualty insurance: This license means your agent can give you advice and sell you insurance to cover the property you own, like your home, car, and business property. The casualty insurance portion means they can give you advice about and sell you liability coverage to protect against legal responsibility for an accident that causes injuries to another person or damage to another person's belongings.
Life insurance: The life insurance license will give your agent the ability to sell and advise you about life insurance products such as term, universal, and permanent life insurance. They can even help with buy-sell agreements and key-person policies.
Health insurance: Health insurance has changed over the years, and having an agent that is knowledgeable and licensed to sell it is essential. The health insurance license will allow just that.
How an Independent Agent Saves You Time
No one likes to waste valuable time trying to find the best deal on insurance to fit their budget. That's the beauty of an independent insurance agent; they do all the work for you. Most independent agents are alerted when your policy has an increase of 10% or more. While it is normal for rates to fluctuate up and down over time, a 10% increase is when they typically start shopping with their other markets.
A J.D. Power study found that consumers were spending a lot of time shopping rates and stayed with their current providers because they already had the best price.
Likelihood of Consumers Finding Better Insurance Rates without an Independent Agent
Rate hikes contribute to customers shopping for a better deal, and while more customers are shopping for a new insurer — 39% in 2014 compared with 32% in 2013 — fewer are switching.

The 2015 study found that among those who shopped, only 29% in 2014, compared with 37% in 2013.

How an Independent Agent Saves You Money
You know how an independent agent can save you time, and in the same way, they can also save you money. Since they have access to several different markets, they can find pricing to fit your budget.
Where there are more options, there are better rates, and that gives you a lot of flexibility. Most of the time, the lower premiums don't mean less coverage. It just means your independent agent knows where to look.
You don't have to sacrifice coverage for better rates and shouldn't have to. With an independent agent, that's the least of your worries.
Ready to Save On Insurance?
Our independent agents shop around to find you the best coverage.
Different Types of Insurance Agents
There are mainly two types of insurance agents you will come in contact with out there. The first is your independent insurance agent, and the second is your captive agent. Most consumers aren't aware of the difference and may let marketing guide their pocketbook. It's important to know what each agent type can provide so you can make the best choice.
Independent Insurance Agent vs. Captive Insurance Agent:
Independent insurance agent: They represent your best interests. Working with multiple carriers, they find you the best coverage and pricing with the ability to shop rates in the future.
Captive insurance agent: They work for one carrier, and have fewer options on coverage and price. A captive agent has limited products and has to hit specific metrics to keep their job, which could compromise your best interests as the consumer.
The more options you have to choose from, the better decision you will make. With an independent insurance agent, you will have several carrier options that fit your needs without sacrificing coverage for the price.
The Percentage of Independent vs. Captive Agents
According to A.M. Best, in 2018, captive writers accounted for 51.4% of property and casualty insurance net premiums written, and independent writers accounted for 47.7%.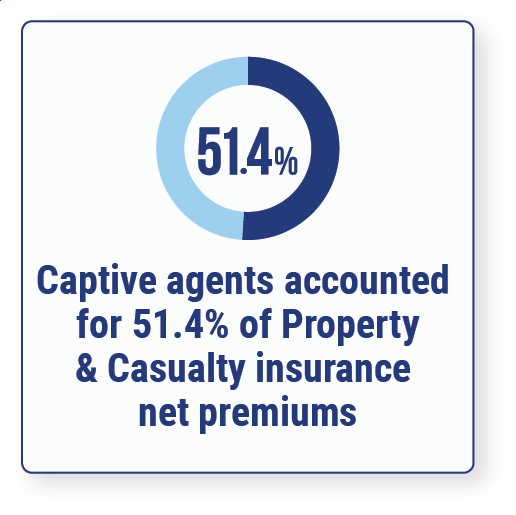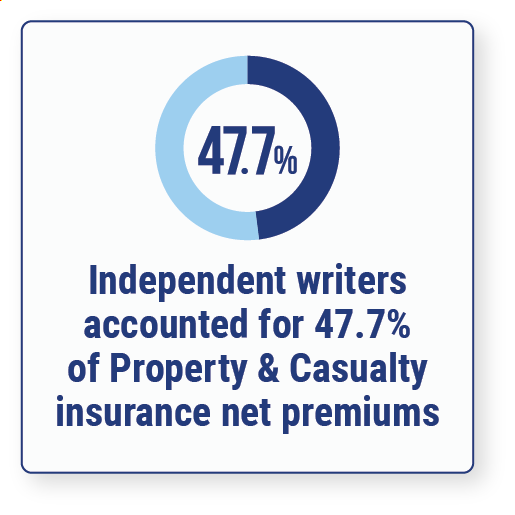 Where Do I Find an Independent Agent?
TrustedChoice.com makes it easy with their find an agent tool. They match you with an independent insurance agent right in your own town. This will take the guesswork out of who, so you can focus on what really matters, the right coverage for the right price.
TrustedChoice.com Article | Reviewed by Candace Jenkins
©2023, Consumer Agent Portal, LLC. All rights reserved.
https://www.jdpower.com/business/press-releases/2015-us-insurance-shopping-study
https://www.iii.org/fact-statistic/facts-statistics-distribution-channels#Property/Casualty%20Insurance%20Distribution