What Is an Insurance Broker?
Brokers work for you, the customer, and can help make your insurance journey easier in many ways.

Insurance brokers exist to help you find the coverage you need. They'll consider what you're looking for in an insurance policy and search for the coverage that best checks all your boxes at an affordable price. Brokers help make shopping for insurance quicker and easier for you, but they may also charge a fee.
Still, an insurance broker can often help you find cheaper coverage than you would've found on your own. There are many reasons why going to a broker is worth it. But for starters, here's a closer look at insurance brokers, what they're all about, and more importantly, what they can do for you.
What Is an Insurance Broker?
Basically, an insurance broker's job is to be well-versed in many types of insurance so they know exactly which coverage to match up to customers. Insurance brokers can help you find coverage for common needs, such as a home or car, and often for more obscure needs as well.
Some brokers specialize in a certain type of insurance, like business insurance, while others have a wider knowledge base. Brokers help customers find the coverage they need and walk them through the process of buying a policy, but the actual sale needs to be completed by an agent or insurance company. While some offer this service for no cost, others will charge a fee.
What's the Difference between an Insurance Broker and an Insurance Agent?
It's easy to confuse insurance brokers with independent insurance agents, but there are some key differences between the two. Both independent insurance agents and insurance brokers earn a commission on their sales and work with multiple insurance companies. Also, both professionals earn a higher profit when the customer buys more coverage, so both may be inclined to up-sell insurance.
Insurance Broker vs. Independent Insurance Agent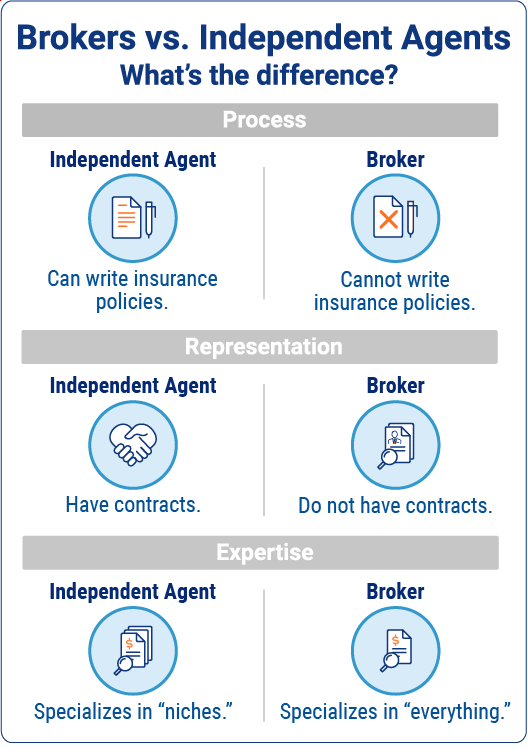 Brokers
Agents
Represent the customer
Represent the insurer
Cannot complete insurance sales
Can complete insurance sales
Make their money through broker fees and/or commission
Make all their money from commission
Know less about the companies and policies they sell than agents
Know more about the companies and policies they sell than brokers
Both independent insurance agents and insurance brokers aim to match customers to quality coverage that meets their needs. The key difference is that brokers represent the buyer, while independent agents represent insurance companies. Independent agents often work with multiple insurers, but may have contracts with specific companies and be limited in the policies they can sell.
Brokers usually have to work with an agent or insurer to bind a policy for a customer, while agents can do this on their own. Agents can also provide temporary coverage for a customer before their policy is finalized and the coverage period begins.
What Are the Advantages of Using an Insurance Broker?
Aside from the obvious benefits of saving you time and money while searching for the right insurance, there are several advantages to working with an insurance broker to secure your coverage. Here are just a few.
Working with a broker can leave you with much better coverage.
Brokers can typically find better rates on coverage than those offered directly to consumers by an insurance company.
Customers who work with brokers are much less likely to walk away underinsured.
Insurance companies tend to offer special broker pricing, which in turn allows customers to save money.
Brokers can provide many quotes from multiple insurance companies.
Historically, customers who shop with insurance brokers make far fewer unnecessary insurance claims.
Shopping for insurance isn't always a quick and easy process if you undertake the task on your own. Insurance brokers exist to help you in your search, and save you both time and money along the way.
Save on Home Insurance
Our independent agents shop around to find you the best coverage.
Brokers Know Which Insurance to Recommend
No matter what you need coverage for, an insurance broker can help you find the right policy and amount of coverage to get the job done. You might know that you need business insurance, but not what a typical coverage limit is, or what amount of deductible you should aim for. A broker can help inform all of these decisions, and recommend the policy that offers the best overall package for you.
When to Use an Insurance Broker
You might not always need to go through a broker to purchase your insurance. It's possible you already know exactly what coverage you need, and where you want to buy it. There are still many cases in which using a broker makes sense, though.
Examples of customers who benefit from using an insurance broker
Those who need multiple policies, like landlords and small business owners
Those who need to insure multiple homes or vehicles, or both
Those who need insurance for a new business
Those who want the advantage of knowing someone in the insurance field who has their coverage needs at heart
Those who want a greater understanding of their policies
Those who want someone else to shop multiple carriers for them, to save time, energy, and money
While a broker may not be right for someone you know, they might be perfect for you. Unless you're already an insurance expert or have very simple coverage needs, a broker can take a lot of the work load off your shoulders.
How Do Brokers Make Money?
Insurance brokers do work for the customer, but most aren't actually paid by them. Brokers instead make commissions on the insurance they sell, which works out to be a percentage of the policy's premiums. This amount varies by state, but is often between two and eight percent of the total coverage premium. However, there are some brokers who will still charge a fee to their customers for their services.
How Brokers Represent Insurance Customers
A broker's job is to represent their insurance customers, and find coverage that best meets their needs. The process begins with the broker getting to know their customers and their situation, including their specific exposures and liabilities. From there, the broker can make informed decisions about which insurance company and policy is right for their customer.
Brokers also provide consulting services for their customers to help determine whether policies should be changed over time. Insurance brokers even provide assistance with compliance, and help customers submit claims and receive benefits. So, brokers aren't just there for customers in the beginning of their insurance journey.
Brokers Stay up to Date in Insurance Regulations
Brokers are licensed by state insurance regulatory agencies. That's how they remain updated on changing state insurance regulations, which in turn allows them to continue best fulfilling their duties to insurance customers. Licenses often need to be renewed every two years.
Frequently Asked Questions about Insurance Brokers
It depends on your specific insurance needs, but there are many advantages to using a broker when shopping for coverage. Brokers are an excellent choice for insurance customers who need multiple policies, have multiple homes or cars to insure, need insurance for a new business, or just want a professional to help save them time and money when hunting for coverage.
Brokers are well versed in insurance coverage and can help recommend the right policy for you, down to the coverage limits and deductible.
An insurance company actually writes and sells insurance policies to customers, and pay out claims when a loss is covered. The insurance contract is between the customer and the insurance company.
Brokers, on the other hand, represent customers when they're looking for the right insurance policy. Brokers may have relationships with insurance companies, but their job is to help match customers to the best policy to meet their needs.
Often it is cheaper to get insurance through a broker. Many brokers do not charge fees for their services and make their money off of commissions from insurance companies. Brokers can also help insurance customers find the most affordable policies, and may even get special discounted rates from insurance companies they have a relationship with.
Insurance brokers work directly for you, the customer. An insurance broker does all the research for you in order to help you choose the right policy, and can help you save money on your coverage.
Brokers need a state license to offer their services and are required to keep up with changing regulations over time. While insurance brokers can assist you in many areas, they cannot actually close an insurance sale for you — an agent or insurance company has to do that part.
TrustedChoice.com Article | Reviewed by Jeffrey Green
©2023, Consumer Agent Portal, LLC. All rights reserved.
https://www.investopedia.com/terms/b/brokerage-fee.asp#:~:text=Brokers%20charge%20brokerage%20fees%20for,real%20estate%2C%20and%20delivery%20services.
https://www.iii.org/article/background-on-buying-insurance