How an Independent Insurance Agent Is an Asset
(And a free one at that!)

Find out how an independent insurance agent is the cheapest asset money can buy. In fact, an insurance agent won't cost you a penny. The insurance companies pay them so that no money will come out of your pocket.
You can find a number of independent insurance agents to connect with in your area. They are knowledgeable and ready to help.
Independent Insurance Agents
Independent insurance agents go way back to 1896, when two agents decided they wanted to provide their clients with options. These options led to better coverage and pricing for their customers.
On September 30, 1896, twenty agents banded together and formed the Independent Insurance Agents of America (IIAA). This set the stage for independent agents to sell you personal and commercial insurance policies from a variety of markets instead of just one.
How an Independent Agent Saves You Money
Everyone wants to save money where they can, and insurance is no different. An independent insurance agent is your road to better coverage and competitive premiums. You're probably not an insurance agent for a reason, so take the headache out of trying to figure it out yourself and get an agent, for free.
Since independent agents are paid by carriers and have numerous policy options, they can provide a variety of choices for your insurance. Each carrier offers different pricing, so you'll have more chances to keep the premiums within your budget. It's a numbers game, and an independent insurance agent plays it well.
Why People Keep Coming Back to Independent Agents
It might sound good to test the waters when it comes to your insurance and see what's really out there. But as the old saying goes, the grass isn't always greener on the other side, insurance included.
The facts don't lie, so 60% of consumers go back to their independent agent after checking out the competition. It's a safe bet that most go with an online direct carrier for faster handling and later decide that the coverage and service weren't what they were expecting.
Once You Go Independent, You Won't Go Back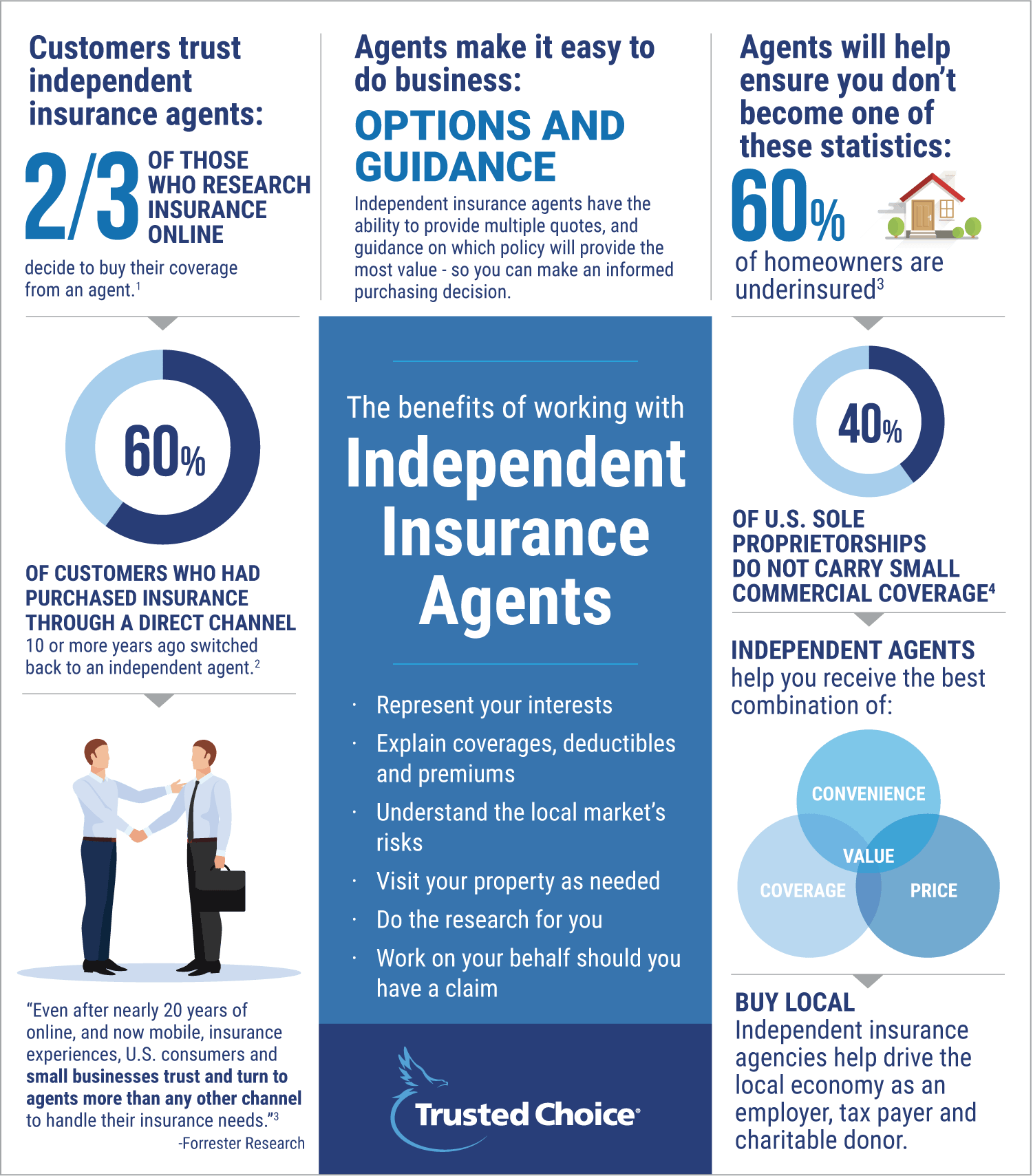 1. U.S. Insurance Shopping Study, J.D. Power, 2016
2. 2013 study conducted by InsightExpress and The Hanover
3. Forrester Research, Loyal Insurance Agents Drive Sales, February 2016
4. Small Commercial Insurance: A Bright Spot in the U.S. Property-Casualty Market, McKinsey & Co, 2016
This material is provided for informational purposes only and does not provide any coverage. For coverage please contact an independent insurance agent.
How an Independent Agent Saves You Time
Time is a valuable commodity. It's also one that you can never get back. So it makes sense to use it wisely. Having an independent agent do the heavy lifting and shop the markets for the best insurance coverage and rates is a good move.
An independent agent works for you, and they are genuinely scouting the markets on your behalf. They know what to look for, what's unnecessary, and how to tailor a policy for your specific exposures. There is a reason agents are licensed. Wouldn't it be nice to give your information to a trusted adviser and have them come back with some options that suit your needs?
Reasons to Choose an Independent Agent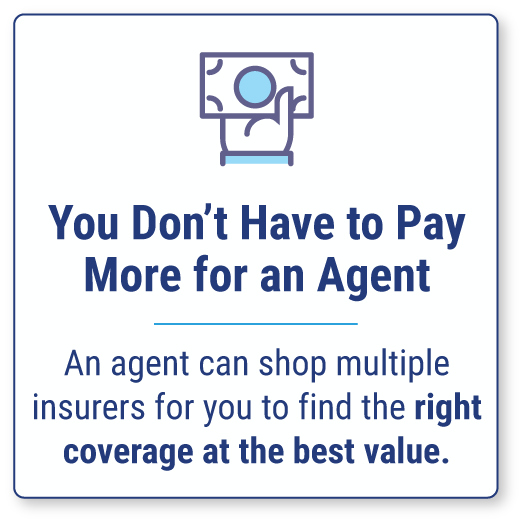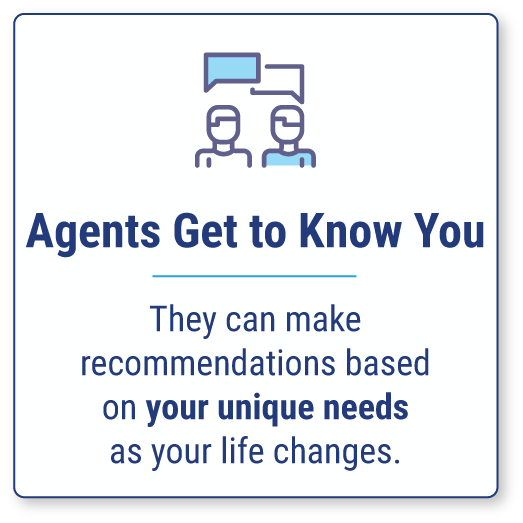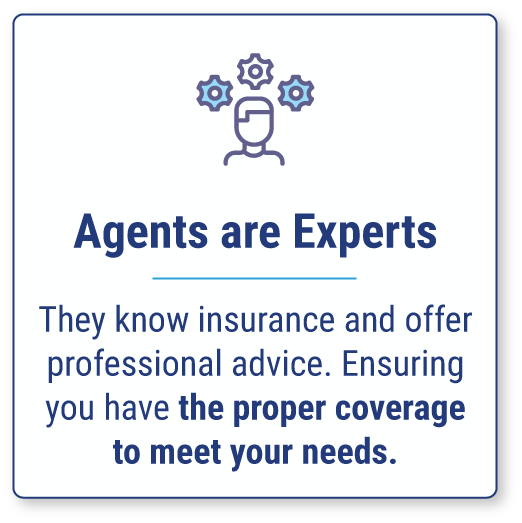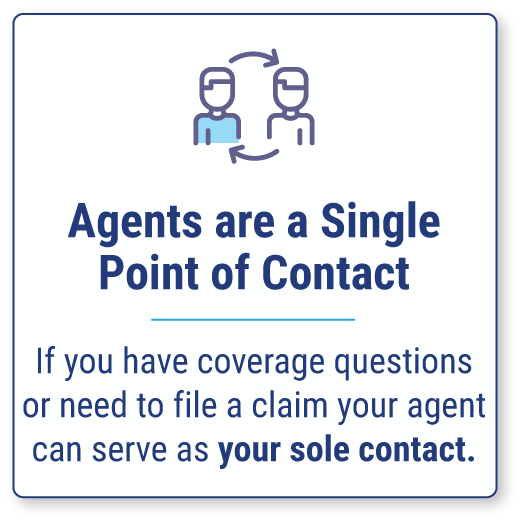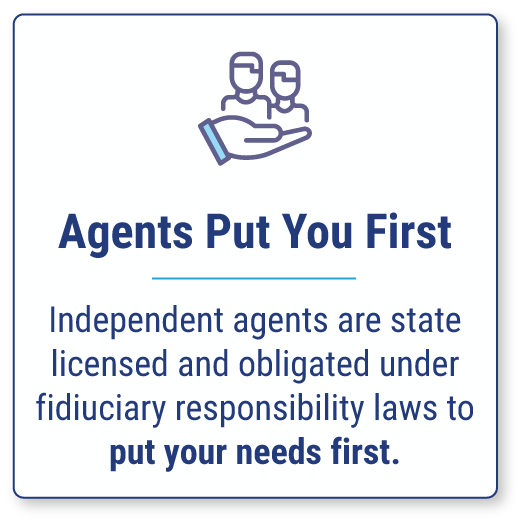 What Types of Insurance Does an Independent Insurance Agent Offer?
Independent insurance agents work with dozens of insurance companies. With these carriers, they can give you more options to choose from with a variety of rates.
Independent agents know the complexities of the insurance market and are knowledgeable about the laws that could apply to each policy type.
The products an independent insurance agent may be licensed to offer are the following:
Property and casualty insurance: This insurance covers the property you own, like your home, car, and business property. The casualty insurance portion means it can offer liability coverage to protect against legal responsibility for an accident that causes injuries to another person or damage to another person's belongings.
Life insurance: Your agent will be able to advise you about life insurance products such as term, universal, and permanent life insurance. They can even help with buy-sell agreements and key-person policies.
Health insurance: Health insurance has changed over the years, and having an agent who is knowledgeable and licensed to sell it is vital.
Ready to Save On Insurance?
Our independent agents shop around to find you the best coverage.
How to Find an Independent Insurance Agent
TrustedChoice.com has a find your agent tool that can get you connected with a local agent and on your way to better coverage and pricing in no time. Utilizing this free service and getting matched with a trusted adviser is the first step.
TrustedChoice.com Article | Reviewed by Candace Jenkins
©2023, Consumer Agent Portal, LLC. All rights reserved.