Life Insurance Bundles
(Discover how you can save by combining your insurance policies)

You don't have to be an expert in finance to want to save money. It's human nature to love a good deal. So when it comes to life insurance, know that there are some pretty sweet discounts out there waiting for you, like bundles.
Our independent insurance agents can help you figure out if you're leaving money on the table, and if bundling can help you get it back. They'll help lower your bills, free up some decent budget space, and get you back to living your life with more money in your pocket.
But let's talk a bit more about life insurance bundles, and why/if/how to get them.
What Are Life Insurance Bundles?
Insurance companies want your business, so they'll most often cut you a pretty nice deal if you get multiple types of insurance with their company. So combine your life insurance with another policy (or two, or three) and you could get some good discounts.
Common Life Insurance Bundles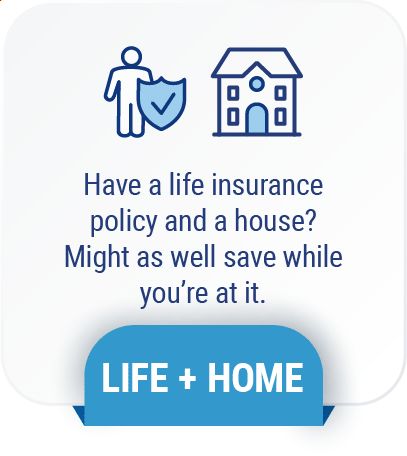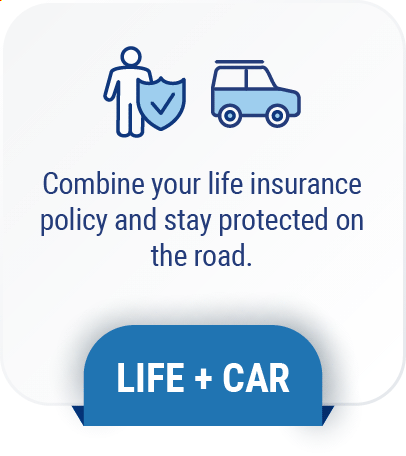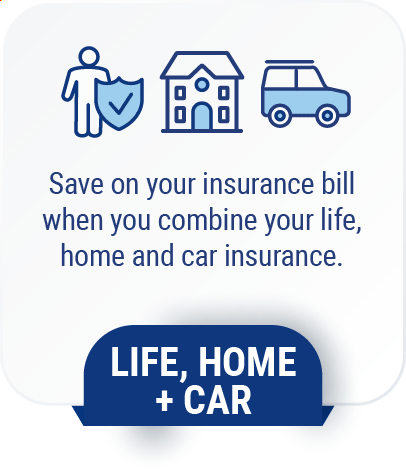 What Life Insurance Bundles Are Available?
Technically, you can combine life insurance with almost any other type of insurance to create a bundle. However, bundling life insurance is a bit trickier than bundling other types, like car and home. That's because life insurance is a specialized niche, and not all companies offer it alongside other types of insurance.
That doesn't mean it can't be done, however. The simplest bundles are life and home, or life and car, but you could create a three-way combination of life, home and car if you wanted. If you need more than one kind of insurance, chances are you can blend them for a nice discount.
Save on Life Insurance
Our independent agents shop around to find you the best coverage.
How Do I Get Life Insurance Bundles?
Bundling discounts offer great savings and are much simpler to get than other discounts. And this is how you do it:
Take stock (and notes): Do you already have a life insurance policy? What other policies would you like to bundle? Think about upcoming purchases (like a car or home) and do your homework ahead of time to make Step 2 even easier.
Have a discussion with an agent: Agents are experts who are there to do the hard work for you. Not sure if you want to stick with your current insurance company or switch? Not sure what coverage you need after all? Your agent will ask you some questions and figure it out for you.
Compare wisely: Your agent will likely provide you with multiple insurance quotes. It's tempting, but don't go with the cheapest one automatically. Ask what discounts have been applied to each first. You could actually be getting more discounts and better coverage with a mid-range option.
Celebrate: As long as you signed all those papers, you probably just got a bundling discount. It's that simple. If not, we hope you found other discounts that made for an even better deal.
Save on Life Insurance
Our independent agents shop around to find you the best coverage.
The Benefits of an Independent Insurance Agent
Our independent agents stay on top of the industry and all the latest discounts so you don't have to. That means they'll help you find the right coverage for you at the right price. You just sit back and they'll do all the work for you.
They're not just there at the beginning, either. If disaster strikes, your insurance agent will be there to help walk your loved ones through the process of getting the benefits they're entitled to. Now that's thinking ahead.
TrustedChoice.com Article | Reviewed by Paul Martin
©2023, Consumer Agent Portal, LLC. All rights reserved.