Are Insurance Rates Affected by Using an Agent?
(And what else can affect your rates)

Are your insurance rates affected by using an independent insurance agent or any other agent for that matter? When making any decision, it's important to have all the facts.
At TrustedChoice.com, you can gather the details on an array of insurance questions. The more you know, the easier the choice will be.
How Are Insurance Rates Calculated?
If you're looking for insurance or currently paying for some, you may be wondering what you're actually paying for. Insurance companies use a variety of factors when determining your premiums. Some seem to be common sense, while others might surprise you.
Top 10 policy rating factors when purchasing insurance:
1.) Motor vehicle reports (MVRs): What you have on your driving record will affect your insurance rates for a period of 3 to 5 years. The more violations you have, the higher the premiums will be.
2.) Where you live: Where you live will affect your pricing, depending on the local crime rates and traffic patterns.
3.) Your experience level: The more experience you are in driving or going without claims for an extended period, the lower your rates will be. Typically after age 25, your prices will start to get lower all around.
4.) People living in your household: The number of people on your insurance policies who are living in the same home as you will impact your premiums. The insurance company has to account for your risk factors and the risk factors of each individual.
5.) Prior insurance claims: Like your MVRs, if you have any preceding insurance claims from previous insurance coverage, you will also be surcharged for 3 to 5 years. Your MVRs and past insurance claims will follow you around like a credit score no matter who your carrier is.
6.) What type of business you have: If you are getting insurance for your business, it matters what you do. For example, a retail store selling t-shirts and jeans will cost much less to insure than a logging company knocking down trees.
7.) Your employees: If you are lucky enough to have employees, your insurance rates will be affected by their job duties, pay, and the number employed. Most workers' compensation coverage for employees is state-mandated and typically has a minimum premium.
8.) Your credit score: When you purchase insurance, they will not run your credit score. However, they do a softer pull called your insurance score that is tied to your credit. If you have poor credit, then your insurance premiums will be higher.
9.) Property value: Whether it's your vehicle, home, or business property, the value of your property will impact your rates. The more each item is worth, the more it will cost to insure.
10.) Safety features: If your car, home, or business has the newest safety features, then the carriers will discount your rates accordingly. The more seriously you minimize your overall risk, the more they reward you.
Does My Agent Impact My Premiums?
The simple answer is no, but it's a bit more complex than that. Most insurance carriers that you would go to directly without using an independent agent spend billions of dollars in self-promotion. This is in the hope of snagging customers to purchase solely through them without the use of an independent agent.
This does two things:
1.) The carrier does not to have to pay an agent out of pocket.
2.) It puts more control in the carrier's hands instead of in the agent's and the consumer's hands.
On the other hand, when you go with an agent, you won't need to pay a dime to utilize their services. The independent agent is unbiased, always finding you the best value from multiple carriers. Bonus, they get paid by the insurance company that uses a fraction of the marketing budget to pay agents instead. This allows the carriers who work with independent agents not to spend money on the promotion of their brand but have the agent recommend them to their clients.
Ready to Save On Insurance?
Our independent agents shop around to find you the best coverage.
What Do Insurance Companies Spend on Ads?
Insurance companies that don't use an independent agent to promote their carrier organically are referred to as direct writers or captive.
These direct writers or captive carriers will spend millions of your hard-earned premium dollars to advertise. If you've ever chuckled at a Geico or Allstate commercial, that expense may have come out of your pocket. See the statistics for yourself, because the numbers don't lie.
Ad Spend of Insurance Brands in the US (2018)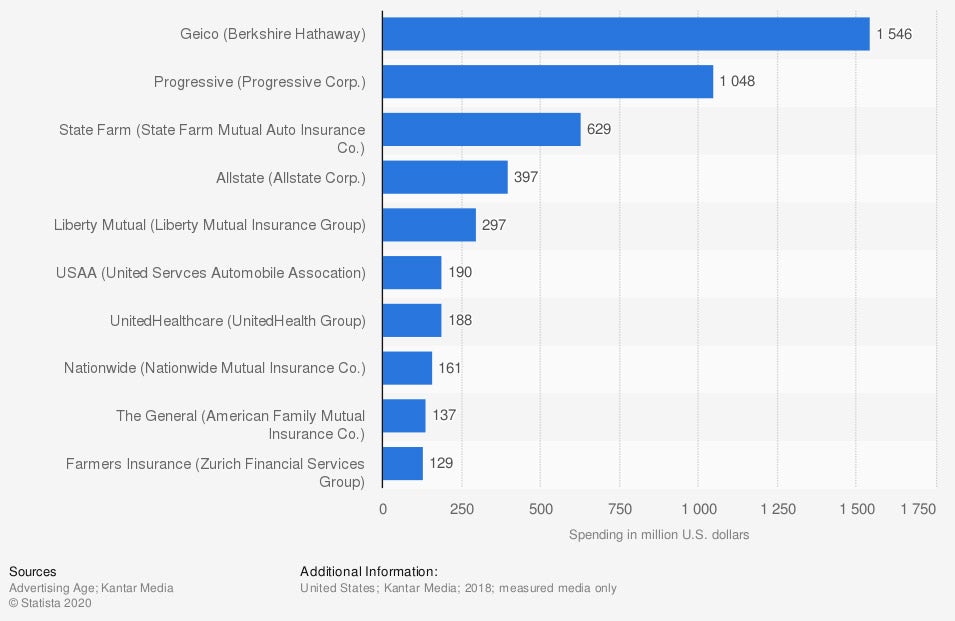 Where Can I Find an Independent Agent?
You're in luck. TrustedChoice.com has several resources and a find your agent tool to connect you with a local independent agent. Now is as good a time as any to get unbiased coverage and pricing for your insurance.
TrustedChoice.com Article | Reviewed by Candace Jenkins
©2023, Consumer Agent Portal, LLC. All rights reserved.
https://www.statista.com/statistics/264968/ad-spend-of-selected-insurance-companies-in-the-us/