Independent Insurance Agents 101
(Who are they and why you need one.)

Are you looking for a mediator, someone who can advise you on your insurance needs and find you the best rates and coverage? Many may be confused as to what an actual independent insurance agent is and does.
Find out how an independent insurance agent can help and why you need to have one. TrustedChoice.com can match you with a local agent here to get you started.
Independent Insurance Agents
Independent insurance agents are representatives of several different insurance companies. They sell insurance products that most appropriately meet the needs of their clients, aka you.
An independent agent knows the complexities of the insurance markets and local and national laws that may apply. Not having an agent will cost you time and expertise that could quite literally save you from financial ruin.
These agents are licensed in one or all of the following:
Property & casualty insurance: This license means your agent can give you advice about and sell you insurance to cover the property you own, like your home, car, and business property. The casualty insurance portion means they can advise you about and sell you liability coverage to protect against legal responsibility for an accident that causes injuries to another person or damage to another person's belongings.
Life insurance: The life insurance license gives your agent the ability to advise you about and sell you life insurance products such as term, universal, and permanent life insurance.
Health insurance: Health insurance has changed over the years, and having an agent that is knowledgeable and licensed to sell it is essential. The health insurance license allows just that.
Why You Need an Independent Insurance Agent
An independent insurance agent is not another 1-800 number that you have to wait on hold to contact. They are a local community leader. You will see them around the Chamber of Commerce, active in community-led events, and standing up for their neighbors.
Your independent insurance agent is a prominent leader in your town and has a voice on insurance topics. They regularly meet with carrier representatives and presidents, helping to create reforms in policies. They are indeed on your side and are quite literally the liaison between your needs and the insurance company's decisions.
While they don't have a magic wand that can make the carriers accept or deny your coverage, they can represent your case in all areas, making sure they are holding to their end of the bargain.
Percentage of the Insurance Market Written by Independent Insurance Agents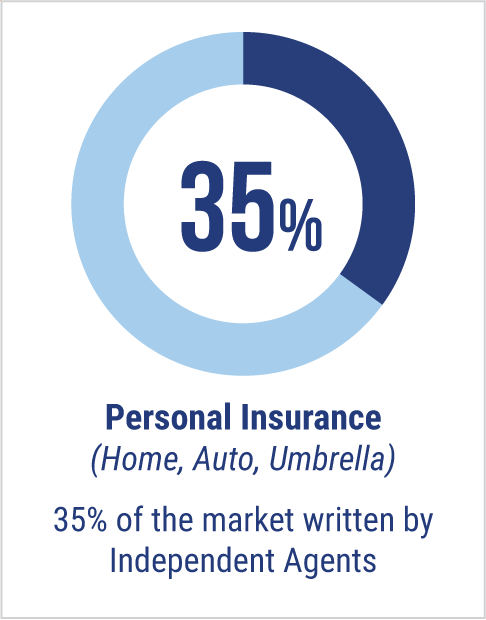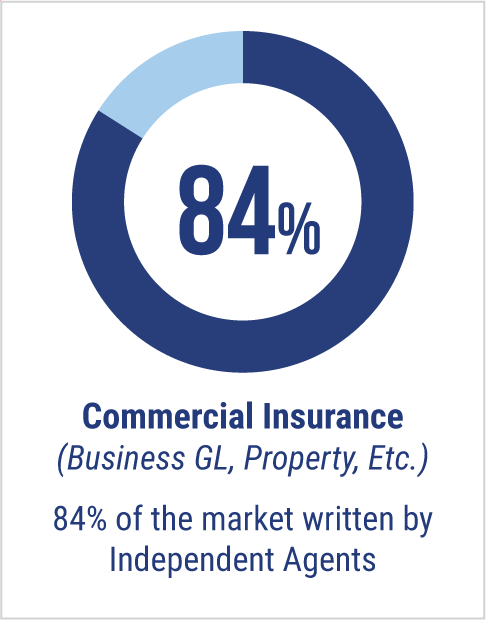 What does this information tell you? Business owners are 85% more likely to entrust their entire livelihoods to independent insurance agents than any other kind of agent. This should speak volumes when businesses are putting their money on the line, literally.
Independent Insurance Agents, What Are They Good For?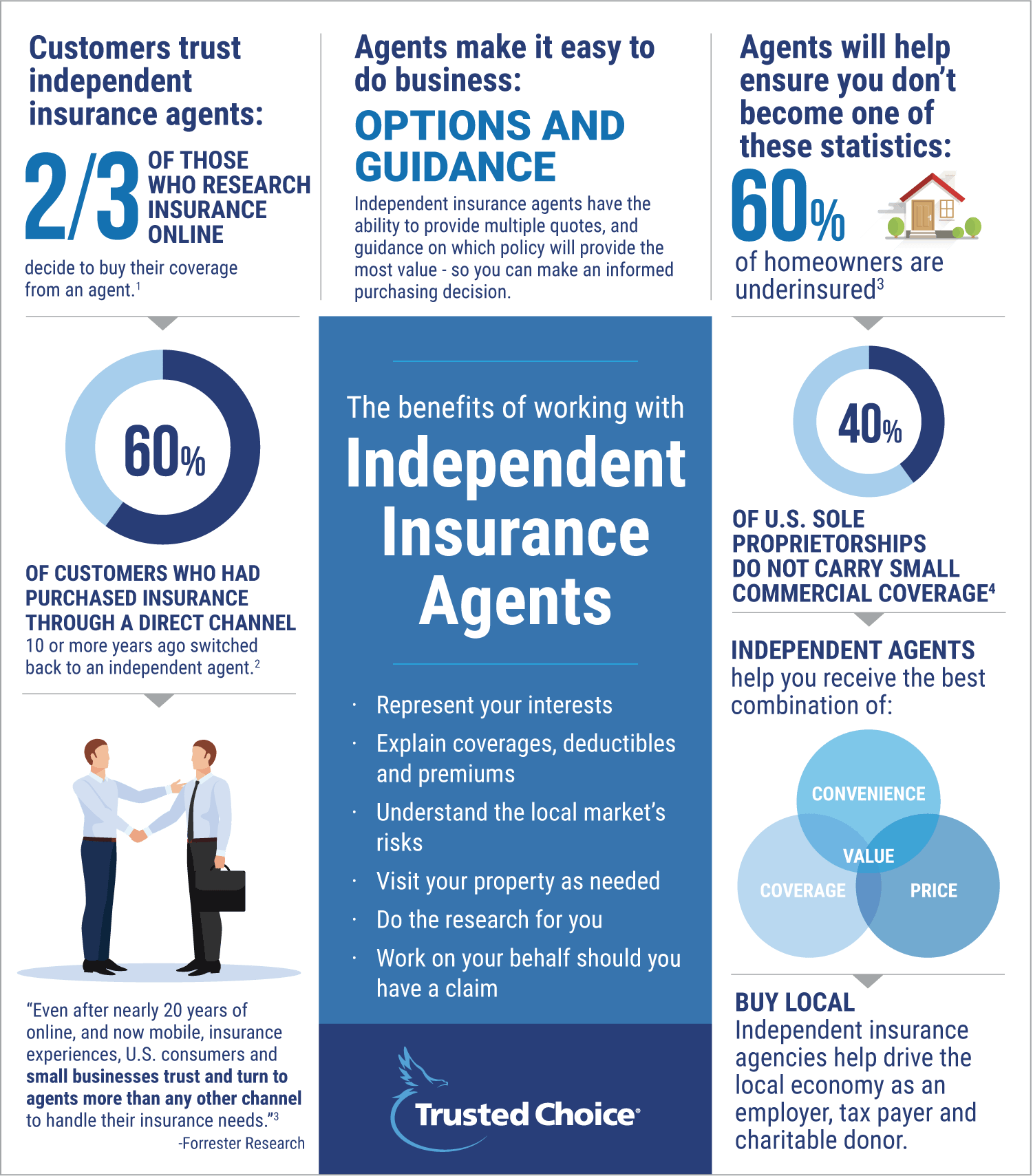 1. US Insurance Shopping Study, J.D. Power, 2016
2. 2013 study conducted by InsightExpress and The Hanover
3. Forrester Research, Loyal Insurance Agents Drive Sales, February 2016
4. Small Commercial Insurance: A Bright Spot in the US Property-Casualty Market, McKinsey & Co, 2016
This material is provided for informational purposes only and does not provide any coverage. For coverage please contact an independent insurance agent.
An independent insurance agent is good for a lot of things. They are your advocate and represent your needs to the carriers in the best light possible. Insurance underwriters can take accounts on a case-by-case basis. This means that if your agent does a good job of telling your story, the underwriter may make an exception even if the policy guidelines forbid coverage.
Unlike some other agents, an independent insurance agent is here to build a long-lasting book of business. They are looking for a long-term relationship with their clients, and that means making their clients happy.
An independent agent will also have many carrier options to suit all your insurance needs. They work with several companies that ensure tailored coverage for the best price. Rates with every carrier fluctuate from time to time, but an independent agent can look at other companies when this happens so you can keep on getting a good deal and not have to change agencies.
Ready to Save On Insurance?
Our independent agents shop around to find you the best coverage.
Independent Agents vs. Captive Agents
You will have a choice between working with an independent insurance agent or a captive insurance agent. It's important to know the difference and why an independent agent is probably the way to go.
Independent insurance agents: They represent your best interests. Working with multiple carriers, they find you the best coverage and pricing with the ability to shop rates in the future.
Captive insurance agents: They work for one carrier, and have fewer options for coverage and price. Captive agents have limited products and have to hit specific metrics to keep their jobs, which could compromise your best interests as the consumer.
| | | |
| --- | --- | --- |
| Features & Services | Independent Insurance Agents | Captive Agents |
| Access to multiple companies and wide range of products | | |
| Easy switching from company to company without hassle | | |
| Unbiased and objective advice | | Tries to sell & support only their one company |
| Claims assistance and advocacy | | Adjusters are often exclusive to the one company |
| Policy service from the same person you bought from | | To call center |
It's also worth noting the different carrier options that are associated with each. As you can imagine, independent insurance carriers are different from captives. Since there are many on both sides, listing the top 5 in each category, according to a J.D. Power 2020 market survey, should suffice.
Top Independent and Captive Insurance Companies
| | |
| --- | --- |
| Independent Insurance Companies | Captive Insurance Companies |
| Nationwide | State Farm |
| Progressive | Allstate |
| Travelers | Liberty Mutual |
| The Hartford | Farmers |
| Auto Owners | American Family |
How to Find a Local Independent Insurance Agent
You are in luck! TrustedChoice.com has the best independent insurance agents in your town. Connecting with a local agent is as simple as utilizing the find an agent matching tool. It's always good to know somebody who knows somebody, and now you do. Match with an independent agent today and start reaping the benefits of better coverage and the best pricing.
TrustedChoice.com Article | Reviewed by Candace Jenkins
©2023, Consumer Agent Portal, LLC. All rights reserved.
https://www.independentagent.com/research/siteassets/marketsharereport/default/2019-marketsharereport-basedon20162017data.pdf
https://www.jdpower.com/business/press-releases/2020-us-insurance-shopping-study