13 Business Insurance Pitfalls to Avoid
How to find the best business insurance for your needs.

Your business is your livelihood, so make sure that you're protecting it with the right insurance coverage. There are some business insurance requirements and a variety of options, so connecting with an independent insurance agent can set you on the path of protecting you and your business with confidence.
Why You Need Business Insurance
Losses can happen even to a business. These are the most common types of business insurance claims and why every business should consider some form of business coverage.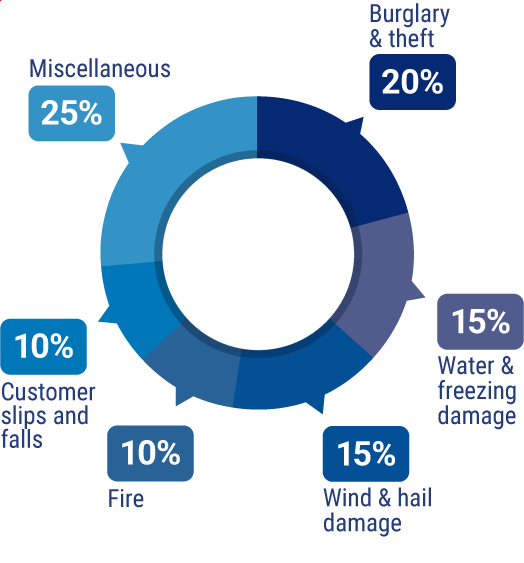 13 Biggest Business Insurance Mistakes to Avoid
You've put your heart and soul into building your business and you want to protect it from any potential risks. Business insurance comes in many shapes and sizes, so before you purchase a policy, it can help to understand the most common business insurance mistakes.
1. Not Exploring Your Options
Just like no business is exactly like another, business insurance is never a one-size-fits-all solution. When starting a business, the pressure to get the doors open and things up and running can lead to impulse buying business insurance.
Shopping business insurance options can save you money and assure you have adequate coverage. Insurance agents specialize in different kinds of business coverage so it will help to choose an insurance agent that is familiar with your specific kind of business needs. They can then help you choose the policy that provides the best overall protection.
2. Choosing the Cheapest Policy
Cheap is not always better, especially when it comes to business insurance. If you skimp on insurance coverage and something occurs, you'll end up having to pay far more than if you would have just gone with the better value insurance package to begin with.
An agent can work with you to shop different policies and advise you on where you may be able to save money on your package. They'll know your budget and make sure to shop within your financial restrictions without compromising your coverage.
3. Not Reading the Fine Print
Starting a business requires plenty of paperwork, so by the time you're presented with a huge insurance package with a bunch of legal print, we get that it can feel exhausting to read it all. However, the fine print in business insurance is critical.
This is where you'll find the different coverages and restrictions that your policy offers. You'll learn what perils are covered and in what situations you may be left exposed.
Your agent can help walk you through it all and answer any questions you may have. One of the worst things that can happen is assuming you have coverage for something you do not, and then having that scenario impact your business.
4. Overlooking Income Loss Protection
Income loss protection is designed to compensate you if you have to close your business due to a covered loss. This coverage reimburses you for lost income while your doors are closed.
Income loss protection is not included in standard business insurance so it can easily be overlooked. But overlooking this valuable coverage can be a big mistake.
5. Choosing the Wrong Fit
We mentioned that every business is different, but maybe you have a friend or mentor who owns a similar business and has provided you with a suggestion on business insurance. It works for them so it should work for you, right?
The best person to listen to about the coverage you need for your business is an insurance agent. They're experts in this field and can help identify exactly what you need (no more and no less). This way you're not paying for coverage you don't need.
6. Not Updating Your Coverage Periodically
As your business changes and grows, it will have new needs. New needs equal new insurance needs. Your independent agent will check in with you periodically to continue optimizing your coverage throughout the life of the policy.
Should your needs change suddenly or unexpectedly, your agent is only a phone call away and can reassess your coverage.
7. Staying with the Same Insurer Too Long
Insurance is an easy part of a business to set and forget. However, staying with the same insurance company for too long can be a big mistake.
If your insurance company isn't meeting your needs, they could be hurting your business. Agents work with multiple insurers and can help you jump from company to company if the need arises.
If you do have to utilize your business insurance, changing carriers may be the only way to save money on your policy if you're facing premium increases.
8. Overlooking Cyber Liability
Cyber liability has become a large concern for businesses. With most businesses running on some form of technology, cybercrime is a real issue to consider. Just take a look at these business cybercrime stats:
In one recent year, the FBI received 2,000 cybercrime reports per day
In one recent year, data breaches exposed over 37 billion personal records
In one recent year, the global cyber insurance market was worth $7.8 billion
Small businesses are easier targets for hackers and thieves because they tend to not have reliable security measures
If you were to experience a data breach and your entire customer database was compromised from passwords to credit cards, the damage would be catastrophic.
Legal fees, public relations help, and income loss — it's all going to take a huge toll, and cyber liability is a must.
9. Skipping Workers' Compensation
In most states, workers' compensation is required if you employ a certain number of employees. The first step is to understand whether you're required to have coverage or not.
Workers' compensation helps pay for employees' work-related injuries and illnesses. It can also help protect you from lawsuits. If you decide to forego workers' compensation, discuss the repercussions with your agent to make sure it's worth the money you'd save if something were to happen.
10. Skipping General Liability
Some business owners mistakenly feel they don't need general liability insurance. While a corporate structure like an LLC can protect some of your personal assets, there are several liabilities you might still have to deal with, such as the following.
If an employee accidentally damages a client's property
If you get sued
If someone gets injured at your business and incurs medical costs
With some forethought and the help of an agent, you can get the protection you need for your business, allowing you to rest easy and focus on success.
11. Overlooking Umbrella Coverage
Umbrella coverage extends your business liability and auto liability above the limits of your standard policy. Should an incident occur, umbrella coverage kicks in once you've reached your limits for your underlying liability policies.
If your business is faced with a serious situation, this extended coverage will pay for itself. While umbrella coverage is not for every business, it's something you don't want to overlook if you and your agent determine it's right for you.
12. Not Reading through Your Policy with Your Agent
Whenever you purchase or restructure your business insurance, you should invest some time in carefully reading the policy. Instead of merely skimming through it, it's a good idea to take a systematic approach by doing the following.
Make a list of your business assets and their approximate values.
List out your employees.
List every asset or element of your infrastructure for which you may need coverage.
Write down the natural disasters, legal situations, or adverse business events your business could encounter.
Compile this information and evaluate whether your policy provides enough coverage.
Jot down any questions you have or anything you're not 100% sure about and set up an appointment with your local insurance agent to address these concerns.
13. Not Choosing a Local Independent Insurance Agent
When it comes to business insurance, every state has different requirements. A local agent will know these requirements and connect you with the best rates and coverages.
Agents are also experts in specific types of coverages. This means no matter the industry your business is in, there's an expert who has worked with similar businesses before.
If you choose to select coverage without an agent, you're missing out on having an advocate and expert on your side. It will likely increase your risk of making one of the above-mentioned mistakes and leave you with gaps in your coverage. Agents are convenient and obligation-free partners to help you find the coverage you need.
Work with a Local Agent Near You
Independent insurance agents are not tied to a specific insurance carrier. They work with a network of companies and shop insurance quotes with your best interest in mind. After speaking with an agent, free of charge, they'll compare business insurance costs and coverages for you and present you with a variety of options that protect you and your business.
As your business grows, your agent can make sure your business insurance policy grows with you. Agents can help bring you peace of mind so you can focus on a thriving business and know it's protected from unexpected risks.
TrustedChoice.com Article | Reviewed by Jeffrey Green
©2023, Consumer Agent Portal, LLC. All rights reserved.
https://www.lopriore.com/blog/common-mistakes-avoid-buying-business-insurance/
https://www.thebalancesmb.com/most-common-insurance-claims-462673
https://www.security.org/insurance/cyber/statistics/
https://www.iii.org/article/understanding-commercial-package-policies