What Happens if You Were Denied Life Insurance, but You Really Want It Now?
If you applied for life insurance and were turned down, can you still apply again? Are there any other options to protect your family?

When planning ahead, considering what will become of your finances is an important topic, and life insurance is a responsible option. But what happens if you were denied life insurance in the past, but you really want it now? Are there other options that can protect your family?
Luckily, an independent insurance agent can answer these important questions for you and also get you set up with the right life insurance policy. Here's how they'd help you protect your family from financial burdens after you pass.
What Happens if I Was Denied Life Insurance, but I Really Want It Now?
According to insurance expert, Jeffrey Green, you can apply for life insurance as many times as you want to. If you get turned down, you can try applying for a policy sold by a different insurance company that may have more lenient qualifications. An independent insurance agent can help you find a life insurance policy you do qualify for.
What Are Some Life Insurance Policies I Might Qualify for Instead?
Certain types of life insurance are easier to get than others. Some insurance providers offer policies with no medical exam, for example. There are also some guaranteed-issue policies with limited benefits. Because even folks with severe preexisting conditions need access to life insurance to secure their finances after they pass, there are many options on the market.
Are There Any Other Options to Protect My Family?
Green says that some types of annuities offer enhanced death benefits, if life insurance isn't the right choice for you. There are also a some other ways you can set your family up financially after you pass.
Accidental death and dismemberment insurance: This coverage can protect your family in the event of your death or permanent dismemberment. A single payout or monthly payments can be selected to replace lost income.
Investments and savings: One of the simplest ways to set your family up financially is to save money throughout your life and even invest some of it. If you save and invest well, life insurance may not be necessary.
Mortgage insurance: This coverage can protect your family from huge mortgage payments in the event you come down with a critical illness and can no longer contribute. Coverage also protects in case of your death.
You can discuss these options with your family and your independent insurance agent to make the decision that works best for you. It's important to know all your options when preparing for how you want your family's future finances to be set up and protected.
What Does Life Insurance Cover?
Life insurance is designed to secure your person of choice's financial future after you pass. The person you select to inherit your finances is known as the beneficiary. Your beneficiary can use the payout they receive after your passing, also called the death benefit, for any of the following expenditures.
Mortgage payments
Outstanding debts
Children's school tuition
Income replacement for deceased spouse
Routine expenses
The possibilities of what to use a death benefit for are practically endless. Some folks even purchase a life insurance policy with the intention of leaving their death benefit to a charity or other organization.
Where Can I Get Life Insurance?
Life insurance is sold by many insurance companies across the US. To find the one that best matches your needs, work together with an independent insurance agent. Until then, here's a look at some of the current top-performing life insurance providers in the country.
Largest life insurance companies in the United States, by market capitalization (in billion US dollars)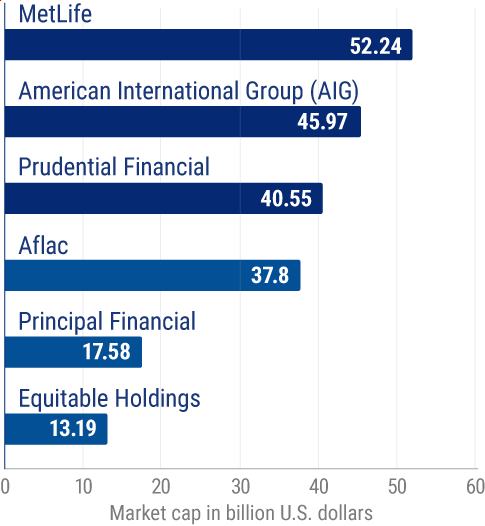 The current leading life insurance company by far is MetLife, with a market capitalization of $52.24 billion. Next up is American International Group (AIG), at $45.97 billion, and Prudential Financial, at $40.55 billion.
Your independent insurance agent can help you find the right life insurance company that best meets your needs.
Here's How an Independent Insurance Agent Would Help
When it comes to protecting families against future financial uncertainty and all other disasters, no one's better equipped to help than an independent insurance agent. Independent insurance agents search through multiple carriers to find providers who specialize in life insurance, deliver quotes from a number of different sources and help you walk through them all to find the best blend of coverage and cost.
TrustedChoice.com Article | Reviewed by Jeffrey Green
©2023, Consumer Agent Portal, LLC. All rights reserved.
https://www.statista.com/statistics/208099/largest-life-insurance-companies-usa-by-market-cap/
https://www.huffpost.com/entry/life-insurance-alternatives_b_7832936